Last updated on November 23, 2023
Confused about which app to buy? Focus At Will or BrainFM?
Recently, I compared Brain.fm vs Focus@Will on parameters like music, tech behind it, app experience and pricing. By the end of it, I'll help you determine which one is the better app for your needs.
If you're short on time, here's a quick summary of the differences between Focus At Will and BrainFM:
| Criteria | Focus@Will | BrainFM |
| --- | --- | --- |
| Technology | Uses a short quiz to determine personalized focus music based on neuroscience research. | Utilizes patented brain entrainment technology to guide brain activity and enhance performance. |
| Music | Hundreds of instrumental tracks, including EDM and various genres, created by platinum selling producers. | Thousands of tracks with patented sound, customizable by state, genre, neural effect, and activity. |
| App Experience | Available on multiple platforms with visually appealing UI, but reported stability issues on iOS. | Apps for various platforms, practical and simple UI, stable performance, additional features included. |
| Pricing | $70/year | $56/year (use code ESM) |
Why you can trust ESM's guides: We're not your average publication. We prioritize honesty over software affiliations. We're on a mission to guide software buyers to their ideal tools, delivering unbiased, detailed and transparent information. Zero BS, zero fluff— just pure, honest insights.
Curious how we got to this conclusion? Read the full BrainFM vs Focus At Will comparison below.
BrainFM vs. Focus@Will
I'll review Brain.fm and Focus@Will on four parameters to help you determine which one is the better app for your needs.
Music – How effective is it?
Technology – What's the science behind their music?
Apps – How is the experience of using them?
Pricing
By the end of this Focus@Will vs Brain.fm comparison, you'll understand how BrainFM and Focus@Will work, what makes them different and which app is a better fit for you.
Best Focus Music App – BrainFM
Available on iOS, Android & Web

Science-backed music (patented technology)

Huge library of focus, relax & sleep tracks

Offline access

Built-in pomodoro timer

5/5 reviews across the internet
1. Technology
Both Focus@Will and BrainFM built their own technology to generate their music. This comparison delves into the science behind their music and how it compares with each other.
Focus@Will uses a short quiz to determine your unique focus music
Most people like to listen to music while they work or study, but it's difficult to find and manage sounds that consistently work well.
Focus@Will's science says that there is a specific type of music that works for a specific set of people to amplify their productivity (by up to 4 times) and you can increase your focus by customizing and slightly changing the characteristics of music at the right time intervals.
It starts with a short quiz that tries to predict your brain type based on responses to questions based on your style of working, favorite genre of music that helps you focus better, coffee intake, age, and gender. Based on your responses to the quiz, Focus@Will suggests you a specific streaming music station that continuously plays unique focus music that is best for your productivity.
That's the underlying science behind Focus@Will's music which is claimed by them to have been built over 10 years of neuroscience audio research.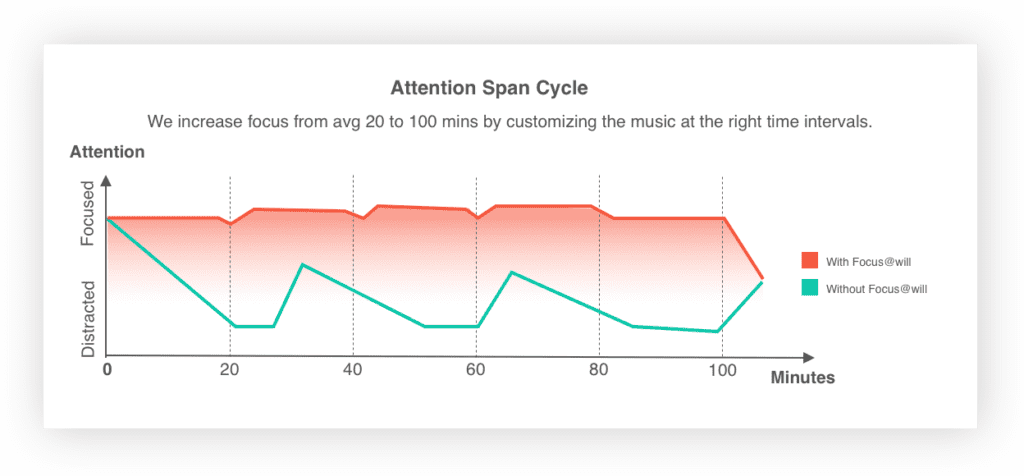 In simpler words, Focus@Will basically has an instrumental music library and plays music from that library based on your responses to a short quiz.
BrainFM has invented a sound that guides brain activity
BrainFM has developed a revolutionary approach to productivity music that is unlike any other. Through a process called "brain entrainment", BrainFM's rhythmic audio helps guide brain activity and shift it towards specific mental states such as focus, relaxation, meditation or sleep.
This helps users reach their desired mental state in just minutes by locking in their brain's neurons with the rhythmic patterns of the audio. This patented technology sets BrainFM apart from other productivity music and makes it a "one-of-a-kind" experience, unlike anything else available.
The team of neuroscientists behind BrainFM claim that their technology leads to increased electrical activity and blood flow in the brain vs other apps.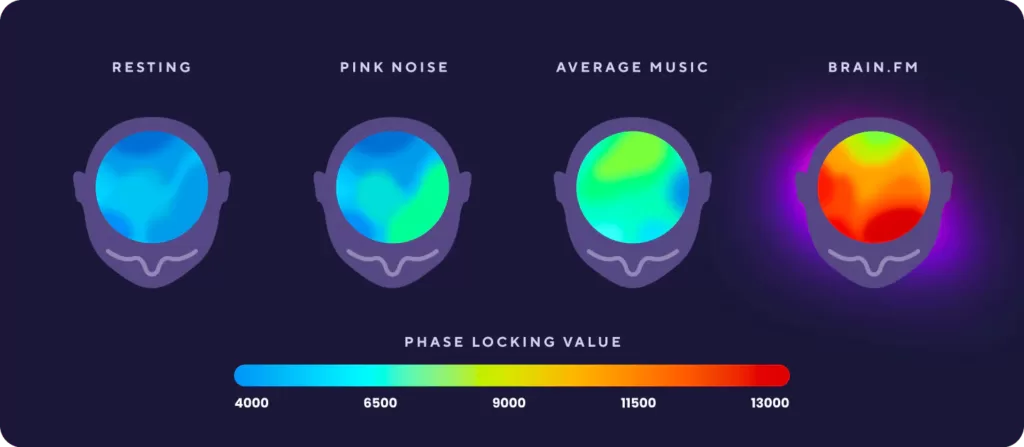 In simple words, BrainFM creates "unique" functional music with a specific purpose (focus, relax, sleep or meditate), tailored to impact the brain and enhance performance. BrainFM has a monopoly on this type of music as their technology is protected by a patent.
Verdict
It's a tie. Both BrainFM and Focus@Will have scientific backing and positive outcomes for their music.
2. The Music
Focus@Will's music library seems heavily inspired by EDM, so they have quite a bit of EDM focus music and have a lot of genres of EDM music (uptempo, deep, dubstep etc.). They also have a nice selection of tracks spanning genres like ambient, classical, acoustic guitar, rock, piano, water sounds and cinematic. They also claim that their music has been created by platinum selling music producers. 😲
Here's what a 1 hour session of Focus@Will sounds like:
I particularly liked some of their ambient music tracks. While Focus@Will's music is nice to listen to, it sounds like regular instrumental music to me. I could easily listen to it in a Spotify or YouTube playlist. The only thing that they do is keep switching tracks.
On the other hand, I found BrainFM's music refreshingly different as compared to regular background music available across the web. It also worked really, really well! Within 5 minutes, I found myself very focused in my work and this has worked every-single-time I've started a BrainFM session.
Here's what a 30 minute BrainFM session sounds like:
BrainFM offers a HUGE music library with thousands of tracks featuring its patented sound. You will never run out of new music to discover. Additionally, BrainFM provides insane customization options, including adjusting the music to:
your desired state (focus, relax, sleep or meditate)
genre of music (lo-fi-, classical, post-rock, ambient, cinematic etc.)
neural effect (low, medium or high)
activity (deep work, learning, creativity, chill, unwind etc).
To further enhance the experience, these tracks can be blended with built-in nature sounds like waves, forests, rain, wind, chimes, and bowls.
Verdict
Despite being a close competition, BrainFM is the winner here.
In terms of effectiveness, I found BrainFM's music to outperform Focus@Will's music in helping me focus. Furthermore, I observed that I was able to sustain my focus for a longer duration while listening to BrainFM's music.
3. App Experience
Focus@Will's apps are available on iOS, Android, Web, MacOS, Windows and can be used with Sonos devices. The app's user interface is nice and the app is easy to use.
The app also offers the ability change background images, download tracks and a tool for tracking productivity.
But that's the end of it. I used the iOS app and disliked my experience with it.
For starters, after installing, the app asks for a bunch of unnecessary permissions like tracking activity across other apps on my iPhone or connecting to devices closeby. All I care about is listening to the music so I don't understand why they need these permissions from me.
Also, the Focus@Will's iOS app is unstable. It sometimes displays an error message stating "Something went wrong" when there is actually no issue, while at other times it shuts down unexpectedly. The app can also be slow to use, often stuck in a continuous loading loop. I experienced these problems frequently with the iOS version and ultimately had to remove the app.
BrainFM's apps are available on iOS, Android, Web and Alexa. The user interface is practical and simple to get used to. No fluff anywhere. You define the activity that you'd like to do (focus, relax, sleep or meditate) and press play.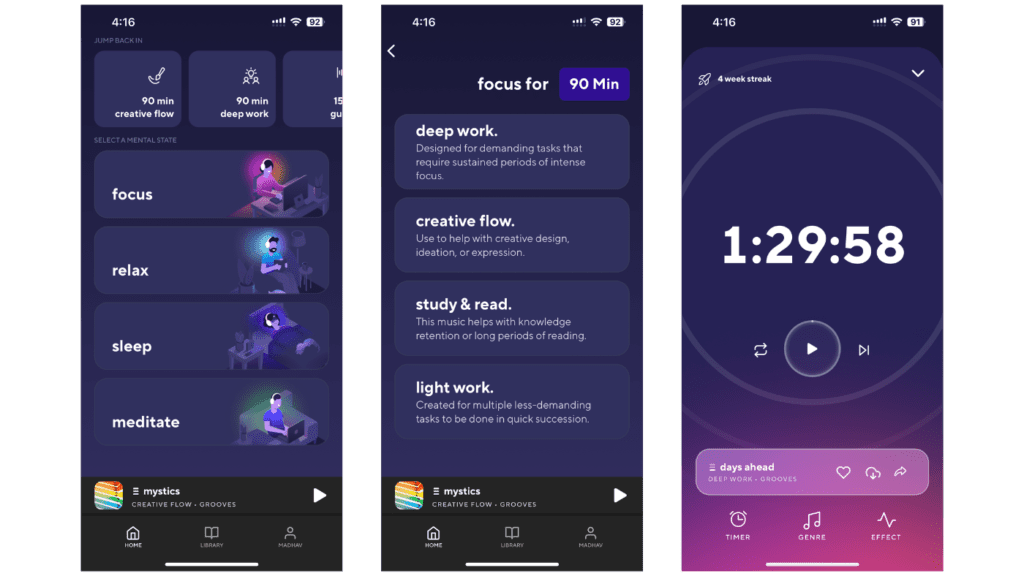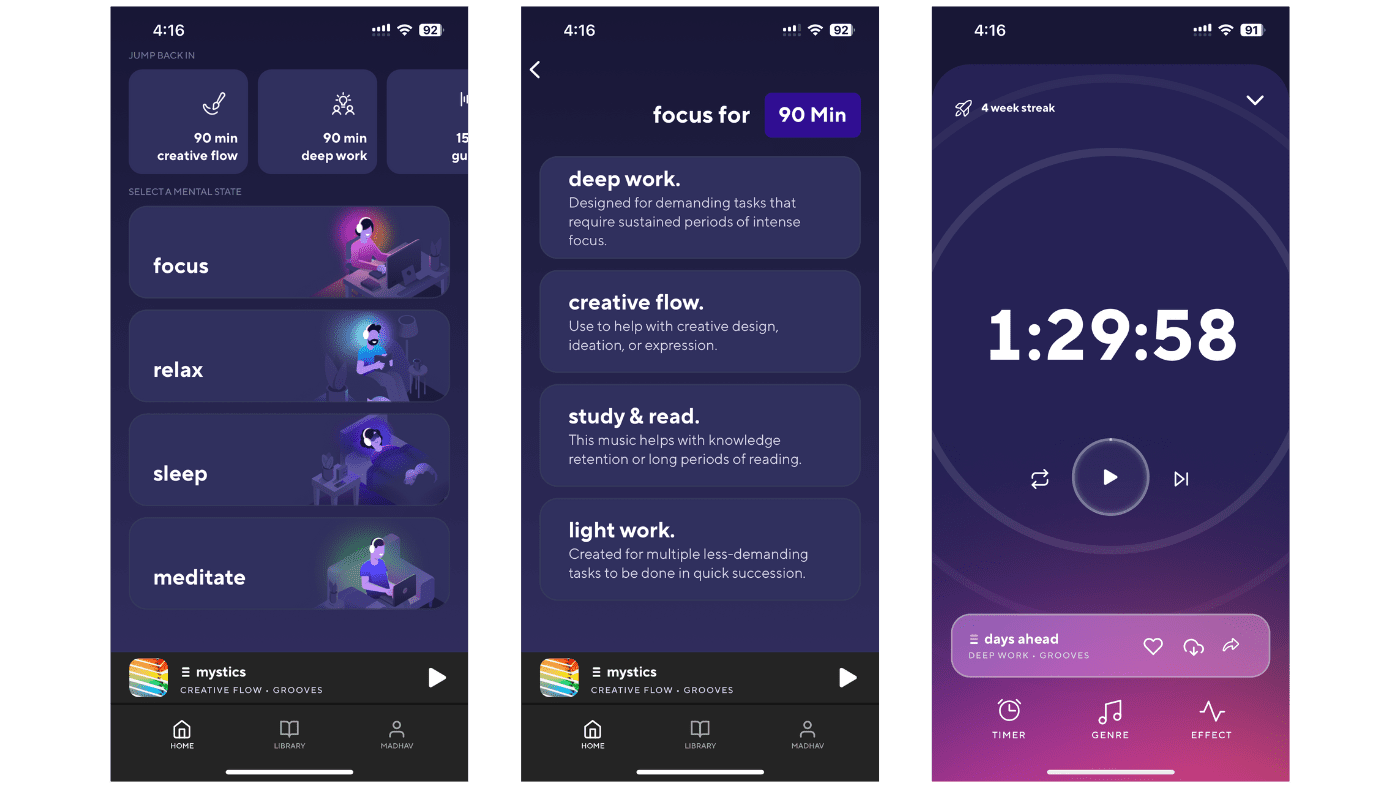 I've used both the Android and iOS apps and both of them were quite stable and did their job. Their Web app is also quite nice, in case you want to play BrainFM music while on your laptop.
BrainFM's app also features a built-in Pomodoro timer, the option to download tracks for offline playback, and the ability to save favorite tracks (so you can replay them later).
Verdict
BrainFM is a clear winner as its apps are stable, easy to use and offer a ton of features.
4. Pricing
Both Focus@Will and BrainFM cost $70/year.
However, using the discount code ESM will get you an additional 20% off your BrainFM subscription, which brings down BrainFM's annual price to $70 $56/month or just $5/month!
You can apply our discount code ESM as many times as you like and continue to get additional 20% off. You can even apply it while renewing your BrainFM plan next year.
Verdict
BrainFM is the winner here as you get more value for money.
By selecting BrainFM over Focus@Will, you can save yourself $14 annually as BrainFM is priced at $56/year (with ESM discount code) while Focus@Will is priced at $70/year.
Which is better – BrainFM or Focus@Will?
Congratulations, you're ready to choose which productivity music app is the better fit for your needs!
When comparing Focus@Will and BrainFM objectively in terms of features and pricing, BrainFM comes out on top. Focus@Will is still a good option, but for me, BrainFM stands out due to its superior ability to improve focus, stable and user-friendly app, and greater value for money.

I've been a paying customer of BrainFM for 6 years and even wrote a comprehensive review about it. I like their no-nonsense approach to focus music and it works really, really well. I have a 9/10 success rate with BrainFM.
As this Twitter user says, "Today, I couldn't focus on my writing work at all. Then I started listening to BrainFM. Now the work is flowing smoothly and easily. It's incredible how much of a difference it makes."
Best Focus Music App – BrainFM