Last updated on October 23, 2023
Does Hello Bonsai live up to the hype? Is it worth buying?
As a freelancer with over 10 years of experience and a Bonsai subscriber, I've got the inside scoop for you. For the last 5 years, I've used Bonsai for landing clients, onboarding them, managing payments, and keeping my business running.
But am I happy with it?
In this Hello Bonsai review, I'll cover everything from my personal favorite features of Bonsai, how I use the platform, the pros and cons of Bonsai, its pricing, and ultimately, whether it's a worthwhile investment for your freelance business.
---
Prefer to watch a video instead? Here's a live walkthrough of my Hello Bonsai account and how I use it.
For context, I'm on Hello Bonsai's Professional plan.
---
Why you can trust ESM's guides: We're not your average publication. We prioritize honesty over software affiliations. We're on a mission to guide software buyers to their ideal tools, delivering unbiased, detailed and transparent information for software buyers. Zero BS, zero fluff— just pure, honest insights.
Let's dive right in!
What is Hello Bonsai?
Hello Bonsai is an all-in-one freelance business management software that guides you from finding clients to handling your earnings. Think of it as your very own freelance command center, offering a bunch of tools to make your workflow a breeze.
It offers a suite of tools to help freelancers, agencies and small businesses create proposals and contracts, send invoices, track time, manage projects, and automate workflows. It also offers additional add-ons to manage your freelance income and taxes inside the app itself.
How does Hello Bonsai work?
From whipping up proposals and contracts to managing projects, keeping track of time, and even setting up discovery calls, Bonsai has everything you need to run your freelance business.
Let me show you how I use Bonsai across every step of my freelance business.
1. Your dashboard is your command centre
Once you start using Bonsai, you'll find yourself in a dashboard that acts as your go-to spot for everything around your freelance business. It gives you a quick summary of all the activity happening around your business.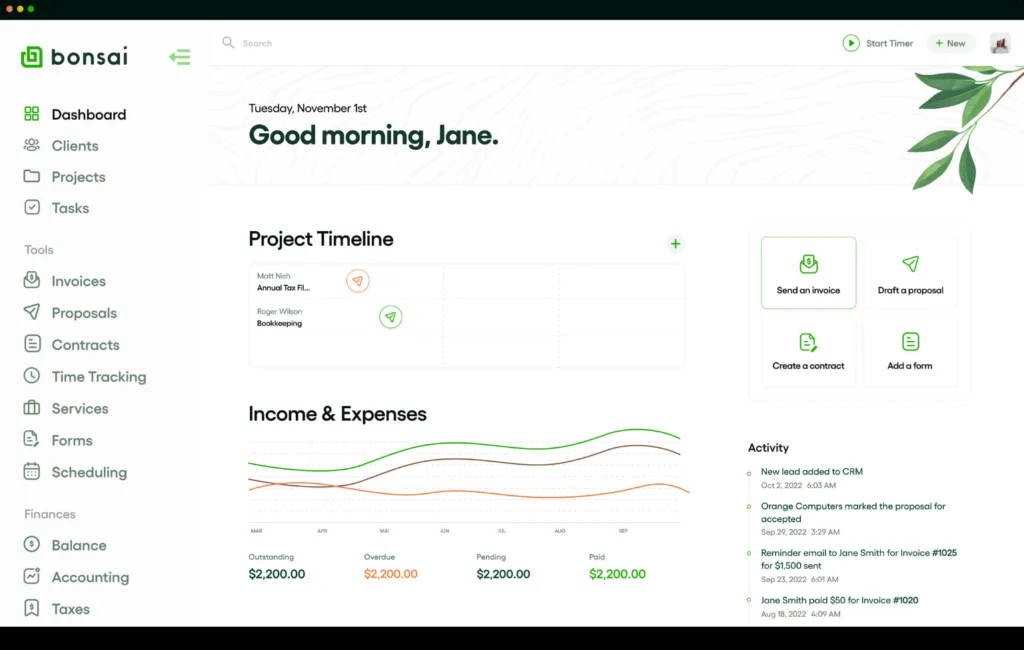 Navigating the dashboard is a piece of cake. There are four main parts: clients, proposals, contracts, and invoices.
2. Acquiring & managing new clients
Let's kick off with clients. You can manually add a client by typing in their details, like their name, website, and other important info. You can also throw in tags to keep your clients organized.
Or, you can let automation do the work with forms. Bonsai CRM comes with a form builder that lets you whip up custom forms with different fields like short text, long text, single/multiple choice, and file attachments. You can pop the form on your website, send it through email, or share a public link. Here's a live preview of a form.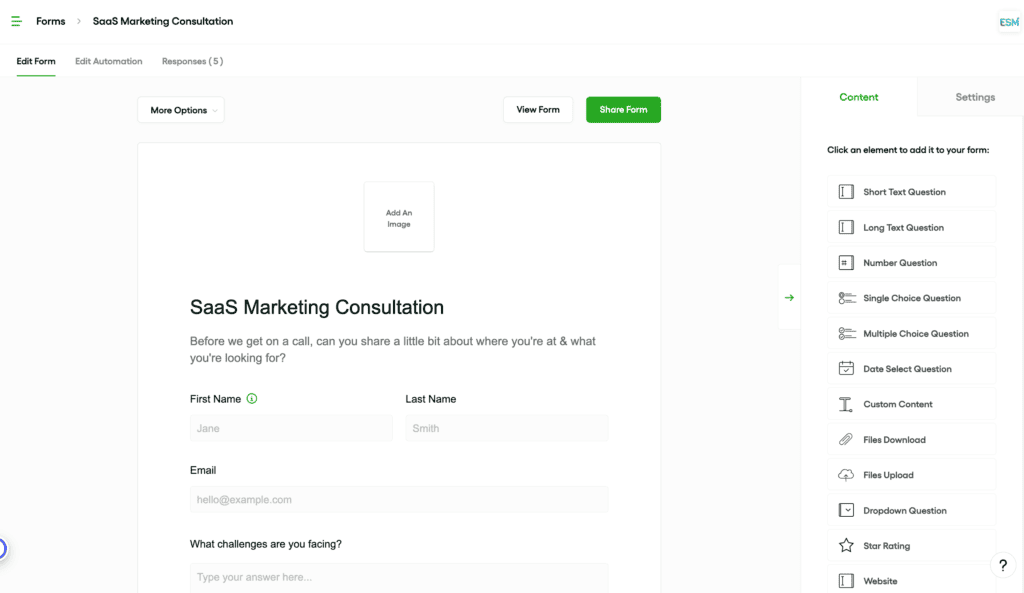 When someone fills out the form, a new client pops up in your Bonsai dashboard. It's a super handy way to grab client info and even sync up with your scheduling tool.
3. Calendar scheduling
Speaking of scheduling, Bonsai has its own built-in scheduling feature, and it's pretty awesome. You can set up events of any length and tweak availability, including buffer times and limits on how far ahead clients can book.
Here's a live preview of my meeting scheduling link using Bonsai's calendar scheduler.
If Calendly is your preferred choice, rest assured that Bonsai integrates with it smoothly. In my experience, Bonsai's calendar scheduler offers better connectivity with other Bonsai tools, boasts a visually appealing design, and saves you from Calendly's additional subscription cost – making it a practical and efficient option.
4. Bonsai Contracts & Proposals
Now, let's talk proposals and contracts. Bonsai offers a bunch of templates to pick from, or you can create your own. The templates are super customizable, so you can add your own flair and tailor the content to fit your needs. When you send a proposal or contract, it's automatically logged in the client's CRM, making for a smooth and organized workflow.
5. Invoicing
So, your client just gave your proposal a big thumbs up – congratulations! Now, it's time to create that invoice, and Bonsai's got you covered.
Bonsai's invoicing tool automates invoice creation, sending, and reminders, as well as applies late fees for overdue payments from clients. And you know what? It's super secure, with multiple global payment options to choose from.
If you've got long-term projects, you can easily set up recurring payments too. Bonsai makes creating invoices a breeze, lets you build custom packages, and gives your clients a hassle-free payment experience.
Bonsai has different invoice options, like single, recurring, and bundled invoices. Plus, there are some neat advanced features, like attaching a file to the Bonsai invoice that your client can only download after they've paid. How cool is that?
The invoices Bonsai creates look super professional, and you can include attachments that unlock when the payment is made.
5. Automations
Bonsai has got your back when it comes to saving time and ditching manual work.
Picture this: you want to send a form right after a contract is signed – no problem! You can set that up as an automation. Or, how about scheduling a meeting when a form is filled out? Easy peasy. And when an invoice gets paid, you can send a personal "thank you" email to your client in a snap using another automation.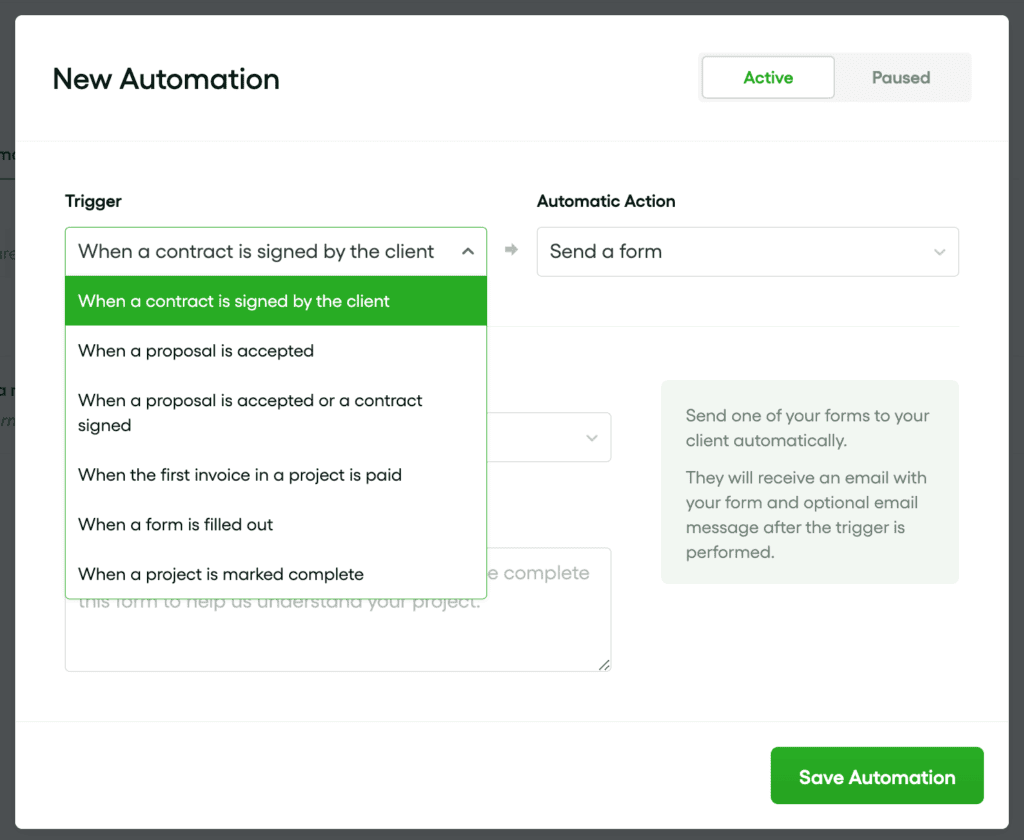 All of these features make your workflow more efficient and give you more time to focus on what matters most – doing the work.
6. Bonsai Time tracking
On top of these core features, Bonsai also has time tracking capabilities. You can keep tabs on time spent on tasks and projects, and there are cool features like rounding times and generating insights. Bonsai even lets you create services, making it a breeze to include predefined packages in your invoices.
7. Project management
Bonsai gives you different views to manage your clients, like a table view and a kanban-style view. You can pick the one that works best for you and your workflow.

8. Income & Expense Management (Available in US, Canada, Australia, and UK)
Bonsai helps you manage your freelance income and expenses and use that save more money on your taxes. This feature is only available to users in US, Canada, Australia and UK.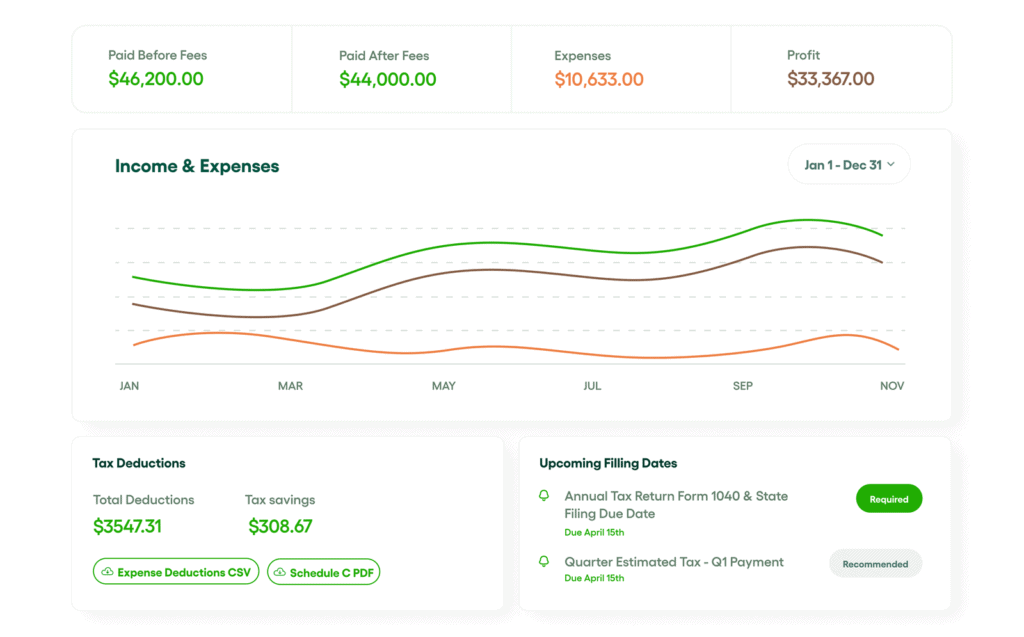 9. Bonsai Banking
Lastly, Bonsai Banking is a simple, 0% fees bank account that automatically sorts your income for taxes, savings, and bills. Plus, it handles expenses by categorizing spending, tracking receipts, and calculating tax write-offs.
With a physical card, virtual card, and Apple Wallet compatibility, Bonsai Banking makes it quite easy to manage business expenses.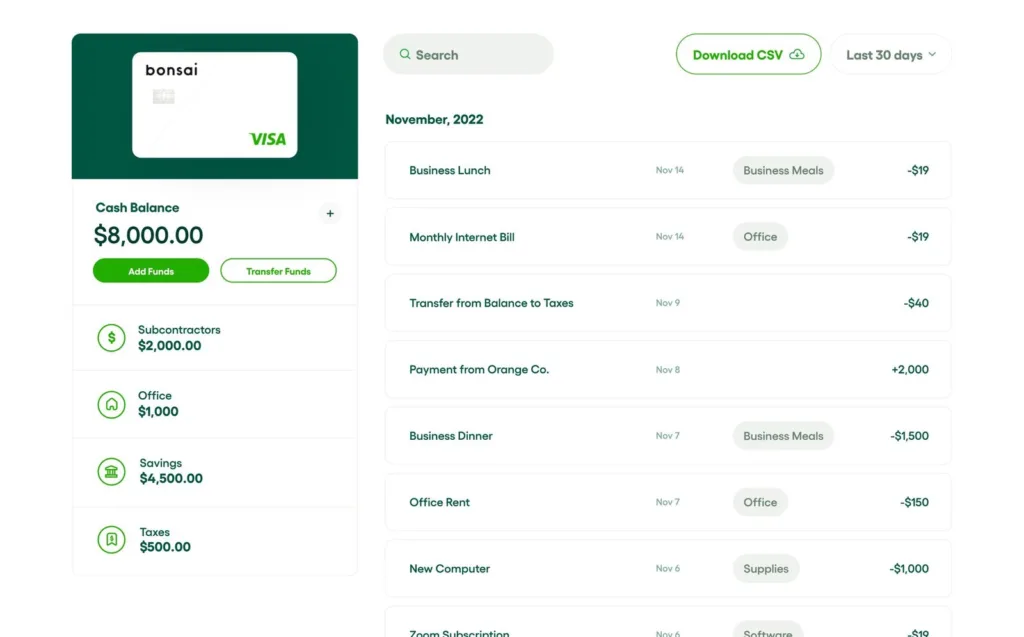 Whether you're a web designer, developer, writer, marketer or any type of freelancer, Bonsai can help you with proposals, contracts, invoices, time tracking, and more. Its minimalistic UI and customizable options helps you manage your freelance grunt work like a pro.
My favorite features of Hello Bonsai
There are three Hello Bonsai features that have been very useful for my freelance business. Not only do they save my time, they make me look like a much bigger business than I actually am.
1. Client Onboarding Forms
Alright, so one of my absolute favorite features is the client onboarding form. This little lifesaver allows me to vet potential clients before even hopping on a call with them. When someone reaches out, I just shoot them a form to fill out.
This way, I can gather all the important info beforehand and even decide if it's worth getting on a call with them in the first place. It's such a fantastic way to streamline that initial client chat.
2. Scheduling Links
Another feature I can't imagine my life without is the scheduling link. Whether I get a meeting request through the onboarding form, LinkedIn, or an email referral, Bonsai's scheduling tool keeps everything organized and super easy to manage.
Plus, the booking page looks crazy professional, with no Bonsai branding and the option to add my own logo. It's just like any top-notch calendar scheduler you'd find out there.
3. Contracts and Invoices
I absolutely love Bonsai's contracts and invoicing features. With the ability to create and manage invoices, including those recurring ones, I save at least 30 minutes of grunt work every month. Bonsai takes care of the legal stuff with contracts, so I don't have to stress about that!
Pros & Cons
If you're considering buying Hello Bonsai, here are the pros and cons based on my experience.
| Pros | Cons |
| --- | --- |
| Look like a professional & mature business to clients | Mobile app is basic |
| Multiple tools in one subscription | Slow user interface |
| Frequent product updates | Basic time tracker and task manager |
| Outstanding customer support | Limited accounting features to non-US folks |
| Clean and minimalistic UI | |
Pros
Here is everything that makes me stay as a Bonsai customer:
1. Makes me look professional to my clients
One big plus is how professional it makes me look when I'm dealing with clients. Everything's organized and consistent, making me feel like I'm running a Fortune 500 company. It helps me build credibility and attract more business, which is a huge win in my book.
2. Multiple tools under one subscription helps save costs
Another thing I love about Bonsai is the variety of tools it offers. I've been able to cancel a bunch of other subscriptions, which is amazing.
Just the scheduling feature alone lets me say goodbye to Calendly. And I don't need Typeform anymore, thanks to Bonsai's forms. Contracts are also a breeze with Bonsai, so no more PandaDocs or Signaturely for me. I was able to ditch my Toggl subscription for time tracking too. Bonsai takes care of everything from signatures to contracts, and even time tracking.
Plus, having all these tools in one place makes my life so much easier and saves me some subscription costs. No need to switch tabs to different apps. Bonsai's tools are seriously top-notch.
3. Frequent product updates
I also appreciate how Bonsai keeps getting better. Bonsai's team is always rolling out updates and new features. Every time I log in, I see a change log with improvements like Bonsai time tracker, new Bonsai payment options and book clients. It's nice to see a platform that's always evolving and listens to its users.
Here is a history of their product updates.
4. Awesome customer support
Their customer support is amazing! Whenever I need help, their team is super quick to respond, usually within just a couple of hours. It's comforting to know that help is just a message away.
5. Love the UI
Lastly, I really dig the positive vibes Bonsai gives off. The platform's design is clean, simple, and minimalistic, kind of like a peaceful garden. It creates an uplifting atmosphere that helps me stay motivated and excited about my freelance work.
Cons
Now, onto the not-so-great stuff about Bonsai.
1. Bonsai's mobile app is quite basic
One downside I've noticed is that the Bonsai mobile app (at least the iOS version I use) is a bit limited. It's nice for checking time tracking, invoice status, and project updates, but you can't create contracts or invoices with it. It feels more like a basic preview app, so I think there's room for improvement.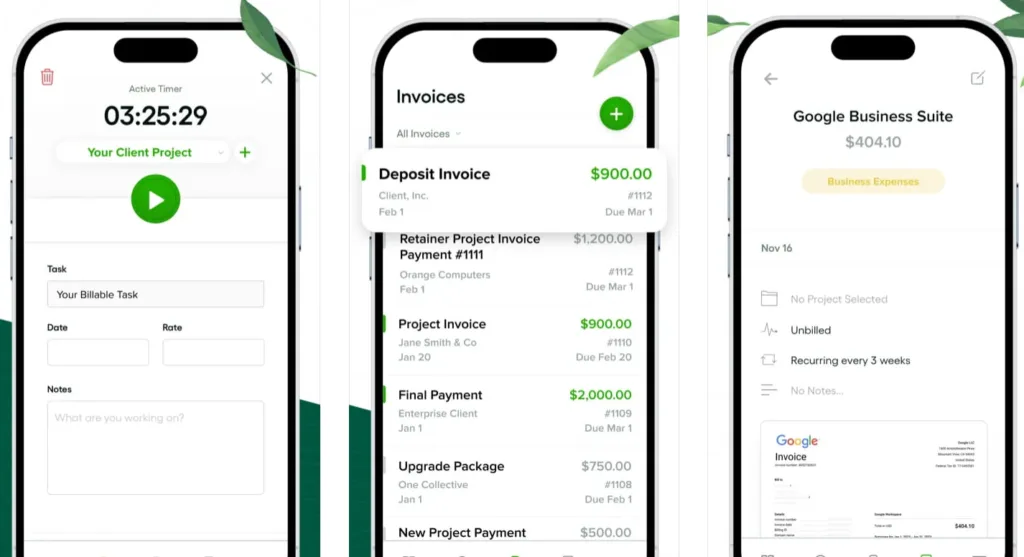 2. UI loads slowly sometimes
Another thing that bugs me is that Bonsai's user interface can be a bit slow sometimes. When I'm navigating through certain sections, like loading pages, there's a noticeable lag. It's not a deal-breaker, but a faster and more responsive experience would be awesome.
3. Basic time tracking and task management tools
I find Bonsai's time tracker and task manager to be pretty basic. It's not much more than a simple timer and hour tracker. I've even forgotten to turn off the timer a few times, which messed up my time logs. When it comes to task management, I prefer using Trello for its more advanced features.
4. Accounting features not available to all users
Lastly, there's one limitation with Bonsai that affects me personally: its accounting features are only available in certain countries like the US, Canada, Australia, and the UK.
Since I'm in India, I can't use Bonsai Accounting for tracking expenses, managing income, or dealing with tax deductions. I get that each country has its own rules and tax systems, but it'd be cool to see broader support.
Bonsai Pricing
Bonsai offers three pricing plans:
The Starter Plan ($17/month, billed annually) is perfect for freelancers needing essential tools and supports up to 5 collaborators.
For more advanced features, the Professional Plan ($32/month, billed annually) is ideal for small businesses, offering custom branding, integrations, and support for up to 15 collaborators.
The Business Plan ($52/month, billed annually) is tailored for those requiring advanced team management, subcontractor support, and unlimited collaborators.
Here's the real beauty of it all. With Hello Bonsai, everything is covered under one subscription. No more shelling out for separate contracts, proposals, invoices, calendar scheduling and time tracking apps.
If you ask me, I'd say go for the Professional plan. The workflow automations, custom branding and client portals are worth the additional cost.
As a Professional plan subscriber myself, I have set up an automation where when a potential clients fills out a form, they're automatically sent to my calendar scheduling link. It helps me filter through good and bad prospects before getting on a call with them. Totally worth the $32/month as it saves me 15+ hours of mis-fit client calls every month.
Hello Bonsai Alternatives & Competitors
Hello Bonsai primarily competes with Dubsado and Honeybook. I've compared the apps and honestly, I find Bonsai's UI the most modern, minimalistic and simple to use.
Also, when compared with Bonsai competitors (Dubsado & Honeybook), Hello Bonsai appears to be the most affordable option in terms of pricing.
| Platform | Starting Price |
| --- | --- |
| Hello Bonsai | $17/month |
| Dubsado | $20/month |
| Honeybook | $19/month |
Is Hello Bonsai worth it?
For me, it was totally worth the investment. I've been a Bonsai user since 2018, and it's been a reliable tool for me, whether I'm working on a large freelance project or a smaller gig.
What I like about Bonsai app is that it lets me focus on what really matters – doing the actual work – while taking care of all that boring grunt work in the background. It's investments like these that have significantly contributed to the growth of my freelance business.
For $17 a month, I look like a mature and professional business to my clients, save hours of weekly admin tasks, and cut down on other tool subscriptions. The value becomes obvious once you start using it.
If you're a part-time or full-time freelancer that makes >$500 per month, you should considering buying Bonsai.
However, if you're just starting out with freelancing and don't have any clients or make <$500 per month, I would recommend focusing on your freelance offering and business development first. Once you have a recurring stream of clients, Hello Bonsai will be worth the investment.
Hope my insights as a Hello Bonsai customer were helpful. If you're buying Hello Bonsai, please consider buying using my Bonsai sign up link. It won't cost you anything extra, but it will help support my efforts with creating reviews like these. Thank you for considering!
FAQs
Is there a free trial for Hello Bonsai?
Yes, Hello Bonsai offers a 14-day free trial, allowing you to test the platform and its features before committing to a paid plan.
Can I use Hello Bonsai to create contracts and proposals?
Yes, Hello Bonsai allows you to create customized contracts and proposals, with built-in e-signature capabilities for easy client approval.
Does Hello Bonsai support multiple currencies and languages?
Yes, Hello Bonsai supports multiple currencies, making it easy to invoice international clients. However, the platform is currently available only in English.
Are there any Hello Bonsai integrations?
Hello Bonsai integrates with popular platforms like Calendly, Zapier, and QuickBooks, allowing for seamless collaboration and streamlined bookkeeping.
Is Hello Bonsai a CRM?
Bonsai is a fantastic CRM for freelancers. It enables freelancers to manage clients, scheduling, contracts, and other related activities.
Is Bonsai good for freelancers?
Yes, Bonsai is particularly designed for freelancers. It helps with creating contracts, sending invoices, and time tracking, among other features. This suite of tools eliminates a lot of the grunt work associated with freelancing.
Who owns Hello Bonsai?
Hello Bonsai was founded by Matt Brown and Matt Nish. Both founders have freelancing backgrounds from their college days.