Last updated on November 18, 2022
Apollo is an all-in-one sales intelligence and engagement software for B2B SaaS companies that gives businesses everything they need to prospect, enrich leads, then engage with contacts efficiently.
I came across Apollo while doing some founder-led sales to acquire our first customers. I wanted a tool that:
Made it easy to prospect inside LinkedIn
Had a huge contact database with accurate and updated contact data
Enrich my existing CRM leads so we could run omni-channel campaigns with our prospects (email, LinkedIn, phone)
Didn't cost a lot of $$. I'm an early stage startup.
The goal of my research was to find a tool that would help me prospect potential customers and pitch them.
After trying many other competitors, Apollo was the only one that met all of my requirements (and much more).
Apollo has rave reviews with an average 4.8/5 rating on G2 across 3000+ reviews. So what makes it so good? Where does it fail? How much does it cost? I'll answer all these questions and more in this Apollo.io review. I've also included a demo video to show you how it works, so you can get an idea of what the software does.
Apollo helps you find ideal prospects and convert them to customers using hyper-personalized targeting. You can easily segment your audience by location, industry, role, interests and more so you can reach the right people at the right time with the right message – no need for manual segmentation or repetitive tasks!
Rapidly find the right prospects for your business by matching them with their interests and behaviors.
Send personalized email campaigns with automation tools that help you save time, money and resources.
Get real-time reports to see how your outreach efforts are performing and adjust accordingly.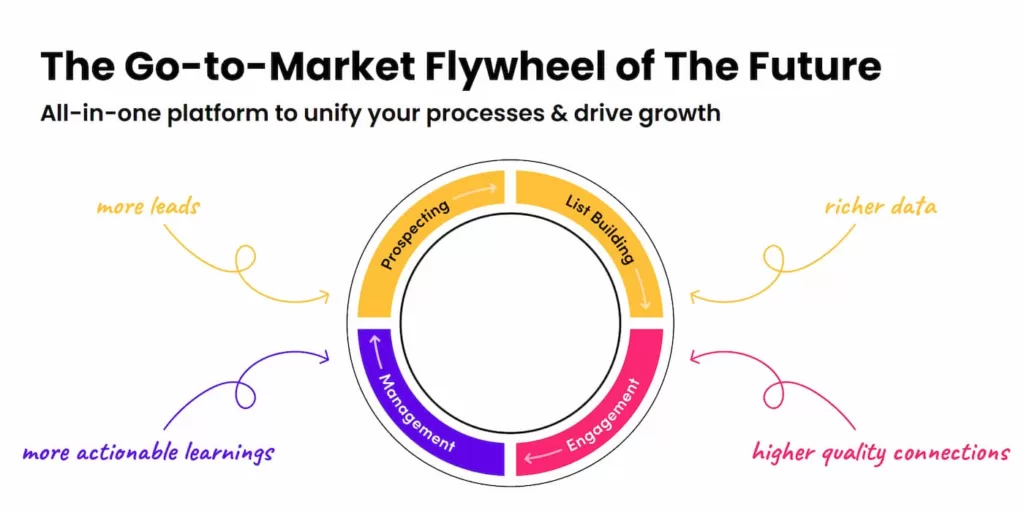 Favorite features of Apollo
Apollo.io offers a number of features to make your life easier and boost your sales pipeline. The company's main focus is on the B2B market, so it helps you find contacts in this niche. Here are some of my favorite features:
Chrome Extension for fast prospecting
This is one of my favorite features that alone brings in 80% value of the Apollo subscription for me.
For faster prospecting, you can use the Apollo's Chrome extension that unlocks Apollo functionality in many of your everyday applications—such as LinkedIn, Gmail and Salesforce.
Apollo's chrome extension helps you find contact details like emails and mobile numbers from LinkedIn profiles, Company websites—and even search results. It's very helpful when you like to prospect inside LinkedIn.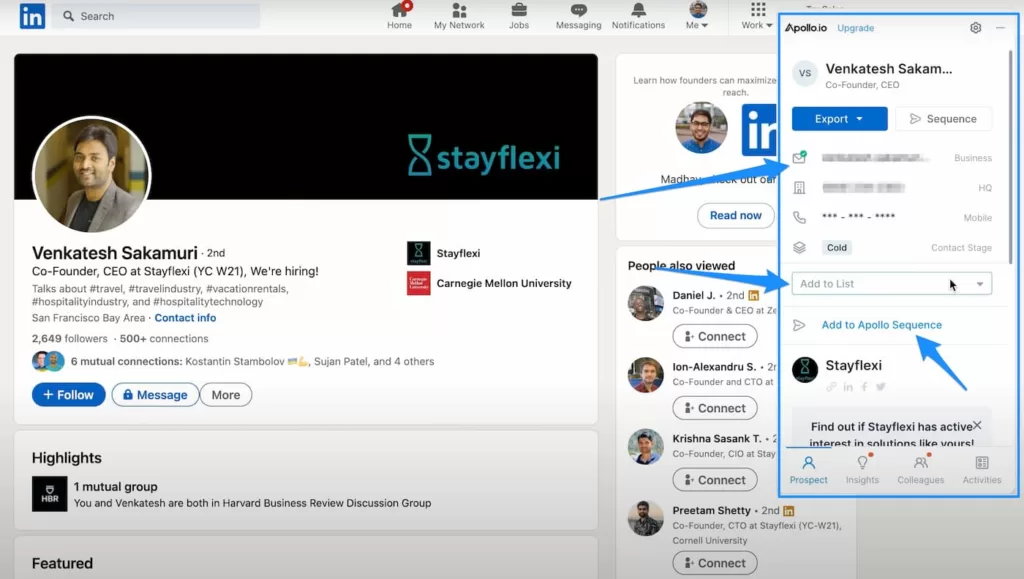 Here are some of the best features of Apollo's chrome extension
With LinkedIn Email Finder, you can navigate to any LinkedIn profile and click on Apollo's Extension icon to instantly extract the email address or phone number of a contact.
Research people and companies on LinkedIn, corporate websites and more. Apollo will reveal additional research it's gathered about them—like technologies they use, revenue figures or funding rounds.
Build lists of contacts from LinkedIn or Sales Navigator and push them directly into Apollo outreach sequences, or export to your CRM. Create and save multiple contact lists in Apollo.
Compose emails in Gmail while simultaneously logging activity in Salesforce.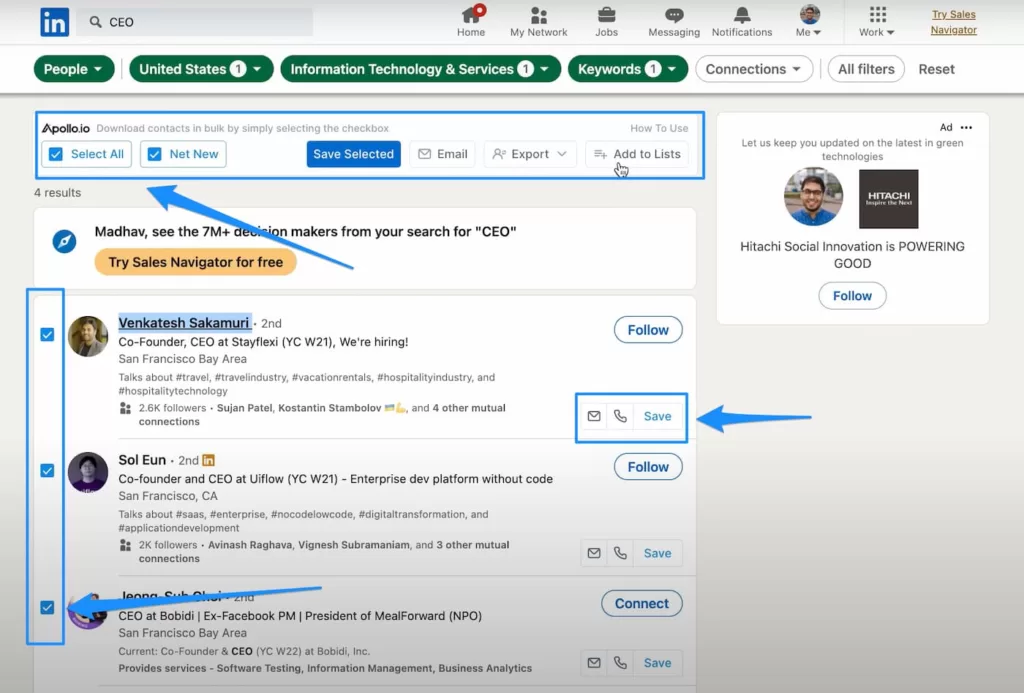 In-App Search
If you'd like to prospect hundreds of contacts at once and don't want to prospect using LinkedIn, Apollo's in-app prospecting tool is very powerful. Apollo's In-app Search makes it easy to save lists, searches, personas, so it can automatically surface and recommend relevant high-value leads to you.
You can essentially filter through their 250 million contacts based on their job title, company headcount, keywords in their profile, what technology they use and even buyer intent.
Once you've found your list of leads, you can add them to a list with just one click. Or you can export these out. Just remember that every contact costs 1 credit.
So if you're exporting 200 contacts, you'll consume 200 credits in your account. It's easy to consume a lot of credits in one go while using Apollo's in-app prospector!
Job change alerts
Apollo keeps their contact database updated regularly, including when someone switches jobs.
In fact, Apollo can alert you automatically when a contact changes jobs. The job changes report makes it easy to find a list of people who recently changed jobs and moved companies. You can personalize your outreach by connecting with these high-value leads at the right point of time with the right message.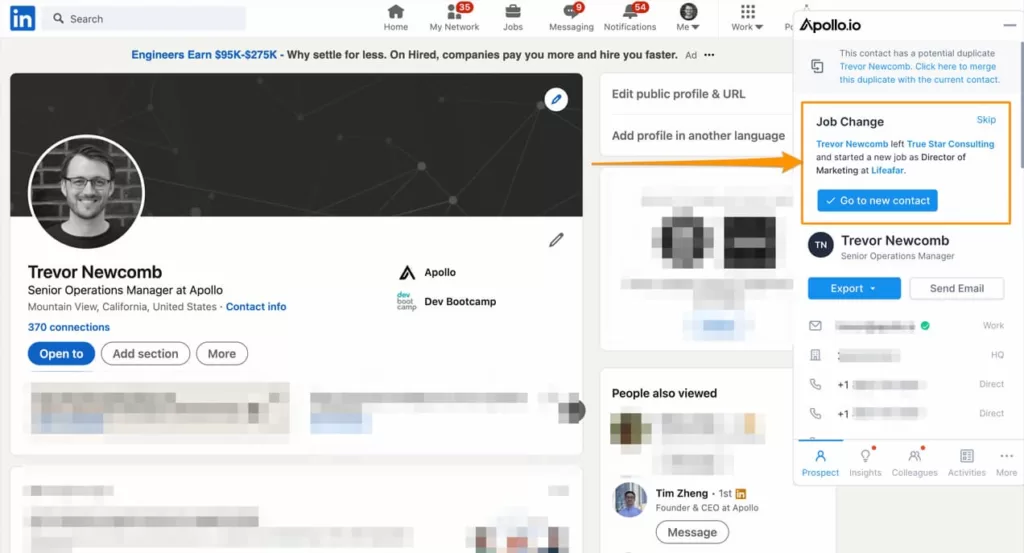 Get clean and accurate data with Enrichment
You can often get a list of leads from somewhere – a conference, your marketing list, your LinkedIn connections or your CRM. But it's not necessary that the data might be complete and rich to do highly personalized outreach. Some lists may only have an email, someone won't even have an email and some may have only LinkedIn profile details.
Apollo's lead enrichment tool adds value to your data by cleaning, standardizing, and enriching it using Apollo's vast database. You can import data using a CSV file or directly from your CRM.
Build & automate omni-channel sales engagement workflows
Apollo Sequences allows you to create customizable, multi-step touchpoints with automatic or manual emails, phone calls—even LinkedIn messages. Using these sequences, you can send highly personalized messages to your prospects and successfully book meetings.
What are the cons of using Apollo.io?
Any software review is incomplete if you don't cover what's not good about a tool. There are a few things that I don't like about Apollo.io:
Apollo's chrome extension syncs slowly with your Apollo account which causes data duplication. For example, if you create a list inside Apollo, it will only show up in your Chrome Extension after a couple of hours.
The Chrome extension also makes your LinkedIn and Gmail slower to use because of all the tools it adds on top of their user interface. Navigating from one page to another on LinkedIn can become slower.
Apollo's lead engagement tools aren't a complete solution yet. It lacks LinkedIn outreach automation (I do a lot of my outreach using LinkedIn messages) so I had to add MeetAlfred to my sales workflow. I wish it had that. Even cold calling features are fairly basic. There is no option to add SMS to your outreach sequences.
The Chrome extension asks for too many permissions (like sharing my contact data) especially when connecting with Gmail.
Their lead database works better if it's a large company or a business email. But if you have a contact using personal gmail.com or works at a smaller company, the contact data might not be very updated.
Apollo.io Demo
In this Apollo.io demo video, I walked through some of the main features of Apollo.
How does Apollo.io fare against competitors?
Apollo has a much bigger contact database than Zoominfo and Lusha. It has over 250 million contacts while Zoominfo has 150 million and Lusha just 100 million.
Apollo is also cheaper than its competitors with $0.05 per contact while in comparison, Zoominfo and Lusha charges around $1 per contact.
The biggest difference between these tools is that Apollo provides advanced sales engagement features like omni-channel sequences, call coaching, contact insights in Google Calendar and different types of workflow automations which are not available on either of these platforms (Zoominfo or Lusha).
In fact, Lusha doesn't even provide lead engagement features. Lusha is purely a lead prospecting and enrichment tool.
How much does Apollo.io cost?
Apollo costs $24 per month for upto 500 contacts and 50 phone numbers. The pricing scales based on the number of contact credits needed every month.
What can you use Apollo.io for?
Apollo has many use-cases for startup founders, salespeople and marketers. Here are some of them:
Apollo is great for startup founders who are looking to acquire early adopters or first customers for their products. It's also helpful for those who are raising a round, as it's an easy way to identify potential investors and reach out to them with personalized pitches. You can even use Apollo to source candidates for your job opening.
Marketers can use Apollo.io to find new affiliate partners, co-promotion opportunities with other brands, and link-building opportunities.
Salespeople use Apollo.io to find prospects and book more meetings with them using cold outbound tactics.
Verdict
I give Apollo a solid 4.8/5. Here's why:
It's an all-in-one tool – you don't need a separate tool for outreach or prospecting. You don't need to buy LinkedIn premium subscription. All tools in one flat price of $24/month. This makes it easy to keep all your sales efforts in one place and avoid tool fatigue. You also get good value for money.
Apollo has the biggest lead database among all sales lead generation tools with 250 million (and growing) contacts. No other competitor comes close.
It significant reduces time to prospect. In 4-5 hours, I'm able to prospect 200+ contacts via LinkedIn with hyper-personalised research on every contact.
You can enrich your existing lead data (from CRM, marketing tools etc.) with a lot more details with 1-click.
To summarize, I think that Apollo is an excellent all-in-one platform that combines prospecting, engagement, analytics and enrichment capabilities to help go-to-market teams find and close ideal customers faster. It's easy to use, affordable (particularly if you pay yearly), and has a lot of great features that make it stand out from the competition.
It's well worth the investment if you're looking to do any kind of cold or warm outreach. Give it a shot!