Last updated on November 18, 2022
I've been using Brain.fm for over 5 years now, and I absolutely love it! If you're not familiar with Brain.fm, it's a focus music app that helps you get into a flow state so you can be more productive. I highly recommend it for anyone who struggles with focus or concentration or even sleep.
After 5 years as a paying customer, I wanted to share my thoughts on the app and whether it's worth the investment. In this review, I'll cover:
The science behind Brain.fm
My favorite Brain.fm features
Brain.fm pricing
What you can use Brain.fm for
By the way, I also recorded a live walkthrough video of how I use Brain.fm.
I hope this review will give you a better understanding of whether to purchase a subscription of Brain.fm or not.
How does Brain.fm work?
I've tried many different YouTube playlists, binaural beats apps and focus music apps like Noisli, Headspace and Calm. I even listen to movie soundtracks and post-rock music.
While they all help me concentrate, none of these solutions came close to how effectively Brain.fm works!
There's a reason behind it: Brain.fm uses their own patented technology to generate this music. They've explained the full science behind it.

Brain.fm is a science-backed music app made for the brain. It uses rhythmic audio that guides brain activity through a process called entrainment. Brain activity can be shifted via entrainment to help you focus, relax, sleep and meditate better.
In fact, Brain.fm team claims that the electrical activity and blood flow in the brain is the highest while using Brain.fm.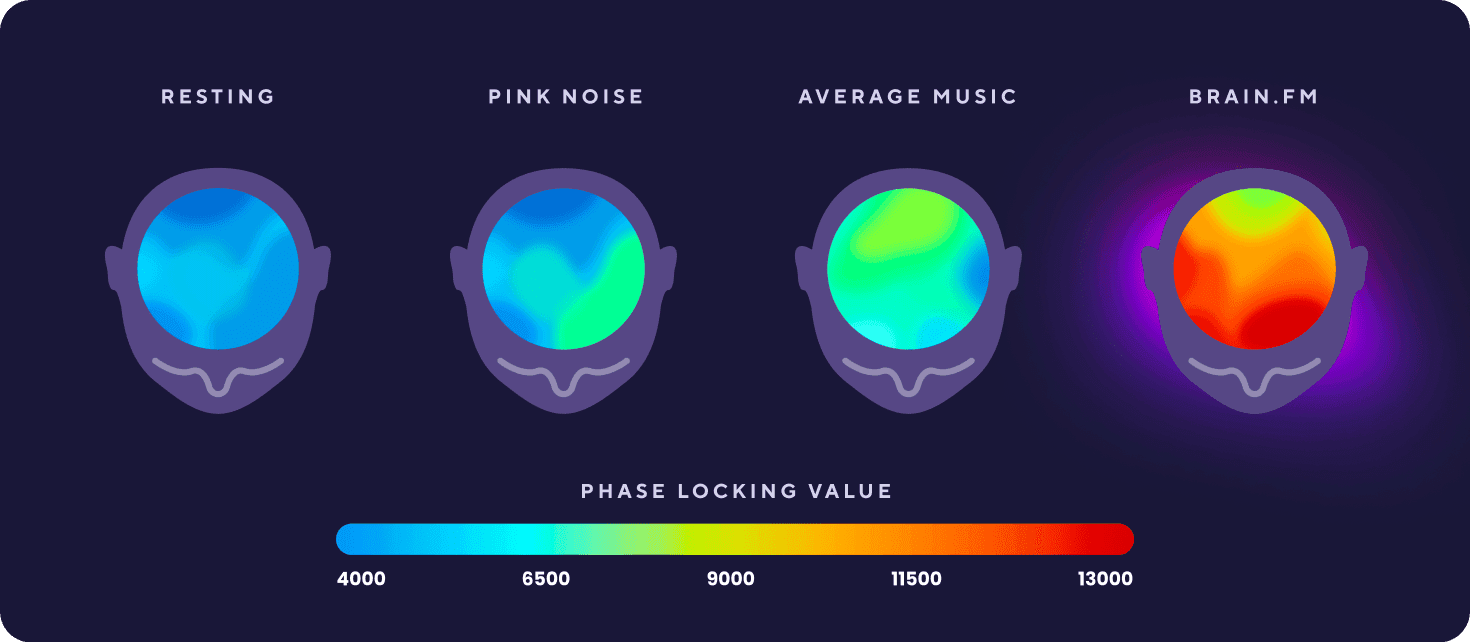 The point I'm trying to make here is that there's a lot of technology behind why Brain.fm works so well in concentrating better.
My favorite Brain.fm features
Brain.fm can be accessed via their web app and mobile apps on iOS and Android. While the mobile app experience is slightly more featured than the web app experience, all apps have some cool features to help you concentrate better.
Here are three of my favorite features of Brain FM:
Customize music to your liking
There is a huge library of focus, relax and sleep music that can be customised to your preferences. For example, if you want to listen to lo-fi focus music with the sound of the forest, you can choose that. If you want to listen to grooves music with the sound of waves AND forest, you can even do that.
I personally love their lo-fi, grooves, post rock and forest sounds. You can also choose between different categories of tracks such as classical or ambient. You can even save the tracks that worked really well for you so you can listen to them on-demand in the future.
Built-in pomodoro timer
Another thing I love about Brain.fm is their built-in Pomodoro app!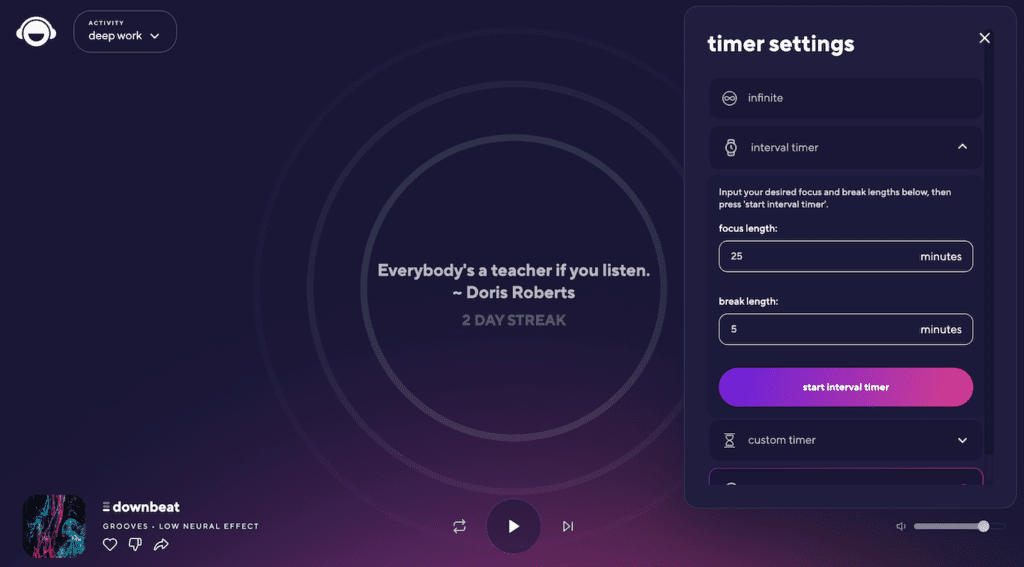 The Pomodoro timer is a widely known time management technique that can be used to break down work into manageable chunks. The timer is typically set for 25 minutes, and the user works for that amount of time before taking a 5-minute break. This process is repeated 4 times, after which the user takes a longer break.
Brain.fm's pomodoro timer helps me stay focused on my work for longer periods of time without getting distracted by anything else (which is important for me). If you ever need help getting into work mode then I recommend using this feature!
To make the timer more motivating, you can choose to show motivational quotes on the timer itself.
Offline access
Last but not the least, I love the fact that you don't always need to the internet to access Brain FM. You can download your favorite BrainFM tracks on your phone and listen to it at your own leisure. It's especially handy when you're in a flight and you don't have internet access.
How much does Brain.fm cost?
Brain.fm is a subscription service with a monthly ($6.99/month) and yearly pricing plan ($49.99/year). With the yearly plan, you get a sweet 40% off.
I spoke with Brain FM founders and negotiated an ADDITIONAL 20% off. Use code ESM
All plans give:
Unlimited sessions
Offline access
Access to all tracks
If you're wondering what the focus music sounds like, here's a sample 25 minute Brain.fm focus track to test it out.
Here are four more audio samples to try out.
What do other users say about Brain.fm?
It has glowing reviews. Just search for "brain fm" on Twitter and Reddit and read the. The reviews are amazing.
It also has a 4.9/5 rating on ProductHunt.
What do I use Brain.fm for?
I use Brain.fm pretty much every day for a number of things:
When I have writer's block and need to get past it, I put on Brain.fm's focus music and let it do it's magic. It can take 5-10 minutes, but usually something clicks and I just start writing.
When I'm working at a coworking space or at an airport, there are always so many people around talking loudly that my focus is shot when trying to work. But when I turn on Brain.fm, it drowns out all those other distracting noises so that I'm able to concentrate better on what needs doing right now (this saves me so much time!).
When I have an early morning flight to catch, I struggle to sleep earlier than usual at night. I put on Brain.fm's sleep music and within minutes (my wife has verified this!) I'm snoring.
There are a lot of other use cases too. I've used it for meditation or sometimes to unwind after a stressful day.
From fogginess to focus with Brain FM
Brain.fm is a really fun and easy way to get more out of your day. It's like having an extra boost of motivation, creativity and focus at your fingertips!
I think of Brain FM as more of a productivity app than a focus music app. If you're serious about getting through your most important tasks of the day quickly, just get a subscription of BrainFM.
For $3.33/month, it's totally worth it! That's why I've stuck around for more than 5 years.