Last updated on July 22, 2023
I've tried all sorts of ways to stay focused and productive, like meditation and exercise, but nothing compares to the magic of BrainFM.
Believe it or not, I've been a loyal BrainFM customer for six whole years! But the question is, does it still pack the same punch as it did back in 2017?
In this BrainFM review, I'll be diving into the pros and cons, exploring the science behind their unique music, and even revealing how to get BrainFM at the absolute best price.
---
Short on time? Here's a live walkthrough of how I use BrainFM.
---
Our review of BrainFM is based on a systematic approach, sharing practical insights and our own experience with numerous productivity and focus music apps.
What Is BrainFM?
BrainFM is a focus music app that offers personalized music to help you focus, relax, or sleep. It uses its own patented technology to generate this music and it works very well!
It's the perfect solution for those unproductive hours where we all struggle to keep our minds on track—no matter whether we're at work or at home or on a flight.
BrainFM's been transformative for me: when my brain is feeling scattered or unfocused, I turn on the app and feel instantly calmer and more focused. Even if my mind is racing with ideas and thoughts, turning on BrainFM helps me focus on one thing at a time so that my thoughts don't overwhelm me.
Available on iOS, Android & Web

Science-backed music (patented technology)

Huge library of focus, relax & sleep tracks

Offline access

Built-in pomodoro timer

5/5 reviews across the internet
How Does Brain.fm Work?
There's a whole science behind how Brain.fm uses their own patented technology to generate this focus music. Let me explain that in a nutshell.
BrainFM uses rhythmic audio that guides brain activity through a process called entrainment. Brain activity can be shifted via entrainment to help you focus, relax, sleep and meditate better.
In fact, their team claims that the electrical activity and blood flow in the brain is the highest while using BrainFM vs others. 🤯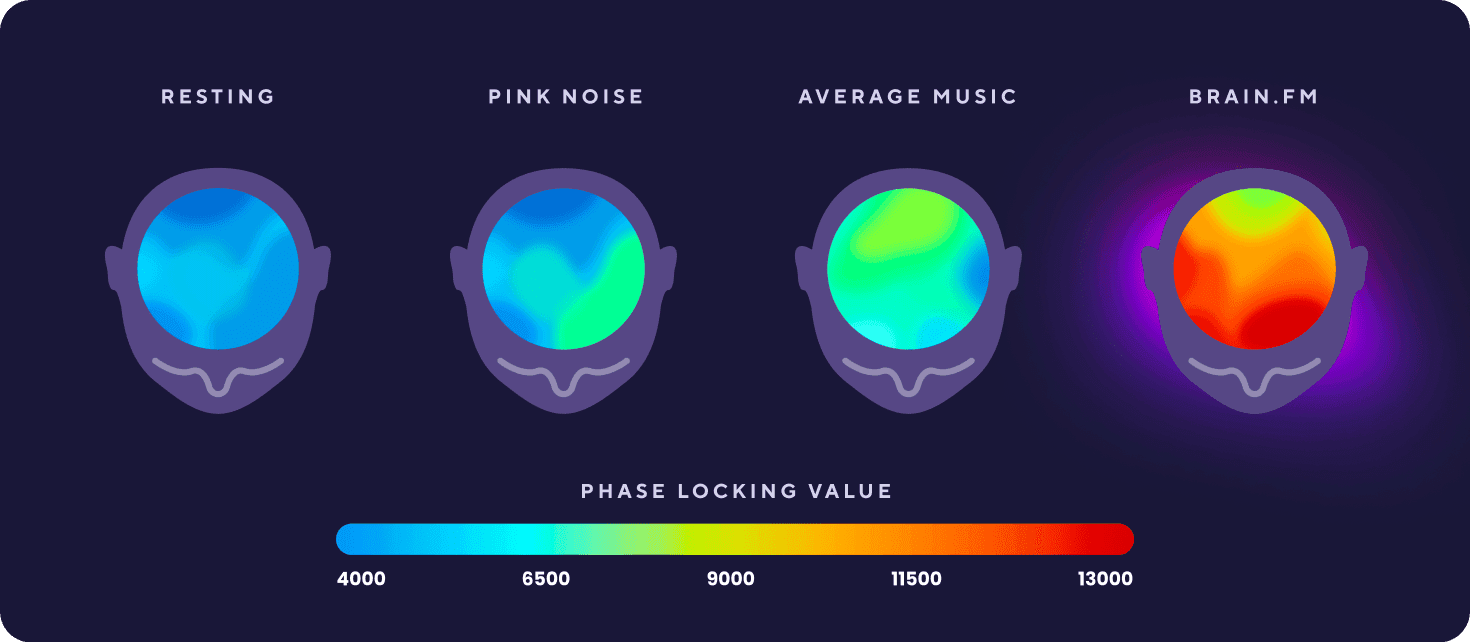 What Does BrainFM's Music Sound Like?
I'd recommend putting on your headphones so you can truly experience the BrainFM sound.
If you're wondering what the focus, relaxation, sleep or meditation music sounds like, here are some short samples to listen to:
Here's a sample 25 minute Brain.fm focus track if you want to test working with it.
BrainFM's music library has thousands of tracks, and they can be customized in countless ways. I've never heard the same song twice unless I wanted to (by saving that track to my favorites)!
BrainFM Pros
Available on iOS, Android & Web

Science-backed music (patented technology)

Huge library of focus, relax & sleep tracks (with offline access)

Built-in pomodoro timer

60 day money back guarantee on annual subscriptions

5/5 reviews across the internet
BrainFM can be accessed via their web app and mobile apps on iOS and Android. While the mobile app experience is slightly more featured than the web app experience, all apps help you concentrate better.
Here are FIVE of my favorite Brain.fm features:
1. Customize Music To Your Liking
There is a huge library of focus, relax and sleep music that can be customised to your preferences. For example, if you want to listen to lo-fi focus music with the sound of the forest, you can choose that. If you want to listen to grooves music with the sound of waves AND forest, you can even do that.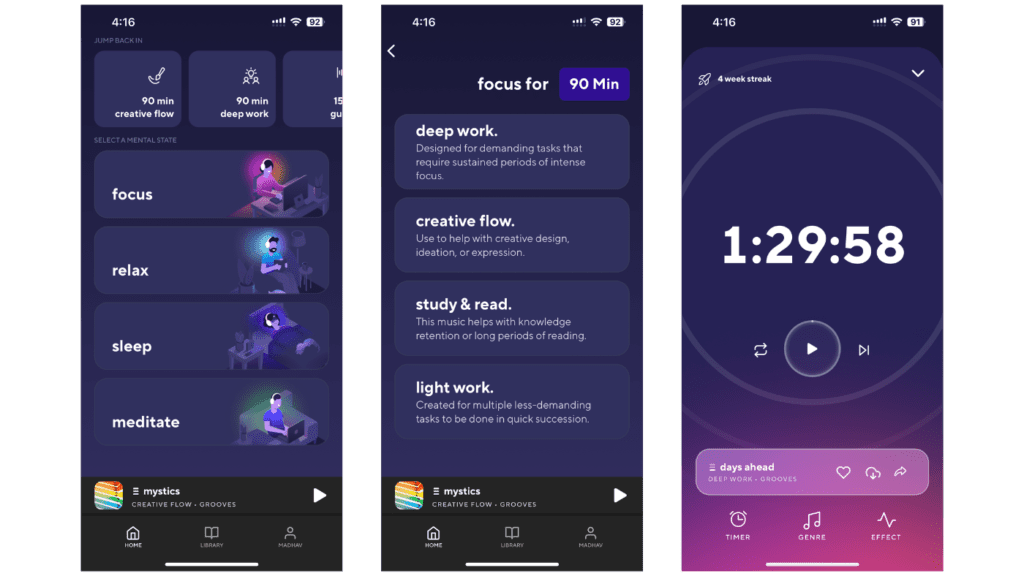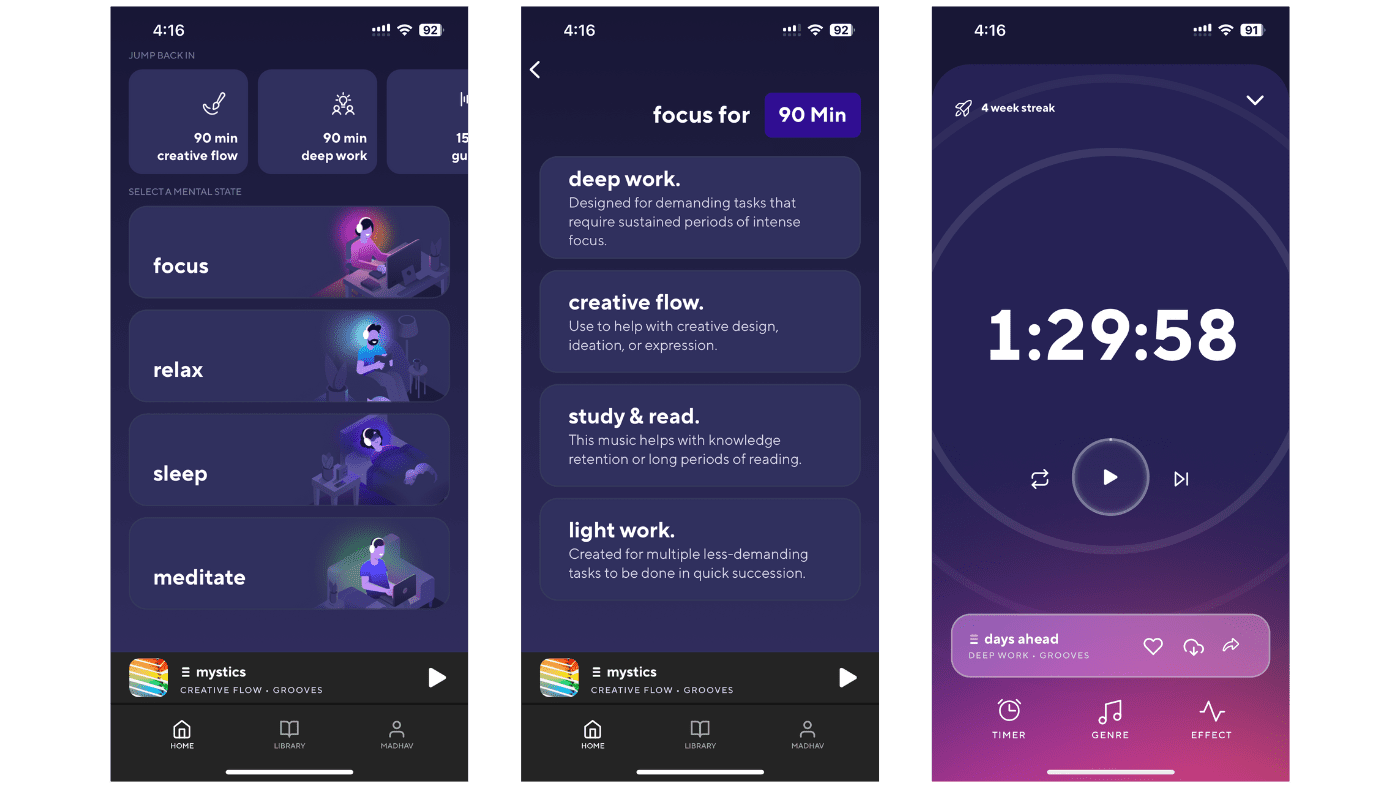 I personally love their lo-fi, grooves, post rock and forest sounds. You can also choose between different categories of tracks such as classical or ambient. You can even save the tracks that worked really well for you so you can listen to them on-demand in the future.
2. Built-In Pomodoro Timer
Another thing I love about Brain.fm is their built-in Pomodoro app!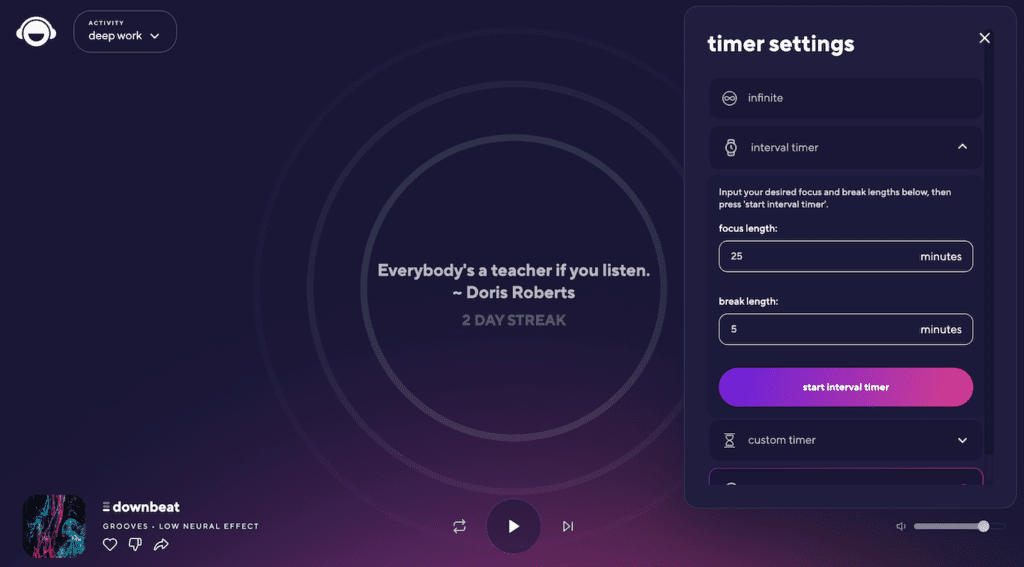 The Pomodoro timer is a widely known time management technique that can be used to break down work into manageable chunks. The timer is typically set for 25 minutes, and the user works for that amount of time before taking a 5-minute break. This process is repeated 4 times, after which the user takes a longer break.
Brain.fm's pomodoro timer helps me stay focused on my work for longer periods of time without getting distracted by anything else (which is important for me). If you ever need help getting into work mode then I recommend using this feature!
To make the timer more motivating, you can choose to show motivational quotes on the timer itself in BrainFM.
3. Offline Access To Tracks
I love the fact that you don't always need to the internet to access Brain FM. You can download your favorite BrainFM tracks on your phone and listen to it at your own leisure. It's especially handy when you're in a flight and you don't have internet access.
4. Available Across Devices
I love the fact that you can use BrainFM across platforms. There are great Android and iOS apps to use BrainFM on the go. But if you're working from your laptop or PC, you can just open their browser based app and start focusing immediately.
Your data is stored cross-platform so your favorite BrainFM tracks are available everywhere you go.
5. Wide Library Of Music
BrainFM has a huge library of music. You'll never get bored with repetitive music. Here's why:
Firstly, all tracks are categorized under genres. Some of the genres of music that they cover: acoustic, atmospheric, cinematic, classical, drone, electronic, grooves, lofi, piano and post-rock.
Each of these genres have their own library of tracks.
Then, these tracks can be combined with built-in nature sounds like beach, chimes and bowls, forest, nightsounds, rain, rainforest, river, thunder, underwater and wind.
The music can then be customised by neural effect (low, medium or high) and activity (deep work, learning, creativity).
You get the idea. You'll never get bored with BrainFM music.
BrainFM Cons
There aren't any major flaws with Brain FM. It delivers what it promises. But if we are to get really nit-picky, here are a few cons worth knowing about:
1. BrainFM comes with a subscription cost
It's not like you can pay once and use it for life. You have to pay monthly or annually. But for $3/month, it's not that expensive (vs how expensive it is to lose those unproductive hours).
2. Quotes aren't customisable
While playing music, you can choose to toggle on/off the quotes that show up on the screen. But you can't customise what quotes to show or add your own quotes to it. For that reason, sometimes the quotes are irrelevant for me.
3. Web app doesn't have any offline access to tracks
While BrainFM's mobile apps do provide offline access to tracks, Web app is only accessible online. You can't download any tracks to your PC.
None of these BrainFM cons are deal breakers or major concerns, so don't feel worried about them.
Here's a quick summary of BrainFM's pros and cons.
| Pros | Cons |
| --- | --- |
| 1. Huge library of customizable focus, relax, and sleep music | 1. Requires a subscription with monthly or annual payments |
| 2. Built-in Pomodoro timer to break down work into manageable chunks | 2. Quotes on the app cannot be customized or added by the user |
| 3. Offline access to favorite tracks | 3. Web app does not have offline access to tracks |
| 4. Available across devices with cross-platform data storage | |
| 5. Wide variety of music genres and nature sounds to choose from | |
Brain.fm Use Cases: What Do I Use It For?
I use Brain.fm pretty much every day for a number of situations.
Writer's block: When it hits, I turn on Brain.fm's focus music and let it work its magic. It might take a few minutes, but soon enough, I'm back in the writing groove.
Noisy spaces: Working in coworking spots or airports can be challenging with all the chatter. Brain.fm drowns out those distractions, and I'm in the zone getting stuff done.
Early morning flights: When my mind races at night, thinking about travel plans, Brain.fm's sleep music helps me fall asleep quickly (my wife can vouch for that 😂).
The best part is, it's not just for focus and sleep. You can use Brain.fm for meditation, relaxation, and more.
How Much Does BrainFM Cost?
Brain.fm app has a monthly ($6.99/month) and yearly subscription ($49.99/year). With the yearly plan, you get a sweet 40% off.
I negotiated an ADDITIONAL 20% off with BrainFM. Use code ESM.
All plans give:
Unlimited sessions
Offline access
Access to all tracks
Is There A Brain.fm Coupon Or Promo Code?
You're in luck – use code ESM to get additional 20% off your BrainFM subscription. With this BrainFM discount code, here is what the pricing looks like:
Monthly plan – $7 $5.6/month
Annual plan – $4 $3/month
As you can notice, buying BrainFM's annual plan gives more value for money. For $3/month, BrainFM is a steal and FAR cheaper than all of BrainFM's competitors.
Available on iOS, Android & Web

Science-backed music (patented technology)

Huge library of focus, relax & sleep tracks (with offline access)

Built-in pomodoro timer

60 day money back guarantee on annual subscriptions

5/5 reviews across the internet
BrainFM Competitors & Alternatives
BrainFM primarily competes with two other focus music apps – Endel and Focus@Will.
I've done a detailed comparison between BrainFM, Endel, and Focus@Will and BrainFM was a clear winner because of three reasons:
Effectiveness of the music
Clean UI
Most affordable pricing
Here's a quick rundown on how BrainFM competes with it's alternatives and competitors.
| Parameters | BrainFM | Endel | Focus@Will |
| --- | --- | --- | --- |
| Music | Uses rhythmic audio to guide brain activity | Adapts music real-time based on surroundings | Personalized "focus music" based on a quiz |
| Technology | Uses patented neuroscience technology | Uses AI to create personalized soundscapes | Based on 10+ years of neuroscience audio research |
| Apps | iOS, Android, and web | iOS, Android, and web | iOS, Android, and web |
| Experience | Huge library of tracks, offline access, built-in pomodoro timer | Personalized soundscapes | Continuous streaming music station |
| Pricing | $39.90/year (use code ESM) | $50/year | $52.50/year |
Is Brain FM Worth It?
Let's get down to brass tacks: is BrainFM worth buying?
My answer is a resounding YES. The product works, and it works fast. In my testing, I found that using BrainFM got me into focus mode in less than 10 minutes every single time, and I was able to stay focused for hours on end.
It's also affordable: just $3/month for unlimited access.
I've been using BrainFM for about six years now, and I can honestly say that it's been one of my best investments to boost my productivity and get back those unproductive hours.
Whether you want to focus more during work hours or relax after a hectic day or go early to bed at night, BrainFM has got your back.
Brain.fm Reviews: What Do Other Users Say?
BrainFM boasts impressive reviews, including a 4.9/5 rating on ProductHunt, 4.4/5 on the iOS App Store, and 4.1/5 on Android, with over 10,000 reviewers!
Check out these testimonials from satisfied Brain.fm users:
Convinced? Using my special deal, you can get Brain.fm for just $3/month!
FAQs
Can I cancel my Brain.fm subscription

Yes, users can cancel their BrainFM subscription at any time through their account settings. Their team takes upto two business days to process cancellation requests.

Is Brain.fm free?

BrainFM offers a free trial period for new users. After that, users must pay for a subscription to continue using the service.

Can I use Brain.fm offline?

Yes, Brain.fm offers an offline mode in their mobile app that allows users to listen to music without an internet connection. However, this feature is only available for users with a paid subscription.

How to use Brain.fm focus app on iPhone & Android?

Brain.fm has dedicated mobile apps for iOS and Android. Just search for "brain.fm" on the App Store on iPhone and Google Play Store on Android and install the Brain.fm mobile app.

Does Brain.fm offer a lifetime deal?

No, there is no Brain.fm lifetime deal.

Can I download Brain.fm?

Yes, Brain.fm can be downloaded on it's mobile apps. However, there is no Brain.fm desktop app to download as they offer only a web-based app for desktop.

Can I sleep using Brain.fm?

Yes, Brain.fm offers thousands of sleep tracks that are very effective.

Is Brain.fm better than binaural beats?

Yes. Brain.fm produces stronger effects on brain activity than binaural beats, because its music uses many different techniques unlike binaural beats, which rely on only one method for their effectiveness.