Last updated on December 19, 2022
Clearscope is an AI-powered content optimization tool that helps marketers produce highly relevant and engaging content. While it does have a fair share of highs – recommending most asked questions on Google, offering guidance on keyword density, and competition ranking – it also has its own not-so-great moments.
For starters, the price point can be quite a deterrent for small and medium-sized businesses. At the same time, it fails to impress with its limited suite of tools and services and stays overly focused on content optimization while some Clearscope competitors can offer more. Even there, the keyword research tool only churns out basic information, which is quite a letdown. And if you were to bite the bullet and settle for the lowest plan, you would get only 20 content reports – that's quite expensive for $170 per month!
Such drawbacks may have you seeking Clearscope alternatives. While looking for Clearscope alternatives, we looked at:
Top features
Pricing
How the Clearscope alternative compares against Clearscope
Here are 5 Clearscope alternatives you can consider: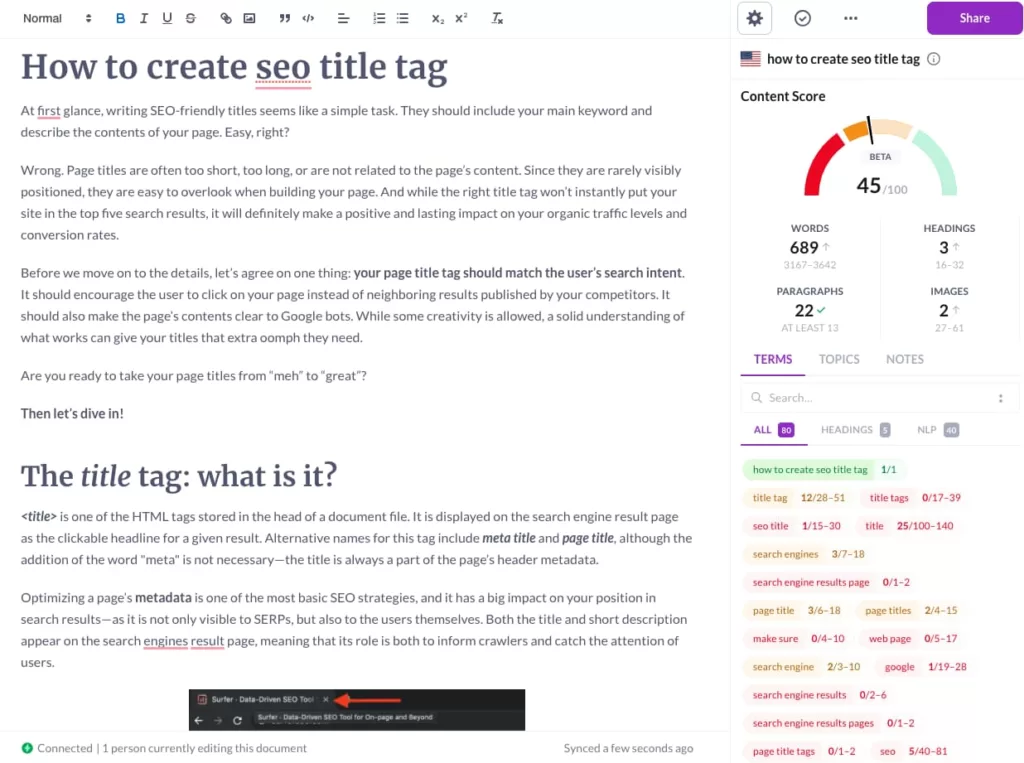 Surfer SEO is the top contender as a Clearscope alternative as it eliminates all the barriers in the user journey to the "aha" moment. All you need to do is enter the chosen keyword or phrase in the dashboard for a detailed report about its performance, localization, and use.
The AI-powered engine also offers a high-level comparison of the content ranking at the top of the search engine result page (SERP). It breaks down the findings by topic, length, keyword density, partial match keywords, page speed, hidden content, etc., so that you can use such inputs to fine-tune your content and outshine others.
Top Features
Grow Flow is their new AI growth management platform that automatically plans next steps in your SEO strategy every week
Keyword Surfer chrome extension
SERP analyzer
Shareable organization
NLP-based algorithms
Content editor
Keyword research
Pricing
Paid plans start at $59/month and include 30 content optimization queries monthly . This is MUCH cheaper as compared to Clearscope.
How Does it Fare Against Clearscope?
| | |
| --- | --- |
| Pros | Cons |
| Considerably cheaper than Clearscope and more value for money | Data produced can be overwhelming and difficult to sort through |
| Populates unique data points that are extremely relevant to SEO and downloadable | Keyword tool can be improved to expand on metrics and offer deeper insights |
| Simple and easy-to-use content editor | Content outlines are overly simplistic |
| Regular updates and feature upgrades | Data can be occasionally unreliable |
| Previously written content can be audited in terms of keywords used, missing backlinks, etc. | NLP is used as a secondary feature with no tangible value |
If you are looking for an enterprise-grade Clearscope competitor, then MarketMuse would fit the bill. MarketMuse outperforms Clearscope as it can perform a wide range of functions, from creating content from scratch to preparing AI-powered content briefs to writing first drafts using NLP. Even if Clearscope can do some of these, MarketMuse just does them better.
Top Features
AI-enabled end-to-end content strategies
Multi-functional applications – optimize, research, compete, questions, connect, etc.
Real-time content inventory for topic, page, etc.
Multiple dashboards
Auto-generated content briefs
Interactive text editor
Pricing
Paid plans start at $7200/year and include 100 content optimization queries monthly. While it's the most expensive Clearscope alternative, they also have the most generous free plan out of all Clearscope alternatives. You can send 15 queries per month in the free plan.
How Does it Fare Against Clearscope?
| | |
| --- | --- |
| Pros | Cons |
| Identifies internal link-building opportunities that Clearscope fails to offer | Except for the "Free" plan, the cost of MarketMuse is comparable to Clearscope (if not more!) |
| Personalized difficulty score with actionable inputs for ranking content | While the reports are heavily detailed, it weighs down the load times |
| Powerful topic modeling with visual heat map features to visualize the content landscape | Keyword suggestions can be random and irrelevant |
| Unique content briefs, which are a lot more detailed | Does not offer integration with CMS like WordPress |
| Historical content optimization and auditing | Keyword research tool could be fleshed out some more |
You can think of Frase as a blend of content writing assistant, research tool, and an optimization platform. It has two primary offerings – content and answers. The former allows you to engage meaningfully with your target audience, while the latter helps you answer key questions they may be asking. While it may come off stronger on the content-generation side, it still manages to pack in powerful content optimization features that put it at par with Clearscope.
Top Features
All-in-one SEO content workflow
AI-generated content with templatization
Question research
SEO add-on
Content Scoring
AI Answer Engine
Pricing
Paid plans start at $45 per month and include 30 articles content optimization queries monthly.
How Does it Fare Against Clearscope?
| | |
| --- | --- |
| Pros | Cons |
| Extremely handy if you wish to reach audiences through Q&A websites like Quora, Reddit, etc. | The UI needs a lot of work and the platform itself is riddled with bugs |
| Even with the SEO add-on, it works out to be cheaper than Clearscope | Feels more like a research tool than an end-to-end content optimization tool |
| Offers content briefs for different keywords | Lack of customer support |
| Grants an overview of the top ranking headings for heading optimization | Analyzes all top 20 results regardless of the relevance |
| Can be used to prepare a knowledge base or train AI assistant | Fails to offer internal link suggestions |

Compared to the other Clearscope competitors discussed so far, NeuronWriter is the new kid on the block. It claims to be an "advanced content editor with NLP recommendations." It leverages semantic models, Google SERP analysis, and competition data to aid marketers in optimizing content focused on user intent. Of course, it is still a work in progress, but it would be interesting to see how NEURONWriter pans out.
NeuronWriter is surprisingly good at what they do and it seems like it's been built by someone with rich SEO experience behind them.
Top Features
Identifies user intent to recommend content types
4-step content planning and optimization
Easy document management
Competition research
Multilingual support
Pricing
Plans start at $19/month and includes 25 content optimization queries monthly. This is definitely the most affordable Clearscope alternative on the list.
How Does it Fare Against Clearscope?
| | |
| --- | --- |
| Pros | Cons |
| No frills content creation and optimization tool following the 80/20 rule | Lacks plagiarism checker |
| Analyses Google results and competitors in 170+ languages | Focuses largely on the Google search engine |
| Offers unlimited team sharing and accounts with varying access levels | Content editor needs improvement |
In the world of SEO, SEMrush is a name that needs no introduction. And given how SEO and content are closely coupled, SEMrush Writing Assistant as a fitting Clearscope alternative comes as no surprise. The product goes head to head with Clearscope as it offers content scores, SEO recommendations, and writing assistance. If you are already using SEMrush, the Writing Assistant would be an added advantage in your tech stack.
Top Features
Makes copies more SEO-friendly
Improves readability and engagement
Maintains consistent brand voice
Checks copy for plagiarism
Add-ons for Google Docs, MS Word, and WordPress available
Pricing
Paid plans start at $99 per month. This is an add-on that's part of the regular SEMrush subscription.
How Does it Fare Against Clearscope?
| | |
| --- | --- |
| Pros | Cons |
| Comes free with the complete SEMrush package | Not available as a standalone application |
| Integrates seamlessly with popular content editors like WordPress, MS Word, or Google Docs through plugins | Data, reports, and suggestions are rather basic |
| Real-time suggestions and recommendations | UI is obsolete and clunky |
| Follows a visual color-coded system to track keywords and their usage | No option to save settings or create templates |
| Balances content optimization with readability | Report generation is rather time-consuming |

Choosing the best Clearscope alternative
These are some good Clearscope alternatives to consider if you're looking to switch.
The best approach to finalise one tool is to look at your requirements (use case, budget, quality, features etc.) and bucket them under – absolutely necessary, nice-to-have and not important. Then look at the Clearscope alternatives from this list that matches your requirements. In fact, that's the approach I take before deciding any tool to purchase.
I use a template like this.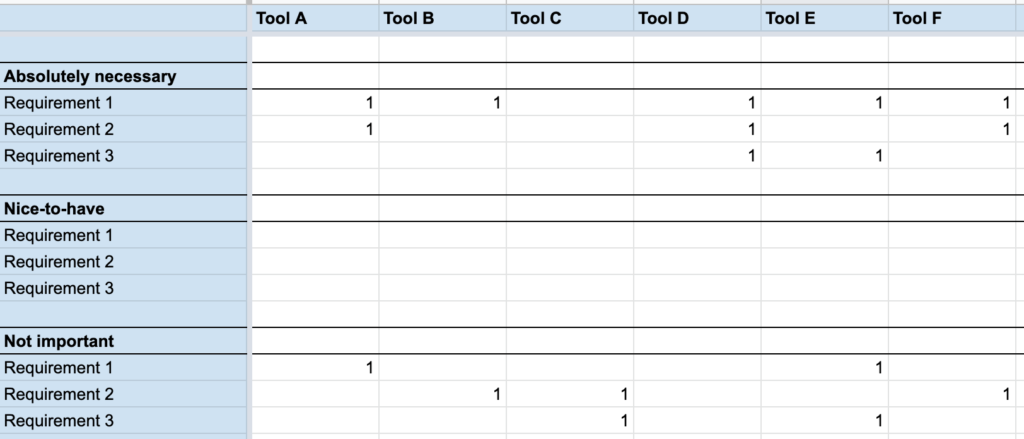 My opinion
If you need the best content optimization features that help you rank, value for money pricing and a no-nonsense approach to SEO, then Surfer SEO is the best Clearscope alternative in my opinion.