Last updated on November 1, 2023
Struggling to decide between ConvertKit or Flodesk? Which one to buy?
I compared ConvertKit vs Flodesk on 10 parameters (from features and pricing to support and email deliverability) so I could decide which one to buy.
If you're short on time, here's a quick summary:
| Feature | ConvertKit | Flodesk | Winner |
| --- | --- | --- | --- |
| Ease of Use | UI focused on usability and advanced features | Minimalistic and beginner-friendly UI | Flodesk |
| Email Builder | Feature-packed with the ability to change links in sent emails | Beautiful templates but lacks advanced features | ConvertKit |
| Forms | Variety of form types and landing pages | Visually appealing forms but limited customization | ConvertKit |
| List Management | Advanced reporting and lead scoring | Basic subscriber information and engagement tracking | ConvertKit |
| Workflows & Automations | Advanced workflow builder with automation rules | Simple workflows and basic automation capabilities | ConvertKit |
| Monetization | ConvertKit Commerce offers flexible product selling options | Flodesk Checkouts with some limitations and issues | ConvertKit |
| Integrations | Native integrations and Zapier support | Only integrates with Zapier | ConvertKit |
| Pricing | Scales based on the number of contacts | Flat monthly fee with unlimited subscribers | Flodesk |
| Support & Onboarding | In-app support, migration service, and onboarding resources | Limited support options and no migration service | ConvertKit |
| Email Deliverability | Emails consistently land in the inbox | Emails often land in the spam folder | ConvertKit |
My conclusion is that Flodesk is a suitable short-term solution for those starting out, but for long-term scalability and advanced features, ConvertKit is recommended, as it can handle large volumes and is favored by established creators like Pat Flynn.
Why you can trust ESM's guides: We're not your average publication. We prioritize honesty over software affiliations. We're on a mission to guide software buyers to their ideal tools, delivering unbiased, detailed and transparent information for software buyers. Zero BS, zero fluff— just pure, honest insights.
Curious how I got to this conclusion? Keep reading!
ConvertKit vs Flodesk: Comparison Overview
To help you decide, I put ConvertKit and Flodesk head-to-head in 10 tests.
---
Prefer to watch a video instead? Here's my live walkthrough of differences between Flodesk and ConvertKit.
---
In this Flodesk vs ConvertKit comparison, we'll compare the two services and provide our verdict on which is the better choice for creators.
1. Ease of Use
Flodesk has an incredibly easy and elegant user interface. They have like this workflow of getting things done in the least steps as possible and there is no confusion on what buttons to click. In most places, there are usually only 2-3 options or buttons to choose from. Nothing unnecessary on the screen, so it keeps things simple and focused on the things that matter (like creating a form or sending that broadcast email).
Flodesk's user interface is mostly blank spaces and necessary information. It definitely shows that they put in a lot of hard work to make Flodesk's user interface easy for anyone – including non-tech savvy creators. For example, here's what the workflow looks like while creating a broadcast email inside Flodesk.
On the other hand, ConvertKit's user interface focuses more on usability and packing more functionalities on the screen so there is less manual work for you. The beauty of such a UI is that you can basically get everyone done on one screen in one go.
It's definitely not as minimalistic (or as stylish) as Flodesk's UI. But if I were to compare between Flodesk and ConvertKit, ConvertKit's UI is more suited for "tech-savvy" creators to utilise all advanced features. Flodesk is more suited for beginners and non-tech savvy creators looking to get their basics right.
Winner: Flodesk.
While both ConvertKit and Flodesk have super easy to use interface than most email marketing tools out there, Flodesk takes it up a notch with a beautiful no-nonsense interface.
2. Email Builder
Flodesk's email designer is truly world-class and the highlight of the app. It takes <5 minutes to create a professionally designed email and it can be done using a very simple 4-step workflow.
Flodesk's email templates are BEAUTIFUL! They look professionally designed, elegant and simple. I found Flodesk's email builder better than ConvertKit's builder with better email templates.
However, Flodesk lacks a lot of advanced features like:
No way to send automated newsletters to keep your subscribers engaged
No way to A/B test subject lines of emails.
No way to add custom HTML code or CSS to emails.
These issues may seem small right now, but they become major blockers as your business grows.
ConvertKit's email builder is simple to use and more feature-packed than Flodesk's email builder. You can choose one of ConvertKit's pre-built templates or you can build your own set of templates to use for a one-time broadcast email (I prefer plain text emails), personalize your emails and even preview your emails before sending those out.
One cool feature about ConvertKit's email builder is that it allows you change links in emails AFTER the email has been sent to your subscribers. For example, you have a sale starting for your users and you accidentally sent the wrong purchase link in your email to subscribers. Normally, you'd have to send another email to them with the correct the link. However, ConvertKit allows you to change the links in an already sent email! It's like magic!
Other cool features:
A/B test email subject lines and use the winning subject line
Set up automatic email newsletter to engage your subscribers using multiple RSS feeds
Add custom code and CSS to your emails
3. Forms
Flowdesk has an easy and visually appealing form builder to easily collect leads and grow your email list. It provides only 3 types of lead generation forms – Popup, Inline and Full page – to embed on your website or page. Again, in terms of just designs, Flodesk's forms are better than ConvertKit's forms. They look beautiful!
But Flodesk is not flexible in its ability to customize when forms should appear. For example, they do not provide Exit-intent technology, which is a type of popup that appears when someone tries to leave the page. Exit-intent popups are known to be the highest converting popups and it's a shame that Flodesk doesn't provide that. Flodesk also doesn't provide landing pages.
On the other hand, ConvertKit offers the most complete set of features that you can get in lead generation. They provide 4 types of forms – Popup, Inline, Sticky bar and Slide-in CTA. Not only that, ConvertKit also provides landing pages in case you want to direct visitors to a dedicated page to promote your offer.
ConvertKit also provides Exit-intent technology, so you can show your forms whenever the visitor is about to leave the page. You can also set up an incentive email for every submission on a form (which can include a freebie like an ebook or template). This strategy is great to increase your conversions from a form.
ConvertKit's form designs look professional, but they have plenty of form templates to choose from. ConvertKit's designs are good, but not as visually appealing as Flodesk.
4. List management
Flodesk offers a simple way to manage your email list with basic activity tracking for each subscriber like lifetime engagement levels, open rate and click rates which can be filtered by device.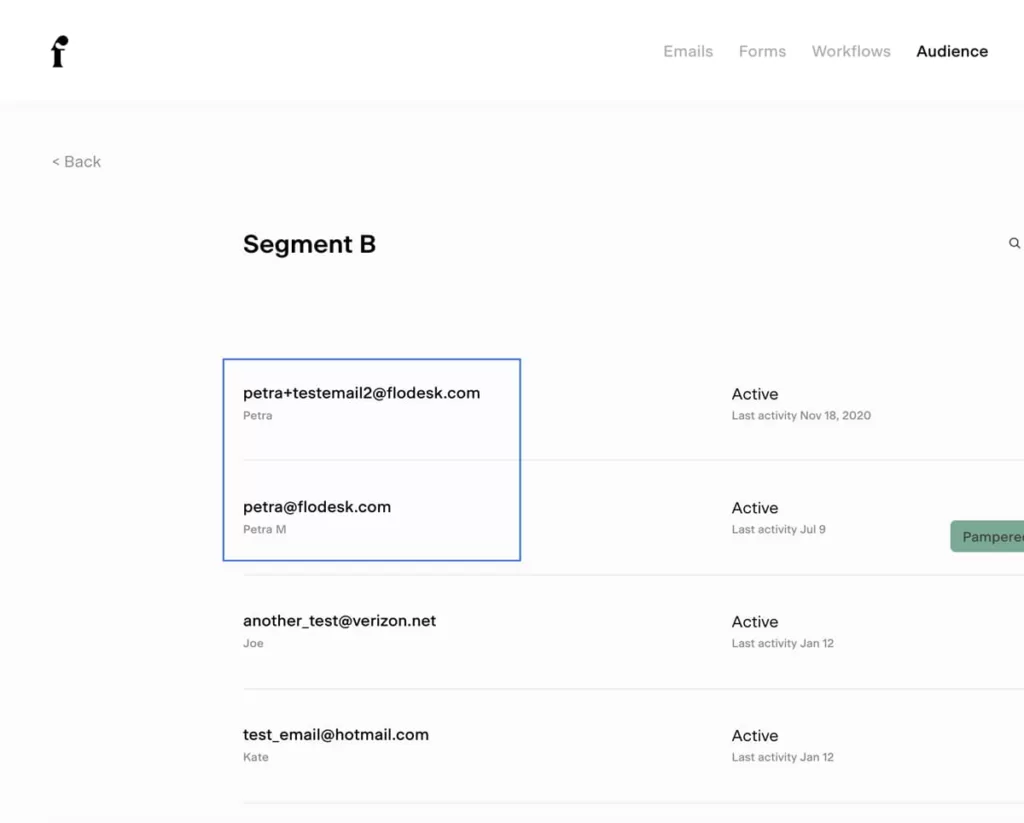 I personally didn't like the list management in Flodesk. It shows extremely basic information on the subscriber dashboard and you have to go into each contact to get more details about a subscriber. While it's great to beginners looking for simplicity, this will not appeal to advanced users.
Flodesk also doesn't have advanced subscriber management features like lead scoring.
ConvertKit's subscriber management is far more advanced. Not only does it provide advanced reporting insights (they even tag subscribers "Complained" who mark any of your emails spam), you can also score your leads based on engagement level. Since ConvertKit's pricing is based on number of subscribers, you can "prune" your list and remove anybody who has not actively engaged.
It also offers advanced features like:
Unsubscribe surveys to know why contacts unsubscribed from your list.
Newsletter referral system that allows you to reward subscribers who refer more subscribers to you.
Integrates with Facebook to set up custom audiences for your Facebook ads
5. Workflows & Automations
Again with Flodesk, you can set up simple workflows. It allows you to set up triggers, actions and set specific conditions to automate your setup.
For example, you can set up a subscriber onboarding email sequence using Flodesk's workflows tool.
ConvertKit offers an advanced workflow builder (along with dozens of pre-made workflow templates) where you can set up time saving workflows.
Apart from the basic workflows that Flodesk also offers, ConvertKit also allows you to set up some advanced workflows like auto-deleting subscribers in your email list if a subscriber has not engaged with your emails for a specified period of time.
In this case, I find ConvertKit's automation builder more visually appealing than Flodesk's automation builder. Not only that, ConvertKit's automations builder also allows you to edit emails directly from the builder so you don't have to switch back and forth.
ConvertKit also allows you to set up automation rules (like Zapier) based on triggers and actions. For example – When a user purchases a product, add them to the product upsell email sequence.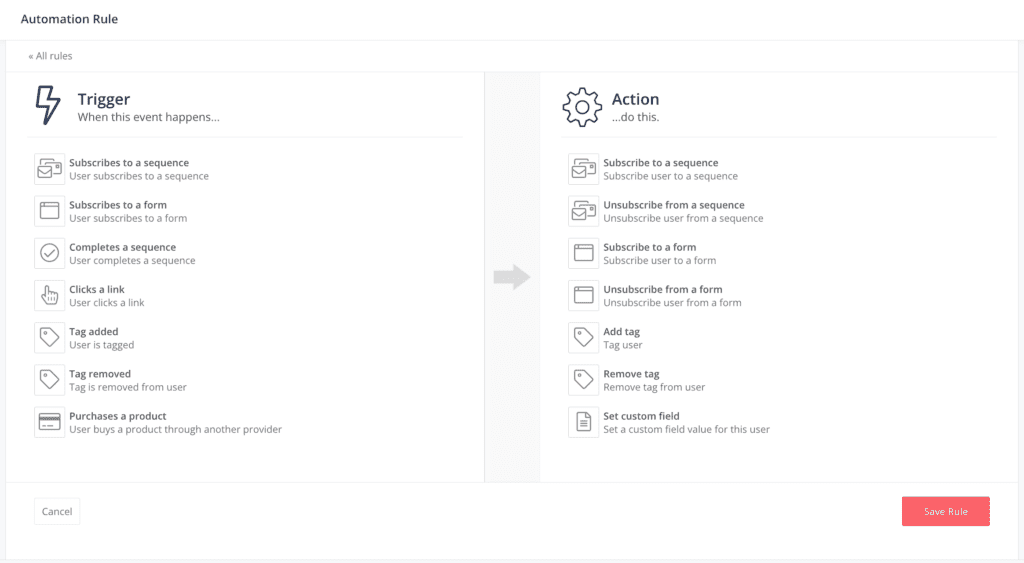 Overall, in my opinion, ConvertKit offers much more time saving workflow and automation features than Flodesk.
6. Monetization
Flodesk offers a product called Checkouts, which allows you to monetize your content and accept payments in three easy steps: creating a sales page, setting up a beautiful checkout experience and then instantly delivering each item they purchase. The beauty of Flodesk's product is that they don't charge any fee on product sales (only Stripe's 3% transaction fee) so you get to keep every $ you sell.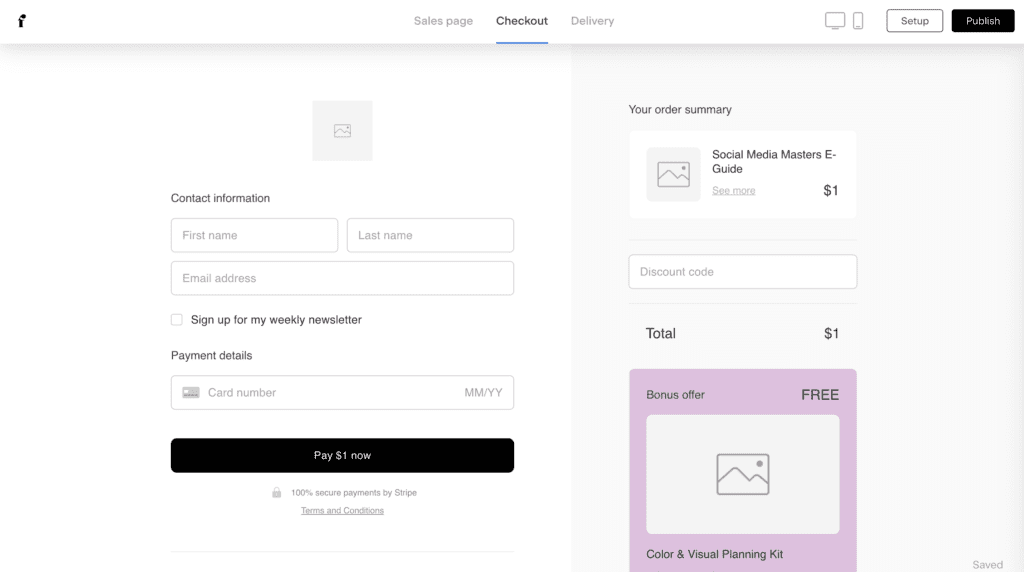 Their templates are beautiful and the whole checkout experience can be customised to your brand's style guide. However, many users complain that there are many critical issues like not getting their payouts on time or the checkout page crashing when a user reaches that page (which hurts conversions). You also can't sell a lot of types of content products like paid newsletter via Flodesk Checkouts.
ConvertKit offers a much more mature product called ConvertKit Commerce that allows you to easily sell digital products. It offers a lot of flexibility into what kind of products you can sell (book, course, subscripion, service, paid newsletter etc.), how you want to charge for them (one-time fee, pay what you want, pay in installments) and what the product delivery experience should like.
Not only that, ConvertKit also offers a feature called Tip Jars. This is a great way to get donations from your audience to support your creator efforts.
ConvertKit Commerce is a solid product with absolutely no complaints whatsoever. It has all the features a creator would need to monetize their content and it works great! There is rarely any delay in payouts or any other critical issues popping up.
ConvertKit also offers an exclusive sponsor network for newsletter creators to monetize their newsletters. This is a great value addition because you don't have to go search for sponsors for your newsletter then.
However, ConvertKit Commerce charges a flat 3.5% fee on all product sales.
7. Integrations
ConvertKit has loads of built-in native integrations with apps like Teachable (online courses), Monday.com (CRM), Typeform (online forms), Acuity (calendar scheduling) and a bunch more. It also integrates with Zapier which opens up thousands more integrations.
Flodesk only integrates with Zapier.
8. Pricing
Flodesk has a very simple pricing model. It charges a flat monthly subscription fee of $64/month for unlimited subscribers, unlimited forms, unlimited email sends etc. The pricing does NOT scale as your contact list grows, which is rare in the world of email marketing.
Flodesk also does not take any commission from your product sales on your store. It only charges Stripe's 3% transaction fee on your orders, which is a big money saver.
ConvertKit, on the other hand, charges monthly based on the number of contacts in your list (pretty common in the world of email marketing software). Here's how the pricing looks like:
Upto 1000 contacts→ $29/month.
1000-3000 contacts → $49/month
5000-8000 contacts → $99/month
10,000-15,000 contacts → $149/month
20,000-25,000 contacts → $199/month
45,000-55,000 contacts → $379/month
… you get the idea. It scales based on your number of contacts.
Winner: Flodesk.
Flodesk is cheaper than ConvertKit as your number of contacts increase. For example, with 50,000 contacts, Flodesk will cost you $64/month while ConvertKit will cost you $379/month.
9. Support & Onboarding
Flodesk's customer support isn't the best. For starters, it only offers email support and Facebook groups. No instant live chat support option! Even when you send in a support request on their email, it can take a while for them to respond.
Flodesk also doesn't offer any migration service to help you migrate onto their platform (if you're currently using another email marketing platform). Flodesk also doesn't have any onboarding docs or videos to get started immediately.
On the other hand, ConvertKit's customer support is really good. It offers in-app customer support via live chat, email support and a community. They're also usually quick to respond with a response coming in <4 hours.
ConvertKit also offers a FREE migration service. If you have a Creator or Creator Pro plan, they will match you with a ConvertKit expert who will help you migrate to ConvertKit for free. In fact, they will migrate everything including:
Subscriber list
Tags, groups and segments
Forms
Sequence emails
Email templates
Automations
ConvertKit also has a great self-paced onboarding course to ConvertKit as well as plenty of onboarding documents. If you struggle with onboarding, you can even request manual onboarding.
Winner: ConvertKit.
With A+ instant support and a free migration service available, ConvertKit definitely wins over Flodesk here.
10. Email Deliverability
Let's compare the deliverability of the emails of these two providers.
I ran two tests:
Send a test preview email for my campaign.
Send an automated email campaign.
In both cases, ConvertKit's emails landed in my inbox. While in both cases, Flodesk's emails landed in my spam folder.
It's not just me, I've also read a couple of online reviews where they've mentioned Flodesk's emails often don't land in the inbox.
Winner: ConvertKit.
ConvertKit is a straight winner here. Having emails land successfully in my inbox is a critical requirement for me and Flodesk fails in that.
Which is better – ConvertKit or Flodesk?
If you want to save money and need a simple way to run your creator business, go with Flodesk. That's great for people just starting out on their journey.
Flodesk is more of a short-term solution. Long term, you'll need something that's built for scale when your subscriber list grows. You will have to consider a mature solution like ConvertKit.
If you're somebody who already has an email list or is serious about their creator journey, opt for ConvertKit. While it's more expensive than Flodesk, ConvertKit's advanced features, reliability and customer service make it worth the cost.
ConvertKit is great for the long term as a creator as it can scale to millions of subscribers and can handle big volumes without complicating the interface. That's why creators like Pat Flynn use ConvertKit to run their businesses.
We hope that this comparison of ConvertKit vs Flodesk has helped you decide which email marketing service is right for you. Both of these platforms offer powerful features to help you build relationships and reach your goals, so whichever one you choose, you'll be in good hands.
What is the primary difference between ConvertKit and Flodesk?
ConvertKit focuses on usability and advanced features, and is recommended for long-term scalability and advanced needs. Flodesk, on the other hand, is more beginner-friendly and is a good short-term solution for starters.
What are the pricing models of ConvertKit and Flodesk?
ConvertKit has a pricing model that scales based on the number of contacts (starts at $29/mo) while Flodesk utilizes a flat monthly fee ($64/mo) with unlimited subscribers.
Can I use Flodesk for free?
Flodesk does not offer a free plan; they charge a flat monthly fee for their service. However, discounts and promotions may be available for new users to give the platform a try with a reduced rate for a limited time. Always check the Flodesk website or ask their support team for any current offers.
Is ConvertKit worth it?
ConvertKit is considered worth it for creators and businesses looking for advanced features, robust automation, and segmentation capabilities that can help scale their email marketing efforts. It's especially valuable for those who require a higher level of customization and control over their email campaigns.
Is ConvertKit free?
Yes, ConvertKit offers a free plan for up to 1,000 subscribers, which includes unlimited landing pages, forms, email broadcasts, and subscriber tagging. The free plan does not include features like automation sequences, integrations, or priority customer support.
What are the downsides of Flodesk?
Some notable downsides of Flodesk include the lack of native integrations, limited customer support, no landing page creation capabilities, and more basic automation features compared to ConvertKit. Additionally, there have been some concerns about the deliverability rate and emails landing in spam folders.