Last updated on June 9, 2023
Ever wished you could hire a professional graphic designer, motion graphics expert, and web designer – on a subscription that's 1/10th the cost of their salaries?
After spending countless weeks unsuccessfully searching for a good freelance graphic designer, I discovered Delesign. I was searching for a high quality on-demand graphic design service that I could enjoy working with, without spending months searching for a high quality designer, paying top $$$ and making a lot of mistakes.
Here's my full Delesign review after using it for a whole month.
What is Delesign?
Delesign is a high quality design service that provides unlimited graphic and video designs on a monthly subscription. There are no limits on the number of projects you can use Delesign for.
It's ideal for businesses, marketing teams, agencies and solo-preneurs that have fluctuating design needs.
When should you hire Delesign?
Here's why I chose it:
As a Head of Marketing, I was looking for some quick graphic design help. Specifically, for creating ebooks, creating a logo, website redesign, creating different content pages, creating a style guide etc.
Since our design work fluctuated, I wanted my design costs to be variable than fixed. I didn't have enough resources (or work) for hiring a full time designer. Hiring someone full time meant spending months finding the right candidate, vetting their work, training them and paying a fixed salary with benefits.
I wanted to move fast on projects and didn't want to waste time looking for a designer.
So ideally, Delesign is great for:
Businesses who need graphic design work done, but don't want to commit to a full-time designer.
Marketing teams looking for a fractional designer on-demand.
Agencies who extra help with their creative work or need to supplement their team.
People who want high quality designs, without having to hire a full designer for it.
Solopreneurs looking to professionalise their brand.
Related Reading: My Honest Review About Bonsai
How does Delesign work?
Basically, they have a big team of designers and they assign you the best suited specialist to work on your tasks for 2 hours per business day.
They follow a 4 step process:
They'll match you with one of their designers based on your requirements. You can also let them know at what time you'd prefer to work with your designer and they'll accommodate those needs (big +!).
You start submitting your graphic design requests. You can submit unlimited requests, but they work on them sequentially – one design at a time, not multiple simultaneously. You can also mention which ones are to be prioritised over the others.
The designers will start work on the designs and keep communicating all the way with first drafts and questions. I found the designers to be quite responsive when working.
They'll send you the files. You can request unlimited revisions.
It's quite seamless and easy to get started.
What did I like about Delesign?
I liked:
It's affordable with one flat subscription fee of $499 per month. No commitment, cancel anytime.
Multiple custom pricing plan options based on what you want. You can choose only design for $499, design + video for $799 or design + development + video for $1299. If you want more time from your designer, you can stack up two graphic design subscriptions and get 4 hours per day of designer time.
24 hour designer availability. You can choose the time slot that works for you. If you work in pacific time, the designer will be available then. If you work in european time, the designer will be available then.
There's a big team of talented designers behind Delesign. If you don't like one designer, you can switch to another one.
VERY responsive team support team. If your current designer is OOO, they'll temporarily assign you another designer until they're back.
Easy user interface to navigate.

You can mention which project is a priority so that one gets more time/attention than the other projects.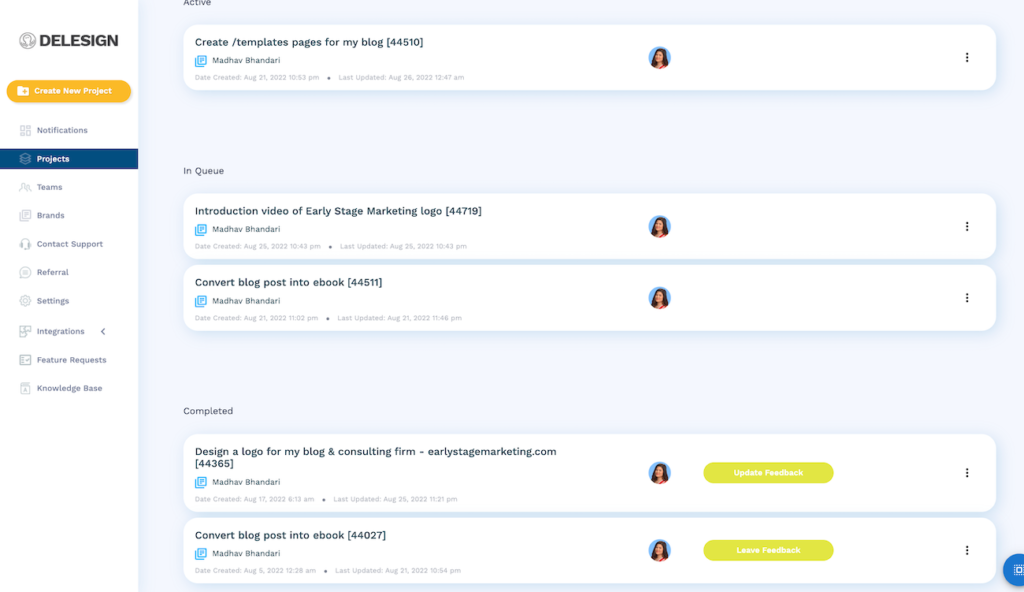 What did I not like about Delesign?
I did not like:
You might have to try multiple designers to find the one that works for you. My first designer was a 3/5 (Fiverr quality), but the next designer I worked with was a 5/5 (in-house designer quality).
2 hours a day seems a little limiting when you're trying to move fast with some urgent projects. I had days where the designer had no work, but then I had a week with a lot of work, but I was limited by the 2 hour/day limit. But that'll be an issue with a full time graphic designer too, you just have to plan your work accordingly and spread it out.
These are the only 2 issues that I've faced so far.
How is the quality of the design?
I was pretty impressed with the output quality. For example, this blog's logo and style guide was designed by them.
I also used them to create a couple of books and their illustrations were pretty professional!
How does Delesign stack up against Designjoy, Designpickle & other competitors?
More affordable
Provides more custom options with their services, especially the option to hire a developer to implement the designs.
24 hour designer availability so it doesn't matter where you live. They will provide a designer in your time zone in the hours of your choice.
I tried to work with Designjoy, but here are the issues I faced:
- A price point of $5000/mo is almost as high as hiring a full time designer.
- When I tried to schedule a session, their calendar was booked for the year.
- Designjoy is run by one person. If you don't like their designs, you have no other option but to cancel.
How much does Delesign cost?
They have 3 packages:
| | Graphic Designer | Multimedia Specialist | All-In-One |
| --- | --- | --- | --- |
| Best for | Graphic design needs ONLY | Graphic + video design needs + UX mockups | Graphic + video design + web development needs |
| Example | Logos, brand style guide | Landing page mockups | Design website + implement it on your WordPress or Webflow website |
| Pricing | $499 $424 per month | $799 $679 per month | $1298 $1103 per month |
I spoke with the Delesign founders and negotiated a sweet deal exclusively for Early Stage Marketing readers. Get flat 15% off any plan for your first 3 months. Use code ESMSPECIAL
Is Delesign good or bad?
In my opinion, it's pretty good. I'd rate it an 8.5 out of 10.