Last updated on May 17, 2023
In this blog post, we will compare GetResponse vs ConvertKit on 8 parameters and decide which one is better for your business.
If you're short of time, here's a quick summary:
| Criteria | GetResponse | ConvertKit | Verdict |
| --- | --- | --- | --- |
| Ease Of Use | Complex user interface with overwhelming features and tools | Simpler and focused interface with essential features | ConvertKit |
| Lead Capture | Offers various lead capture options like forms, landing pages, live chat, and webinars | Provides four types of forms and landing pages | GetResponse |
| Contacts Management | Includes a CRM-like contact management system with activity timeline, notes, etc. May add duplicate contacts | Geared towards growth and engagement, provides insights and automations | ConvertKit |
| Email Builder | Offers templates, drag-and-drop functionality, but lacks simple text-only emails | Provides easy setup of simple text-only emails, pre-built templates, and reusable content snippets | ConvertKit |
| Automations & Workflows | Offers a wide range of triggers, actions, and filters for complex automations | Intuitive automation builder, simple visual workflow setup, and automation rules | ConvertKit |
| Pricing | Divided into three tiers based on features, with pricing scaling based on subscriber milestones | Two pricing plans, scaling gradually based on subscriber milestones | Tie |
| Support | 24×7 support via live chat and email, onboarding support limited to higher-tier plans | Good customer support with live chat, email, and community forum | Tie |
| Deliverability | Lower success rate with more emails going into spam than ConvertKit | Successfully delivered more emails to the primary inbox | ConvertKit |
My conclusion is that ConvertKit is perfect for professional bloggers and online creators with its focused platform and automation features, while GetResponse suits small businesses and digital marketers with its comprehensive toolset, despite UI challenges, making it a great option for marketing teams looking to streamline automation and consolidate tools.
If you're looking for some advice, I'd definitely recommend going with ConvertKit over GetResponse. Here's why: it's always better to use a platform that's really good at one thing rather than trying to do it all. ConvertKit is a master at email marketing, which means it can help your team stay focused, work more efficiently, and get those campaigns out the door in a flash.
Curious how we got to this conclusion? Continue reading!
---
Prefer to watch a video instead? Here's a live walkthrough of the differences between ConvertKit and GetResponse.
---
1. Ease Of Use
GetResponse
GetResponse has all the features and tools that a business would need to run their business. By all, I mean literally everything.
Chatbot builder? GetResponse offers that.
Want to conduct webinar? GetResponse offers that too.
Send push notifications via browser or SMS? Yep, GetResponse offers that.
However, a lot of features and tools add more complexity to the product. When you log in, you're welcomed with a big list of tools and features to try like:
Contacts
Email marketing
Autoresponders
Website Builder
Landing pages
Forms and popups
Reports
Ecommerce tools
Automation
Webinars
Conversion funnel
Paid ads
Chats
Web push notifications
Files and images
Integrations and API
Webhooks
Web Connect
It does get overwhelming for the average user. If you're not very tech-savvy, it can be very hard to figure out where to start. While GetResponse tried their best at making the user interface as easy to use as possible, I personally didn't find it easy to use.
ConvertKit
On the other hand, ConvertKit is MUCH simpler to use. They don't have all the features that GetResponse has, but in this case, less is more. They've focused on only adding the most necessary features without distracting the user.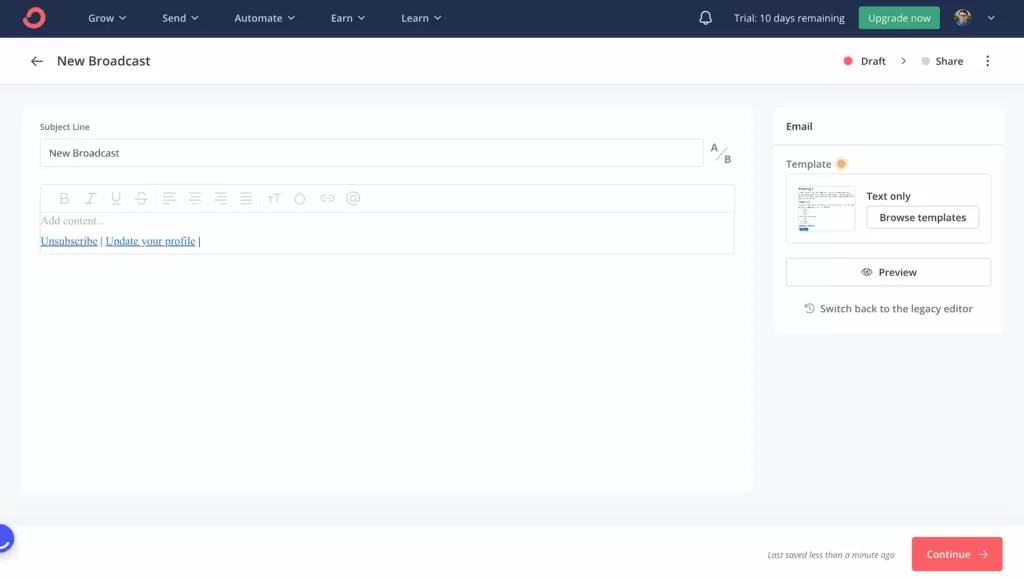 I love the fact that ConvertKit segments their features and tools into 4 buckets:
GROW – All the features and tools you need to grow your audience. It includes forms, landing pages and subscriber management.
SEND – Growing an audience isn't everything. You also need to engage with the audience and that's precisely what this segment covers. It includes all the features to engage with your audience including email broadcasts, newsletter, automated sequences, email templates etc.
AUTOMATE – As your email list grows, it also increases your manual work. This segment of features tackles everything you need to do to minimise manual work. It includes features like an easy visual funnel builder, "if this, then that" automation rules, integrations and an automatic RSS feed newsletter builder.
EARN – This segment tackles everything you would need to monetize your audience. It offers features ConvertKit Commerce (digital products platform), tip jars and an exclusive newsletter sponsors network.
This focused approach to features makes it VERY easy to navigate around ConvertKit and find what you're looking for.
Winner: ConvertKit.
When comparing ConvertKit vs GetResponse on ease of use, ConvertKit is definitely more easier to use and focused. I found GetResponse's user interface slightly overwhelming with the amount of features.
2. Lead Capture
This section compares all the features to grow your email list offered by GetResponse vs ConvertKit.
GetResponse
GetResponse offers the whole package with a number of lead capture options like:
Forms (popups, in-page)
Landing pages
Live Chat
Webinars
GetResponse offers the standard options to collect leads using popup forms where you can customise them to show it when a visitor is about to exit or after a visitor has spent some time on your page.
GetResponse also offers lots of form templates, including dedicated forms for certain occasions like Christmas and Halloween. Some form designs were nice, most were quite average.
Overall, I found the GetResponse's form builder easy to use, but very slow. It took more than 10 seconds to load the page so I started losing my patience with it!
Apart from regular form builders and landing pages, GetResponse also offers the ability to collect leads by running webinars and setting up a live chat box on your website.
ConvertKit
ConvertKit offers four types of forms to capture leads—popup, inline, sticky bar and slide-in CTA. In addition to these forms, you can also create landing pages if you want direct visitors to a dedicated page to promote an offer.
You can customise when these forms can be displayed based on exit-intent technology, scroll percentage or timing of visitor on the page. You can also set up a bonus incentive email to encourage more people to complete your form (like offering an ebook or template). Content upgrades is a great tactic for increasing conversion rates, this feature is very useful and simple to set up.
ConvertKit offers a small number of simple and elegant templates, or you can create your own designs using their form designer.
3. Contacts Management
GetResponse
GetResponse's contact management looks similar to a CRM. Each contact has a dedicated page which includes contact details, engagement score, activity timeline, messages, notes etc.
What is not so good is that GetResponse can often add duplicate contacts to your contact list and you are charged for those duplicate contacts. This also leads to your activity information about the lead being distributed among contacts.
Even thought, GetResponse does provide you a way to get rid of duplicate contacts using their list hygiene tool, it's a very manual process. It isn't done automatically.
ConvertKit
ConvertKit's contact list management operates a little differently from GetResponse's list management. It's contact list management is geared toward the growth and engagement of subscribers. It also provides insights into deliverability and monetization opportunities from those contacts.
Not only does it provide advanced reporting insights, you can also sort your leads based on how much they interact with your emails. ConvertKit even tags subscribers who mark any of your emails spam with a "Complained" tag, so you can be careful with emailing those subscribers again.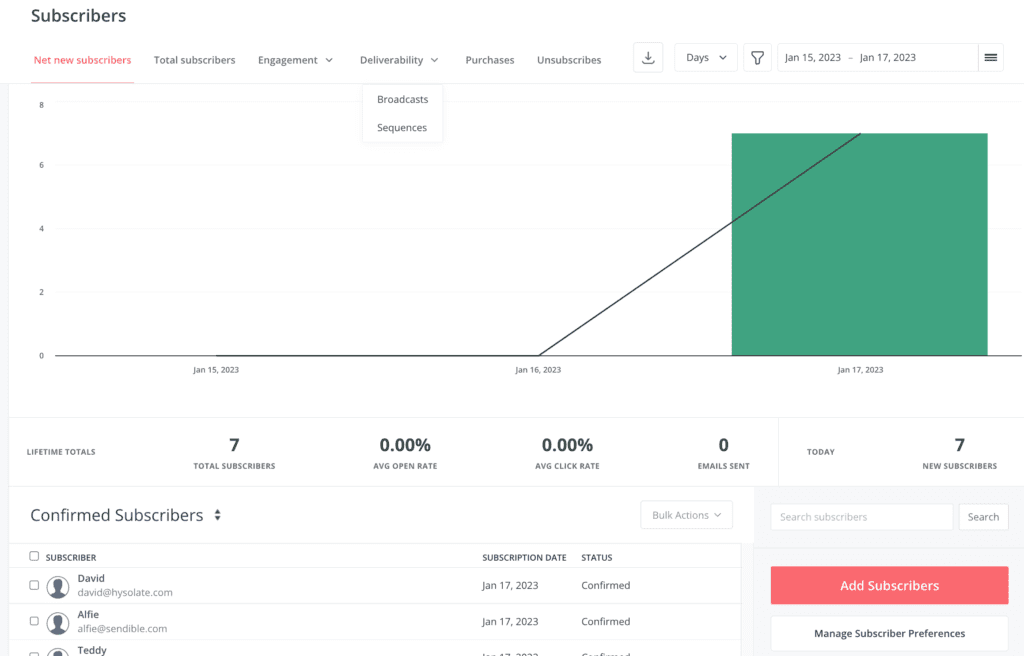 ConvertKit DOES NOT charge you for duplicate contacts, unlike GetResponse. That's a big plus over GetResponse. In fact, ConvertKit offers a number of automations to automatically "prune" your list based on a certain set of rules. If a contact matches those rules (eg – lead score <20), they'll automatically be removed from the list. This helps cut costs and keep your email list high quality.
It also offers advanced features like:
Unsubscribe surveys to help you understand why some contacts left your list
Newsletter referral system that allows you to reward subscribers who refer more subscribers with an incentive (book, digital product etc.)
Integrates with Facebook to create custom audiences for your ads.
Winner: ConvertKit.
For me, the most important thing about contact list management is tracking my list's growth and engagement. I also want to ensure that it's a high-quality list so that I'm not paying for unengaged or duplicate contacts. ConvertKit does that much better than GetResponse.
4. Email Builder
GetResponse
GetResponse offers everything you need in an email builder with a few extra customizations – you can set up one-off broadcast emails, RSS feed emails and email sequences.
You can use their own set of templates (which are decent) or create your own email design. The email builder has a simple "drag-and-drop" functionality that allows you to insert images, text, buttons etc. to different sections. One thing that I miss in GetResponse is the ability to create simple text-only emails that look like "real" emails to your contacts. There is no way to set that up unfortunately.
Overall, the email builder is fairly easy to use if you're an advanced user, but a little complicated for beginners. There are too many customizations available which leads to extra steps in the way and a lot of options to choose from.
I also didn't their email sequence tool called "Auto-responder". It seemed too complicated, unintuitive and slow to set up.
ConvertKit
ConvertKit also offers everything you'd need from an email builder, but with added simplicity and some very useful features.
For starters, it's very easy to set up simple text-only emails which look like they're manually sent to each subscriber. ConvertKit also offers elegant pre-built email templates as well as a simple drag-and-drop email builder to create your own set of custom email templates.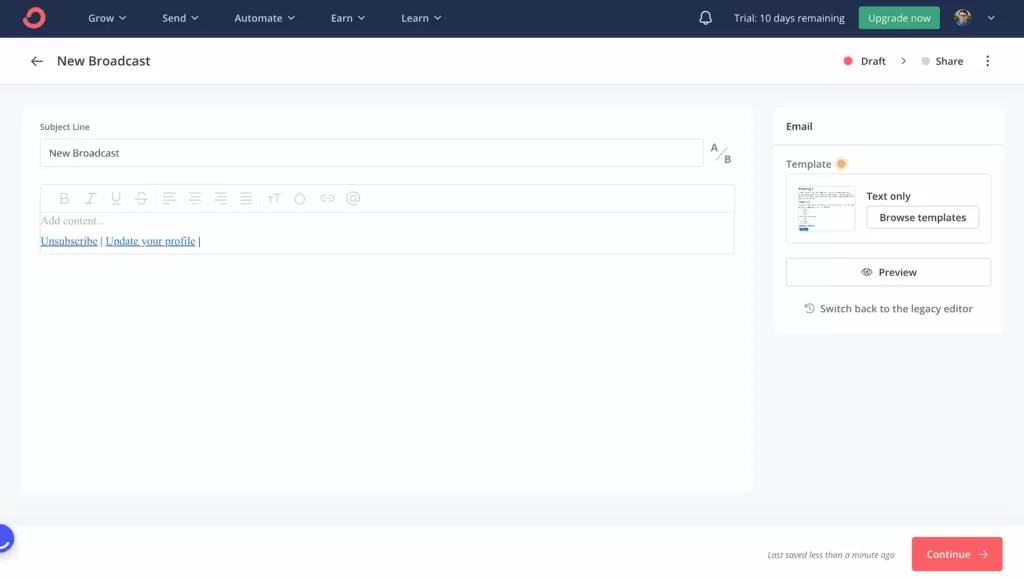 One unique feature that ConvertKit provides is the ability to create reusable content snippets. This is quite useful if you use any common 'blurbs' in most of your email (like a logo or author bio with a CTA button). You can design that snippet and save it as a short code.
Now, anytime you want to add that blurb to your emails, just mention the snippet's shortcode and it will automatically add it to your emails. But wait for the cool part – you can edit the snippet and it will dynamically update all your emails with the updated snippet! It saves so much time!
Another unique feature that ConvertKit provides is the ability to change your links in emails AFTER the email has been sent out to your subscribers! This is a great way to fix any link errors without letting your subscribers know about it.
You can even A/B test your email subject lines and send the winning subject line to your contacts in a campaign.
ConvertKit's email sequence builder is the simplest auto-responder feature I've seen in an email marketing tool. You can easily see all your emails in a sequence and edit it all in one view. It saves a lot of time vs GetResponse where you have to constantly switch tabs from one email to another.
Winner: ConvertKit.
Without a doubt, ConvertKit's email builder is much simpler and packed with features that help you get the highest engagement and clicks on your emails.
5. Automations & workflows
GetResponse
GetResponse's automation builder offers a wider range of triggers, actions and filters, allowing for more complex automations. There are extensive automation options (trigger an action on special occasions, landing page activity etc.) which makes it a good option for businesses looking to create advanced automations.
While GetResponse's automation builder is visual, I found it slightly unintuitive to use.
For example, to create an email inside an automation, they have a separate section for it called Automation Messages. So you have to first create an automation message to be able to add it inside the automation builder. This becomes inconvenient when you have a lot of conditional emails in an automation because it leads to a lot of tab-switching.
ConvertKit
I found ConvertKit's automation builder to be far more visually appealing, easy to use and intuitive than GetResponse's automation builder. They've taken care of the little things. For example – you can edit your automation emails directly from their visual builder so you don't have to switch back and forth between your automation builder and your email editor.
They offer several pre-made templates or you can create your own custom workflow. For example – You can set up an advanced workflow to automatically unsubscribe inactive subscribers or set up upsell email sequences to customers who purchase one of your products. It's quite easy to learn and fast to use.
ConvertKit also offers an even simpler automation builder where you can set up automation rules (like Zapier – if this, then that) that trigger under certain conditions and perform an action. For example – When a user purchases a product, add them to the product upgrade email sequence.
Winner: ConvertKit.
In general, ConvertKit is better for simple and visual automations and GetResponse is better suited to more complex automation scenarios. The choice between the two will depend on the complexity of your automation needs and your preferred level of control and customization. I prefer simplicity, so ConvertKit wins this one for me.
6. Pricing
GetResponse
GetResponse's pricing plans are divided into 3 tiers – Email Marketing, Marketing Automation and Ecommerce Marketing.
Email Marketing plan is their basic plan (starts at $19/month) and probably worth skipping. It doesn't include any marketing automation, lead scoring or advanced segmentation features. It's good for beginners who are new to email marketing.
Marketing Automation plan (starts at $59/month) adds additional marketing automation, event-based automation, webinars, advanced segmentation, contact scoring and sales funnels. It's for serious businesses looking to grow and engage with their audience.
Ecommerce Marketing plan (starts at $119/month) which adds advanced features for e-commerce businesses like promo codes, web push notifications, quick automated transaction emails (like order confirmations etc.), product recommendations and more. This is recommended for serious businesses looking to grow, engage and monetize their audience by selling products to them.
All GetResponse plans scale based on the number of contacts.
One issue with GetResponse's pricing is that it was very few tiers between subscriber milestones. For example, once you hit 10,001 subscribers, you have to move to their 25,000 subscribers plan! If cross 25,000 subscribers, you have to move to their 50,000 subscribers plan. That's too steep a price jump!
ConvertKit
ConvertKit offers two pricing plans – Creator (starts at $15/month) and Creator Pro (starts at $29/month).
The difference between the two plans is that Creator Pro offers lead scoring, advanced reporting, a newsletter referral system, unlimited team members and priority support.
One thing to note is that ConvertKit's pricing gradually scales based on subscriber milestones unlike GetResponse. The subscriber milestones are – 300, 1000, 3000, 5000, 8000, 10000, 15000, 20000, 25000, 35000 and then subsequently at gaps of 10000 subscribers. This ensures that you don't pay a lot after you cross a subscriber milestone.
While ConvertKit's pricing starts off cheaper than GetResponse's pricing, ConvertKit does get more expensive than GetResponse (Ecommerce Marketing Plan) once you cross the 50,000+ subscribers mark.
Note: GetResponse does offer a higher priced plan called MAX. That plan's pricing is not public, but it's probably more expensive than ConvertKit.
Here is a comparison of the higher tier plans of GetResponse vs ConvertKit.
No. of subscribers
GetResponse
(Ecommerce Marketing Plan)
ConvertKit
(Creator Pro Plan)
Upto 1000
$119/mo
$59/mo
5,000
$169/mo
$111/mo
10,000
$199/mo
$167/mo
25,000
$299/mo
$279/mo
50,000
$444/mo
$447/mo
100,000
$699/mo
$879/mo
Winner: It's a tie. Both ConvertKit and GetResponse have their pros and cons with the pricing.
GetResponse has very drastic pricing tiers based on subscriber milestones, but gets cheaper than ConvertKit over time. On the other hand, ConvertKit has steady pricing jumps based on subscriber milestones, but tends to get more expensive than GetResponse after a certain scale.
7. Support
GetResponse
GetResponse offers 24×7 support via live chat and email. You'll have someone to chat with at all times, irrespective of your time zone. It takes <1 minute to start chatting with a support rep. That's a big plus.
However, their onboarding experience isn't all that great. When I asked them for migration support (to help move my contacts from my earlier email marketing tool) and schedule a personalized onboarding call with our team, they refused that by saying that "We only offer that for MAX accounts. That would be account usually with 100k subscribers and more".
So if you have <100k subscribers and don't have a MAX account, you'll have to move your contact list, forms, sequences, automations etc. yourself. Your team will also have to figure out GetResponse via their self-serve onboarding documents which are quite generic if you ask me.
ConvertKit
ConvertKit's customer support is pretty good. You can get help via live chat, sending an email to support or browsing through their active community forum. But the reason I say "pretty good" and not "great" is because most of their customer support is available during US hours.
So if you're somebody who works out of Asian or Australian time zones, you may have to wait upto 12 hours to get a response. But don't worry! Most times they will respond much sooner. The team is quite helpful with any issue you're facing. If you're a large account, you'll also get your own Customer Success Manager who you can contact at any time.
However, ConvertKit truly wins by offering an exceptional onboarding experience: all paying customers are eligible for a free migration service. If you have a paid plan, they will match you with one of their experts who will help migrate your existing data from another email platform over to ConvertKit!
In fact, they will migrate everything including:
Subscriber list
Tags, groups and segments
Forms
Sequence emails
Email templates
Automations
Imagine how much time and stress that saves you!
Not only that, ConvertKit also offers all it's a customers a self-paced onboarding course, an onboarding guide and even personalized onboarding for your team from one of their team members.
Winner: ConvertKit.
ConvertKit offers a free time-intensive migration service to all paying customers, superior onboarding experience and great chat support. GetResponse's support is nice, but their onboarding experience is quite bad unless you're a large business. For that reason, ConvertKit gets brownie points over GetResponse.
8. Deliverability
GetResponse
GetResponse has a lot of measures in place to ensure that their customer's email deliverability does not get affected. When you upload a subscriber list to GetResponse, they do a check on each email before approving it to be uploaded on their platform.
For example, I uploaded a specific subscriber list of 320 emails and only 280 subscribers eventually were approved to go into the system. The rest were categorized as invalid domains. I also tried uploading a list of 100 fake emails and none of them were uploaded onto the system.
While these measures are assuring, I wasn't too impressed by the email deliverability rates. My test emails went to spam. My actual emails had a very low success % in reaching the primary inbox of contacts.
ConvertKit
ConvertKit's email deliverability rates are quite impressive. For example, when I sent a test email for a campaign, it reached my primary inbox (unlike GetResponse where it went directly into spam). Majority of my campaign emails also successfully reached the primary inbox.
They also provide detailed email deliverability reports from the campaign level down to each contact.
Winner: ConvertKit.
ConvertKit delivered more of my primary emails in the inbox over GetResponse.
Which Is Better – ConvertKit or GetResponse?
The better email marketing solution between Convertkit and GetResponse depends on your specific needs and preferences. Both Convertkit and GetResponse are popular email marketing tools that offer a range of features, but they have some key differences.
ConvertKit is designed for professional bloggers and online creators. It offers a fast, easy and focused email marketing platform that prioritizes automation and segmentation. While the UI simplicity is admirable, the pricing becomes expensive over time and the features are limited to email marketing and selling digital products.
On the other hand, GetResponse is aimed at small businesses and digital marketers looking for a complete suite of digital marketing tools. It offers a more comprehensive set of features including email marketing, chats, webinars, website builders, web push notifications and more. However, this comes at the cost of GetResponse's UI being slightly difficult to use and slow.
It's important to consider your specific use case and goals to determine which tool will work best for you.
If I were you, I'd choose ConvertKit over GetResponse mainly because it's generally better to use a platform that is a master at one thing (ConvertKit) than a jack of all trades (GetResponse). It'll help your team stay focused, move faster and implement campaigns quickly. I use ConvertKit as a creator as well as with my clients.
It's a great platform to help you grow your audience, set up "set it and forget it" email campaigns that drive conversions and set up products.
However, if you're a marketing team that wants to reduce your reliance on a number of tools for marketing automation and ideally use one platform for everything marketing, you can consider GetResponse.