Last updated on June 9, 2023
Gumroad is very popular among creators for selling digital products. It's super easy to use, and I know a bunch of creators who started their journey with Gumroad because there's no subscription fee. Sounds great, huh?
But hold up! Is Gumroad really free? Nope, it never was. They used to charge a 9% fee for $0 to $1000 in lifetime payouts, and then the fee got smaller after you hit certain lifetime Gumroad earnings milestones. Once you reached $100k in lifetime earnings, their fee was a flat 3%.
But get this: on December 17, 2022, Gumroad announced that they bumped their fees up to a flat 10% on every sale (no matter how much you've earned on Gumroad). And on top of that, there's a payment processing fee of around 3%, which means the total commission comes to about 13% of your product sales. That's absurd!
Can you imagine a creator making $100k in annual sales having to fork over $13k to Gumroad just to use their platform? In that case, it's probably smarter to go with a 0% fee platform like Podia, which only charges a flat subscription fee.
And honestly, Gumroad has some downsides that make that 13% fee seem even less worth it:
Product pages can load slowly on Gumroad. That's a big deal if you're selling large digital files like videos or audiobooks.
Gumroad's design customization options are kinda limited. You can't make your store or product pages look as snazzy as you can with other platforms.
Gumroad is built for stores selling just a few products, not hundreds. So if you're looking to grow your store, Gumroad might not be your best bet.
If you're on the hunt for alternatives to Gumroad, like other eCommerce platforms with lower fees and better design customization options, then you're in the right place!
We went searching for the best Gumroad alternatives that charge low or 0% fees or have awesome free plans, and offer more features than Gumroad.
Here are the best Gumroad alternatives in the market today.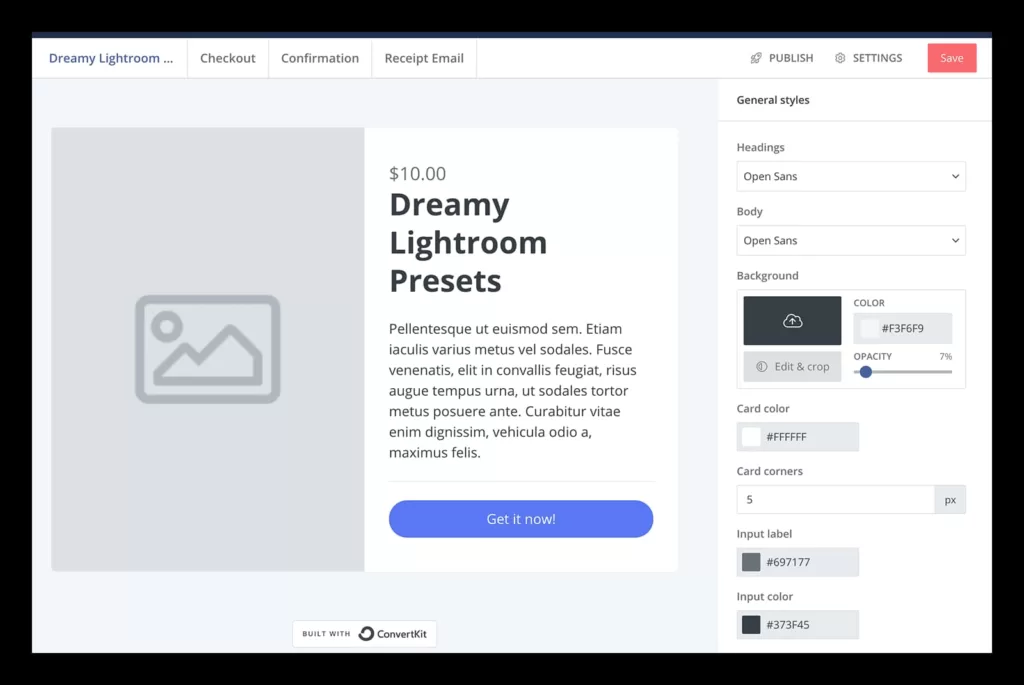 While ConvertKit started out as an email marketing platform, it's grown to become a great FREE Gumroad alternative. You can sell any kind of digital products like ebooks, paid newsletters and coaching sessions.
ConvertKit's suite of tools help creators sell their products and grow their businesses. They only charge a 3.5% fee on all product sales, but it's completely FREE to use.
On the free plan, you can even build a list of upto 1,000 subscribers and run advanced email marketing campaigns with them.
Pricing
3.5% fee for selling unlimited products.
Paid plans start at $25/month if you want to utilize advanced email marketing automation features.
LIMITED TIME DEAL: Sell unlimited products with 3.5% fee and NO subscription cost.
Podia is another Gumroad alternative that provides creators and independent businesses with all of the tools they need to build a no-code websites, sell their digital products, build a community around those assets (free or paid), and generate more revenue from their audiences.
Podia is easy to use, with no coding or design skills required and it takes 0% transaction fees on your products, so you get every $ that you earn!
Pricing
0% fee on their paid plans ($39/month).
8% fee on their forever free plan.
SendOwl is an affordable Gumroad alternative that enables creators to sell digital products anywhere on the internet. With just a few clicks, creators can promote their products, accept payments and deliver files directly to customers. SendOwl also provides valuable data and advanced analytics to help creators make the most of their sales process.
SendOwl offers a number of features that set it apart from its competitors, including a responsive checkout process, payment options in multiple languages and currency, cart abandonments features (such as reminding customers about items left in the shopping cart) and drip emails.
Pricing
0% fee on their paid plans ($19/month).
5% fee on their forever free plan.
Related Reading: Descript Review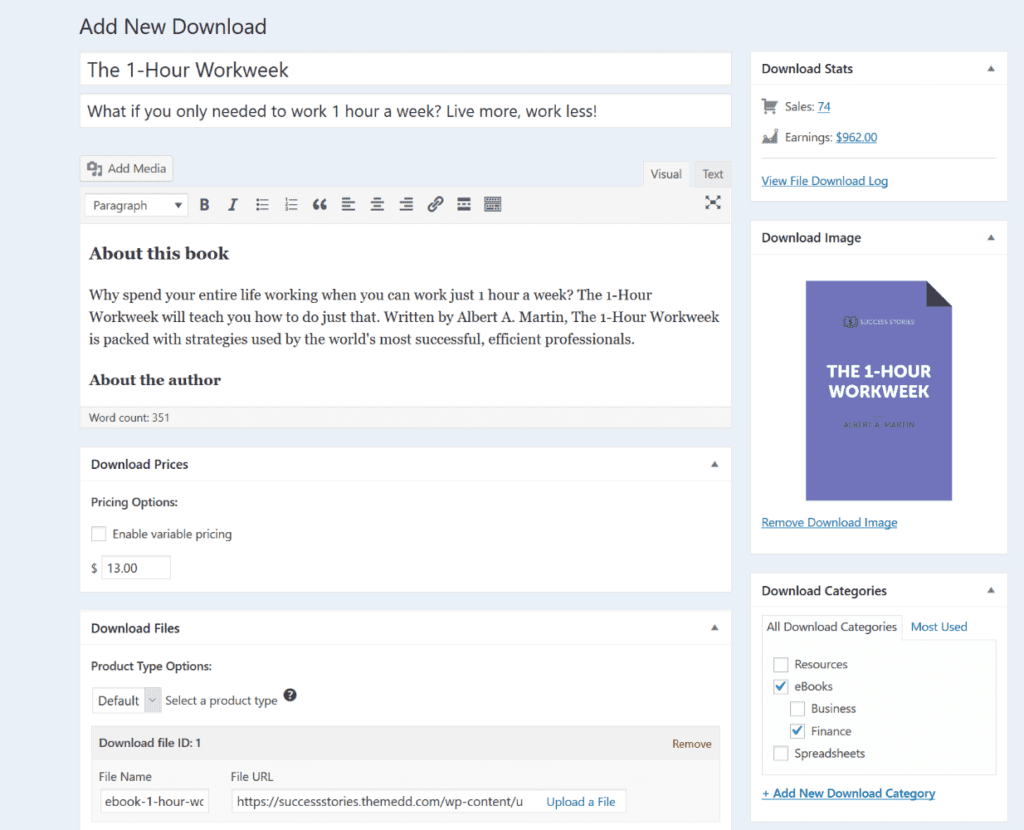 Easy Digital Downloads is a great Gumroad alternative to sell digital products on your WordPress website. This WordPress plugin provides a complete ecommerce platform that you can use for selling everything from software like plugins and themes, ebooks, PDF files and spreadsheets, photography, music or graphics.
Easy Digital Downloads comes with built in Block Editor support that makes it easy to add login forms, shopping carts, product listings and order confirmation pages.
Pricing
0% fees with the free plan. Paid plans start from $99 per year.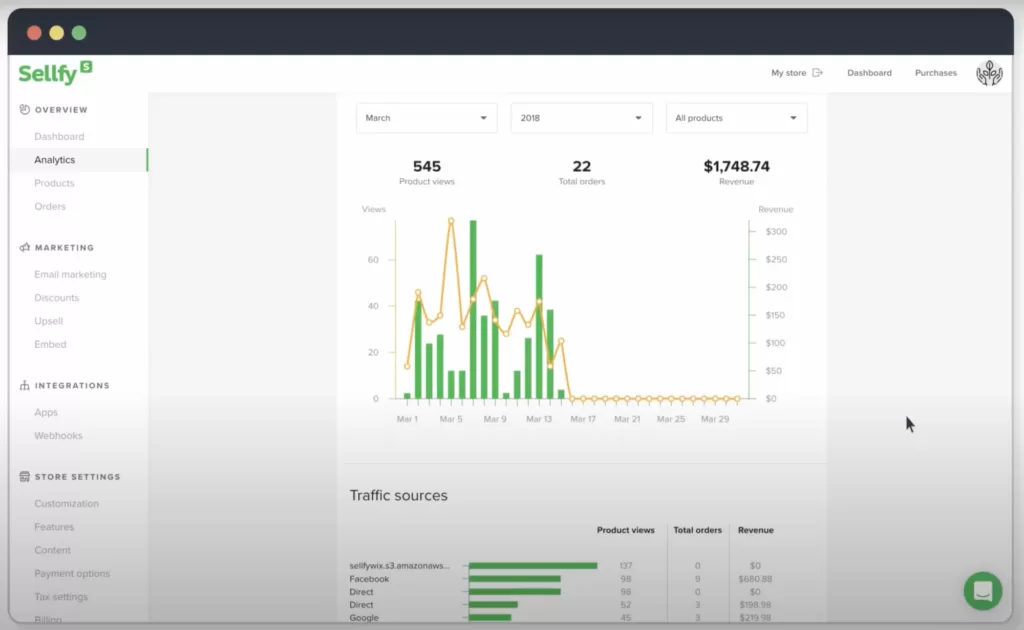 Sellfy is an alternative to Gumroad that lets you sell merchandise or digital products online without any technical skills. You can create a store in minutes, and start selling products to your audience anywhere in the world.
With built-in marketing features and integrated payment processing capabilities, Sellfy makes it easy for creators to start selling their products from one place. It offers advanced analytics features to help you double down on the products that are driving revenue.
Personally, I didn't like their digital products store designs as they came across a little old fashioned.
Pricing
0% fees for $29/month (for upto $10k annual sales).
0% fees for $79/month (for upto $50k annual sales).
0% fees for $159/month (for upto $200k annual sales).
Choosing the best Gumroad alternative
With so many Gumroad alternatives out there, it can be hard to decide which one is best for you. Weigh the pros and cons of each platform and don't forget to consider the fees and features.
In my opinion, the two best Gumroad alternatives are ConvertKit and Podia.
ConvertKit is a great Gumroad alternative for selling digital products if you don't want to pay any subscription fee and pay a lower commission than Gumroad's 10%.
Podia is a great Gumroad alternative for creators that don't want to pay any commission of their product sales and would prefer paying a flat subscription fee.