Last updated on May 29, 2023
Looking for Lusha alternatives? I get it!
Lusha lacks outreach and engagement features, the pricing is high without any lead engagement options, and their contact database is riddled with inaccurate and outdated information that can result in unnecessary expenses for you.
Thankfully, there are MANY Lusha alternatives available in the market.
---
Short on time? Based on our analysis, Apollo is the best Lusha alternative, offering lightning-fast prospecting, great value for money, the largest contact database, a unified platform for prospecting and engagement, and seamless CRM integration.
However, if you're part of a large team with advanced workflow needs and a focus on automated insights and personalized outreach, Zoominfo might be a better fit for you.
---
Curious how we got to this conclusion? Read further!
Best Lusha Alternatives & Competitors
We'll provide an overview of the best Lusha alternatives and compare them in terms of features, pricing, and use case. We'll also share our opinion on the best Lusha alternative out of all the options listed.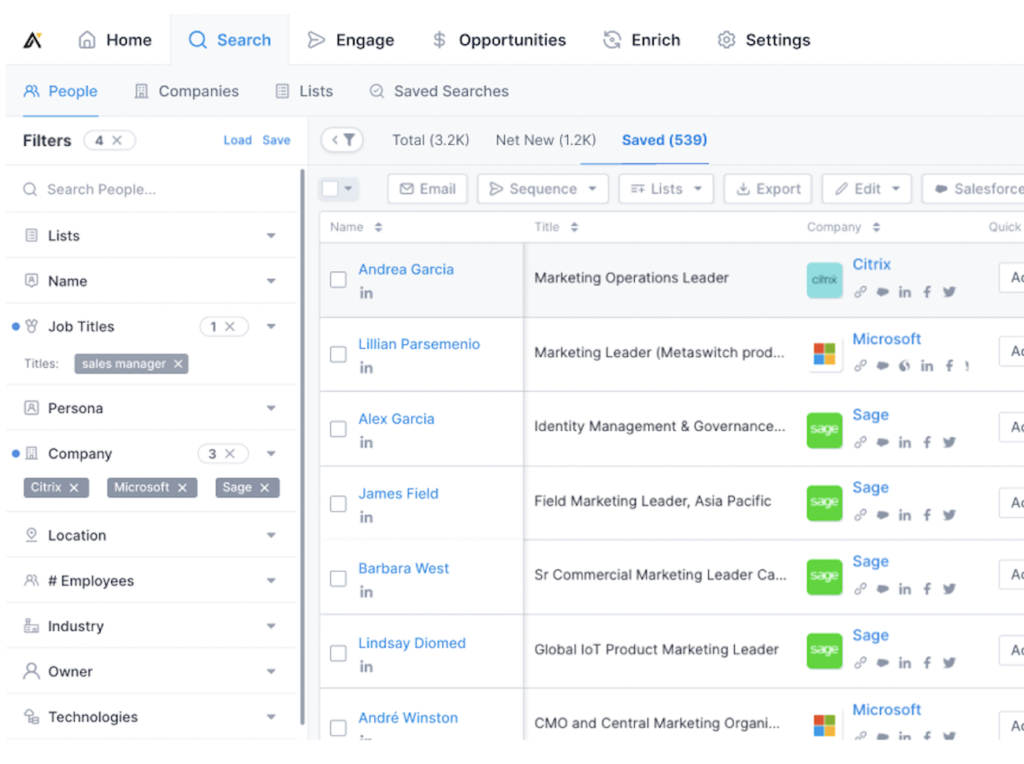 Apollo is a Lusha alternative with the largest contact database (250 million contacts vs Lusha's 100 million) among all lead intelligence tools. It's an all-in-one sales intelligence and engagement software for all teams and sizes.
Apart from its large contact database and high-quality leads, one of the reasons I like this tool is that it has advanced lead engagement features built into it. That means you can both prospect AND do outreach from the same platform
They also offer bi-directional CRM sync of your lead data with Salesforce and Hubspot CRMs —which saves manual data entry time!
Best for
Early SaaS founders, first sales hire, small to medium sized sales teams with <50 people, go-to-market experts, marketers
Top Features
Chrome extension unlocks fast prospecting features in everyday applications like LinkedIn, Gmail and Salesforce.
Do bulk-prospecting using Apollo's in-app search with advanced filters
Set up alerts to notify you when a contact changes jobs
Make your lead data clean, complete and standardised using Apollo's lead enrichment tools
Send highly personalized messages to your prospects with omni-channel outreach (automatic emails, phone calls—even LinkedIn messages)
Offers bi
Pricing
Apollo costs $49 per month for unlimited contacts and 25 mobile numbers per month. Price drops to $39/month for annual contracts.
Seamless.ai is a sales and lead generation platform that helps businesses find, organize and manage prospects of all sizes from a unified platform.
What makes Seamless unique is that it gives customized insights for your contacts so you can lead conversations with what matters most to your prospects. Insights like your prospect's technology stack, awards, news, revenue, Google research etc.
This Lusha alternative integrates with with several third-party solutions like Pipedrive, Hubspot, NetSuite, Slack, and Insightly.
Best for
Sales teams at SMBs looking to add prospecting capabilties to their existing CRM/sales engagement software.
Top Features
Seamless AI Chrome Extension help find phone numbers and emails
Their data enrichment tool help you keeps new and existing lead data up-to-date
Integrates with 17 CRMs and sales engagement tools
Pricing
Start from $147/month for a single user.
Zoominfo's Sales OS is another Lusha competitor that helps B2B companies identify, connect with, and close more customers using their lead contact database.
It uses buyer intent data (like online research activities, organizational changes, funding announcements, company mergers, technology adoptions) to help teams identify and prioritize prospect companies that signal intent.
Zoominfo integrates with major CRMs like Salesforce, Marketo, HubSpot, SugarCRM, and others.
Best for
Large sales teams looking to set up advanced lead workflows, improve their sales process and do hyper-focused outreach.
Top Features
Use infinite combos of ZoomInfo's 300+ data points to generate lists of hyper-focused B2B prospects
ZoomInfo Intent helps you find and engage buyers right when they begin researching solutions like yours
Use their native phone dialer and email tool to execute multi-touch sales cadences.
With Chrorus, analyze every conversation with a prospect via calls, meetings, and emails to drive sales process changes (extra cost)
Create automated workflows based on critical market signals like sending a pre-drafted email to a CEO one month after they've raised funding (extra cost)
Pricing
Zoominfo is expensive. Professional plan costs around $15,000 per year.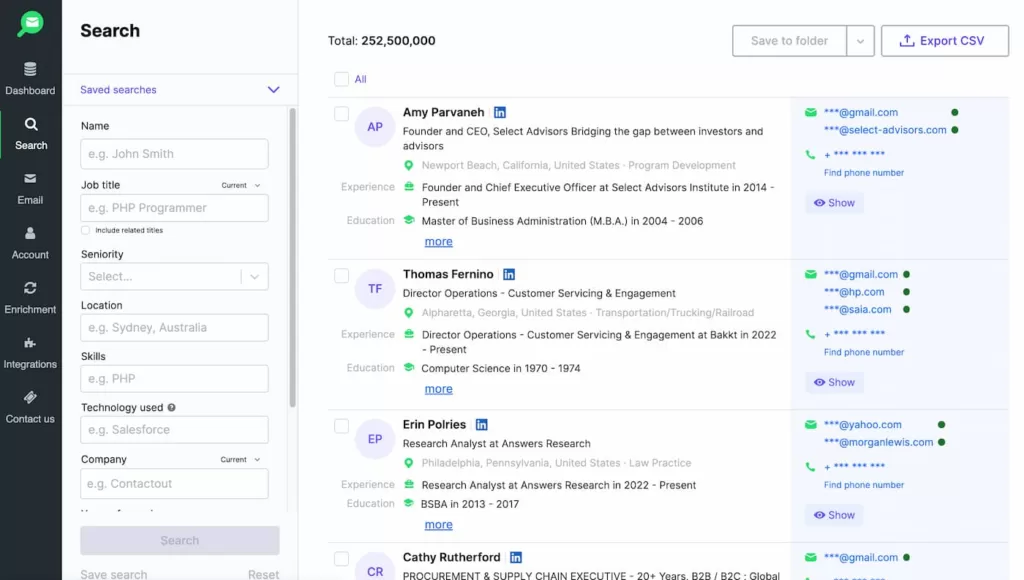 ContactOut is another Lusha competitor that enables users to access millions of verified emails from over 40 countries across a range of industries. With its Chrome plugin, salespeople can search for contact information directly within their browser window without having to leave the website they're currently on. ContactOut quickly locates key people's contact information from the web, including email addresses, phone numbers, and social profiles.
One unique benefit of ContactOut is its ability to search inside social networks like LinkedIn and GitHub. This feature ensures that salespeople don't miss out on any potential contacts that may be available through these channels (GitHub is a gold mine if you sell a tool for developers).
Additionally, ContactOut's verification system ensures accuracy by cross-checking each profile with multiple data sources before delivering results. Users are guaranteed to receive reliable contact information every time they perform a search.
Pricing
Paid plan starts at $29/month for 150 emails/month.
Hunter is a great Lusha alternative because it offers a comprehensive solution for finding and verifying professional email addresses using proprietary technology and artificial intelligence. Unlike Lusha, Hunter provides an email verifier, saving time and ensuring accuracy in building prospect lists.

Additionally, Hunter offers a built-in email campaign feature, allowing you to compose, schedule, and track outreach emails, which Lusha lacks.
Pricing
Hunter offers four pricing tiers, with monthly plans starting at $49 for 500 searches and 1,000 verifications, up to $399 for 50,000 searches and 100,000 verifications.
Overall Best Lusha Alternative
While all the Lusha competitors mentioned here are good in their own capacity, the best Lusha alternative is Apollo.io. Because of the following reasons:
Allows me to prospect fast using their chrome extension and in-app bulk prospecting tools
Value for money pricing ($49/month for unlimited contacts)
Largest contact database (250 million+ B2B contacts) among all lead data intelligence tools with good quality data.
Offers a unified platform for both prospecting AND engagement.
Offers a bi-directional lead data sync with CRMs like Salesforce and Hubspot.
None of the Lusha competitors come close to giving the value that Apollo provides, so Apollo is a clear winner here.
Unless you're a large team looking to build advanced workflows, extract automated insights from prospect conversations and do extremely personalised outreach to very large accounts. In that case, Zoominfo is a better fit for you.