Last updated on June 27, 2023
As a SaaS founder, you may be considering hiring a marketing consultant to help you scale your business. But what should you look for in a SaaS marketing consultant? How much do they typically cost? And why are they so expensive?
In this blog post, I'll answer all those questions and more. I'll give you a rundown on:
WHAT to look for in a SaaS marketing consultant
HOW much they should cost
WHY they're worth the investment
WHERE you can find the best SaaS marketing consultants
So if you're wondering whether or not hiring a SaaS marketing consultant is right for you, read on.
What to look for in a SaaS marketing consultant/agency?
Here are a couple of things to look for in a good SaaS marketing consultant who can drive revenue for you.
In-house experience
Contrary to popular opinion, look for a SaaS marketing consultant who's led marketing working for a SaaS company in-house and delivered results. Not someone from the agency world.
While it is true that agency experience gives SaaS marketing consultants experience across a variety of verticals, most of them tend to work with a client for 6-12 months (that's how long most SaaS marketing agency contracts last). AND in that time, they've probably worked with 5-6 clients simultaneously. That leads to thin knowledge, not deep subject expertise. You barely scratch the surface.
On the other hand, a former Head of Marketing at a SaaS company works full time at one company for an average of 3 years. They're not just involved within marketing discussions, but are in deep discussions with product manager/founders/head of customer support/CTO. Those experiences help build deep expertise and solid frameworks to apply again at another SaaS company.
Leadership experience
You want to work with somebody who's been a marketing leader (VP, Head, Director, Manager, Chief etc.).
SaaS marketing consultants with leadership experience can zoom in and out whenever they want. They can work on a tactical level as well as a strategic level. They should be able to advise you on a high level, but be able to get in the weeds and get their hands dirty to get stuff done. They can connect the dots and understand how to achieve business outcomes very well.
Use their own repeatable framework
After leading marketing for a couple of SaaS companies, a good SaaS marketing consultant usually has identified a pattern to delivering results and they've converted that knowledge into a repeatable framework to help their clients deliver results.
Experience across a wide variety of channels
A good SaaS marketing consultant would have developed a functional expertise across a variety of channels like SEO, content marketing, affiliates, ads and email marketing. That means they have the knowledge to scale those channels to a point where there is a case to hire someone full time in your team for it.
Deep expertise in content
Marketing is content in today's world. Especially in SaaS.
Your entire marketing strategy revolves around content. A good SaaS marketing consultant will have in-depth experience in driving results using content.
Years of experience under their belt in delivering results
A good SaaS marketing consultant ideally should have been in SaaS marketing for more than 5 years and driven concrete results.
There are different nuances and requirements for getting every revenue milestone ($100k, $1M or $10M ARR). A good SaaS marketing consultant has ideally driven results across different revenue milestones.
For example, I've grown several companies from 6 figures to 7 figures ARR.
As Hubstaff's (time tracking software) first marketing hire, I helped grow their revenue from $200,000 to $5M ARR ($15M today) in four years.
As Bonsai's (freelance OS) marketing lead, I helped grow their revenue from $900,000 to $2.5M ARR in two years.
As Close's (high volume sales CRM) first PMM, we grew the revenue from $xM to $xxM in one year.
As Continu's (LMS) marketing advisor, I helped grow their MQLs from 0 to 3000/mo which helped them go from 6 figure to 7 figure ARR milestone & eventually acquire customers like Slack, Lyft, GoPro & Eventbrite.
Know their strengths
A good SaaS marketing consultant doesn't work with every SaaS company that comes to them. They're picky on who they want to work with based on their strengths and if it can help with what the SaaS company is looking for.
For example, I LOVE working with:
Early-stage B2B SaaS products
Making $100k – $1M ARR
ARPU < $1000
How much does a SaaS marketing consultant cost?
SaaS marketing consultants are more expensive than general marketing consultants. Their pricing varies depending on what your requirements, but 80% SaaS marketing consultants usually charge like this:
Fixed retainer per month
Hourly rate
Fixed + Revenue share / sweat equity
Most good SaaS marketing consultants will charge you anywhere between $100 to $500 per hour (depending on the level of engagement). If you hire them for the day, it'll cost you $800 to $4000 per day.
Why SaaS marketing consultants aren't cheap?
An average head of marketing at a SaaS company makes anywhere between $100k-$200k annually. For veterans, it could be 2-5x that.
If you're to just break the hourly rate for that, it comes to ~$60-120 per hour. This is for a full-time position and it doesn't include equity and bonuses.
Here's why that investment is worth it
While my answer may be biased because I'm a SaaS marketing consultant myself, most SaaS CEOs echo that a good SaaS marketing strategy and execution can have an outsized impact on the revenue trajectory of a SaaS company.
For example, I helped Hubstaff (a time tracking SaaS) grow from $200k to $5M ARR by helping them craft their go-to-market strategy, scaling marketing channels and hiring a team. Even after I left, the company continued to grow from $5M ARR to $15M+ ARR on the back of the foundational marketing channels that we built during the early stages of the company.
SaaS marketing consultants don't just help you bring immediate revenue, but also set your business up for future revenue through evergreen channels.
A good SaaS marketing consultant can help you:
Find your first paying customers

Find your foundational marketing channel

Fix revenue leaks in your funnel
Scale a marketing channel
Help you hire a great marketing team
Focus on the right priorities & avoid mistakes they made
Show you how to manage SaaS marketing spend
Grow your SaaS revenue from $100k to $5M ARR
That's why SaaS marketing consultants tend to charge on the higher side and you should be okay to spend.
Where can you find the best SaaS marketing consultants?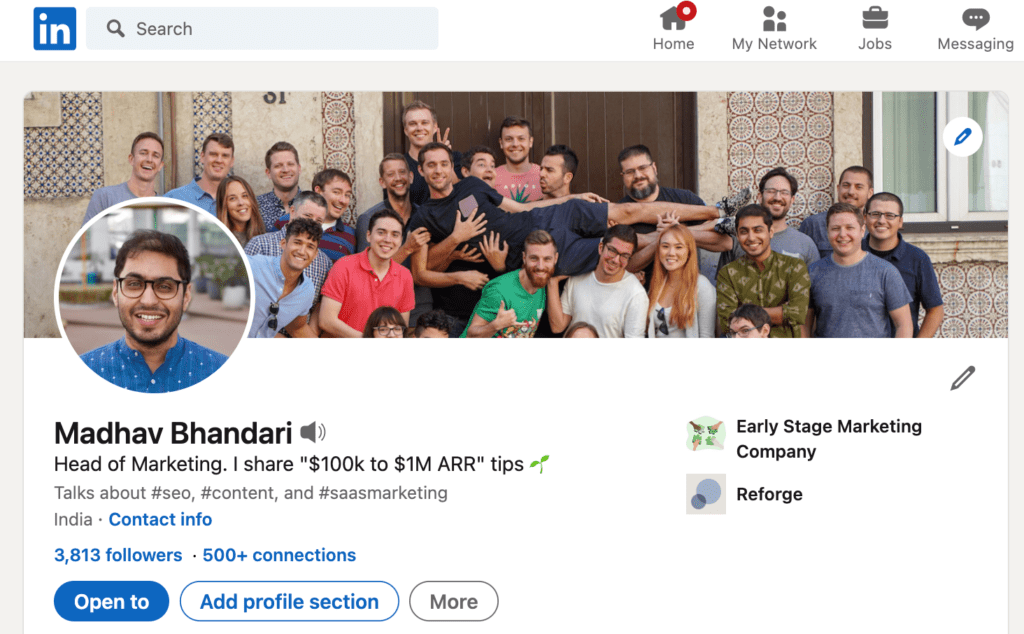 In my experience, the best place to find SaaS marketing consultants is LinkedIn. Search for "Head of Marketing/VP of Marketing/Director of Marketing" at SaaS companies you admire. Message them with your challenges and ask if they'd be willing to work on a paid engagement with you.
There is a problem with it though. Most SaaS marketing leaders are super busy in their jobs. So when you reach out to them, one of these things will happen:
They won't respond back to you.
They'll respond back to you, but they can't go beyond the 1 hour per week engagement because of time limitations. But that means a very low level of engagement where it is strictly advisory and no hands-on help.
The other option then is for you to go and hire these marketing leaders as full-time employees. Being a Head of Marketing myself, I can tell you that it is a very time consuming process (it can take 6 months – 1 year to close the position), it requires a lot of convincing and it costs a lot of money.
That's why I decided to become a SaaS marketing consultant. I want to provide an option for SaaS companies where they can get a Head of Marketing on a fractional basis who can help hit their revenue milestones with higher engagement than a SaaS marketing advisor.
So… have I convinced you to hire a SaaS marketing consultant?
If the answer is yes, I can help you.
If you haven't noticed yet, I'm a B2B SaaS marketing consultant with 10 years experience helping multiple B2B SaaS companies grow from $100k to $5M ARR.
If you'd like to work together, schedule a FREE consultation call with me.
GET IN TOUCH
Book a FREE consultation call