Last updated on November 22, 2022
SaaS companies have realised the importance of SEO and many now set aside dedicated budgets for it. More SaaS companies are investing heavily in SEO now than they were five years ago.
Search results are become much more competitive with everyone creating great content. The pace of content creation has increased too. People are churning out content faster than ever before. If you publish slowly, your competitors catch up and you lose market share!
SaaS SEO tools help ease that burden. They help you keep a close eye on your competitors, identify the best keywords to target, create content that will rank well and so on. They give you that competitive advantage.
But there are dozens of SaaS SEO tools on the market today. So which ones are truly worth your investment? We've rounded up our favorite SaaS SEO tools for you to consider. Some of them are free, some of them have a freemium model, but all of them can help make your life easier when it comes to SEO. Let's dive in!
SurferSEO is an AI-powered content optimization tool that helps you create better than top ranking pages for a search query and it's one of the top SEO tools for SaaS companies. It applies NLP solutions, machine learning, analysis of over 500 web signals. With their smart algorithms, you will quickly find the best content opportunities and create a content strategy for months ahead. With all the research done for you, you will free hours of your time.
The feature that I use the most is their metric "Content Score" which grades your content's quality on a numerical scale (vs other top ranking articles for your keyword) and lets you know how much work there is left to make it optimized for #1 search result.
With Surfer's help, you can consistently create high-quality content that ranks quickly.
SurferSEO paid plans start at $49/month.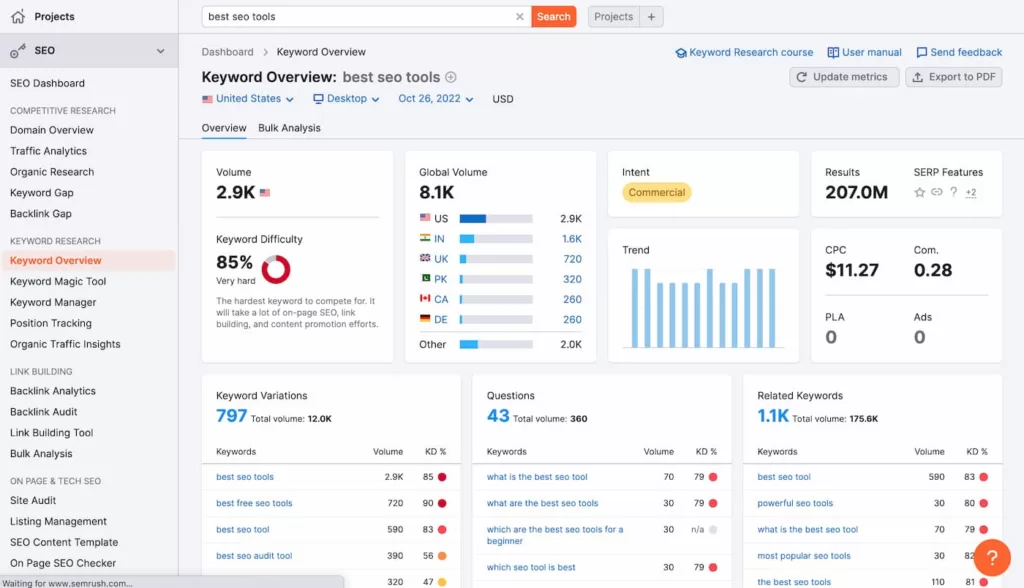 SEMrush is an all-in-one SaaS SEO platform that helps you plan your SEO strategy. It's one of the best tools for SEO for SaaS companies.
The toolkit includes a keyword research tool, on-page analysis, backlink analysis and more. It helps you track your competitors' SEO strategies and gives you an insight into what they're doing right. The tool also allows you to compare different keywords against each other to see which one will be easier to rank for.
Paid plans start at $120/month.
If you're looking to create engaging and persuasive meta titles and descriptions, Copy.ai is the perfect tool for you.
It allows you to generate engaging titles by suggesting different combinations of words based on a topic you give it. You also get suggestions for how many characters are in each word so that your title doesn't end up too long or too short. This ensures that your title is optimized for search engines without being too long or short to fit on a mobile device screen.
Copy.ai also automatically generates an entire first draft based on your topic, saving writers time! It's great if you have a lot of content that needs updating but don't want to hire someone to do it because there's not enough time in the day (or budget). Just upload all of your existing blog posts into Copy, let Copy generate a first draft for all of them at once, then edit any parts that need more work before publishing!
Paid plans start at $49/month for 40,000 words.
I also negotiated a special deal for you with CopyAI. You can get 40% off your first 12 months, if you upgrade to a paid plan within 4 days of signing up.
Sitebulb is a website auditing tool that gives you a visual map of your site structure and internal linking.
It helps you understand your top most internally linked pages, so you can work on improving them or better link them to other resources on the same page. This way, you get more value from each page on your website while increasing SEO traffic.
With this tool, you can also find out what pages are linked to from your site. This will help you understand the most important pages on your website and give you ideas on how to improve them. – Visual map of your entire site structure and internal linking
Sitebulb costs $13.50/month.
Apollo.io is a contact data enrichment tool that helps you find contacts for your link building efforts and helps you reach out to them. It has the most updated contact data in it's database (among most tools in the market) to help you find the right people to reach out to get backlinks from. I personally use this tool for my link building campaigns and it has worked wonders for me.
You can also send your backlink email campaigns directly inside Apollo – it allows you to send bulk cold emails which is great.
Plans start at $24/month.
SEMRush has a rank tracker that's included in their monthly subscription price. This makes it a no-brainer to use because you can track your keyword rankings for free!
You need to be tracking your keyword rankings so you know where they are, how far they go up or down, and who is ranking above you.
This is huge because once you find out who ranks above you, then you can go after them by doing link building and outreach.
It's included FREE with any paid plan of SEMrush. SEMrush plans start at $120/month.
Google Search Console is a free SaaS SEO tool provided by Google to help you monitor and maintain your site's presence in Google search results.
It gives you an actual view of what keywords Google is ranking you for, as well as how many impressions and clicks those keywords are generating. Keyword research using Google Search Console is the lowest hanging fruit for SaaS SEO teams.
Google says that the tool helps "users get a better understanding of how Google crawls sites and interacts with them."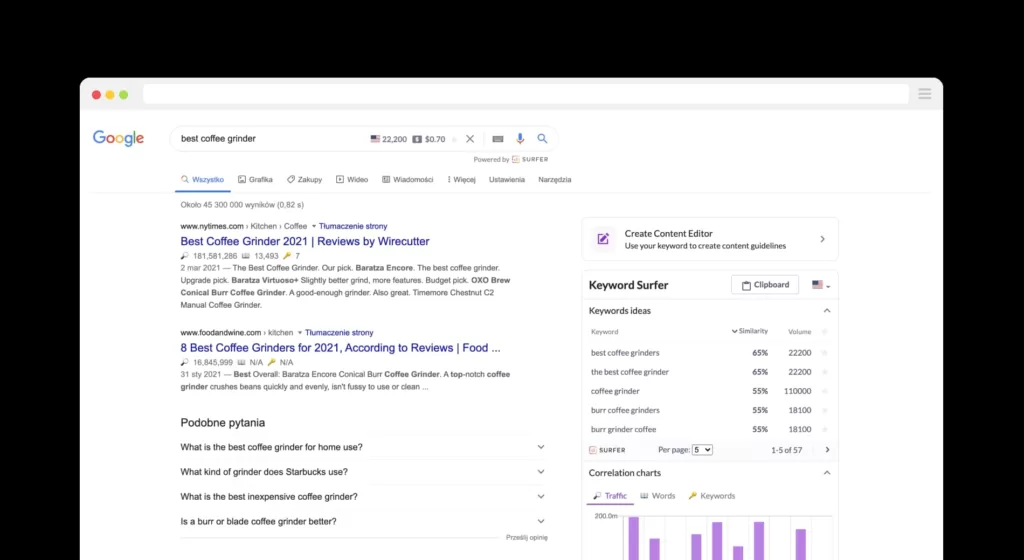 The Keyword Surfer Chrome extension is a free tool, developed by the team at SurferSEO. It allows you to see keyword traffic inside Google, so that you can understand how many people are searching for your keywords and what their search behavior looks like.
It does three things very well:
Reveal monthly search volume of keywords in Google search results
Find new keyword ideas by discovering similar keywords
Uncover data from top ranking pages
You can also use it to see how many times the keyword is being used in ranking article, which can help with writing content that has a higher chance of ranking for certain keywords.
The tool is available for Chrome and Firefox, with a dedicated extension for each browser.
SurferSEO paid plans start at $49/month.
Detailed SEO Extension is one of the easiest SEO tools for SaaS that helps you with quick analysis of any page. You can uncover technical SEO details of a page like meta description, number of words used, sitemap url, headings and content structure with one click.
It's a great tool to help you breakdown the technical SEO success of a page ranking on Google.
MozBar is a free Chrome extension that tells you the strength of a domain using their own metric called Domain Authority. This can be helpful when analyzing how difficult it's be to rank for a search result by showing you the strength of domains that are already ranking for that keyword in the top search results.
MozBar also provides a snippet preview, which lets you see how an individual page on your site would look if it were included in the search results (see image below).
PageSpeed Insights is one of the most popular Google tools. It helps you understand the performance of your website and identifies issues that may be slowing it down. The tool also provides recommendations for improving your site's performance and how to make it faster – both on mobile and desktop.
PageSpeed Insights is free, easy to use, and an important SEO tool given Google's focus on page experience as a ranking signal.
KeywordTool.io is a free keyword research tool that provides keyword suggestions, cost-per-click estimates, and search volume data for Google, Amazon, and YouTube. It's great because it shows you related keywords for a keyword – the ones that google and youtube recommend in the drop down while typing a keyword in their search box.
Answer the Public is a great tool for uncovering the WHAT, WHY, HOW, WHEN and GLOSSARY of a topic. It's also handy for brainstorming content ideas. The questions are asked in Google almost like search bar queries so you can see what people are really asking.
This tool gives you answers like: What type of content is most useful to my target audience? Which keywords should I use in my next blog post?
Short Pixel is a great tool to help you optimize your images to the lowest size possible without compromising their quality. It does this in bulk, so it's very automatic.
Short Pixel works well with WordPress websites using its wordpress plugin, which makes it easy to use and doesn't need any technical knowledge to get started.
Squoosh is a great free tool to help you compress images without losing it's quality. It's incredibly useful when you're trying to increase your page speed by reducing the sizes of images on a page. It helped me reduce an image from 4.9MB to 89KB without any reduction in image quality!
The only con with this tool is that you have compress each image one by one. There is no bulk option available. While ShortPixel bulk compresses your images on auto-pilot.
Rank Math is a free SEO tool that allows you to calculate keyword density, rank checker and more. It's a simple SEO tool that can help you with your keyword research and optimize the page so that it ranks on Google.
The RankMath Tool also includes a WordPress plugin which allows users to optimize their website following best practices set forth by Google.
In addition to helping you improve your website's SEO, this tool also comes with other features such as schema validation, duplicate content checker, meta description editor and much more.
Paid plans start at $50/year.
Invest in the right SaaS SEO tech stack
We hope these SaaS SEO tools help you get an edge over your competition and make your life easier. We know it can be a bit overwhelming at first, but use a combination of tools we mentioned above and start small—you don't need to go crazy with all of them at once!
Thanks for reading and good luck! If you want to learn more about our SaaS SEO services and how we can help grow your organic traffic, feel free to contact us.