Last updated on January 19, 2023
With a G2 rating of 4.8 and 4.9, respectively, Surfer SEO and Clearscope are two very popular content optimization tools available in the market. However, choosing a single option between the two can be quite tough. Well, I've managed to put in all the grunt work so that you don't have to!
Here's my detailed Surfer SEO vs Clearscope comparison.
Surfer SEO vs Clearscope: Pricing
There is no contesting the fact that budget is one of the foremost concerns while investing in any solution. So, let's kick off this Surfer SEO vs Clearscope comparison with just the very thing.
Surfer SEO offers a four-tiered plan – one free and three paid. I feel that the inclusion of the free plan makes Surfer SEO quite accessible, even to freelancers and small businesses that may not have the budget for it.
Plus, the platform's AI-powered growth management module – Grow Flow – is also available in the free plan, of course, with limited capabilities. The paid plan starts at $49 per month and extends up to the Business Plan at $199 per month.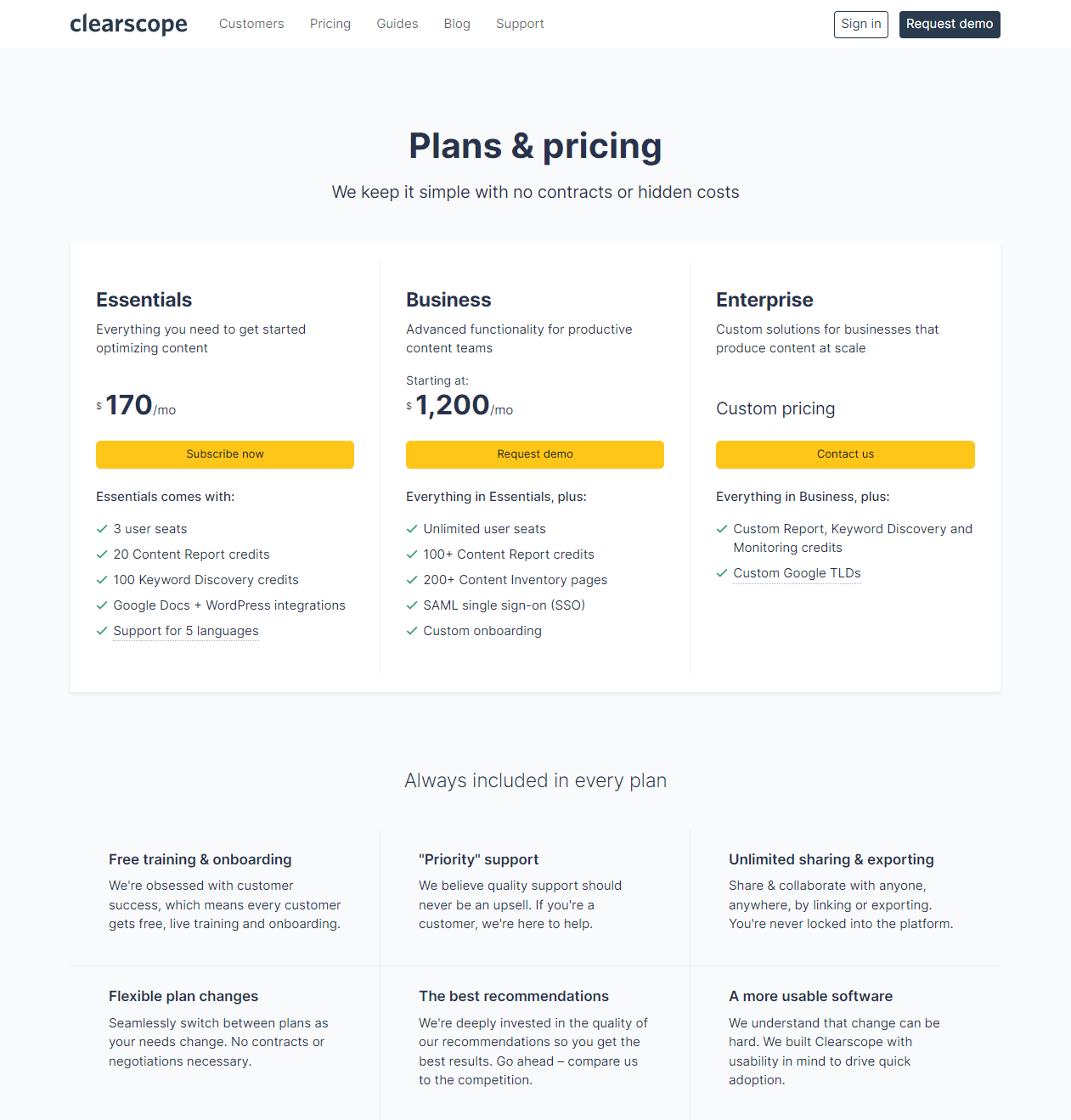 On the other hand, we have Clearscope with a three-tiered paid plan. The Essentials and Business plans are priced at $170 per month and $1200 per month, while the Enterprise plan attracts custom pricing.
The Verdict
Considering that Surfer SEO offers a free plan and is, in general, cheaper than Clearscope, Surfer SEO wins this round.
Surfer SEO vs Clearscope: Content Editor
Next, in this Surfer SEO vs Clearscope comparison, let's dig deeper below the surface and examine their content editors. After all, here's where all the magic happens!
The Surfer SEO content editor is pretty straightforward – you enter the search phrase for which you wish to rank, and the platform creates a new project for this requirement. The content editor displays suggested keywords – for headings and content body – in the tab on your right.
As you write your content, the Content Score updates in real-time on a scale of 0 to 100. The breakdown of how the scoring is calculated is given below the indicator, and you can use the suggestions to improve your score and, by extension, the content.
Such suggestions are based on competitor research or snippets from top-ranking content, so clearly, you would be heading in the right direction by following them.
The Clearscope content editor is equally intuitive and rich with meaningful recommendations. Much like Surfer SEO, it draws inspiration from high-ranking websites on a topic and makes content optimization recommendations.
However, what Clearscope does better is that it also accounts for search intent and search volume, which would improve your chances of ranking. Plus, I like how they have widened their scope to analyze SEO and readability, with the report card grade ranking the former and the year grade ranking the latter. And so, your content is optimized not only for search engines but also for readers.
The Verdict
The Surfer SEO vs Clearscope content editor comparison is a close call. But I would give Clearscope the edge for its well-rounded content assessment approach.
Surfer SEO vs Clearscope: Collaboration
As teamwork and collaborative working become the norm, it also emerges as a key consideration when comparing options. So, let's do a Surfer SEO vs Clearscope from this angle.
To start with, both Surfer SEO and Clearscope offer the following collaborative features:
Shareable links to involve external writers
User-defined permissions to invite team members without admin access
WordPress and Google Docs extensions available for cross-platform usage
Except for the free plan of Surfer SEO, both Clearscope and Surfer SEO users can invite team members depending on the plan.
Commonalities aside, here's how Surfer SEO vs Clearscope fare when put head to head.
Surfer SEO offers:
Invite 1-10 team members, depending on the plan
Multiple logins in the Content Editor, with a preview of each user's activity
A dedicated section to drop notes or instructions for writers
Grow Flow for smarter task management
With Clearscope, you get:
3 to unlimited user seats depending on the plan
On-demand Content Planner for task management and reporting through history
The Verdict
Surfer SEO appears to offer greater support for collaboration – that too, at a lower price point. So, I've got to hand it over to Surfer SEO on this front.
Surfer SEO vs Clearscope: Integrations
This category for Surfer SEO vs Clearscope will be quick and painless.
Surfer SEO offers integrations with:
Jasper.ai
Google Docs
WordPress
Source
These integrations allow you to populate keywords, create content outlines, write content, and optimize right in your browser. Plus, the Surfer API grants integration with your in-house workflows or custom business products.
Clearscope offers integrations with:
Using such plugins, you can enjoy all the features and benefits of Clearscope straight on the said websites. Clearscope also enables users to export data as CSV files.
The Verdict
The integration with Jasper.ai tips the scales in favor of Surfer SEO, so my vote goes for it.
Areas Where Surfer SEO Stands Out
Surfer SEO eclipses Clearscope in the following areas:
Grow Flow for AI-led growth
SERP analysis for competitor research
Support for 11 languages (against the five of Clearscope)
Automatic outline creation
Areas Where Clearscope Stands Out
Clearscope outshines Surfer SEO in the following segments:
Accurate reporting
Pan-organization shareable reports
Comprehensive reporting for real-time updates on tasks
Focus on SEO and readability
Surfer SEO vs Clearscope: Who Should Use What?
At this point, you may have a crystal clear idea of what to choose between Surfer SEO vs Clearscope. However, let me summarize my findings for you.
If you are looking for a low-cost, feature-rich solution, then Surfer SEO should be your pick. It is suitable for freelance writers, marketing agencies, and small businesses. Apart from the paid plans being pocket-friendly, you also get more value in the form of more seats for the price you pay. Plus, access to tools like Grow Flow and integration with Jasper is highly appreciated.
However, if you seek an enterprise-grade platform that lives up to its promise, then you should choose Clearscope. It is a no-frills writer-friendly platform that works to improve ranking and content quality. Even though the cost may be on the higher side, their claims of offering "priority support" to all, regardless of the plan, have been honored, and users have glowing things to say about customer support.
Now go ahead and choose what fits your bill!