Last updated on January 13, 2023
I heard of Thirsty Affiliates first when I was looking for tool to help me with managing my affiliate links and providing advanced click reporting on my affiliates links.
While Thirsty Affiliates offers a free plugin, the real value of Thirsty Affiliates comes with it's Pro add-on.
The Thirsty Affiliates Pro add-on unlocked advanced click reporting for me that helped bring in "affiliate revenue visibility". While click data is not 100% accurate in giving revenue visibility, it does give me a directionally accurate idea and helps me make data-driven decisions on what to focus on, what to double down on, what to stop and what to fix to grow my affiliate income.
There aren't many reviews about Thirsty Affiliates Pro Add-on online. So I shared my experience using Thirsty Affiliates Pro to grow my affiliate income.
If you'd prefer watching a live walkthrough of Thirsty Affiliates Pro add-on, here is the video. Else, continue reading on.
Most of this review focuses on the Pro add-on features and why Pro add-on is worth buying vs just using Thirsty Affiliates free plugin.
Let's get into it!
What is Thirsty Affiliates?
ThirstyAffiliates is a great affiliate link management WordPress plugin that helps bloggers to manage and cloak affiliate links. It simplifies the process of creating, managing, and optimizing affiliate links.
But that's not where it's functionality ends. It also offers advanced link analytics to give you visibility into your affiliate revenue (my favorite!) so you can know what's working and what's not. It also offers other features like automatic link import, automatically link keywords, event notifications and more.
ThirstyAffiliates is a great tool for bloggers/vloggers who are serious about growing their affiliate revenue.
How does Thirsty Affiliates work?
It's quite simple. You have to set up your affiliate links via Thirsty Affiliates plugin to start tracking click data.
Here is how to set up affiliates links via Thirsty Affiliates:
Create an account first and install the plugin.
Once your account is created, you can start creating and managing your affiliate links.
To create a link, all you have to do is enter the URL of the affiliate program you're associated with and the link text. The plugin will generate a unique link for you.
You can then copy and paste this link into your blog posts or other content.
Once that is done, sit back and relax. Your data is now getting recorded inside Thirsty Affiliates.
Thirsty Affiliates Pros
With its advanced click reports, one-link placements, keyword linking, and simplified link management, ThirstyAffiliates Pro add-on helps you increase your affiliate revenue.
1. Advanced Affiliate Link Click Analytics
This is the feature that provides 80% value of Thirsty Affiliates for me.
Most affiliate programs don't provide referral URL tracking on affiliate links so I felt like I was in an information hole. I didn't know which articles were driving affiliate signups/revenue for me. Thankfully, Thirsty Affiliates provides advanced click analytics data which gives me directionally accurate answers to such questions.
Here are 4 features that I use the advanced link click reporting to grow my affiliate revenue:
Link overview
Link-overview gives you a bird's eye view of how your affiliate link clicks are growing overall in a given time period. If you want to compare performance of clicks by affiliate program, you can create different charts for it.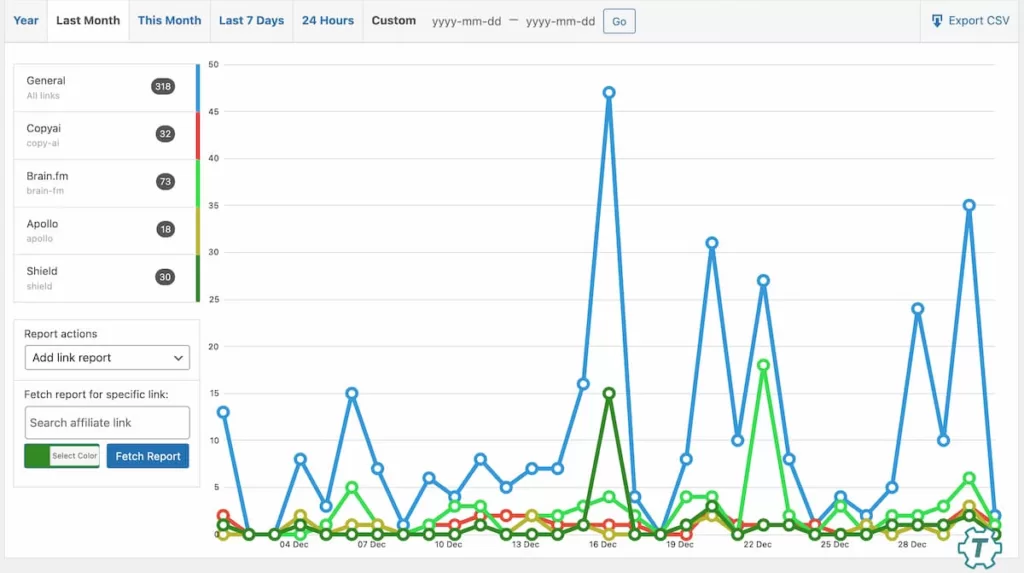 Geolocation
Geolocation data shows you which country is driving the most affiliate link clicks for you in a given time period.
Stats table
Stats table gives you a running timeline of link clicks, their referral sources, timestamp etc. It's helpful when you're trying to know more details about a recently converted affiliate customer.
For example, some affiliate programs provide date and timestamp of when an affiliate lead came from my blog and signed up / purchased a paid plan. I usually try to match the time stamp on my affiliate program to the click time stamp in Thirsty Affiliates to get an idea about what triggered this visitor to convert into a customer. This tactics works sometimes, not always. But hey, better to know something about your customer than nothing at all?
Export data to spreadsheet and do advanced analysis
Any report that Thirsty Affiliates analytics is not able to provide for me, I just export the data into a Google Sheet and run a pivot table.
For example, I run a pivot table to understand which blog post is generating the most number of affiliate clicks for me. Or you can run a pivot table to understand which country is driving the most clicks for a particular affiliate link.
My point is that the data is there. You can choose to extract insights from it however you want, but this click analytics is very, very helpful in prioritising my affiliate content efforts and doubling down on things that work.
Protect your commission
I also use Thirsty Affiliates to protect my commissions from theft and identify the affiliate programs that I want to continue working with or abandon.
For example – I was suspicious about an affiliates program not crediting me for commissions, by not providing trustable data despite the fact that I was generating a lot of clicks to it.
Thirsty Affiliates click analytics data acted as a secondary source of proof for me and helped me confront my affiliate partner. Because of this data, they sorted it out for me, but I also knew that I'm going to stop promoting this product moving forward.
The click data helps me prioritise my affiliate efforts as well as protect my time and effort from bad affiliate programs.
2. One Link For Your Affiliate Link Placements
It can get really messy when you have different affiliate links manually added across hundreds of blog posts. Imagine if tomorrow, the affiliate programs changes platforms and because of that your affiliate links change. You'll have to manually find and update every affiliate link on the blog. You'll waste so much time.
Thankfully, Thirsty Affiliates helps you manage all your affiliate links in one central dashboard and using one cloaked link. That means any time your affiliate link changes, you just need to update that your affiliate link inside Thirsty Affiliates and it will automatically update all your existing affiliate link mentions.
This means you can easily roll out changes to your affiliate links without making manual changes across all placements. You'll save a lot of time.
ThirstyAffiliates simplifies affiliate link management by providing a single place to manage all your affiliate links. You can easily add, edit, or delete links, or add in new ones, all in one place.
3. Find Your Affiliate Links Inside The WordPress Editor
Your affiliate links are embedded within the Thirsty Affiliates button inside your WordPress editor. That means you don't have to search around for the right link every time you want to add it to a post and waste your time.
With the built-in Thirsty Affiliates (TA) button, you can quickly and easily insert links without having to leave the editor.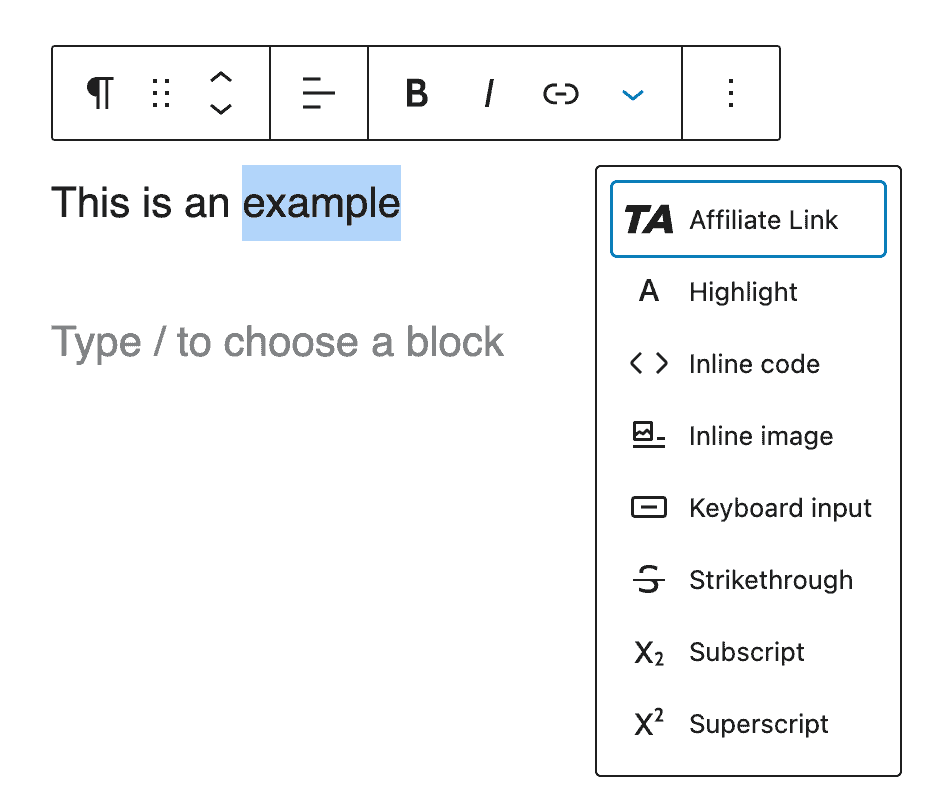 4. Automatically Add Your Affiliate Link To Keyword Mentions
ThirstyAffiliates also makes it easy to maximize conversions by automatically adding your affiliate links to keyword mentions in a blog post. This ensures you don't have to manually add links to your posts.
5. Trigger notifications
You can set up event notifications inside Thirsty Affiliates based on a trigger number. If an affiliate link's clicks cross that trigger number (let's say 10) in the last 24 hours, you'll automatically get an email notification.
This is useful to know when your affiliate link clicks are surging which can indicate that maybe your post is getting a lot of traffic. You can then jump in and add more conversion elements in the post to capture more conversions and increase your affiliate revenue.
Other features
I can keep going on and on about Thirsty Affiliates Pro Add-on features.
You can send your clicks data to Google Analytics to do more advanced level reporting.
Amazon affiliates can set up geo-targeting, so a UK visitor only opens your Amazon UK affiliate link and US customer opens your Amazon US affiliate link.
Advanced features for Amazon affiliates
Customize link appearance
Automatically add an affiliate disclaimer
This isn't the full list, but you should get an idea of the true power of Thirsty Affiliate Pro Add-on and why it's worth buying.
Thirsty Affiliates Cons
Thirsty Affiliates has the following cons:
1. Reporting can be more comprehensive
Right now, while they have the data, the reports show only the most essential charts. But if you want to dig deeper, you have to export the data into a spreadsheet and do your own analysis (which just adds extra steps into my analysis).
2. It only supports WordPress websites
Because ThirstyAffiliates only supports WordPress, it leaves out 70% of websites not built on WordPress. If your website is hosted on other CMSs like Webflow, Ghost, Wix, Squarespace, you can't use Thirsty Affiliates.
Thirsty Affiliates Pricing
While Thirsty Affiliates is a free plugin to use, here's the pricing for Thirsty Affiliates Pro Add-on:
Basic (for 1 site) costs $159/year
Plus (for 5 sites) costs $259/year
Advanced (for 10 sites) costs $399/year
I use the Basic plan because I only have 1 site (the blog that you're reading). So if you're like me, just get the Basic plan. It ends up costing just $13.25/month.
LIMITED TIME DEAL: Get 50% discount on Thirsty Affiliates Pro add-on. With the discount, Basic plan costs $13 $7/month (with annual plan) for your first year.
Thirsty Affiliates Alternatives
I did evaluate a couple of Thirsty Affiliates alternatives before purchasing Thirsty Affiliates. Here are three alternatives that you can consider:
Lasso (costs $39/month)
Pretty Links (costs $199/year)
Affilimate.com (costs $99/month)
Each have their pros and cons. Overall, Lasso seemed like a very polished alternative with tons of great features. However, it's expensive.
When compared with all these alternatives, Thirsty Affiliates is the most affordable solution.
Is it worth buying Thirsty Affiliate Pro Add-on?
It absolutely is. Thirsty Affiliates provides simple affiliate link management, advanced click reporting and tons of awesome features at an affordable price point.
If you're somebody who is serious about growing your affiliate income and getting that "affiliate revenue visibility", consider trying the Thirsty Affiliates Pro Add-on for a year and watch your affiliate revenue grow.