Last updated on November 29, 2022
To start and grow a blog, you need to write a lot of articles. However, the biggest constraints to that are:
Writing 1 blog post yourself could take anywhere from an entire day to an entire week. So it's difficult to scale quickly because you are limited by how many articles you can publish in a month.
Often the best option to scale article creation is by hiring writers, but it's expensive. Writers charge anywhere between $300 to $1000 per blog post so you need to really budget for those costs.
The entry of AI article writers changed everything, especially since GPT-3 launched. GPT-3 is first ever AI model that learnt the language in a way like never before. It started writing articles close to how a human writer writes. It understood the dynamics of how a language was used – what came before, what came after, writing style, tones, grammar etc.
Today, it's easier than ever to create an article using AI article writers. Not only are these AI article writers good, they save time (write articles instantly), save money (cost 1/10th of a writer) and don't need to be trained.
Will they replace writers completely? Probably not. But will they make article creation more accessible for people? Absolutely!
However, the quality of an AI written article depends heavily on which AI article writing software you use. Some AI article writers are good at producing short, but high quality articles. Some are good at producing long, but plagiarism filled articles (!!). Some are good at bulk article creation. Some are good at creating articles with blog images. Some are good with assisting you create a very high quality article.
So before you start using an AI article writer, here is a short guide on how to find the best AI article writer for your needs.
1. CopyAI (I chose this one) ⭐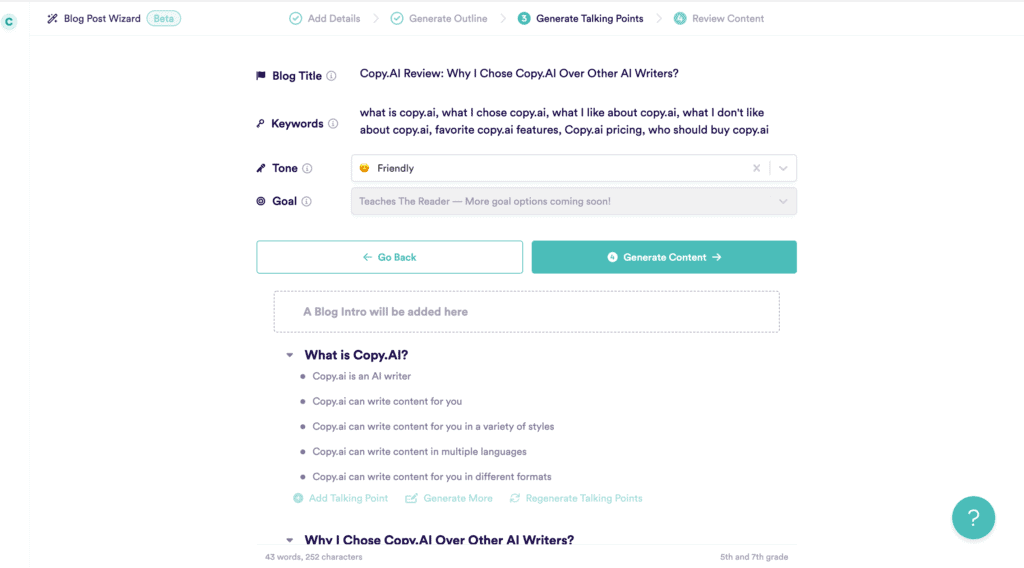 CopyAI is the most popular AI article writer in the market today, with a very high quality output compared to other AI article writers. It's versatile with a lot of use cases.
CopyAI's long-form blog post creation tool allows you to create a detailed first draft in minutes. The blog post outline CopyAI generates—the main sections, the subsections and talking points under each section—are all editable. Every time you make an edit, it provides more data to CopyAI to help guide you to a finished article that you'll love.
The output is very very good. 99.99% original content, no spelling mistakes and no grammatical errors. It reads like a real writer has written it!
Top Features
4-step blog post wizard to write articles quickly
Google Docs-style editor with advanced editing features like "Write more" feature to instruct the AI to complete your paragraph and "Rewrite" to ask the AI to improve your currently written paragraph
100+ tools to help you brainstorm blog titles, expand blog paragraph, write blog conclusion, SEO meta descriptions etc.
Templates generator to auto-write commands inside CopyAI to write more technical portions in an article (eg- tool comparisons, product review etc.)
Freestyle tool allows you to generate literally any kind of copy (I've used it to create LinkedIn posts to promote my blog posts!)
Cons
Doesn't offer SEO integrations
No built-in plagiarism checker
Pricing
CopyAI costs $49/month for generating upto 40,000 words (or roughly 20-40 articles).
LIMITED TIME DEAL: Upgrade to a paid plan within the first 4 days of signing up using above activation link and get instant 40% off.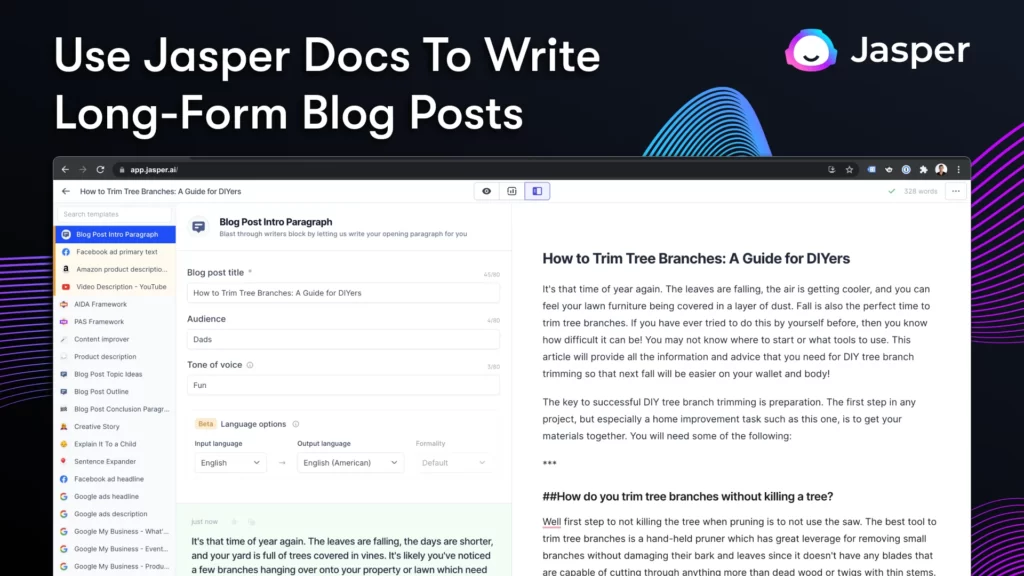 Jasper is another popular AI article writer that helps your team create high-quality articles fast. It works best for writing blog posts, social media content, and marketing copy.
It is one of the most heavily-funded AI article writers in the market, having raised $125 million from investors.
Top Features
Boss mode allows you to write long form content that's SEO optimized
Integrates beautifully with Surfer SEO (content optimization tool)
Create AI art for your blog posts
Integration with Grammarly & Copyscape ensures that your article is free of plagiarism
Cons
It generates a lot of repetitive copy
Support is terrible
Pricing is expensive
Pricing
Jasper costs $59/month for 50,000 words (20-40 articles) and the pricing gradually scales based on your usage.
Bramework is a relatively newer AI article writer to write SEO-optimized blog posts that rank. It helps bloggers, freelancers and agencies get their first draft done quickly by taking the pressure off writing and brainstorming.
Bramework focuses only on AI article writing for SEO purposes with built in tools to find keywords, write content and track it's performance.
Top Features
Keyword research tool
Plagiarism checker
Integrates with SEMrush
Image Finder automatically finds royalty-free stock images for all parts of your blog post
Website keyword ranking tool
Cons
Poor writing quality is a major problem. I've often seen basic spelling mistakes, repetition, grammatical errors etc.
Pricing
Bramework's full featured plan costs $99/month for generating upto 100,000 words (40-80 articles).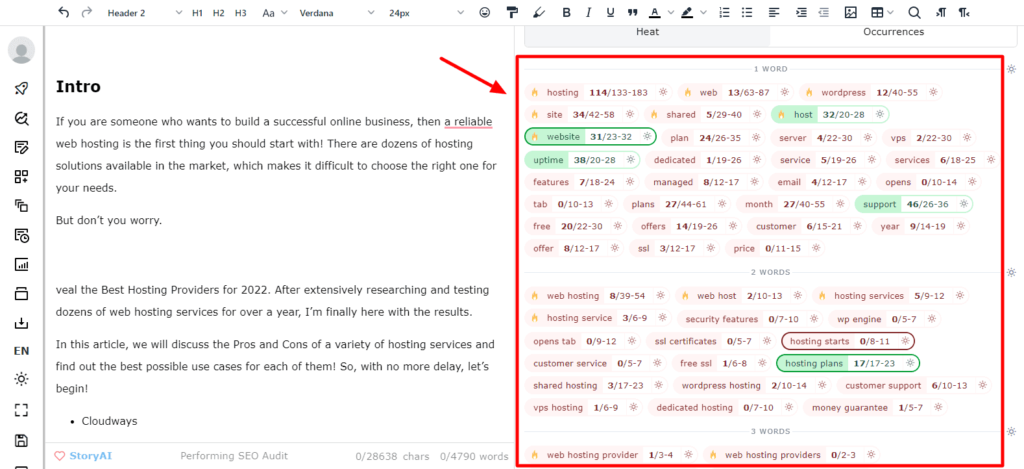 ClosersCopy is a new AI article writer in the market that uses its own proprietary AI writing algorithm (not GPT-3) with 3 modes – SalesAI, BlogAI & StoryAI.
It's one of the few non-GPT 3 based AI article writers—which means that its output is slightly different from what you'd get from other GPT-3 based AI article writers. ClosersCopy saves you thousands of hours by streamlining the process for creating long-form, in-depth content using their frameworks.
Cons
Please bear in mind though that ClosersCopy is a very new tool and they're still refining the features.
Top Features
Blog post wizard with templates to guide you through creating an article.
In-app content optimization tool that helps you identify gaps in your content based on competition analysis.
Advanced writing tools to analyze your content like spam analyser, keyword density checker and emotional tone scoring tool.
Supports keyboard shortcuts to write more quickly
Pricing
ClosersCopy's full featured plan (Superpower) costs $80/month to create unlimited articles.
Wordplay is long-form AI article writing software that helps create 2000+ words with one click and in bulk. It helps you create high-quality content quickly and optimize it in a way that minimizes your own editing.
To create an article, just write the title and optionally include subheadings. Generating a full article can take 5-15 minutes (which is quite long as compared to the other AI article writers in this list, especially CopyAI).
Top Features
Bulk CSV mode to create bulk articles using multiple titles & sub-headings
Topic mode to create bulk articles from a list of topics
Title mode to create articles in bulk from exact article titles
Simple & easy user interface
Cons
I don't recommend creating articles in bulk (which is Wordplay's strong point). AI article writers are like your personal writing interns. Your inputs influence the outputs. If you give more detailed instructions, you'll get a much higher quality article. If you give topics and generate in bulk, you'll get generic articles that won't stand a change of ranking against other competitors in search. Just my 2 cents.
Pricing
$35/month for upto 20,000 words (10-20 articles).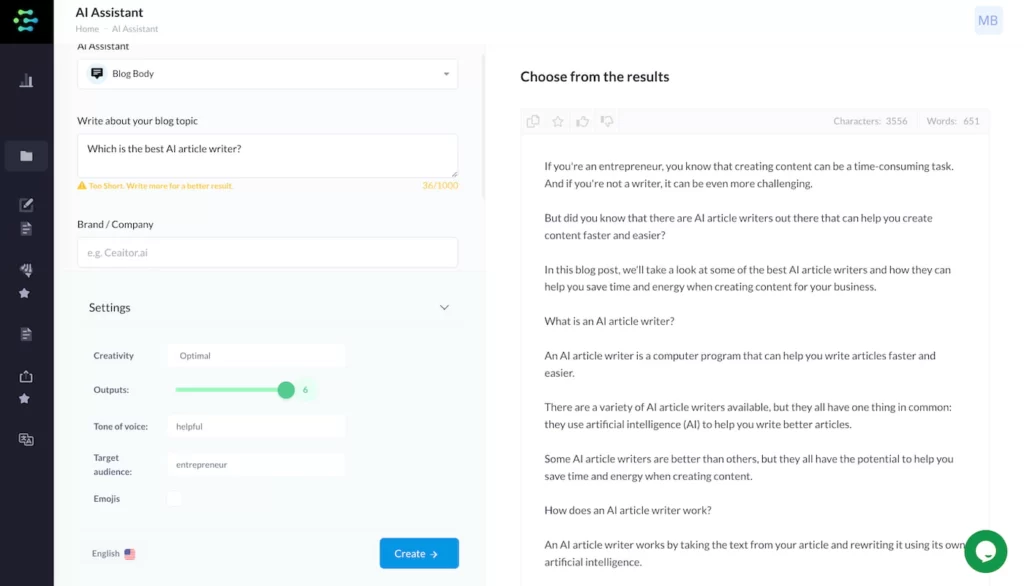 Creaitor (not a mis-spelling) is the youngest AI article writer in this list but it's worth a mention. It uses the most expensive AI engine (Davinci) which makes it's output very high quality and most upto date (their trained data is till June 2021).
Creaitor helps you write any kind of sales and marketing copy, with a particular focus on long form content. You can easily write 2000+ words blog posts using Creaitor in an instant.
Cons
Creaitor launched less than 6 months ago. The tool has many issues right now
UI is poor and loads slowly
AI article output is sometimes irrelevant or blank page
Support isn't responsive
But the quality of content is good 6 out of 10 times. This product needs to mature a lot, so I'd only recommend using it if you're willing to use it like an early adopter.
Top Features
Open AI form allows you to create any copy you want
Tools to generate blog ideas, outline, first draft, conclusion and more.
Free-form editor with SEO keyword optimzation features
Pricing
$59/month for unlimited words.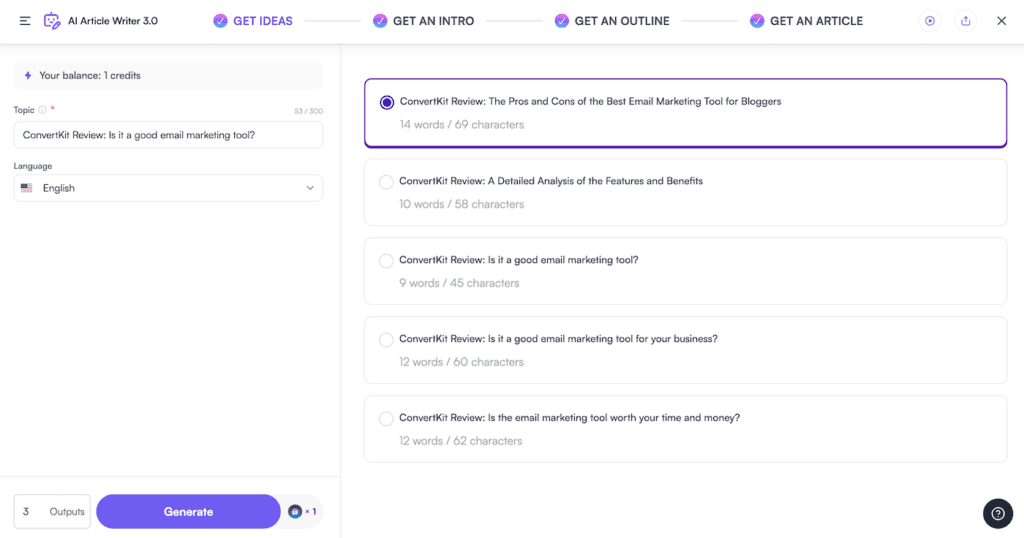 Writesonic is an AI article writer that can help you write 1500+ words of SEO-optimized content in one go. With it, you'll spend less time on research and writing—and more time overcoming your writer's block!
Top Features
Blog post wizard to generate your first draft
1-click export of article drafts to WordPress
AI art generator
Zapier integration
Built-in plagiarism checker to make sure your content is unique
Cons
Complicated pricing
Average output quality with lots of spelling and grammar mistakes
Pricing
Writesonic's full featured plan costs $19/month for 19,000 words and the pricing scales based on the number of words generated.
While GoCharlie is an AI writing tool primarily built for aiding social media efforts, it offers some unique AI article writing tools like creating articles from YouTube videos and turning text into blog post illustrations.
Top Features
Turn your existing YouTube videos into blogs that are helpful, insightful and SEO-friendly.
Convert text into stunning 4K, Vertical, and Widescreen blog post images.
Blog post wizard to write 1000+ words articles
Cons
While GoCharlie has some nice features, its output can't be fully relied on. This is still a very new tool at an early stage of development. I didn't like the user interface either—it was clunky and hard to navigate for me
Pricing
$29/month for unlimited usage.
Choosing the best AI article writer
Top Choice
Best quality content output among all AI writers
Google Docs-style free form editor with advanced writing tools
Beginner friendly user interface
Blog post wizard to get your first draft in <5 minutes
150+ ready to use templates
Auto-write instructions for your AI writer
Normally, Copy.ai costs $49/month BUT you can get it for $29/month. Just buy a paid plan using below activation link in the next 4 days.
As you can notice, there are plenty of AI article writing tools out there. Every AI article writing software has their pros and cons. Let me summarise the options for you and give my opinion.
For example, while Jasper can write good SEO-optimized articles, it generates a lot of repetitive copy, has terrible support and is quite expensive. Similarly, while Bramework offers a lot of good SEO tools within their AI article writing tool, it lacks of writing good quality content. I've often seen basic spelling mistakes, repetition, grammatical errors etc.
However, CopyAI seems like a good all-round AI article writing solution that writes very good copy and has all the tools to help you write blog posts quickly. But it does not have any built-in SEO tools or SEO tool integrations.
In my opinion, the content matters the most. SEO tools and integrations are a nice add-on, but the most important part is how easily the AI article writer writes the content and how good is the quality of the content. Considering all parameters, CopyAI is the best AI article writer in my opinion.