Last updated on May 16, 2023
There are thousands of SaaS writers out there, but only a select few are actually worth working with.
There are a couple of challenges that makes things difficult for us:
There is no true way to know the quality of the writer until you actually work with them.
Writing rates are not standardised. You can find writers asking anywhere from $50 to $2000 for an article depending on their experience, quality, client's requirements and location. Although the standard range is between $250-$399.
It's a niche industry so the writing requirements are very different from other industries.
Even out of those select few, some will be out of budget, won't be available or won't match your requirements. That leaves us with a tiny pool of SaaS writers to work with.
My experience tells me that you have to go through ten bad writers before you find the right one. But that's a lot of time wasted. Didn't you go out hiring content writers so they could save you time writing the content yourself?
Thankfully, I've led content teams for more than a decade, have made all the mistakes that one could make and figured out tried-and-tested tactics to find great SaaS content writers.
I'm going to share 7 secret tactics with you today. By the end of this article, you'll figure out how to find SaaS writers that understand your requirements, write GREAT content and within budget.
#1 Author-bylines
This has been one of the best ways for me to find good SaaS writers. Look at the bylines of articles you've enjoyed reading.
For example, I searched for "best demand generation tactics in 2022" and landed on an article. When I scroll to the bottom of the article, I can see the byline of the author of this article.
Since I can see that Erica is a writer, I'll check out her profile further , find her LinkedIn profile / email and reach out to her.
This is a great way to find writers because it allows you to pre-vet them before you even start working with them. You've already seen the quality and depth of their writing. Plus, it's a lot easier to find writers who are a good fit for your blog if you already know that they're good writers.
My writer outreach messages:

1. Hey <name>, I saw your work on <company>'s blog. Are you taking on freelance writing assignments?

2. Hi <name>, admire some of the content you've written and wanted to connect so we could possibly work together sometime on some marketing projects.

3. Hi <name>, admire the articles you've written and I wanted to connect to see if you'd be open for more freelance writing assignments? I work with a <category> software and we're looking for writers.
If you're unsure about how to find articles within your niche, here are three ideas to get started:
Make it a habit to find the byline of the author in every article you come across (through a newsletter, LinkedIn, Twitter, recommended by a peer etc.).
Find your "SEO competitors". Search on google for terms within your niche and check out the ranking blogs.

Most successful SaaS blogs don't work with 1 freelance writer, but multiple. So find the SaaS blogs in your niche that write a lot of good content regularly and find all the authors on that blog (use Ahrefs or Buzzsumo). You'll find a list of good SaaS writers to contact.
#2 Search for companies you admire on LinkedIn
LinkedIn is a great place to find good SaaS content writers for your blog.
First, let's start with companies you admire. We'll take Zoho's example.
Take a look at their LinkedIn page and see if they have any employees with "Content Writer" in their job title. You can also try keywords like "Content Producer", "Content Marketer", or "Content Associate".
If you find someone you like, reach out to them and see if they're interested in writing for your SaaS company.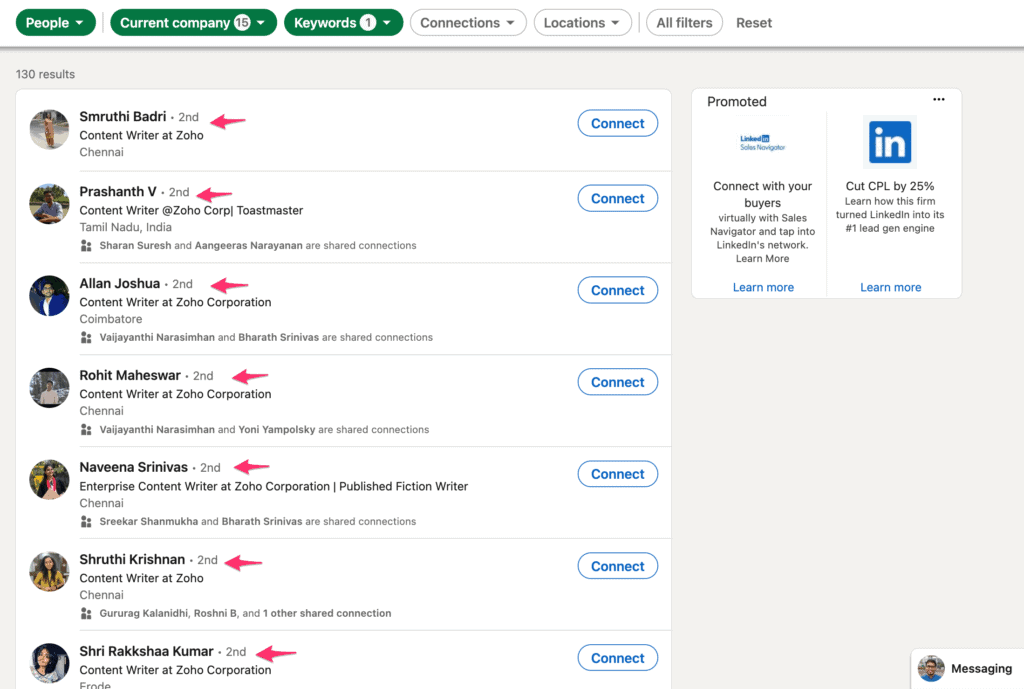 Another way to find writers on LinkedIn is to just search for "SaaS Content Writers" on LinkedIn search and go through each profile.
Lastly, just post your requirement as a LinkedIn post and make sure you use the right hashtags. For example, I use #contentwriter #saascontentwriter #saaswriting #contentmarketer
#3 Look into Twitter conversations of writers
Writers are an incredibly tight knit community. They're always sharing tips between each other. One of the best places to find writers discussing between themselves publicly is Twitter.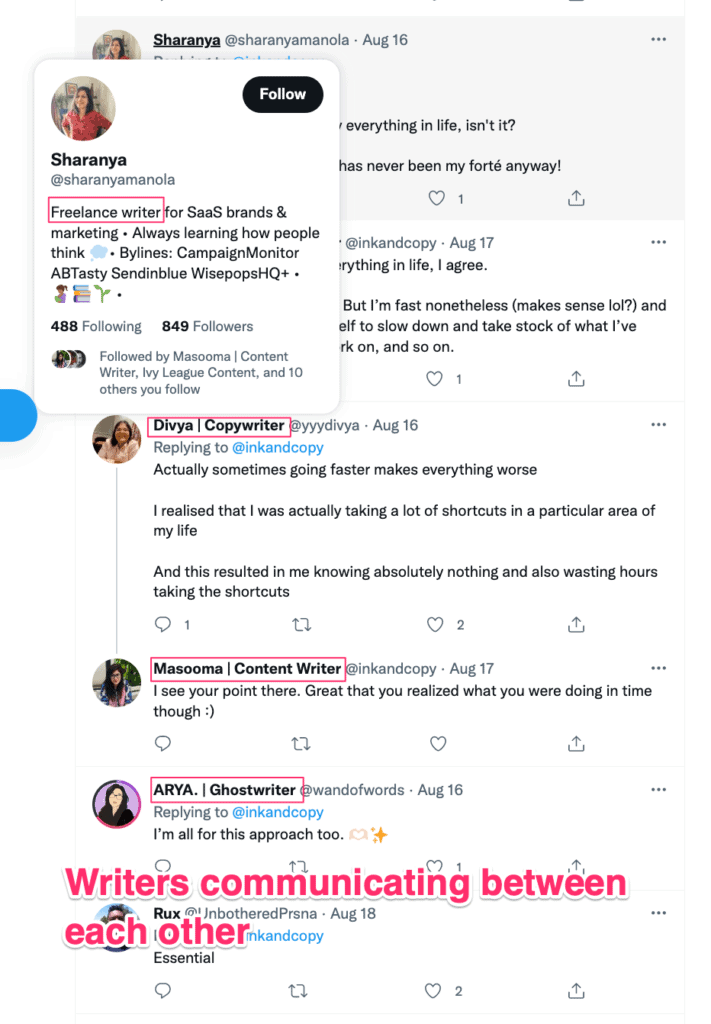 Here are some Twitter profiles you should follow (that get a lot of engagement from SaaS writers on their tweets).
I've also had success finding writers by just posting a query on Twitter.
#4 Post your requirement in a writer's community
One surprising tactic that worked for me was finding good SaaS writers in private communities.
Like I said in my earlier point, writers are a tight knit community. They are part of several private groups where they share insights, engage with other writers, grow their writing career and also expect to find clients.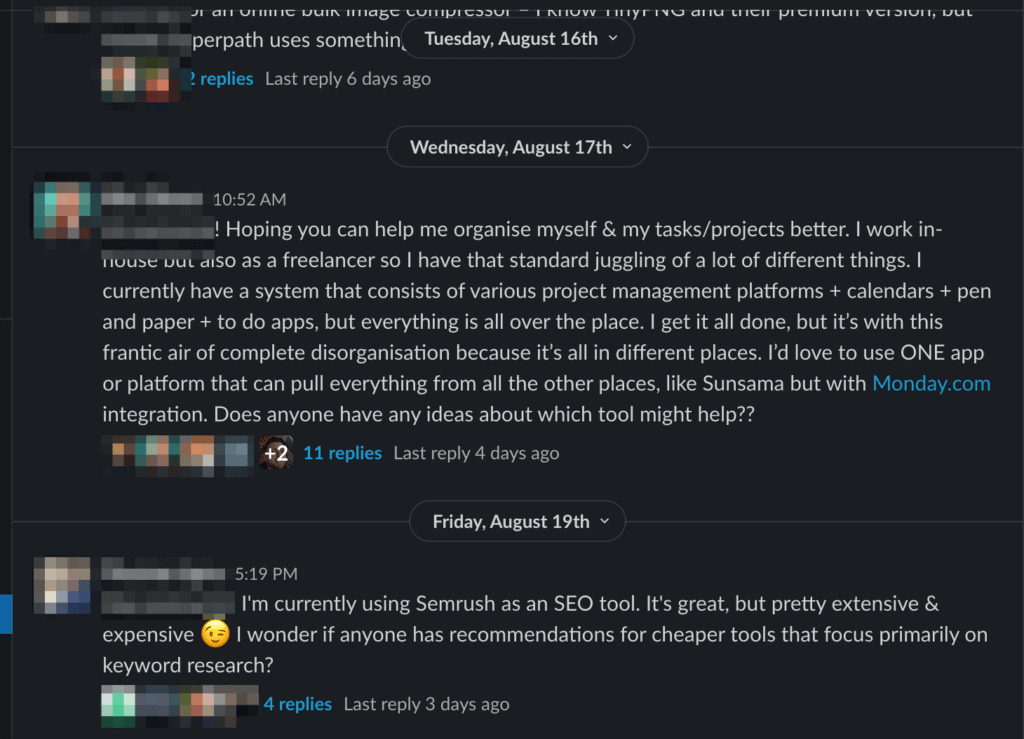 There are a lot of Slack groups and Facebook groups for SaaS founders and professionals. By posting your requirement in these groups, you'll be able to reach out to a large number of potential writers who may be a good fit for your project.
When posting, be sure to include all the relevant details about your project, such as the type of writing you need, the topic, the tone you're looking for, the word count, the deadline, etc. This will help prospective writers understand what you're looking for and if they're a good fit for the project.
Here's a message you can post:
Hi, I run marketing for <company> and manage our blog (blog link). <Company> does <value prop>.

We're writing a lot of content around topic 1, topic 2 & topic 3 and looking for freelance writers.

We're producing roughly x articles per month at the moment. Depending on writer's availability, the requirement is for 1-3 articles per month. We manage writing projects using <Tool A>.

Any recommendations?
You'll be surprised at how many qualified writers will reach out to you. And, since they're already part of a community of SaaS professionals, they'll be more likely to understand your needs and write copy that resonates with your target audience.
If you're not sure which groups to post in, here are some suggestions:
Traffic Think Tank (paid Slack group)
RevGenius (sales-focused writers)
PLEASE respect these communities. Don't exploit them. First give, then ask.
I'm sure there are many other communities, so do some searching and you'll find more.
Related Reading: My Experience With Hello Bonsai
#5 Hire writers from a marketplace
A lot of good SaaS writers are listed on niche marketplaces. These marketplaces are a great way to find writers who have experience with creating content for SaaS companies. Most of these marketplaces are very strict with quality checks, so they've already filtered out a lot of low quality writers.
When you use a content marketplace, you'll be able to browse through writer profiles and see examples of their work. This can make it easier to find a writer who is a good fit for your requirements.
In addition, using a marketplace can save you time and money. You won't have to spend hours searching for writers on your own. And, you'll be able to get competitive rates for the content you need.
Here are a few content writer hiring platforms that are actually pretty decent:
When posting a job, be very specific about your requirements, your business and your writing process
Then, sit back and wait for the proposals to come in. Once you've received a few proposals, take a look at each one and see which writer seems like the best fit for the job.
Once you've found a good writer, make sure you agree on a price upfront so that there are no surprises later on. Always remember that whatever writers quote CAN be negotiated.
#6 Ask a blog manager
One simple tactic to find great SaaS writers is by asking for referrals from a SaaS blog manager/editor or fractional content expert or SaaS marketing consultant. Blog managers have worked with a lot of writers over the years and have built a big internal database of free writers that they prefer to work with.
Chances are, they'll be happy to help you out and refer a couple of good writers your way.
This is a great way to find high quality SaaS content writers because you can be sure that the writers they refer have experience writing about SaaS topics, and they're likely to be familiar with the style and voice of your target audience. Plus they're pre-vetted.
For example, someone shared their writer list with me.
If you'd like a copy, please connect with me on LinkedIn and message me.
#7 Use an AI writing assistant
Content writing is an expensive affair, both in terms of time and money. Finding writers, hiring them, proof reading their work, editing it, training and managing the writers takes a lot of time. Then there are costs associated to paying for the content written by these writers.
For companies that have earmarked a budget for content, this works out fine. But for younger SaaS companies, this is a huge upfront cost. So is there a solution to it?
If you asked me this question 3 years back, I'd have said no. But thanks to GPT-3 technology, there are a few sophisticated AI writing assistants in the market right now.
Note the difference between AI writer and AI writing assistant. In my opinion, there is no true AI writer out there (you can't replace human experience and creativity). BUT you can use AI to assist your writing to write faster.
That's what AI writing assistants do:
They help you get an article ready in 4 hours than 1 week.
They help you get a first draft in minutes than days.
They help you convert your expertise into an actionable blog post.
There's no better AI writing assistant in the market right now than CopyAI. I publicly vouch for it.
CopyAI is like a writing intern that's trained to write SaaS content, except that it's 1/20th the cost of an intern. It costs just $21 per month. You just have to give it proper instructions and some training.
For example, CopyAI has a really neat chatbot that will help you get your first draft ready in minutes. It even fact checks your information! Then you can spend time refining the article and adding your inputs to it.
Want to know a secret? A lot of the content in this blog post was written by CopyAI (with 100% of my inputs).
Now go find your SaaS content writer
I hope that by now, you'll have some ideas on how to find great SaaS writers.
To find the top SaaS writers to fill your content needs, it's critical to first understand what we're looking for in a writer and what they're looking for in a company. You also have to protect their interest by providing all the required details. In addition, you have to manage expectations while they're under contract with your business.