Last updated on November 22, 2022
When GPT-3 launched in 2020, no one imagined how it would change the copywriting landscape. Copy.ai was the first tool to realise that GPT-3 could be used to generate marketing copy—and then dozens more followed suit.
The use of AI-generated content is exploding. So what is AI copywriting? How to use it to do your advantage? What are the best AI copywriting software and tools out there?
We answered all of that and more.
What is AI copywriting?
AI copywriting is a skill that uses AI to assist in writing high quality content fast. AI copywriting can be used to generate content for blogs, articles and social media posts.
However, the real skill in AI copywriting is learning how to give good instructions to the AI so that it can assist you with writing copy that meets your requirements. Generally, your inputs to the AI determine the quality of content it generates for you. The quality of your instructions determines the quality of what it produces.
If you give bad instructions, the AI will produce bad results (irrelevant content, repetition, different style etc.). If you give good instructions, the AI will produce great results (high quality, unique, your style).
AI copywriting is best for entrepreneurs looking to write content without hiring writers, writers looking to break past writer's block or marketers looking for some assistance and brainstorming in coming up with creative copy.
What are the benefits of AI copywriting software?
There are many benefits to using AI copywriting software, including:
It helps entrepreneurs reduce writing budgets because you don't have to hire writers to create content. This is especially if you're a small business or a solopreneur or an aspiring blogger that doesn't have a huge budget to invest in content marketing.
It helps writers write content faster and eliminate writer's block. Writers use AI copywriting tools to write better posts for their clients and get that competitive advantage.
It is a tool for marketers to brainstorm creative ideas or write copy (for videos, ads, blog posts etc.)
I could keep listing the many benefits of AI copywriting software, but I'll stop here and say that it's helping a lot of people.
Best AI Copywriting Software
There are dozens of tools that can generate AI-powered marketing copy—and they're all very different. Some tools are designed to help you create your own content and blog posts while others focus on specific aspects of your marketing strategy (like creating sales email or landing pages or help with crafting social media posts). It's become clear that there is no "one-size-fits-all" tool. The best AI copywriting software will depend on your budget, your goals and your desired output.
Here are our top picks:
Copy.ai is the best AI copywriting tool that helps you write great content – whether it is short form or long form. It's a very versatile tool with a lot of use cases and very high quality output (among all other AI marketing copywriters out there).
More than 3 million copywriters, marketers, social media managers, and freelance content writers from various backgrounds use CopyAI with their own specific use cases. I use it specifically to write blog posts, social media posts and brainstorm ideas for blog titles. I can personally vouch for it as I'm a CopyAI customer.
Top Features
4-step blog post wizard
Google Docs-style editor with advanced editing features including write more and rewrite sentences
Templates generator to create any kind of copy you want
Really, really good output quality
Pricing
Paid plans start from $49 for upto 40,000 words.
LIMITED TIME DEAL: Upgrade to a paid plan within the first 4 days of signing up using above link and you'll get 40% off your first 12 months with CopyAI.
Writesonic is an AI writing assistant that can write any kind of sales or marketing copy, so it's perfect for bloggers looking to save time by automating their blog posts.
This AI copywriting tool can generate a huge variety of written content, including full landing pages (one of their strong points), SEO content and product descriptions. It also excels at creating Facebook ad copy as well as sales emails.
Top Features
Built-in plagiarism checker to make sure your content is unique
1-click export of article drafts to WordPress
Landing page generator
Automatic blog post image generation
Zapier integration
Pricing
Writesonic's full featured plans starts from just $19/month for 19,000 words. The pricing scales based on the usage.
Copysmith, another AI copywriting software, focuses on helping teams create large amounts of marketing content at scale. It's especially designed for eCommerce businesses that need to automate their content creation processes.
Copysmith integrates with key marketing platforms like WooCommerce, Google Ads, WordPress and Docs, so a large team of marketers can create content more efficiently.
Top features
Create content in bulk by just uploading a spreadsheet with your content
Integrate with your existing tool stack, third-party platforms and proprietary system using Copysmith's API.
FAQs ideas generator
Plagiarism checker to ensure that your content is original.
Pricing
Copysmith charges $59/month for 260,000 words.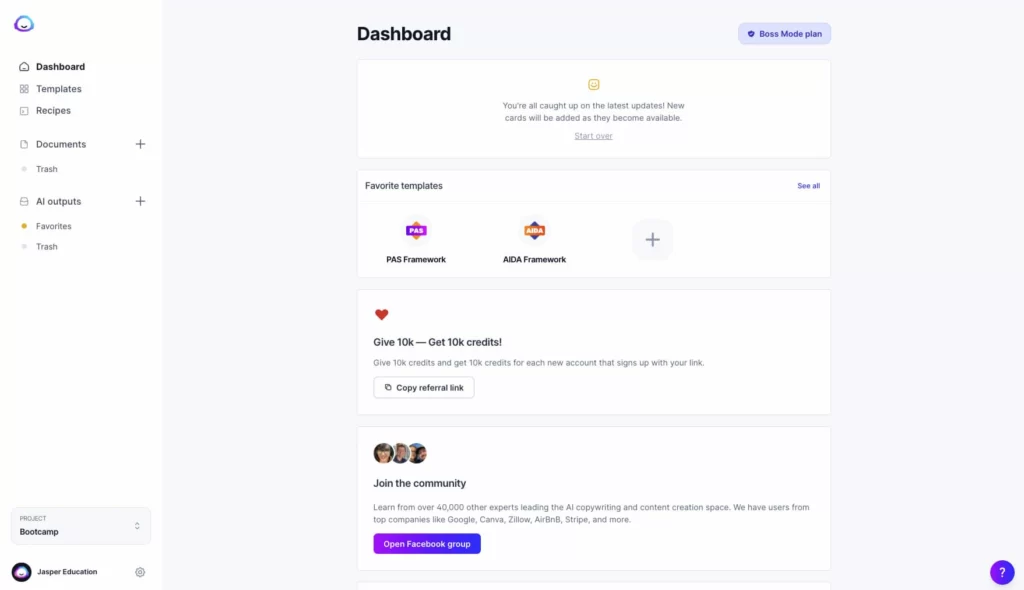 Jasper is an AI content generator that helps your team create high-quality content 10x faster. It works best for writing blog posts, social media content, and marketing copy.
It's one of the most heavily funded AI copywriting tools in the market, with $125 million raised from investors.
Top Features
Boss Mode to help you write long form content 5x faster
Jasper's chrome extension allows you to create content from within your browser
Integrates beautifully with Surfer SEO (content optimization tool)
Built-in Grammarly integration to check your content for plagiarism
Pricing
Jasper costs $59/month for 50,000 words and the pricing gradually scales based on your usage. They also refund credits used if the copy generated is unsatisfactory.
Lavender is an AI Email Assistant that helps you write better emails faster by combining a unique dataset with OpenAI's GPT-3 to write and summarize your emails.
It compares your email with millions of other successful sales emails and offers up new ways to make your email more effective in getting replies.
Top Features
AI email assistant that writes your email for you
Email grading tool to see how effective your email is at getting replies
Integrates well with Salesforce, SalesLoft, and other tools
Get insights about your prospects automatically inside your email
Pricing
Paid plans start at $29/month.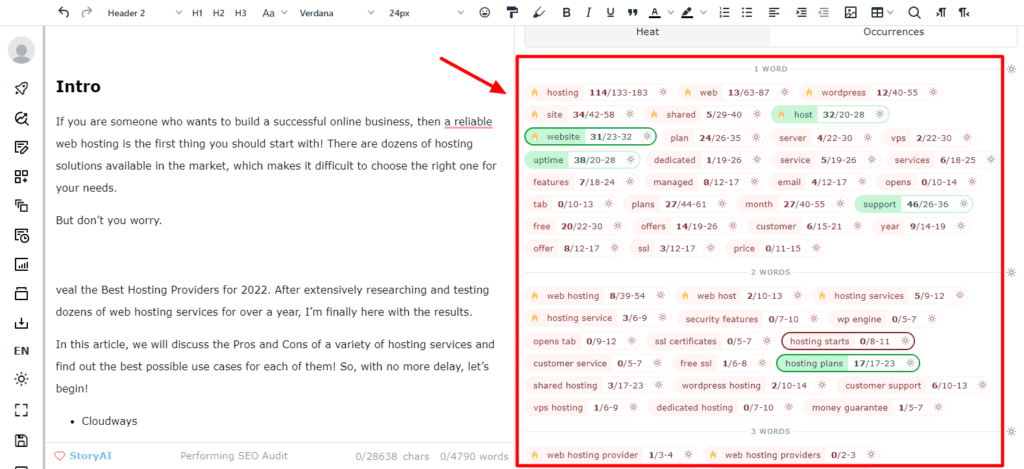 ClosersCopy is a relatively young AI copywriting software (as compared to others in the list) and one of the first non-GPT 3 based AI copwriters. It uses a proprietary AI to help write copy for sales and marketing teams.
Top Features
Writing wizard that will guide you through the writing process, with templates to help.
Tools like spam analyser, keyword density checker and emotional tone scoring tool help you analyze content
In-built content optimisation tool
Supports keyboard shortcuts to write faster and more efficiently
Pricing
They have three paid plans—Power ($50/month), Superpower ($80/month) and Squad ($100/ month). Superpower and Squad give you unlimited credits and more user seats.
Use AI writing tools in combination with human-written copy
AI copywriting isn't yet in a position to completely replace human writers. It might never replace human writers. But as AI copywriting continues to evolve and adapt, it will only become more useful in the coming years.
The AI copywriting tools above represent the most adaptable and useful writing tools that can serve as a helpful tool in your copywriting arsenal. However, it's important to note that no tool will ever write perfect copy on its own. You should still review it and edit the content as necessary and make conscious writing decisions.
The best AI copywriting software will depend on your specific needs, though a few winners have emerged have some distinct strengths. For example, I HIGHLY recommend CopyAI for it's high quality of output, features and value for money pricing.