Last updated on November 29, 2022
ClosersCopy is an AI writing assistant that uses it's own proprietary AI (not GPT-3 unlike other AI copywriting software) to write marketing copy. With it has many features. When it came into the market, it promised to be more than just an AI writing tool because it can help you with both content research and copywriting.
But, is it really? Here are some of major drawbacks of ClosersCopy:
High learning curve to understand how it works – Closerscopy is not easy to use and requires some time to learn how it works before you can start generating copy. The UI is not very user-friendly either.
Low quality output generated – The content generated by Closerscopy is not as good as what you can get from other AI-powered tools such as CopyAI or Jasper. If you are looking for high quality content, this might not be the right tool to rely on yet.
It offers a lot of features and tools, but none of them seem fully mature. For example, content research tools are very basic compared to tools like Surfer SEO. It just ends up being jack of all trades, master of none.
Thankfully, the AI copywriting software market is pretty competitive now with a lot of GREAT ClosersCopy alternatives out there.
Here are a few of the best ClosersCopy alternatives out there: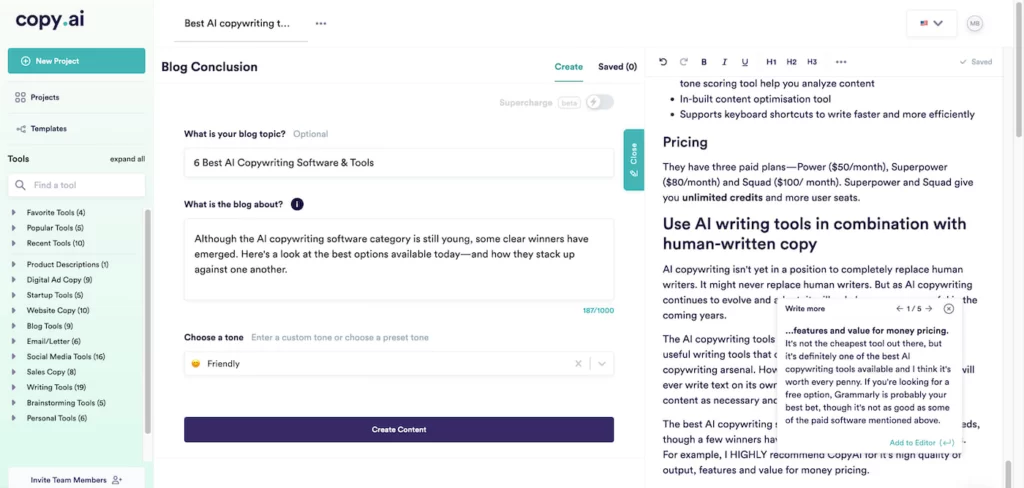 Let me start out by saying that I really love Copy.ai. It's my most highly recommended alternative to ClosersCopy in this list and I'll explain why.
CopyAI is an AI-powered content generator. It was one of the first AI copywriting tools in the market to utilise GPT-3 for marketing copy and is now used by 3 million+ users. CopyAI produces really good marketing copy, is easy to understand and packs a lot of useful and unique features for it's price.
For example, you can auto-generate instructions to Copy.ai with it's templates tool. Their blog post wizard helps you write a full 1000+ word blog post in <5 minutes using a 4 step wizard.
Top Features
Best-in-class output quality
4-step blog post wizard
Google Docs-style editor with advanced editing features including write more and rewrite sentences
Templates generator to create any kind of copy you want
Beginner-friendly interface
Pricing
$49/month for 40,000 words. Pricing scales once you cross 40,000 words, but it's economical.
*LIMITED TIME DEAL: Upgrade to a paid plan within the first 4 days of signing up using above activation link and get instant 40% off.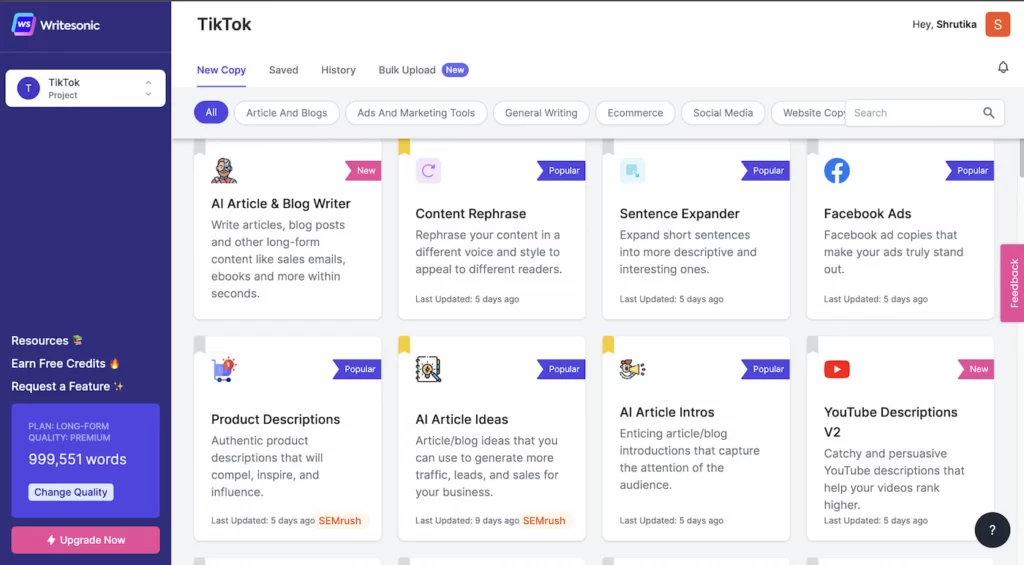 Writesonic is an AI writing assistant that can help anyone generate sales and marketing copy. You can have Writesonic produce lots of content for you—articles, blog posts and more—just by giving it some keywords to work with. Marketers, start-up founders, and eCommerce owners will find it very useful.
This alternative to ClosersCopy can create many types of content: full-page landing pages, SEO copy, product descriptions, Facebook ad copy and more.
Top Features
50+ distinct writing templates
Built-in tool to fix grammar
SEMrush integration
Layout feature for landing pages
1-click wordpress export
AI image generation
Pricing
Writesonic's full featured plans starts from just $19/month for 19,000 words.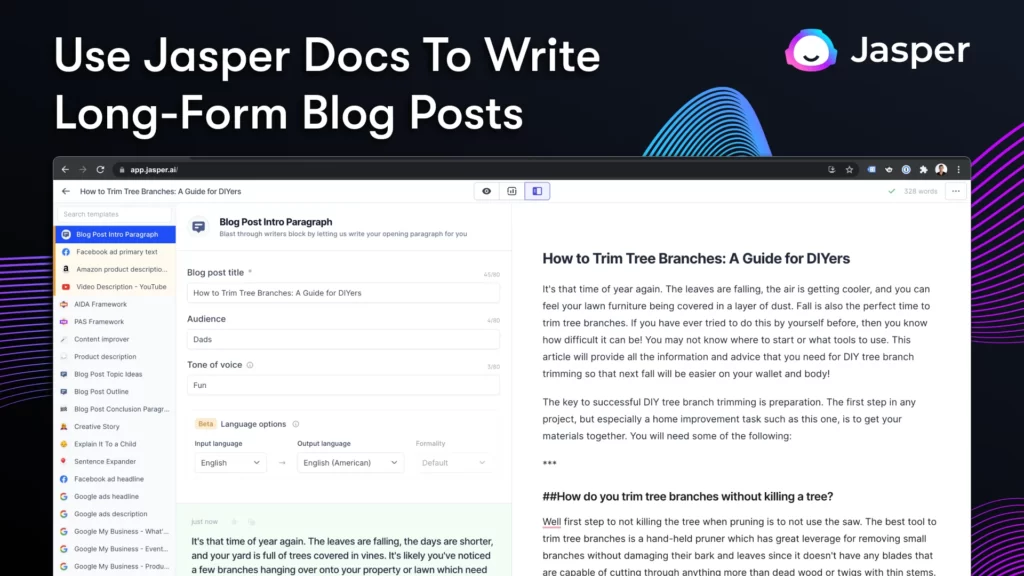 Jasper AI is another Closerscopy alternative that can write great marketing copy using pre-written templates for specific categories like creating a video script outline, writing Instagram post captions or writing a full blog post.
99.9% of the content generated is unique. If you want to double check for any plagiarism, it has a built-in plagiarism checker (powered by Grammarly).
Top Features
Boss mode allows you to write long form content that's SEO optimized
Surfer SEO integration
Generate copy without leaving your tab using Jasper's chrome extension
Create AI art for your blog posts
Pricing
Jasper costs $59/month for 50,000 words and the pricing gradually scales based on your usage. They also refund credits used if the copy generated is not good (upto a certain limit).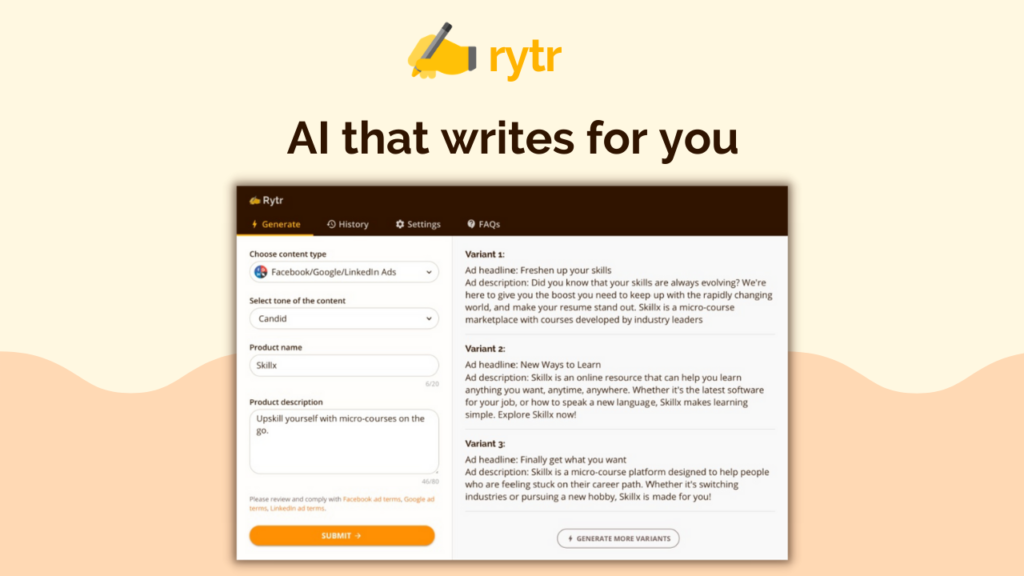 Rytr is an AI writing assistant that helps you create short-form content— blog headlines, product descriptions, Tweets and more — in just a few seconds. It's the most affordable ClosersCopy alternative in this list.
Top Features
Built in plagiarism checker
6 types of advanced text editing options (append, improve, rephrase, write a paragraph, expand, shorten)
Beginner friendly user interface
Handy chrome extension to use Rytr on your email, social media, blogging platform etc.
Flat price for unlimited output
Pricing
Rytr offers two plans—Saver ($9/month) and Unlimited ($29/month). The latter option is a better value for money since it gives you unlimited output generation for one flat fee (rather than variable pricing like other AI writing assistants).
Choosing the best ClosersCopy alternative
These are plenty of ClosersCopy competitors to consider if you're looking to switch.
The best approach to finalise the best ClosersCopy alternative is to look at your requirements (use case, budget, quality, features etc.) and bucket them under – absolutely necessary, nice-to-have and not important. Then look at the ClosersCopy competitors from this list that match your requirements.
In fact, that's the approach I take before deciding any tool to purchase. I use a template like this.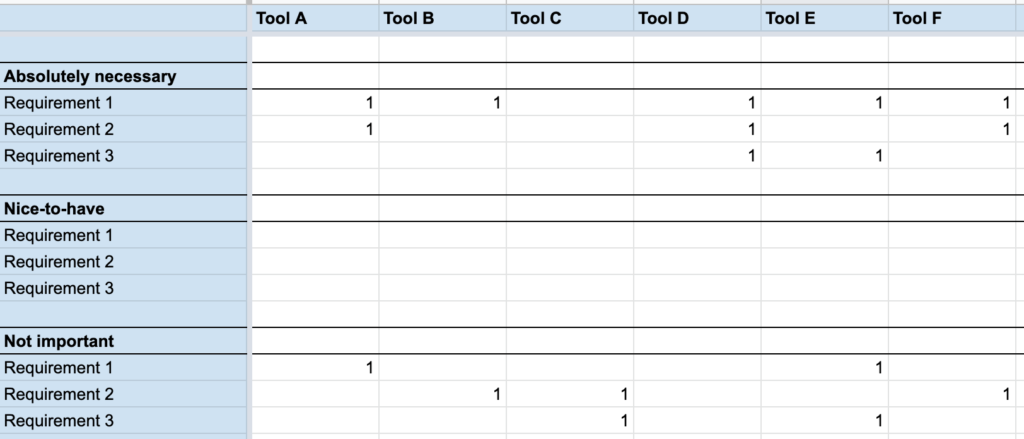 My opinion
If you're looking for a ClosersCopy alternative that is a mature product with lots of useful features, has an uncomplicated user interface and generates high quality content (both short form and long form), then Copy.ai is the best ClosersCopy alternative to switch to. It's a far more mature product and 3 million+ users rely on it for their copywriting needs.
Top Choice
Best quality content output
GDocs-style free form editor with advanced editing tools
Easy user interface
Blog post wizard to get your draft in <5 minutes
150+ ready to use templates
Auto-write instructions for your AI writer
Buy a paid plan using above activation link in the next 4 days to avail the offer.