Last updated on July 19, 2023
As a fellow content creator, I totally get how crucial it is to have a solid content production system in place. I mean, it's the key to churning out awesome content consistently, right?
But, let's be real, building a content creation system from scratch can feel like a massive headache.
Enter Notion, our savior!
With tons of paid and free Notion templates for content creators available now, you can get your content production system up and running in no time. In this post, I'm gonna share the best Notion templates for content creation to kickstart your journey.
---
Short on time? ESM's template is the best content creation Notion template out there, since it works with all kinds of content, and it's super easy to use and scale up.
---
Whether you're a newbie content creator or a seasoned pro looking to up your game, these content creation Notion templates are gonna be a game-changer for your content production process.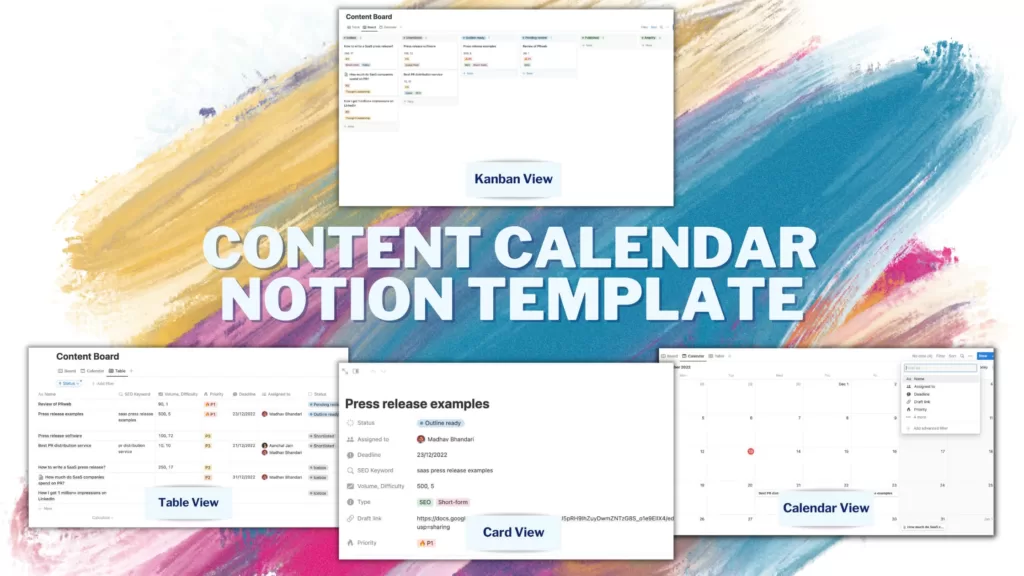 ESM's Content Creation Notion template is an all-in-one pre-built Notion template that helps you with 4Ps of content production – plan, prioritise, publish and promote your content.
A lot of Notion templates like to pack in a lot of things inside one template and make it unnecessarily complicated! The beauty of this Notion template for content creators is that it is ridiculously easy to use and get started.
ESM's content creation Notion template is perfect if you're looking to build a scalable content creation machine. As an experienced Head of Content, I have used this template to drive tens of millions in traffic and revenue for multiple blogs. It's been tried and tested for both small and large blogs.
Although this template is primarily built for blogs, it also works with other formats of content, whether it's social media, video or audio. I personally use it to manage my blog, YouTube videos, LinkedIn posts and Instagram reels.
Features
Choose your view: drag-and-drop (Kanban) or spreadsheet-style (Table) view.
Priority tags to prioritise your most important articles.
Scalable content production workflow stages from Content Icebox to Content Amplification.
Calendar view helps track deadlines for briefs/articles.
SEO-friendly: Add SEO keyword, volume and difficulty.
Manage all types of content (social, video, audio or written) within one template
Pricing
Choose what you want to pay. I want this Notion template to be accessible to everybody across the world.
Content OS is an all-in-one content creation Notion template that makes it easy to manage your entire content creation process.
I came across the Content Operating System via Easlo's Twitter. It takes '5 minutes or less' to get it all fired up and ready to go, so we're talking maximum function with minimum fuss.
Content OS is also a proud bearer of a 'Notion Certified' badge, emblematic of comprehensive knowledge of Notion, one of the leading project management tools out there. So you see, Content OS brings creativity, ease, and credibility all under one roof.
Content OS costs $98.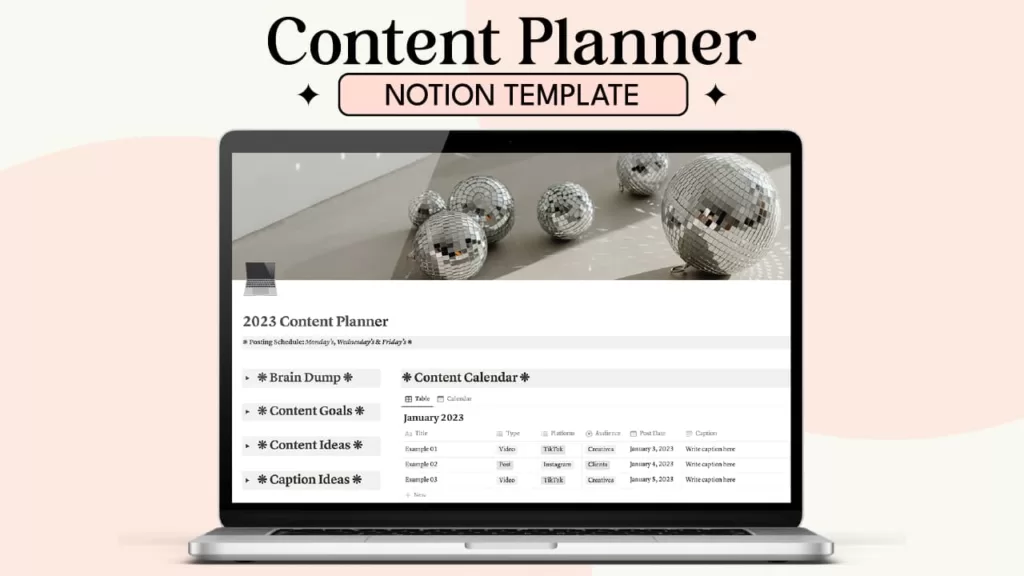 Content Planner is a content creation Notion template for social media content creators to establish a strong social media presence and grow their followers. The creator of this Notion template said that using this exact template, she was able to get 35,000 Instagram followers in 6 months.
This Notion template includes a social media content calendar, content performance tracker, caption ideas, a place for brain dumping ideas, content ideas and more.
Content Planner costs $15.
Related Reading: My Honest Review About Descript
Maisy Leigh is a YouTuber with ~350,000 subscribers. She partnered with Notion to create a content creation template for aspiring vloggers for planning, tracking and reporting of content creation.
With her template, you can get an overview of upcoming deadlines, publish dates and overall video content schedule for your YouTube channel. The template also includes a sponsors timeline, video projects tracker and video footage and script manager.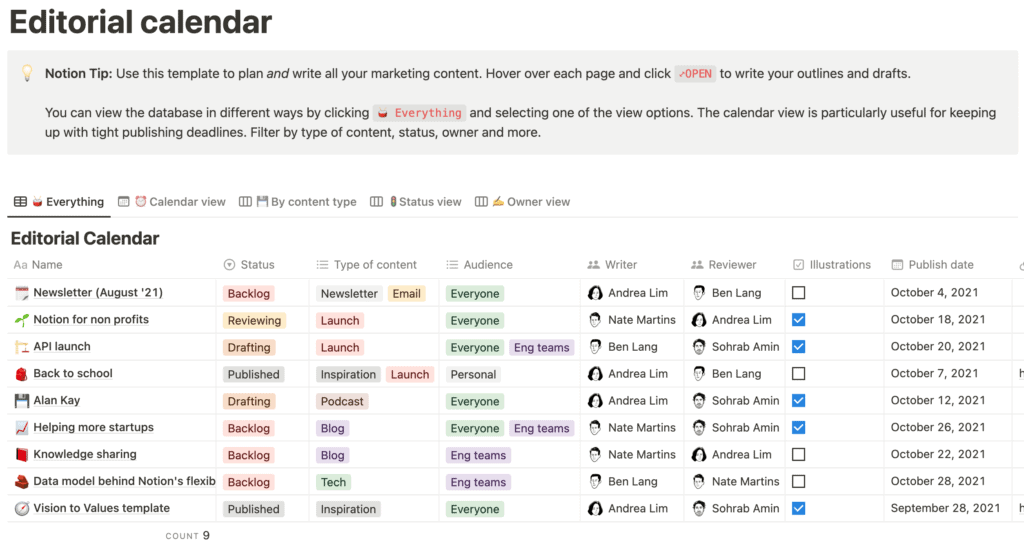 Most marketing teams have separate tools for planning and writing content. Notion's editorial calendar template uses a single database to show both your monthly publishing schedule and backlog of unpublished posts by utilising a calendar view.
By centralizing editorial work in one place, everyone (including staff and freelancers) knows where to go for any editorial project.
It's a simple content creation template and available for FREE.
Why do you need a content creation calendar?
The best content creators in the world don't just magically create a lot of good content consistently. They follow a consistent, well-organized plan to churn out their best work. That's why you should use a pre-built content creation Notion template or create your own.
A content creation calendar is a plan of action that outlines when and how your content will be created and shared. It can help you in many ways:
It helps you to create a timeline of when you will create content, and how often. This way, you can keep track of your progress and plan ahead.
It helps you plan out which topics you will be covering, and when. This will help keep you on track and ensure that each piece of content is relevant and valuable to your readers.
It helps you to stay on top of deadlines and make sure that you are consistently creating high-quality content. When you know exactly when your content is due, you have the opportunity to work on it in advance, making sure that it is up to your standards.
It helps you keep track of your content marketing campaigns. You can plan out which pieces of content you want to promote and when. This will help you get the most out of your content and reach the right people at the right time.
Ultimately, a content calendar helps you stay organized, save time, and create better content. It's like having a personal assistant that keeps you on track and helps you focus on what needs to be done to reach your goals.
Whether you're a blogger, podcaster, social media content creator or vlogger—you should definitely use a content calendar.
Which is the best Notion content creation template?
Ever since I set up my content calendar in Notion (which is better than using Monday.com), it's changed my game with content.
I'm producing a lot more content that's driving traffic, followers and revenue. In the last 1 year itself, I've grown my LinkedIn followers by 328%, blog traffic by 457% and YouTube channel by 191%.
The best way to create your content calendar is by using a pre-built Notion template. ESM's template is the best content creation Notion template because it can be used with all types of content, it's easy to use and scalable.