Last updated on April 26, 2023
In this Shield Analytics review, I'm going to share my experience using Shield and how I discovered my LinkedIn posting efforts were paying off!
LinkedIn's personal profile analytics are extremely limited. It's super annoying if you're an active content creator on LinkedIn. And you know what they say – you can't improve what you can't measure. You can't improve on your LinkedIn strategy, if you can't measure it.
I mean, how do you measure:
which LinkedIn posts are resonating better with your audience?
what are the best days to post on LinkedIn?
how my LinkedIn content strategy is performing vs a year ago
So in order to measure, you'll either have to go to each post and get retrieve their analytics manually. For example, one of the KPIs that I track every month is how many LinkedIn posts I published and my overall Linkedin post impressions. The old way was to go to my profile history and do a manual calculation of those numbers.

Shield changed that for me.
What is Shield?
Shield is a LinkedIn analytics tool that helps you accurately track your LinkedIn profile analytics. It gives you a bird's eye view of
how your content is performing on LinkedIn over a period of time
what posts are working/not working
who is consuming your content
how creating LinkedIn posts impacts your overall LinkedIn impressions, followers and engagement
If you're investing in your LinkedIn profile and posting regularly, there really is no better tool than Shield out there. In fact, I tried a competitor Inlytics and I had a less than average experience with it. It wasn't half as good as Shield in terms of data accuracy and simplicity.
How to install Shield?
It's fairly easy to set up.
Sign up for their 10 day free trial.
Install their Chrome extension
Connect your LinkedIn account
That's it! Your LinkedIn personal profile data will magically sync to your Shield Analytics account.
Who is Shield for?
If you're an active content creator on LinkedIn, Shield is for you.
LinkedIn users who want to track their content analytics.
Solopreneurs who want to grow their LinkedIn audience.
Business professionals who want to understand their LinkedIn audience demographics.
Sales & marketing professionals who want to track their post-activity in real time.
My Favorite Features of Shield
Shield is a very simple tool with a very specific purpose – give you better analytics for your LinkedIn profile. A lot of people might ask "how much better can it be vs LinkedIn's own analytics?".
I'll answer that question by sharing my top three features of Shield.
Historical data of your LinkedIn posting
When you connect your LinkedIn account with Shield, not only does it show you data of your LinkedIn posts from that day onwards but also processes your full LinkedIn posts history to date.
That's right – from day 0.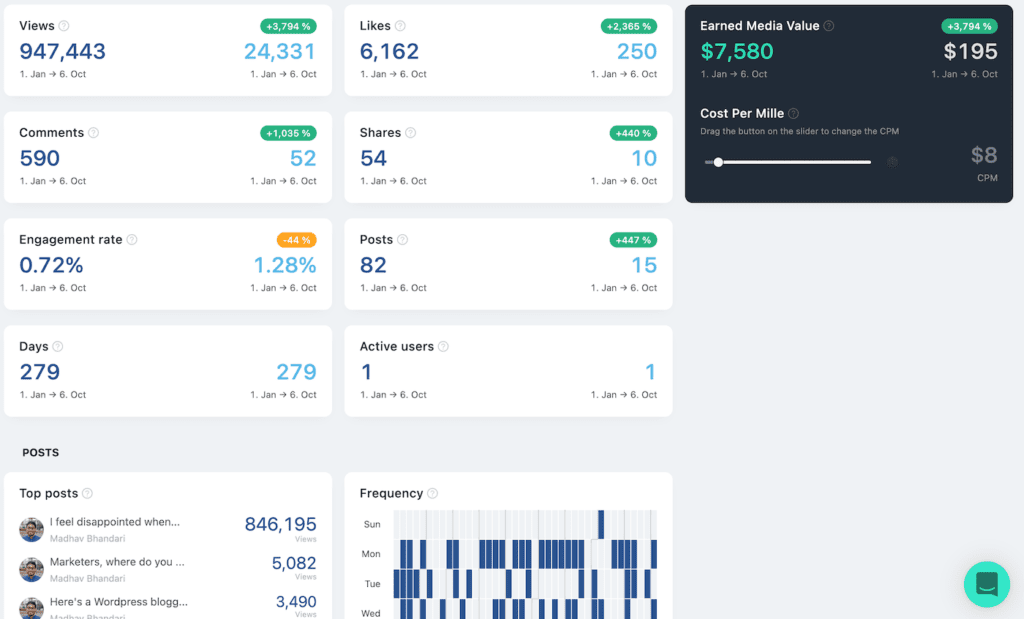 What's interesting about this feature is that gives visibility into how your LinkedIn efforts are paying off. For example, I was pleasantly surprised to see that I was close to hitting a million views on LinkedIn in 2022 compared to 24000 views in 2021.
There's also a nice Earned Media Value calculator to know the value of the traffic that you have. It's basic, but nice to have.
LinkedIn IS paying off for me. =)
Custom filters & CSV export
Shield provides a great spreadsheet-style view of your LinkedIn posts with powerful custom filters.
It's super fast to filter through all this data and extract meaningful insights. For example, I can see my overall performance of LinkedIn by which day of the week, filter keyword, hashtag or type of post.
What's even better? You can export all your data into a CSV.

If you want, you can even export your entire LinkedIn post history in 1 CSV file. For example, I exported my 393 LinkedIn posts since 2014 in one go to create more specific charts in my spreadsheet (that Shield doesn't have currently).
Word cloud
Word cloud inside Shield gives you a nice idea of your LinkedIn content theme. It reflects if I'm posting about what I want my profile to look like.
For example, my focus on LinkedIn is to sharing SaaS marketing tips. But does my content really talk about that? As you can see in the word cloud below, my top two words are SaaS and marketing.
Right below the word cloud, Shield also offers a timeline view of your posts. It's a great way to know on a high level if your LinkedIn posting frequency has decreased or increased over time.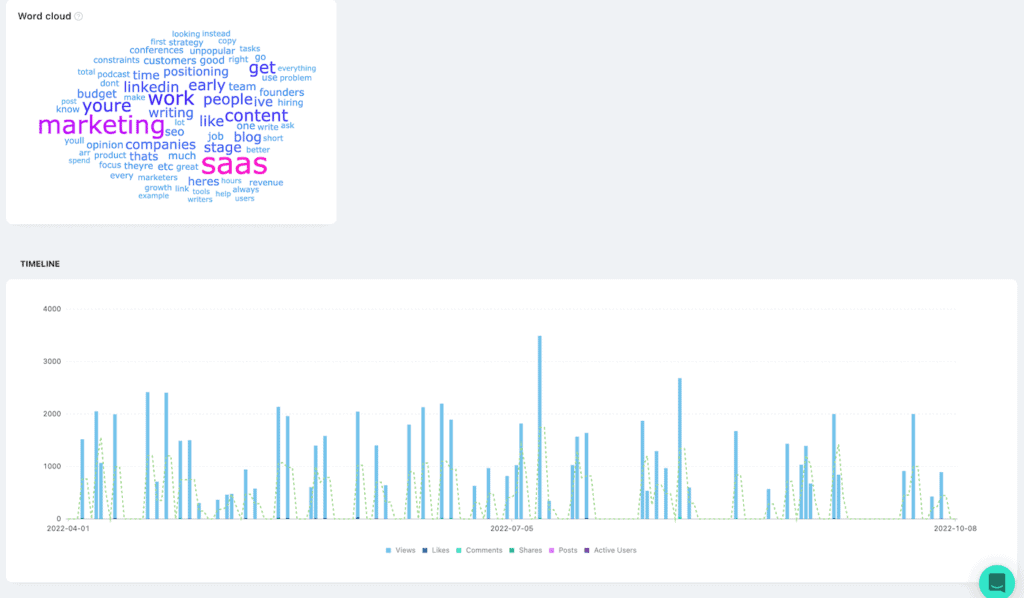 Individual post analytics
This is where Shield goes from bird's eye view to more granular level analytics. You can go inside every post and see lots of granular level data about the post.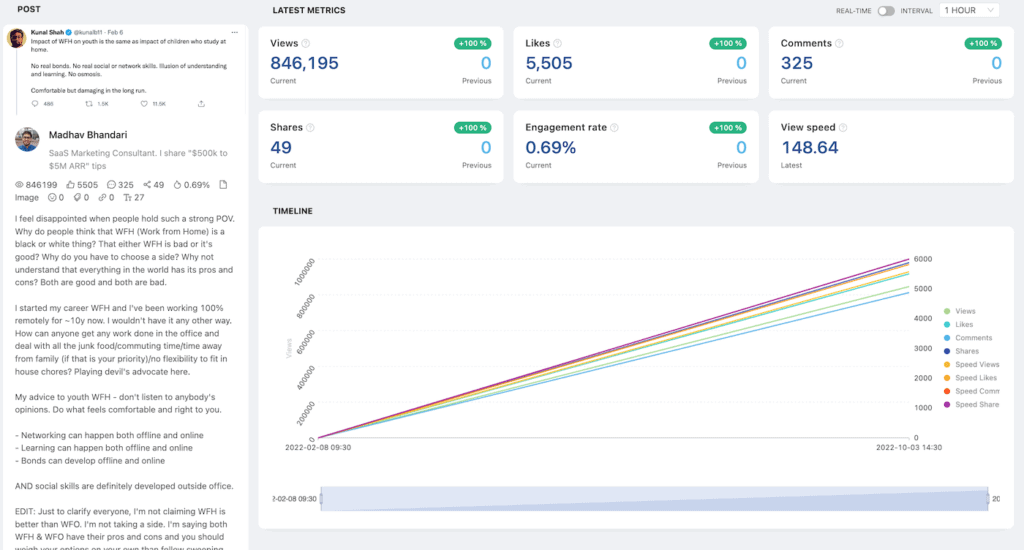 How much does Shield cost?
Shield starts at $6/month if you take their annual Starter plan.
Shield App has three paid plans – Starter ($8/month), Creator ($16/month) and Influencer ($25/month). Personally, I have the Influencer plan because it gives me custom word search within the analytics.
Shield also offers a 10 day free trial. Please note credit card information is required to try Shield, but you can cancel your plan at any time.
What did I not like about Shield?
A fair product review doesn't just highlight the pros, but also the cons. Here are some of the biggest cons of Shield:
Very basic tool with one function. It's a pretty basic tool that gives you your LinkedIn analytics data. But that's the extent of it. There's nothing more in the tool.
I find the price slightly high for a basic tool like this. I mean it's just analytics of your personal profile and you're paying more than a subscription for a social media scheduler. But if your company is serious about investing in improving with LinkedIn, this is the only tool that does LinkedIn analytics really really well. Personally, it saves me a lot time while measuring my LinkedIn campaigns monthly.
What can you use Shield for?
Analyse which posts get more visitors and engagement well over time.
Analyse which days you should be posting.
Analyse your overall frequency of posting and compare it to a previous period to measure outputs.
Measure quality of your traffic via their Earned Media Calculator.
Simplify KPI reporting for LinkedIn efforts using Shield.
It's like Mixpanel for your LinkedIn posts.
Is Shield worth it?
It depends how serious is LinkedIn as a sales and marketing channel for you.
If you're investing heavily on LinkedIn with a desired outcome (more signups, more customers, more leads, more job offers, more consulting gigs etc.), then it makes sense to invest in Shield.
It'll allow you to seriously track how your LinkedIn efforts are paying off. For me, LinkedIn is a way to attract more advisory clients and I did have a phenomenal year on LinkedIn with 1 million+ views so I find Shield Analytics worth the price.