Last updated on May 21, 2023
CopyAI is one of the most popular AI writing assistants out there. It's one of the most highly acclaimed AI writing assistants out there with glowing reviews.
But no tool is perfect. Here is where Copy.ai is NOT good:
Their blog post wizard has some bugs. After spending about 30 mins wizard, due to a software bug, I've lost an entire article.

There is no built-in plagiarism checker.

Basic plan starts at $49 per month, which is a high starting point for buyers. If someone needs only 10,000 words per month, Copy.ai should have a cheaper option out there.
No mobile app.
Their free plan isn't generous enough.
If you're unhappy with Copy.ai because of such reasons, we hear you. We also know that you don't want to spend a week evaluating 17 different Copy.ai alternatives to find the right one for you.
So we did the legwork for you and shortlisted these 5 Copy.ai competitors based on Copy.ai main weaknesses (no plagiarism checker, buggy blog wizard and high starting price).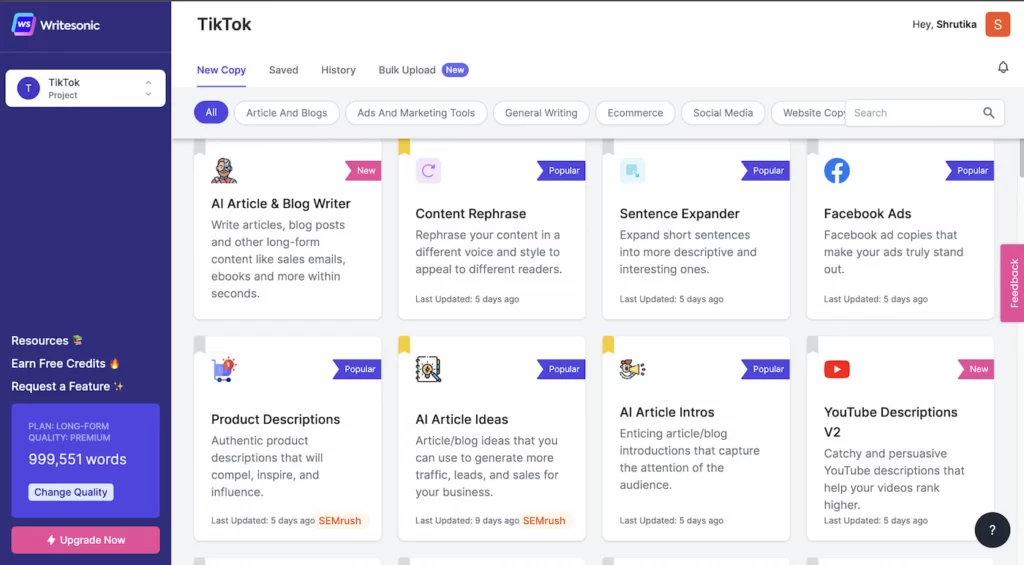 Writesonic is an AI writing assistant for writing any kind of sales and marketing copy fast, which means it's perfect for bloggers who are looking to save time by automating their blog posts.
This Copy.ai alternative can generate a huge variety of copy like full landing page (one of their strong points), SEO content, product descriptions, Facebook ad copy, sales emails etc.
Top Features
Landing page generator
Built-in plagiarism checker
1-click export of article drafts to WordPress
Automatic blog post image generation
Here's a customer's video review of Writesonic:
Pricing
Writesonic's full featured plans starts from just $19/month for 19,000 words. The pricing scales based on the usage, but it's definitely cheaper than Copy.ai's pricing.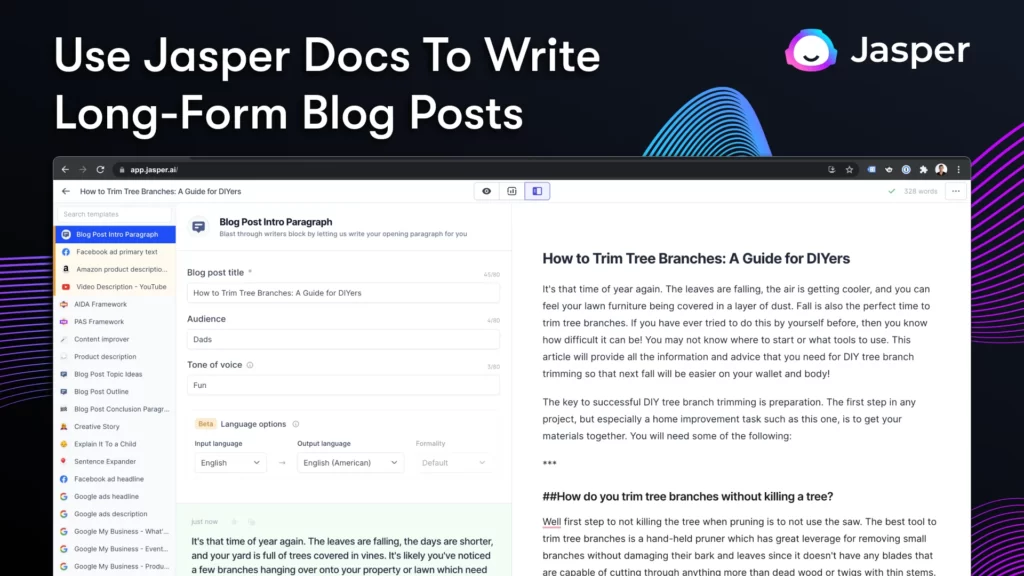 Jasper is a very popular AI writing assistant that helps you create amazing marketing copy 10x faster. The app is well-known for its ability to generate high-quality short form as well as long form content from scratch, with a few clicks.
It has raised $125 million and is valued at $1.5 billion, making it the most well-funded AI copywriting assistant on the market today.
Top Features
Handy chrome extension to generate copy without leaving your tab
Surfer SEO integration to optimize your content for SEO
Grammarly integration
Plagiarism checker
Here's a customer's video review of Jasper:
Pricing
Jasper is the more expensive than Copy.ai. It costs $59/month for 50,000 words and the pricing gradually scales based on your usage.
Copysmith is an AI content creation solution designed for enterprise teams and eCommerce. Built for teams that need to create substantial amounts of content in bulk, Copysmith allows you to create high quality, unique pieces of content in seconds.
Top features
Bulk content creation
FAQs ideas generator
Built-in plagiarism checker
Team collaboration features
Here's a customer's video review of Copysmith:
Pricing
Copysmith costs $59/month for 260,000 words and just like the others – the pricing scales based on how much copy you generate.
Peppertype is an AI writing assistant that helps you write content faster—this AI writing assistant was built by Pepper Content, one of the world's largest content marketplaces. The unique thing about this CopyAI alternative is the focus on ensuring that written content is relevant to its topic, includes key SEO keywords, and has been reviewed by an editor.
Top Features
Built-in grammar checker
Annotations
Plagiarism checker
Topic relevancy indicator
Download results in CSV
Pricing
Peppertype costs $35/month for 50,000 words.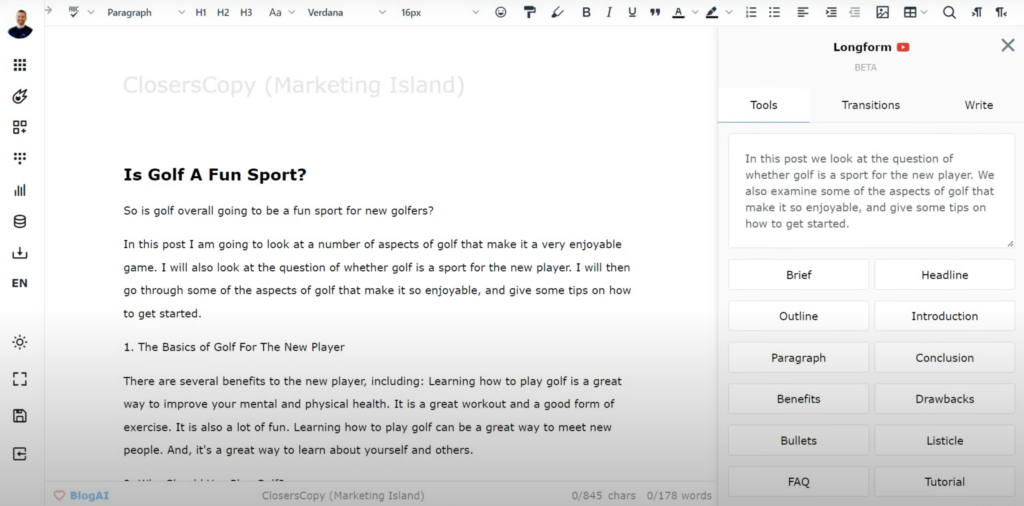 ClosersCopy is one of the youngest and most recent CopyAI alternatives, as well being among the first non-GPT 3 based AI copywriters. It uses a proprietary AI to help write copy for sales and marketing teams.
Top Features
A wizard that will guide you through the writing process and provide templates to help.
There are a variety of tools that you can use to analyze your content, including spam analyser, keyword density checker and emotional tone scoring tool.
In-built content optimisation tool that allows you to analyse your content and make changes based on what is missing or needs improvement according to other search results.
Keyboard shortcuts allow you to write more quickly and easily.
Pricing
They have three paid plans—Power ($50/month), Superpower ($80/month) and Squad. With Superpower or Squad, you get unlimited credits (and more user seats).
GoCharlie is another CopyAI alternative that calls itself "cutest AI puppy on the planet". While their definition of the tool might be cringeworthy, it's slowly becoming a popular AI copywriting tool to help entrepreneurs and business create content that performs.
GoCharlie positions itself as an AI tool for your social media effots. It offers features to generate content from an image or keyword, enhance a post to change length and tone—as well as analyze whether it will perform well and why. And if you want personalized responses for your audience's comments? They'll help you auto-generate that too!
Top Features
Image to text generation converts a photo automatically into a captivating ad!
Turn your existing YouTube videos into helpful, insightful and SEO-friendly blogs
Turn text into 4K, Vertical and Widescreen images
Generate a 1000+ word blog post using their wizard
While GoCharlie has some nice features, this is still a very new tool and at a very early stage of development. I didn't like the user interface and the output can't be fully relied on.
Pricing
$29/month for unlimited usage. Or pay $435 one time payment to get unlimited usage for life!
Choosing the best Copy.ai alternative
These are some of the best Copy.ai alternatives to consider if you're looking to switch.
The best approach to finalise the best CopyAI alternative is to look at your requirements (use case, budget, quality, features etc.) and bucket them under – absolutely necessary, nice-to-have and not important. Then look at the CopyAI competitors from this list that match your requirements.
In fact, that's the approach I take before deciding any tool to purchase. I use a template like this.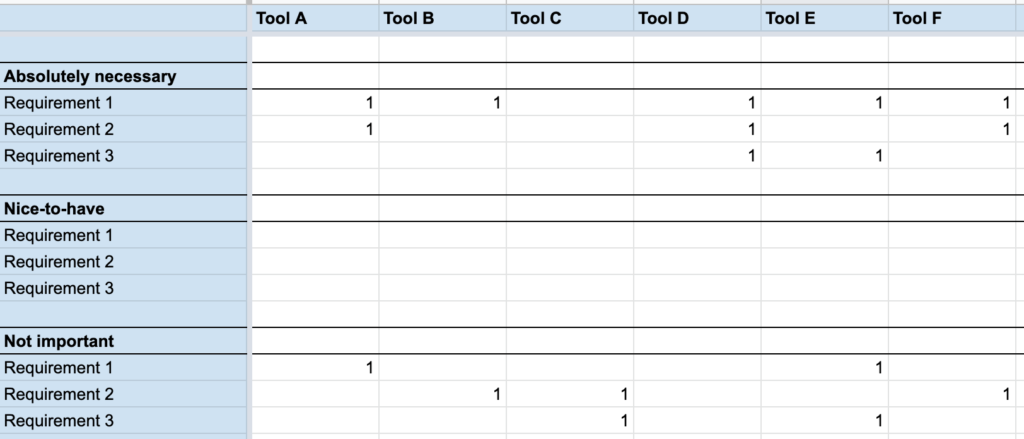 My opinion
If you need the best AI writing assistant that generates high quality content, offers value for money pricing and a no-nonsense user interface, then Writesonic is the best CopyAI alternative to switch to.