Last updated on November 1, 2023
What's the difference between ChatGPT and Copy.ai? Which one should I buy? I have the answers as I've used both tools extensively.
A couple of months ago, I considered canceling one of my subscriptions, either CopyAI or ChatGPT, to save money. But I decided to review Copy.ai vs ChatGPT on factors like UI, output speed and volume, features, integrations, pricing, and mobile experience before making a decision.
Short on time? Here's a quick summary:
My conclusion is that if you're a marketer, writer, or part of a team, go with CopyAI. It's got strong features and excels at team collaboration. On the other hand, if you're a casual user, pick ChatGPT—it works smoothly and gets the job done.
How did we come to this conclusion? Keep reading!
Why you can trust ESM's guides: We're not your average publication. We prioritize honesty over software affiliations. We're on a mission to guide software buyers to their ideal tools, delivering unbiased, detailed and transparent information for software buyers. Zero BS, zero fluff— just pure, honest insights.
Copy.ai vs ChatGPT: 6 Tests
I'll be putting CopyAI and ChatGPT to the test, comparing them in terms of: chat interface, output speed, output quantity and quality, features, integrations, level of service, and pricing.
---
Prefer to watch a video instead? Here's a live walkthrough of Copy.ai vs ChatGPT.
---
1. Chat Interface
ChatGPT and CopyAI are two platforms that offer AI-powered chat capabilities. Each presents a unique approach to the user interface that has its own merits and pitfalls.
ChatGPT Interface
ChatGPT has a simple and straightforward design. You input a command or question, and it provides the output. For ChatGPT Plus users, there are some added capabilities, including the options to add more context about your company, select specific tones, and access real-time browsing features.
However, it has its downsides. For instance, when you need to use the same prompts repeatedly, ChatGPT doesn't store them, forcing users to either save prompts locally or retype each time. For anyone that's new to AI prompt writing, it's time consuming.
CopyAI Interface
CopyAI, on the other hand, has a slightly more advanced chat interface with a broader range of features. They've done a good job of adding additional feature but not compromising on ease of use.
CopyAI has all of the features that ChatGPT offers and more. You can create your own reusable custom prompts or use their built-in prompt library. CopyAI also offers an always-on editor (on the right sidebar) where you can edit the generated content directly. Unlike ChatGPT, you don't have to copy and paste the output into a separate document for editing.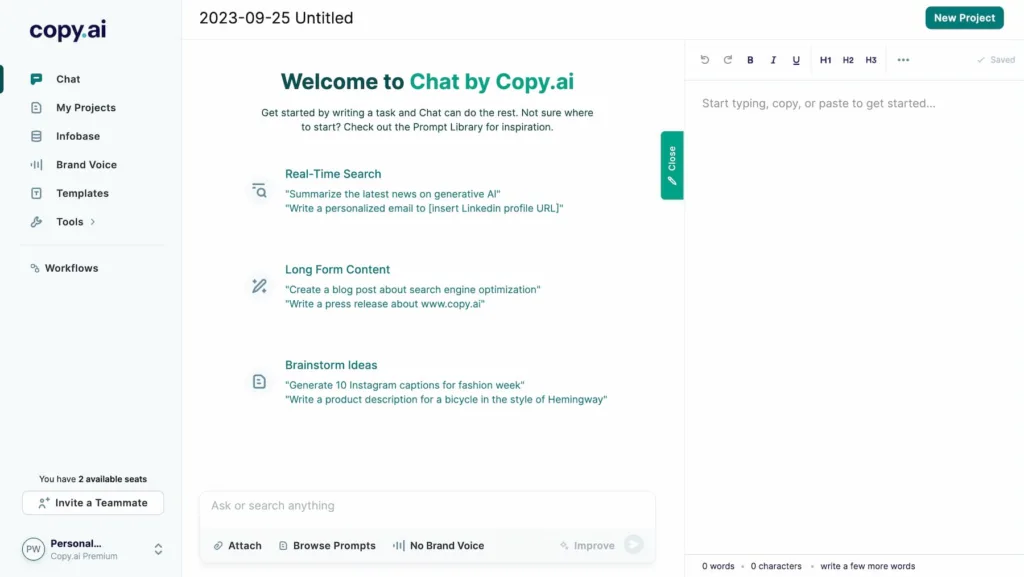 The integrated editor allows you to add more text, rewrite a piece of content, and format your text with great flexibility. Additionally, CopyAI's interface includes a handy word count and an estimated school grade level for the quality of writing, making the editing process easier.
In terms of interface and user experience, I find that CopyAI offers more advanced features and a more functional design than ChatGPT.
Although ChatGPT offers a decent user interface, CopyAI truly shines not just in simplicity but also in delivering an all-round seamless editing experience.
2. Output speed
Let's talk about the speed of AI writing output. I tested both platforms with the same simple request: "Give me 10 titles for a blog post."
With ChatGPT free plan (powered by GPT-3.5), it generated the output in just about 10 seconds. However, when you run the same query on ChatGPT Plus (powered by GPT-4), you can get the same result in 1 second! PRETTY impressive.
When I fed CopyAI (powered by GPT-4 & Anthropic Claude-2) the same request, it took about the same amount of time as the free version of ChatGPT. But it was definitely slower than ChatGPT Plus.
Tip: One cool feature I noticed in ChatGPT is that if you don't like a certain suggestion, you can ask it to regenerate, or even stop generating more (which is not possible in CopyAI).
Winner: ChatGPT
ChatGPT wins this round. With its faster response times on the Plus plan, ChatGPT edges ahead of CopyAI.
3. Output quality
Next, let's compare the quality of the content produced by each tool.
To test this, I ran a little "Gary Vaynerchuk Style" experiment. I took a piece of text and attempted to rewrite it as if Gary Vee himself was speaking.
ChatGPT took a more academic approach in it's writing. It didn't quite embody the same energetic Gary Vee tone, and I'm not sure if it was the GPT 3.5 limitation or if Copy.ai simply has some extra tricks up its sleeve.
Because Copy.ai hit a home run with this test. CopyAI generated a fantastic rewrite that captured the essence of Gary Vee's straightforward style. It made me feel like Gary was directly talking to me. It adapted effectively to the tone and style, giving straight to the point, no fluff output with respect to Gary's tone. I was really impressed!
When I looked at the LLM models both tools use, I found a BIG difference – ChatGPT Plus relies on GPT-4, while Copy.ai relies on multiple models including Anthropic Claude-2 and GPT-4. This might explain why Copy.ai's output is better than ChatGPT.
What's more, Copy.ai's "Improve" feature enhances personalization in AI writing prompts, allowing for more detailed and focused content, thus making your output stand out. The quality of your AI content is determined by your writing prompts, so this is quite useful.
Winner: CopyAI
My conclusion is that CopyAI's output is more accurate, detailed, and nuanced than ChatGPT. CopyAI offers more control over the final result and uses multiple AI models to get you the desired output. That's why CopyAI wins this round.
Related Reading: My Honest Review About CopyAI
4. Integrations
Regarding integrations, ChatGPT Plus is clearly ahead of CopyAI.
ChatGPT offers over 600 plugins, connecting seamlessly with almost every other app available (including Zapier which opens it up to thousands of other apps).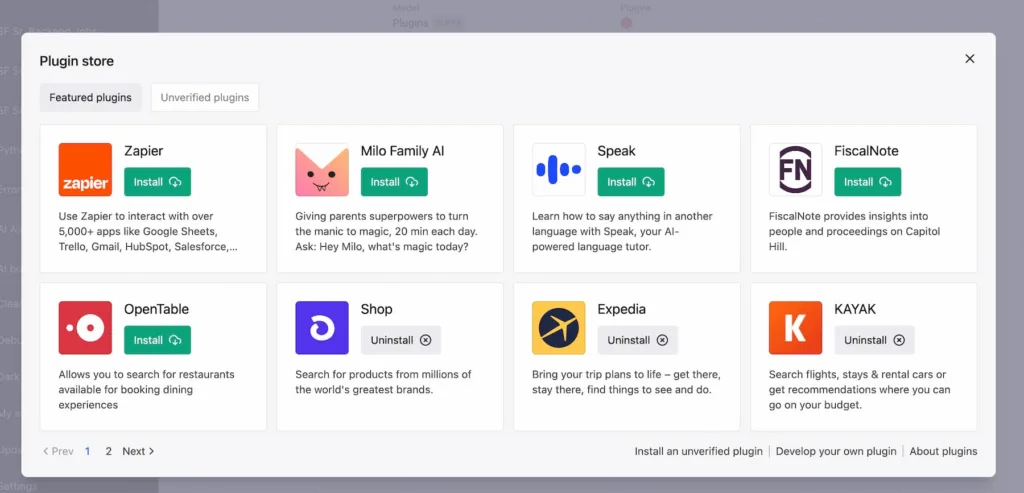 Now, Copy.ai may shine in various areas, integrations are unfortunately not its strong suit. There's a bit of a barren field here, with Copy.ai lacking any integrations at all – yep, nada.
Winner: ChatGPT
Though we aim to be fair and unbiased, it's a no-brainer call in this case. When it comes to integrations, ChatGPT takes the trophy with ease, leaving Copy.ai far behind.
5. Additional features
Let's now zoom in on additional features offered by ChatGPT and Copy.ai. These additional utilities often prove to be the deciding factor for users in choosing an AI writing tool, as they enhance functionality and user experience.
ChatGPT
For starters, ChatGPT Plus offers this cool browsing feature. It lets you access real-time data, think scores, news, and current events, all thanks to its integration with Bing search.
ChatGPT also offers a Code Interpreter. This extension enables users to upload various files, making tasks like data analytics, image conversions, and code editing very easy. Its capacity to manage files in multiple formats, such as CSV and JSON, along with support for Python code, significantly makes ChatGPT more adaptable and useful.
Then we've got the tone definer. You can set your own tone and every single prompt that follows will stay in line. And if you give ChatGPT some inside scoop on your company, it will dutifully generate content that aligns with your brand.
Copy.ai
Copy.ai, catering primarily to marketing teams, offers a bunch of features for content creation at scale. One powerful feature is organizing projects into folders and allowing multiple team members to collaborate effortlessly. This makes it easy for teams to work from a single workspace.
On top of that, you can just feed CopyAI's Brand Voice tool some text that oozes your brand style, and voilà, all the generated content will reflect that voice. Talk about being brand-consistent!
Infobase, another useful feature, enables you to add all your company info, things like brand guidelines and positioning statements. When you're creating content, you just use an easy command, and voila! Your AI-generated content syncs up with your guidelines!
But what makes Copy.ai stand out is its built-in search prowess within its chatbot interface. This tool can scan web pages and extract info from them like a pro. For example, I use it to scan a client's LinkedIn profile and write me a cold email.
Finally, Copy.ai wraps up the package by offering "workflows". If you're an e-commerce giant or a massive enterprise churning out content in bulk, this feature will be your best pal. Copy.ai's workflows feature automates content generation tasks based on your described workflow. This includes repurposing content, utilizing video transcripts, extracting sales insights, automating product descriptions, and optimizing SEO.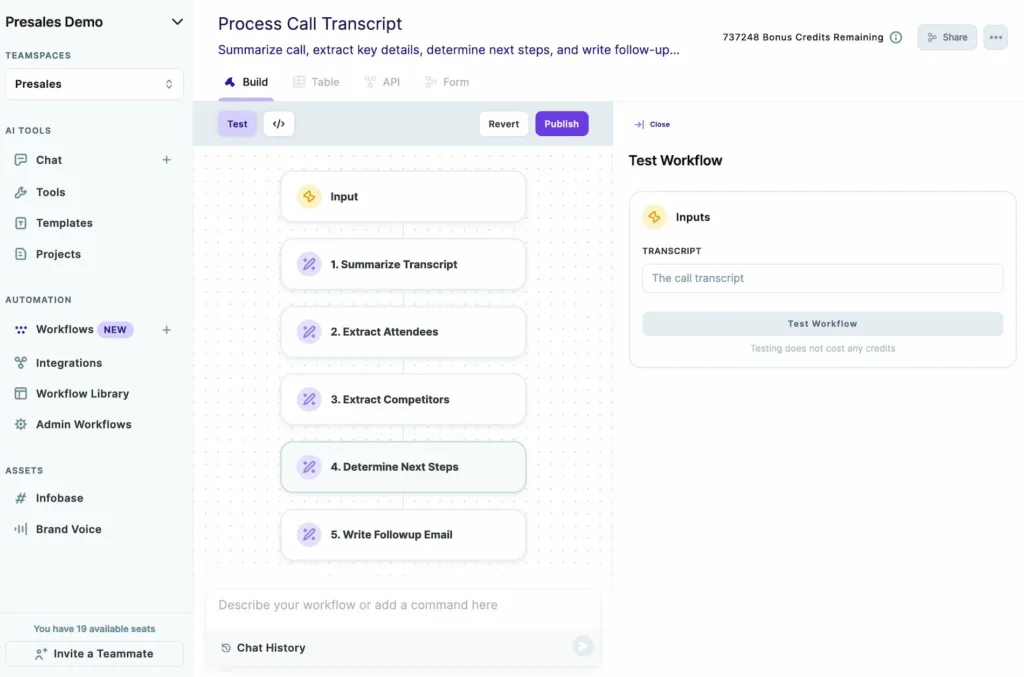 Winner: Copy.ai
CopyAI wins this round. Its impressive array of tools, team collaboration capabilities, built-in search functionalities, and content organization features make it a comprehensive, powerful, and practical solution for marketing teams and content creators alike.
6. Pricing
Let's dive into their pricing and see which one outshines the other.
Starting with their free plans, both ChatGPT and Copy.ai offer forever free options. ChatGPT's free plan has no limits, while Copy.ai caps usage at 2000 words per month. If you're looking for a free tool, ChatGPT is a better option than Copy.ai.
Now, let's discuss their paid plans. ChatGPT Plus costs $20 per month, while Copy.ai is a bit pricier at $49 per month. On a head to head comparison, it seems like ChatGPT is cheaper than Copy.ai, right? Wrong. The difference lies in the details.
Per-user pricing. ChatGPT Plus costs $20/month for a single user, while Copy.ai's $49/month can accommodate five users, costing only $10 per user per month. ChatGPT is more expensive per-user vs Copy.ai.
GPT-4 usage limits. ChatGPT Plus limits you to about 25 requests every three hours, downgrading its service if surpassed. In contrast, Copy.ai has no limits on GPT-4 usage.
Discounts & savings. ChatGPT offers no discounts. With Copy.ai, there is a 25% discount through their annual plan ($36/month). Using my special link, you can receive an extra 40% discount, bringing the price down to only $21 per month (billed annually for up to five users). That means Copy.ai costs just $4/user/month, compared to ChatGPT's $20/user/mo!
Technology limits. ChatGPT only uses GPT-4 model to generate it's output, while Copy.ai uses multiple models like Anthropic Claude-2, GPT-4 etc. to generate it's output.
Winner: Copy.ai
Despite ChatGPT's initial appeal, particularly the unlimited free plan, Copy.ai actually offers better value for money. Especially when considering its user pricing, features, and available discounts, Copy.ai wins this round vs ChatGPT.
Which Is Better: ChatGPT or Copy.ai?
Let's get down to the facts.
ChatGPT delivers fast results, particularly with the Plus plan, and offers numerous integration options. However, it lacks advanced features found in Copy.ai. Moreover, heavy users may be affected by usage limits in each three-hour window.
Copy.ai boasts an advanced interface filled with useful features and offers better output quality. However, it operates at slower response times and does not offer any integrations. Overall, Copy.ai just offers more value for money vs ChatGPT.
If I had to choose, I would recommend CopyAI, particularly for professional marketers, writers, content creators or teams considering its variety of advanced features, better user experience, and more value for money.
However, if you're an individual user or looking an AI writing tool for casual use, ChatGPT Plus might serve your needs just fine. It's got a bunch of cool features like fast response speed, code interpreter and more.
Ultimately, it's your choice.