Last updated on September 28, 2023
Copysmith is a valuable tool for eCommerce businesses and copywriting agencies, especially for medium and large enterprises. However, this narrow target audience can also be its undoing when you consider that Copysmith is useful only for high volume requirements within the eCommerce sector and somewhat limited content generation capacity when it comes to long-form content.
Plus, Copysmith can be rather unforgiving as unused credits, that you would have paid for, expire when not used within a specified period! Not to mention that the AI writer ends up regurgitating unusable or repeated content – for which you still lose credits!

There are a ton of Copysmith competitors that offer free plans, more generous credits, better pricing and a greater number of templates. While looking for Copysmith alternatives, we looked at:
Top features
Pricing
How the Copysmith alternative compares against Copysmith
So, if you are in the market looking for Copysmith alternatives, here are some good recommendations from our side.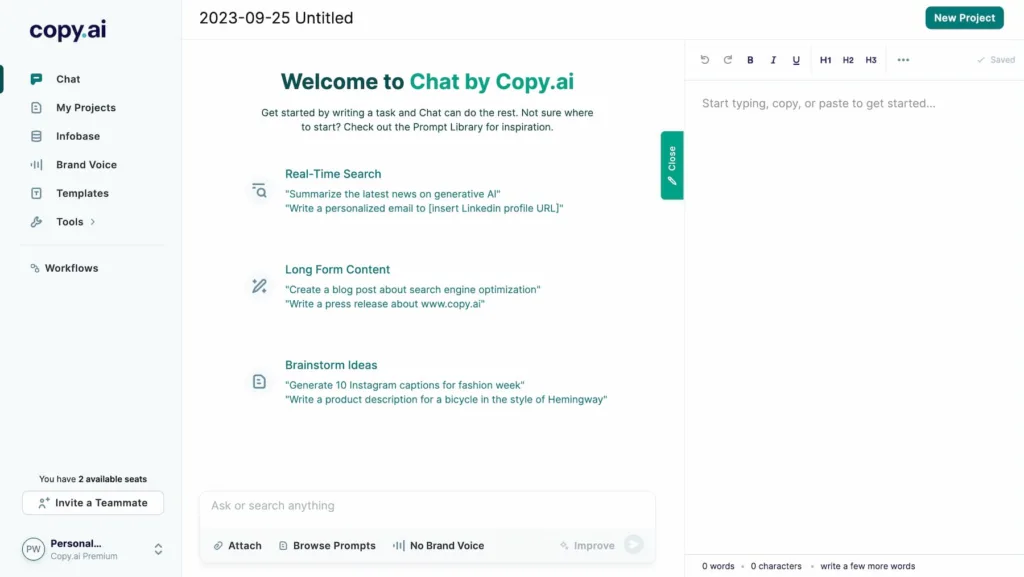 I ended up choosing CopyAI out of all the other Copysmith alternatives mentioned here. It's AMAZING.
Copy.ai is an AI-powered content generator that can produce and optimize content across the length and breadth of various business requirements. From highly engaging blogs to emails poised to convert – this Copysmith alternative has got you covered on almost all fronts.
There's a reason why CopyAI has an average 4.9/5 rating on G2 with 4 million+ customers. I also did an expert-level comparison between Copysmith vs CopyAI on four parameters if you're interested.
Top Features
AI writing assistant and content generator
90+ copywriting tools and templates, such as sales copy and website copy
Unlimited projects
Blog Wizard tool
Google Chrome extension
2000 words free every month
Pricing
Free upto 2000 words/month. Paid plans cost $49 for unlimited words and 5 team members.
*LIMITED TIME DEAL: Upgrade to a paid plan within the first 4 days of signing up using above link and get instant 40% off.
How Does it Fare Against Copysmith?
| | |
| --- | --- |
| Pros | Cons |
| Free plan available without entering credit card details | More of a general content creation tool with limited support for eCommerce |
| Paid plans are affordable and come with unlimited capabilities | The word-based billing can be rather confusing |
| Offers great content creation diversity, which makes it suitable for bloggers, social media managers, email marketers, and more | The learning curve can be quite steep |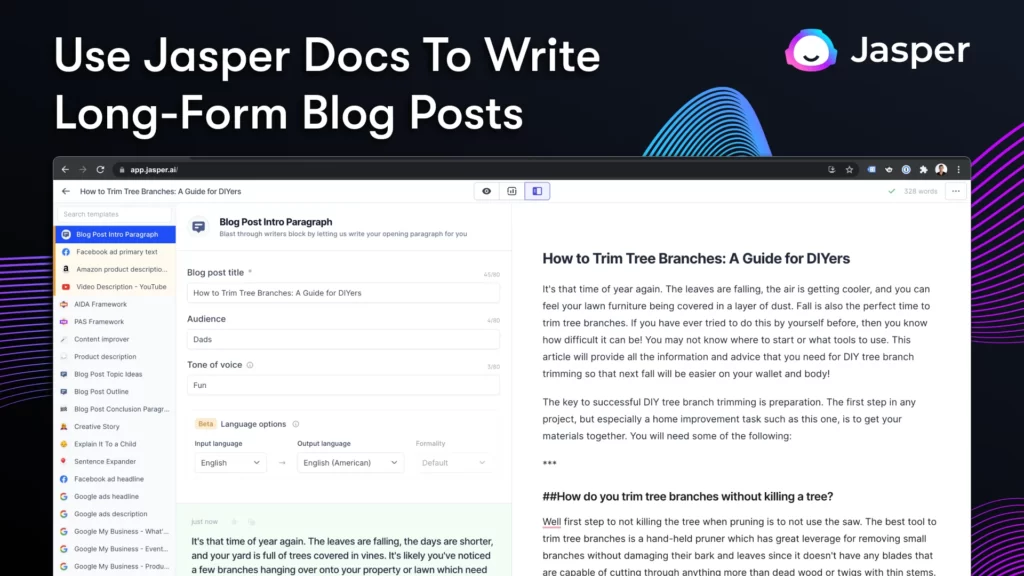 Previously known as Jarvis, Jasper.ai is a powerful content creation tool that churns out original, creative, and out-of-the-box optimized content. While this is not one of those free Copysmith alternatives, it very well justifies the expense with an impressive ROI.
Top Features
Boss Mode allows you to write high quality long form content

50+ content templates, such as product listing, video scripts, platform-specific ads, etc.

Surfer SEO integration for better rankings
Built-in plagiarism checker via Grammarly
Jasper Art add-on allows you to create custom images
Free 10k copy credits for new users
Pricing
Starts at $29/month for a feature restricted plan (with 20,000 words cap). Full feature paid plans start at $59/month (with 50,000 words).
How Does it Fare Against Copysmith?
| | |
| --- | --- |
| Pros | Cons |
| Supports 5 user seats in the base plan against the 1 of Copysmith | Can really mess up technical content as it begins spouting unusable, garbage content |
| Flexible plans depending on content length and monthly requirement | Complicated pricing structure, which works out to be more expensive than Copysmith |
| Effortless onboarding and training that allows you to get started with Jasper within 2-3 hours | Plagiarism detection costs extra |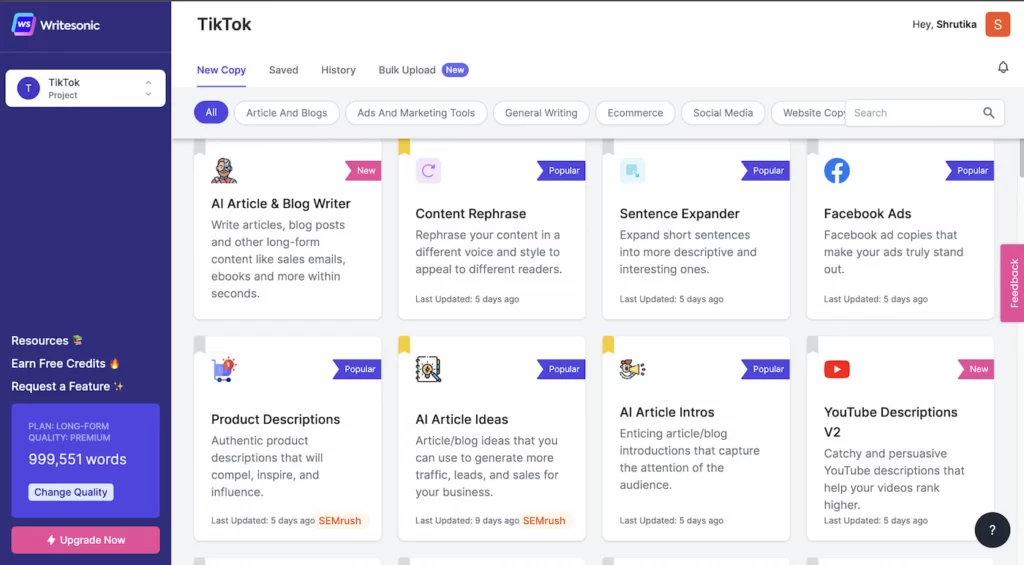 Writesonic comes equipped with a bunch of AI-backed tools that make it virtually infinitely scalable for all kinds of content requirements. However, its proven expertise in eCommerce product descriptions and ad or marketing copies makes it a fitting Copysmith competitor.
Top Features
AI article writer
Sonic Editor (content editor like Google Docs)
70+ AI writing templates
Landing Page Generator
Predictive Scoring to anticipate content performance
Pricing
Writesonic's pricing is a little complicated. Your price depends on how many words you want, what quality of output you want and what features you want.
For simplicity, their full featured paid plan costs $49/month for 75,000 words.
How Does it Fare Against Copysmith?
| | |
| --- | --- |
| Pros | Cons |
| Free plan available without entering credit card details | Content optimization needs to be done manually for short-form content |
| Highly configurable paid plans that start as low as $10 to $13 per month | Bulk processing is only available for long-form content, while Copysmith allows it for all plans |
| Short-form and long-form plans can be modified according to content quality | Third-party integrations are limited when compared to Copysmith |
If you are looking for Copysmith competitors that are killing it in short-form content, then Anyword is the perfect match. Its conversion-focused approach will particularly be useful to eCommerce businesses seeking Copysmith alternatives. In fact, the website claims to drive conversion rates up by an average of 30%!
Top Features
Blog post wizard
Website Targeted Messaging generates text specific for different asset types like copies, CTAs, product names, headlines, etc.
Custom mode for AI writer training
Predictive performance scoring to improve content performance
Pricing
Full featured paid plan starts at $99/month for 30,000 word credits per month. If you pay $399/month, you can get unlimited word credits per month.
How Does it Fare Against Copysmith?
| | |
| --- | --- |
| Pros | Cons |
| Offers different plans for small businesses and large enterprises and even includes a free plan in the former | Pricing for the "Most businesses" category is not present on the website, which questions transparency |
| Allows tone customization and A/B testing to discover content variations that will drive results | The free plan only offers 1,000 word credits per month, which is low compared to other free Copysmith alternatives |
| Predictive performance scoring helps evaluate content performance even before publication | Bad content output eats into monthly credit limits, which makes it expensive |
While SmartWriter boasts proficiency in writing result-driven outreach mail, it also possesses mastery in creating personalized content according to your business requirements. Its ability to produce tailored copies for offline businesses truly makes it stand out from the other Copysmith alternatives on the list.
Top Features
Personalized and contextual content creator
Smart lead generation and website scraping tool
Used for outreach and copywriting
One-click email personalization
LinkedIn Chrome extension
Pricing
Paid plans range from $59/month to $359/month.
How Does it Fare Against Copysmith?
| | |
| --- | --- |
| Pros | Cons |
| Uncomplicated and transparent pricing with 7-day free trial | Primarily focused on lead generation and outreach in B2B sales and marketing |
| Unlimited credit rollover unlike the credit expiry system of Copysmith | Limited content generation capabilities – cold email, LinkedIn messaging, Instagram comments, etc. |
| Wide range of content personalization strategies/recommendations to improve response rates | Costly (base plan available at $49/month) given the value proposition |
As the name indicates, AI Writer is an AI writing tool that can produce original and relevant content at the click of a button. Even though the tool is a relatively new player in the market, it does a fairly decent job of producing relevant content. That being said, one needs to stay vigilant and manually verify the content as some of it may just as well be spun!
Top Features
Text rewording
SEO-focused document editor
Topic and subtopic discoverer
AI Writer Content Kit for keyword rich, optimized content
Pricing
They have three plans – $29/month (40 articles), $59/month (150 articles) and $375/month (1000 articles).
How Does it Fare Against Copysmith?
| | |
| --- | --- |
| Pros | Cons |
| Allows direct publication to websites like WordPress and offers API access | Generates unstructured content, which requires manual editing to add subheads, etc. |
| Easy to use and populates fresh content within seconds | Lacks plagiarism checker and does not integrate with a third-party solution |
| AI Writer Content Kit combines keyword research with article writing for an end-to-end content strategy | Does not contain a content export feature for platforms other than WordPress, which means you will have to manually copy-paste content to your eCommerce site |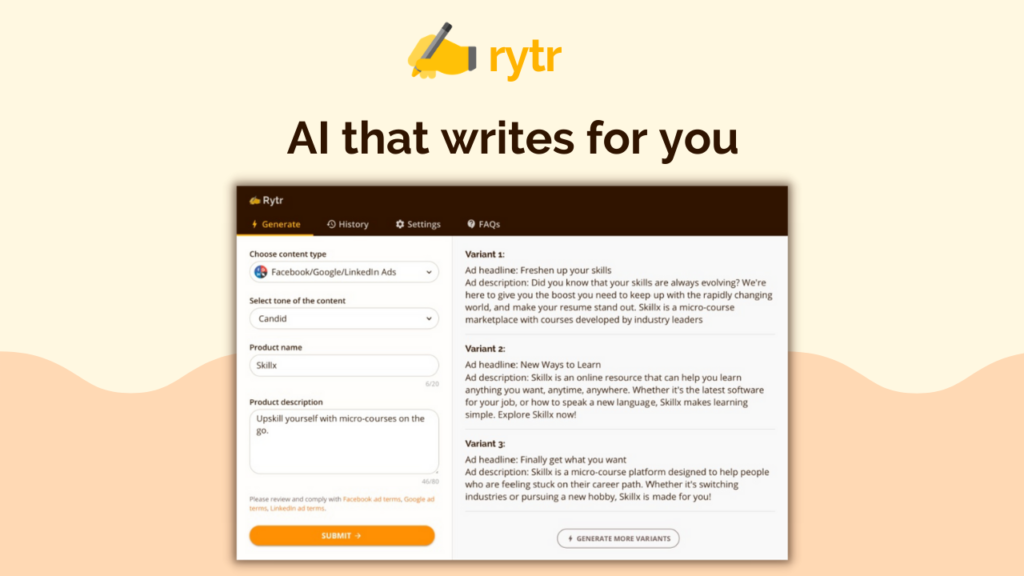 Rytr is a short form AI writing assistant that helps you create copy quickly. It's one of the most affordable Copysmith alternatives in the market and very easy to use.
Top features
Built in plagiarism checker
Multi-language support (supports 29 languages)
6 types of advanced text editing options (append, improve, rephrase, write a paragraph, expand, shorten)
Beginner friendly user interface
Handy chrome extension to use Rytr on your email, social media, blogging platform etc.
Flat price for unlimited output
Pricing
Rytr has 2 paid plans – Saver ($9/month) and Unlimited ($29/month) plan. Unlimited plan is definitely value for money as it offers unlimited output generation for one flat fee (not variable pricing like the other AI writing assistants). Rytr also offers a free plan with 10,000 characters per month.
How Does it Fare Against Copysmith?
| | |
| --- | --- |
| Pros | Cons |
| Much more affordable | Doesn't support long-form content creation |
| Beginner-friendly user interface | Poor writing quality (you get what you pay for) |
| Built-in plagiarism checker | Basic tool with limited features |
ClosersCopy refers to themselves as an "AI copywriting robot". It helps write copy for sales and marketing teams to get customers. It's a relatively young Copysmith competitor but one of the first non-GPT 3 based AI writing assistants.
Top Features
Uses its own proprietary AI writing algorithm (not GPT-3) with 3 modes – SalesAI, BlogAI & StoryAI
Supports 100+ languages (!!)
Supports keyboard shortcuts
Writing wizard with templates to guide you
Content analysis tools like spam analyser, keyword density checker and emotional tone scoring tool
Pricing
They have three paid plans – Power ($50/month), Superpower ($80/month) and Squad ($100/month). Superpower plan makes the most sense as it offers unlimited output generation and gives you 3 seats.
They're also running a lifetime deal with unlimited content generation for $497.
How Does it Fare Against Copysmith?
| | |
| --- | --- |
| Pros | Cons |
| Uses its own proprietary AI writing algorithm | Unreliable output |
| Offers content analysis tools | Complicated user interface makes it difficult to start using the tool |
| Offers a lifetime deal | Released too many unrefined features |
Choosing the best Copysmith alternative
There you have it! These are the best Copysmith alternatives that I could find. I hope this article was helpful in your search for a better alternative to Copysmith.
The best approach to finalise one tool is to look at your requirements (use case, budget, quality, features etc.) and bucket them under – absolutely necessary, nice-to-have and not important. Then look at the Copysmith alternative from this list that matches your requirements. In fact, that's the approach I take before deciding any tool to purchase.

Here's what my tool comparison sheet looks like
My Opinion
If you need the best quality output, value for money pricing and a vast library of templates, then Copy.ai is the best Copysmith alternative in my opinion. I did the research. It's great for both short and long form content.