Last updated on November 4, 2022
One of the most important – yet often overlooked – best practices in investor-backed startups is sending routine investor updates. Sharing news about your company's performance, key milestones and upcoming initiatives can help keep investors engaged in the business and increase their chances of participating in future funding rounds.
Here are four investor update templates to learn from
Pre-seed investor update template
Dear Investors,

Below is our <MONTH/QUARTER> update:

<add a video link>
Please watch this video to get an update on our <MONTH>.

Summary

TL;DR
We onboarded our first paying customer XYZ paying us $50 per seat per month (annual billing). We're kicking off with 12 seats only, but this account will grow to 110 licenses by end of the year and we're working with them on expanding to more teams.

Product
We shipped lots of improvements as you can read here. Velocity & quality remains high!

Below are a few main product topics we're working on:
- Feature X is about to be released
- Feature Y
- Improvement to Feature Z

Growth
Given our limited go-to-market resources, we're shifting our focus on account-based sales in a founder-led sales motion targeting fast-growing 1000-5000 people companies in <vertical> in Europe.

Asks
Please introduce us to 3 <customer persona> from your network. I'm personally doing all these calls, so rest assured your intros will be in good hands even if they don't adopt the product.

Thanks
Thanks investor A, investor B & investor c for intros.

Financials
Cash on account: $1,856,777 USD on 1st of May. Please note this doesn't include our contractor costs for April.

Runway: 25 months

Have a good week!
<founder name>

Seed investor update template
tl;dr 31% ARR growth, feature X launched today

<share chart>

This month we saw massive affiliate growth, fixed a bunch of  inefficient marketing channel spend, and put the pieces in place for a big Black Friday launch.

Vitals
$1.7M cash
$109k monthly burn

4 FTE

Highlights
30%+ WoW growth of users. All the hard work put into our various content and mini-products is starting to pay off -- we saw strong search traffic growth in Jan.

<share chart>

Last month, we launched feature X so that users can do use case X. So far, 3K users have seen this feature, and 1.2K have signed up. 

After identifying and confirming these inefficient channels, we cut marketing spend in half and things are now looking much better.

We also just hired our first Head of Marketing - <share LinkedIn profile>. She has tremendous experience scaling B2B companies with a content-focused marketing strategy.

Learnings
1. Learning 1 in growth
2. Learning 2 in support processes
3. Learning 3 in X

What's next
Fundraising. If there are folks you think we should chat with, please let me know ASAP so that they have time to go through their process. Thank you!

Onwards & upwards,
<founder>
GitLab's investor update template
As part of their fundraising efforts, Gitlab sends out frequent investor updates – a few times a year – to their investors and other interested parties. Here's how they look like: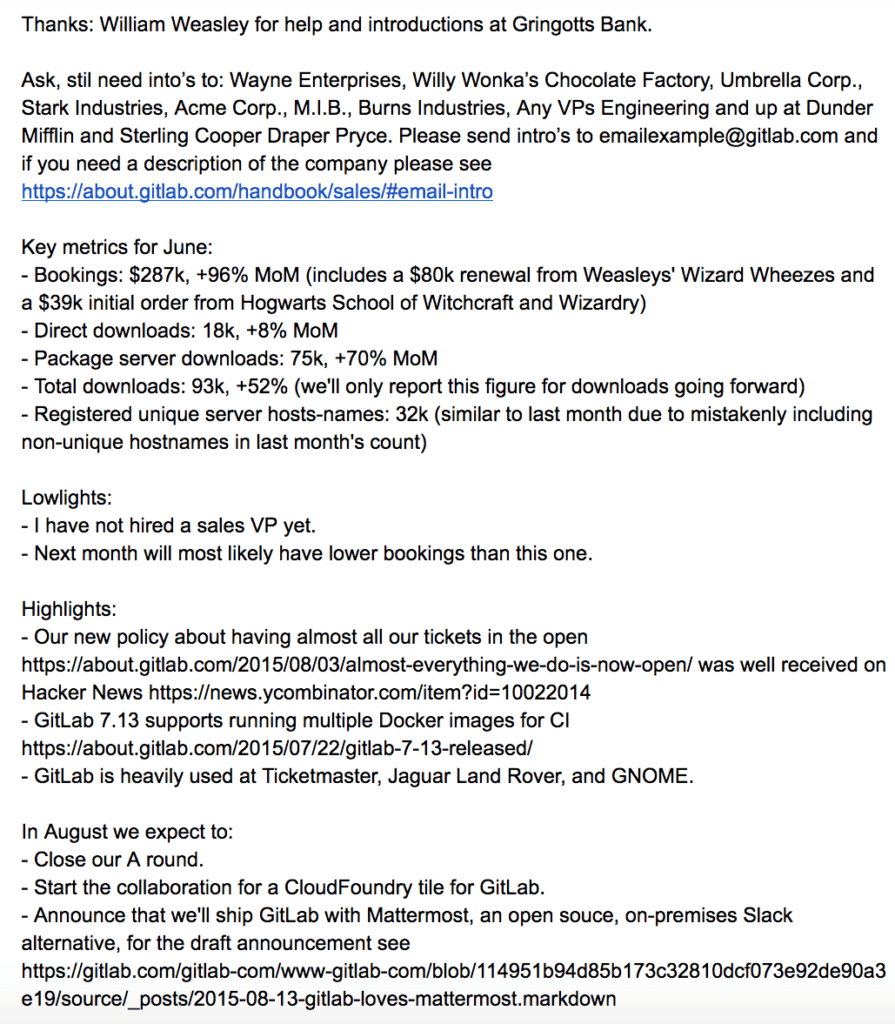 Shoelace's investor update template
Reza Khadjavi, Founder and CEO of Shoelace, uses this email to update this investors.
Intro
In a few sentences, tell your biggest wins or highlights of the month. Try to keep this section to a maximum of 3 or 4 short sentences.

KPIs
In every monthly update, provide a section with details about some of the metrics you track and how they've changed from the previous month.

True North KPI
Revenue with Growth %
Product KPI

Asks
If you have any introductions or other asks, mention it here. Keep it pretty close to the top of the email (if included)

Big Announcements
Here's where you share the news of any launch of a major new feature or other exciting announcements.

Trouble
If there is a problem, you would address it here. You would tell them what happened, how you are addressing it, and if you need any help.

Team
"We made one hire this month. Team morale is good and we didn't have to let anyone go." Any team related updates go here.

What does [Company] do?
Remind your investors at the very end of your email update what your company actually does. 
NEW: Use AI to write your investor update
Want to write an investor update in less than 10 minutes? Use my investor update template in CopyAI to instruct the AI to write a great investor update for you.
Follow these steps:
1. Create a CopyAI account (FREE)
CopyAI is an AI copywriting tool to help you write copy in seconds. I use it to write investor update emails, blog posts, social media posts and my press releases.
*generate upto 2000 words/month
2. Open Freestyle mode and fill it with your investor update points
Find the "Freestyle" mode in the left menu under "Blog Tools".
In the Freestyle mode, copy and paste the below instructions:
Name of business: [name of business]
Brief summary of recent events: [e.g. new product launch, expansion into new markets, etc.]
Current challenges: [e.g. financial difficulties, production issues, etc.]
Future goals: [e.g. launching new products, expanding into new markets, etc.]
Appreciation for readership or support: [e.g. thank you for your continued support, we appreciate your feedback, etc.]
Structure:
Introduce the reader to the update
Provide a brief summary of what's been happening since the last update
Address any current challenges that have been faced
Share future goals and plans for the business
Share some form of appreciation for readership or continued support
Fill out the instructions highlighted in bold with the points from your investor update and click on "Create content" inside CopyAI. It will automatically write your investor update for you!
Amazing, isn't it? I use it all the time to speed up writing investor updates. I provide all the bullet points, but CopyAI converts those points into a nice investor update email and saves me HOURS.
CopyAI's paid plans cost $49/month for 40k words, but you can get it for $29/month using my activation link below.
LIMITED TIME DEAL: Upgrade to a paid plan within the first 4 days of signing up using above link and you'll get instant 40% off.
Why send investor updates?
The goal of an investor update is to give investors a window into the inner workings of your startup and how it's progressing towards its goals. Investors want to know how you're spending their money and if you're still on track for success. They also want to see that you understand the bigger picture and are thinking about issues like scalability, future plans and competitors.
Investors also appreciate founders who send investor updates proactively vs reactively. By sending a regular investor update, you're making sure that you stay top of mind and they get the information they need from their portfolio company. You can also use this opportunity to ask for valuable introductions and feedback from your investors.
Investor updates are important for four key reasons.
Building trust. It's a good way to keep your investors in the loop regarding what's going on with the company and how things are progressing. It also helps build trust between the founder and their investors, which is critical if you want them to keep investing in your company.
Tapping into your investor's network. Investors are a great resource for founders. They're often experienced, have networks to tap into, and can lend a hand when it comes to hiring top talent, getting introduced to customers, investors, mentors etc.
Tapping into investor's own experience with similar portfolio companies. You should also consider investors as part of your team. If your company is struggling with a problem, investors can offer advice and support, helping you get through it. For example, if you're unable to scale SEO as a marketing channel, an investor can share some learnings on SEO from one of their companies.
Save time regularly updating all the investors. Streamline investor check ins by consolidating questions into one document/email/video instead of having several phone calls or meetings.
The anatomy of a great investor update
An investor update is a timely and informative way to keep investors up-to-date on how your company is doing. It should be short, sweet, and to the point. The last thing you want to do is make investors feel like they're being bombarded with unnecessary information that doesn't add value.
While every business has its own needs and goals, there are some basic elements that every investor update should include:
a summary of what's been happening since last month (this can be short)
a more detailed section about how things have changed over that time period in addition to any major accomplishments or challenges faced by the company
a list of all new hires, promotions and departures from the company since last month
any key partnerships; upcoming events like conferences where you will be speaking about your work
finally any other relevant news such as changes to leadership positions within the organization.
How to write a great investor update
Investor updates should be clear and concise. You have to give investors a reason to care about what you're doing, but it shouldn't require endless pages of reading to understand how your business is doing.
If you're not sure how to write a great investor update, here are a few tips for making sure your investor update hits the right note:
Metrics
It's always a good idea to start your update with some big-picture stats. Include revenue, cash flow, customer acquisition cost, signups, burn rate, number of active users, churn rate—anything that helps investors see how you're growing.
Question to think about: How are things looking?
Wins and losses
Share wins as well as losses because investors want to hear from you when things are going well as much as they want to hear from you when things aren't going so well. They want to know that you're aware of what's working and what isn't so that they can give advice on how best to adjust course based on the feedback they receive from their other portfolio companies as well as their own personal experience with startups.
Question to think about: What went well? What didn't?
Top highlights
Don't forget about the big highlights—especially if those highlights haven't been covered in the press yet! A good investor update should include some of your biggest achievements (product, marketing, team etc.) from the past few weeks/months, so make sure to include them here! You want investors to know how much progress you're making, and how far things have come since they first invested.
It's also helpful to highlight any new hires and what they bring to the table. Investors will be interested in knowing who is leading different teams, so this is an opportunity to show off your newest members and tell them what they're up to at your company.
Bigger picture
In your investor update, share the bigger picture. Communicate how you're thinking about issues like scalability, goals, future plans and competitors.
In the investor update for your startup, you should share your vision for where you taking the company. You talk about where you've been and what's worked well in your growth strategy. You can also talk about where you see the business going in the next few years.
You can also share plans for scaling the business, including hiring new employees and expanding into different markets or services.
Ask for introductions
If you want to be introduced to investors, customers or even employees, then you can mention that in your investor update. Investors are likely to do the introducing for you if they can.
If you want to hire top talent, then you can mention that as well. Investors are usually happy to introduce their friends and colleagues to others in their network.
If you need a second opinion on your strategy or product, then that's another reason why you should write an update for investors. Investors will often give feedback and advice on these matters, especially if they know the industry well and have connections in it.
Question to think about: What do I need from investors in order to achieve our goals?
How often should you send an investor update?
Now, you may be wondering how often to send updates. The answer isn't a simple one. There are two schools of thought on this topic:
Regularly scheduled updates (weekly, monthly or quarterly)
Only send updates when you have something to say
Both methods work, but they require different types of planning and discipline. In general, it's best to follow whatever approach makes sense for your company and is most likely to be effective—but if you're relatively early stage, I'd recommend starting with the regular update schedule first before switching over to sending them only when necessary (depending on the feedback from investors).
In general, though, I recommend that you write an investor update once every quarter. This gives you enough time to make significant progress towards your goals and share those accomplishments with the investors who have supported you through thick and thin.
If you have a lot of news and milestones, it's fine to send more frequent updates. However, if you don't have any important events or development news to share with your investors (especially if they're not expecting an update), then it's probably best to wait another month before sending another investor update.
How long should an investor update be?
In general, an investor update should be short and sweet. You want to avoid adding unnecessary fluff, so stick to the basics. With bullet points, you can easily highlight key points in your investor updates. This will help keep things consistent by using a template that you can reuse each month or quarter.
You can also try creating a Loom video to send the update out. It's faster to create for the founder, faster & more engaging to consume as an investor and brings in a human touch to the investor update.
What is the best day to send an investor update?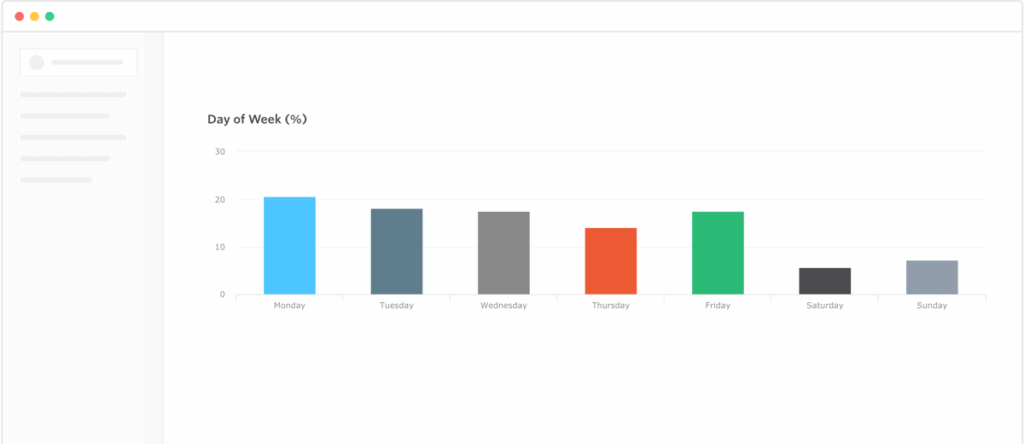 According to a study by Visible, Monday is the most popular day to send an investor update. Also, most founders seem to send the investor update at the beginning or the middle of the month.
That being said, choose what suits you. It doesn't matter what day you send your investor update.