Last updated on November 9, 2022
While Jasper is the poster boy of AI copywriting tools, it comes with it's fair share of drawbacks.
Terrible customer support—slow, impersonal replies with no real understanding of your problem.
Jasper is really expensive. The plans are pricey (especially for beginners or people living in low income countries) and you may get charged beyond your monthly subscription if you use up all of your credits (which happens frequently).
Repetitive copy—Jasper often produces a large number of repetitive sentences, which is frustrating.
Here's my advice: Stop paying so much money to use Jasper!
After studying over 50 AI copywriting tools, I discovered that many cheaper Jasper AI alternatives work just as well—or better!
Here are 7 affordable Jasper AI alternatives with better software support, more value for money and the ability to write quality copy.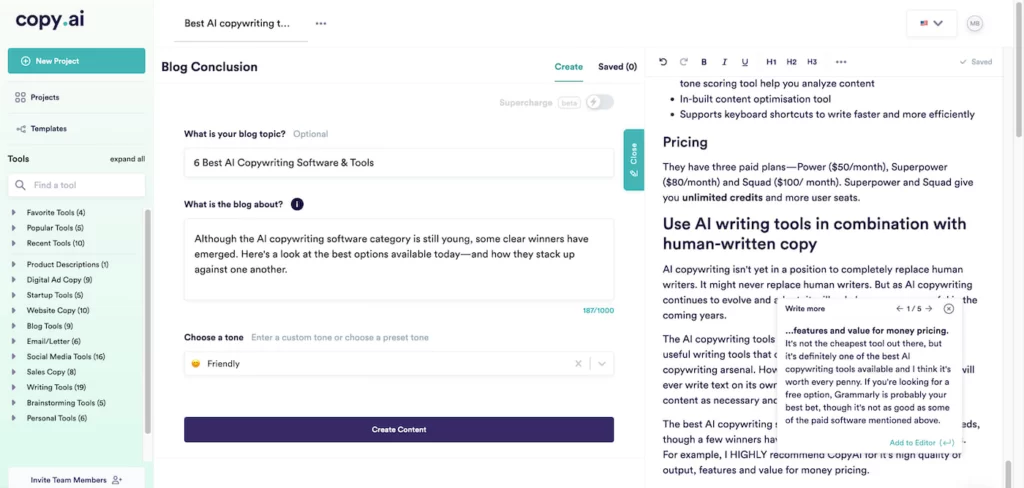 Let me start out by saying that I really love Copy.ai. It's my most highly recommended alternative to Jasper in this list and I'll explain why.
CopyAI is an AI-powered content generator. More than 1,000,000 copywriters, marketers, social media managers, and freelance content writers from various backgrounds have found CopyAI extremely useful, making it a versatile alternative to Jasper AI.
Notable Features
Freestyle writing assistant
Blog post wizard
Unlimited credits for one flat price
First Draft Wizard
Generates 90+ content types – including fictional content and personal letters!
130+ templates for different use cases
Pricing
CopyAI has two plans – Free and Pro ($49/month).
*LIMITED TIME DEAL: Upgrade to a paid plan within the first 4 days of signing up using above link and get instant 40% off.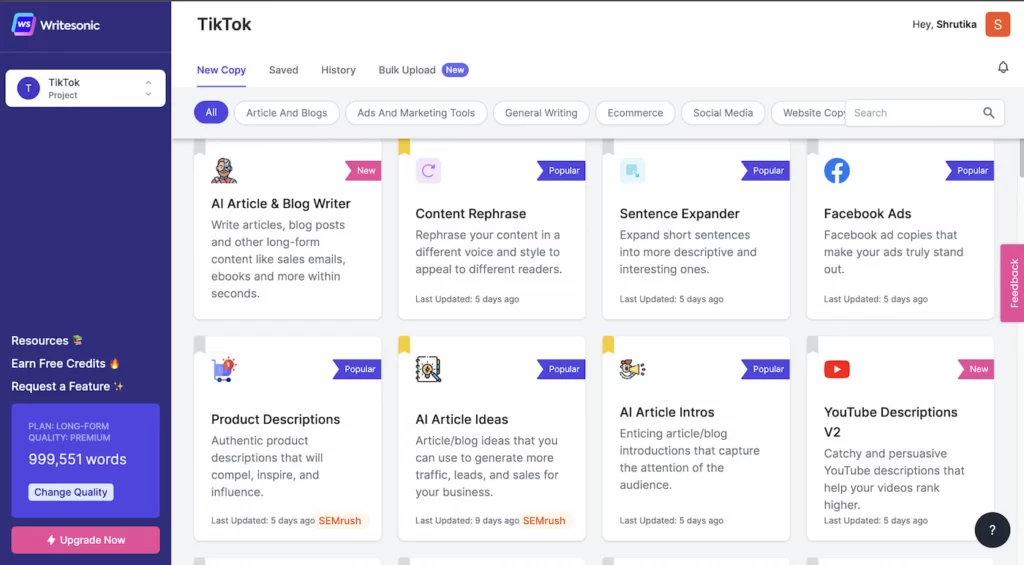 While WriteSonic appeals to all kinds of written content creators, its focus on writing ads for Facebook and Google makes it handy for paid advertising campaigns in particular. Such capabilities are accentuated by the fact that it can create SEO-friendly content from the word go. It makes an excellent JasperAI competitor if you are looking to publish short-form content.
Notable Features
50+ distinct writing templates
Built-in tool to fix grammar
Wide variety of content formats like Quora answers, Facebook ads, etc
SEMrush integration
Layout feature for landing pages
Sonic Editor – similar to Google Docs interface
Pricing
WriteSonic has three plans – Free Trial, Short-form ($15/month), and Long-form ($19/month).
CopySmith.ai offers a powerful suite of integrations with various SEO tools, CRMs, eCommerce platforms, etc., making it one of the most fitting Jarvis AI alternatives. At the same time, the company does not mince its words and makes it evident that the tool is primarily aimed at large marketing and eCommerce teams.
Notable Features
Unique templates for meta tags, Google ads, and more
Built-in campaign builders
Multiple integrations with Google Ads, Shopify, Frase SEO Enhancer, Zapier, Google Docs, Microsoft, WooCommerce, etc.
Integrated plagiarism checker
Pricing
CopySmith.ai comes in three plans – Starter ($19/month), Professional ($59/month), and Enterprise (custom pricing). It also offers a 7-day free trial.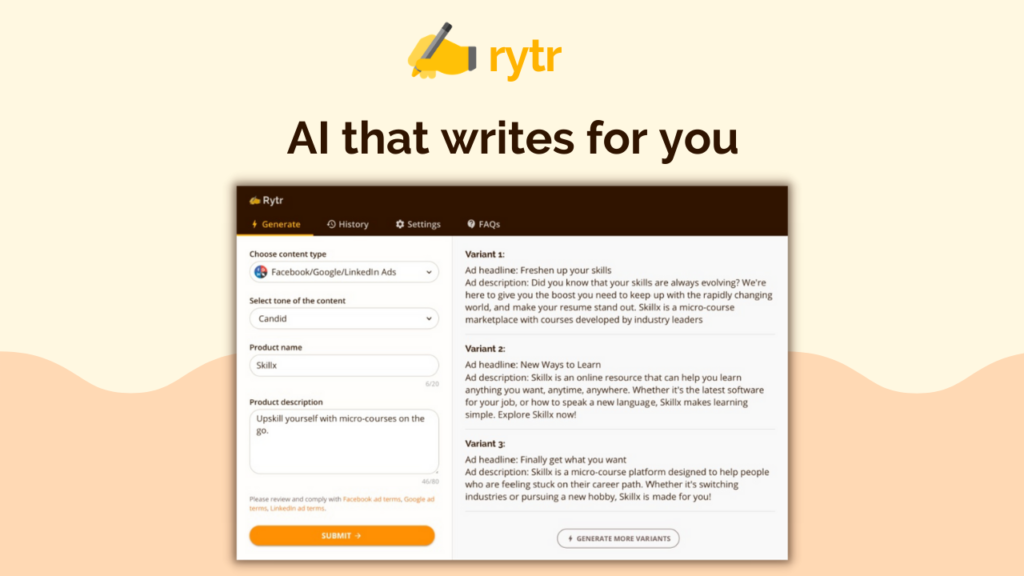 Rytr claims to make your writing 10x faster, be it emails, blogs, Facebook ads, landing page copies, product descriptions, story plots, and more! Its easy-to-use interface paired with a Grammarly-like writing assistant is the primary reason why users love it so much. Not to mention, it is also one of the most affordable AI writing assistants available in the market!
Notable Features
Most affordable AI writing tool
20+ tone of voice options like casual, convincing, humorous, etc.
Built-in plagiarism checker
API access to app developers
Pricing
Rytr offers three plans – Free plan, Saver plan ($9/month), and Unlimited plan ($29/month).
If you are eyeing to create attractive and click-worthy ad copies, then Anyword is your best bet. However, you can also use it to craft marketing materials like emails, social media posts, and SMSes. Do bear in mind that you can enjoy most of the features advertised by the company only when you are using the Data-Driven plan or beyond that. So, the usage may not justify the cost in all cases.
Notable Features
Predictive performance score
Content table generation
Option to define the target audience
Customer review-based copy variations
Audience engagement score
Customer profiles for targeted content
Pricing
Anyword for small businesses is available in three variants – Free, Basic ($19/month), and Data-Driven ($99/month). It also has three other plans – Acquire, Convert, and Engage – which are available at custom pricing.
Peppertype.ai is your one-stop destination for all things content. While some tools may have discovered their niches, Peppertype is all-encompassing and serves entrepreneurs, marketers, content creators, agencies, SEO experts, product managers, and more. However, the pricing may seem a bit erratic. After all, it doesn't make sense that the starter plan is priced at $35 and the successive plan costs $199! But if you can look past this logical fallacy, then it can be a pretty sweet deal.
Notable Features
Operates in English
Compatible with 30+ content types – from blogs to social media posts to product descriptions and beyond.
Customizable content types
Performs grammar and tone checks
Manual quality checks
Pricing
Peppertype.ai offers three plans – Starter Plan ($35/month), Growth Plan ($199/month), Enterprise Plan (custom pricing).
When it comes to Jarvis AI competitors, ClosersCopy is a beast of an option. In fact, it outdoes most other Jasper AI alternatives in this list through its sheer magnitude (which can be a bit overwhelming if you have basic requirements). You get to access tons of content templates in several languages. However, if you want this attractive bundle of features, be prepared to pay big bucks for it as it is also far more expensive than the choices discussed so far.
Notable Features
Supports 128 languages
900+ content templates.
Integrated SEO audit and planner
Tone Checker
Lifetime Updates
Pricing
ClosersCopy is available in three plans – Power ($49.99/month), Superpower ($79.99/month), and Superpower Squad ($99.99/month)
Feature Comparison of JasperAI Alternatives
| | | | | | | | | |
| --- | --- | --- | --- | --- | --- | --- | --- | --- |
| Features | Jasper AI | Copy.ai | WriteSonic | CopySmith. ai | Rytr | Anyword | Peppertype. ai | ClosersCopy |
| AI model | GPT-3 | GPT-3 | GPT-3 + Proprietary AI | GPT-3 | GPT-3 + Proprietary AI | GPT-3 + CTRL + T5 | GPT-3 | GPT-3 + Proprietary AI |
| Text Editor | Available | Available | Available | Available | Available | Available | Available | Available |
| Workflow Management | Available | Not Available | Not Available | Available | Available | Not Available | Available | Available |
| In-app Collaboration | Not Supported | Supported | Not Supported | Supported | Not Supported | Not Supported | Supported | Suppofted |
| Supported Use Cases | 50+ | 130+ | 60+ | 30+ | 30+ | – | 30+ | 900+ |
| Supported Languages | 25+ | 25+ | 25+ | 60+ | 30+ | 1 to 25 | 1 | 128 |
| Browser Extension | Not Available | Available | Available | Available | Available | Not Available | Available | Available |
| Plagiarism Checker | Available as an add-on | Available | Available | Available | Available | Not Available | Available for Enterprise users | Not Available |
| SEO toolkit | Available through integration | Not Available | Available | Available through integration | Available | Not Available | Not Available | Available |
| G2 Rating | 4.8/5 | 4.8/5 | 4.8/5 | 4.2/5 | 4.7/5 | 4.8/5 | 4.7/5 | 4.0/5 |
| TrustPilot Rating | 4.8/5 | 4.6/5 | 4.8/5 | 3.3/5 | 4.8/5 | 4.9/5 | 4.8/5 | 2.8/5 |