Last updated on April 28, 2023
I've been working in SaaS marketing for over a decade now, and in that time, I've taken my fair share of courses – 9 to be exact.
Now, don't get me wrong, I firmly believe that nothing beats actually "doing the work" when it comes to learning the ropes. But I've gotta say, some of these SaaS marketing courses have really helped shape the way I think about SaaS marketing today, and they've saved me a ton of time in the process.
I'm guessing you're on the hunt for the best SaaS marketing course, right? Maybe you're looking to:
Learn the ins and outs of SaaS marketing
Level up your current SaaS marketing skills
Find answers to those tricky SaaS marketing problems or challenges
Give your SaaS marketing setup a much-needed upgrade
Get results fast
If you're pressed for time, let me give you the inside scoop on four of the best SaaS marketing courses that I've personally tried (and loved) from all the ones I've taken over the years.
If you'd like to explore my full list of recommended SaaS marketing courses, continue reading.
What are the best SaaS marketing courses?
If you're ready to invest in a SaaS marketing course, here are seven of the best SaaS courses out there:
Best SaaS marketing course to understand growth fundamentals
Reforge Growth Series is a six-week course for senior marketers at SaaS startups.
It distills hard-earned insights, frameworks, and systems from tech's top leaders and delivers decades of career experience in just six weeks by drawing on real examples from category-defining companies. You'll learn how to solve difficult growth problems and drive results for your SaaS company.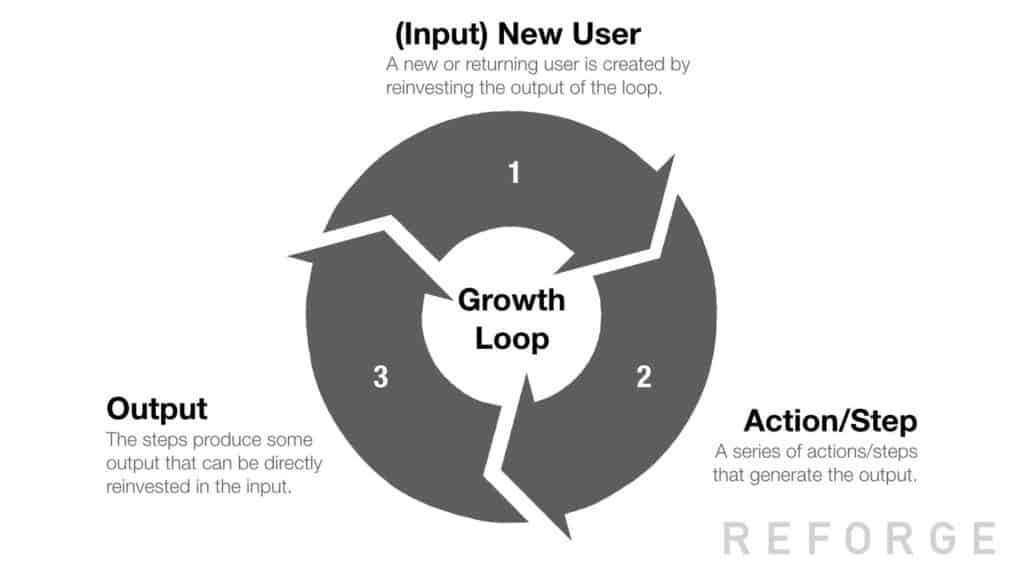 I took this course in 2020 and I can vouch that it is one of the best SaaS marketing certifications out there. Those 6 weeks will be intense but a few principles will just change the way you approach growth. Bonus is that they have a great alumni network since they're very picky on who takes their course.
It costs $1995 per year, so it's a little expensive, but absolutely worth it.
Best SaaS marketing course to become great at conversion rate optimization
If you're looking to become great at conversion optimization, there is no program that I'd recommend more.
The Conversion Optimization Minidegree by CXL will teach you the methodologies and processes needed to get more wins and bigger wins. You will develop in-depth knowledge in conversion optimization (driving growth without spending more) and learn processes that you can replicate across any web property.
You will also gain a deep understanding of how to build a solid foundation for your conversion optimization efforts. You'll learn about user research, analytics, A/B testing, and other elements that are essential for testing hypotheses and making informed decisions based on data.
With a total of 58h 28min of videos & study material, it'll take you ~3 months to complete this course (if you can take out 10-15 hrs / week)
It costs $599 for lifetime access.
Best SaaS marketing course to become great at SEO
Clickminded is a popular SEO training program (taught by former SEO Manager of Airbnb and Paypal) that teaches you how to optimize your website for Google's search engine. The course comes with over 50 hours of video, which explains everything you need to know about SEO in an easy-to-understand way.
This is great course to understand SEO from the basics. I took this course 7 years ago when I was transitioning to a more SEO-focused role. Not only has this course helped me drive revenue for a bunch of SaaS companies, it's helped me grow my own blog too!
It costs $997 for lifetime access to the course.
Best SaaS marketing course to master B2B content marketing
Ahrefs Blogging for Business is an SEO course specifically designed to help businesses grow using blogging.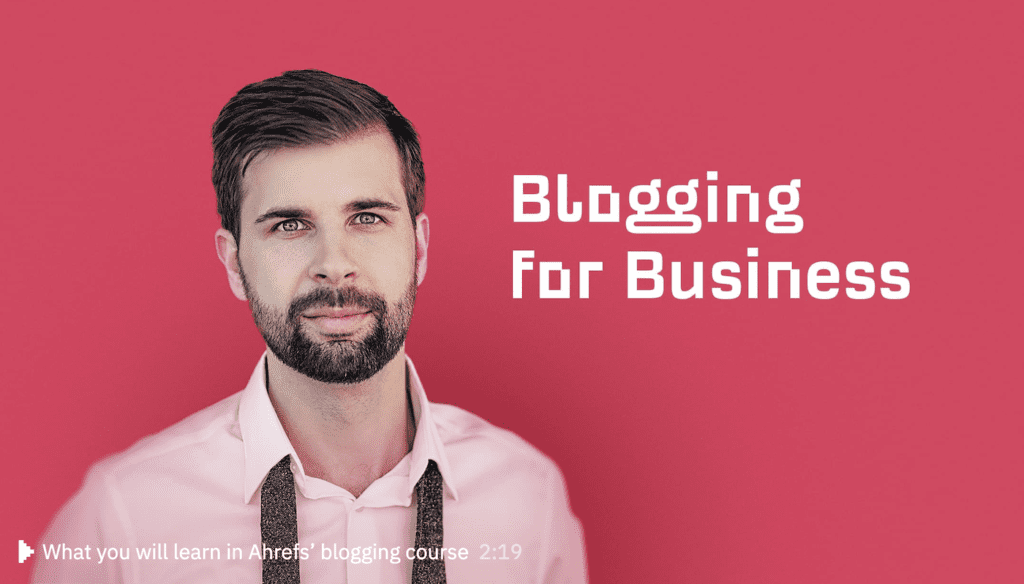 We've all heard that content is king when it comes to digital marketing, but most people don't realize just how powerful content can be when used properly in your SaaS marketing strategy. This course will teach you everything you need to know about creating high-quality blog posts that drive traffic and leads, as well as establish your authority within your niche.
Best part? It's 100% free.
Leading a content team is a challenging role. You need to know the craft of writing, as well as how to manage people and advocate for your ideas. This course by Superpath will guide you through it all.
Jimmy Daly (the instructor of this course) is one of the most knowledgable content marketers that I know of. Also, this course has been built with insights from 15+ content experts.
It costs $499 for lifetime access. It's a great fit for marketing managers who're investing heavily on blog content.
ProductLed provides an online course to help you build, launch, and scale a successful product-led business without the expensive trial and error phase. It's a 4 week live program where you develop your product-led strategy, identify your product-led model, build your onboarding sequence and develop your monetization strategy.
It costs $1999 annually per seat. It comes highly recommended by a lot of my peers in SaaS, so definitely check it out.
Hubspot's video marketing course teaches you how to get started with online video marketing to better attract, engage, and delight your audience.
This course is designed to give you a deep dive into the world of video marketing. By the end of this course, you'll be able to craft a video marketing strategy that solves for every stage of the buyer's journey, understand various online video types to fuel your video marketing efforts, produce a video from start to finish and measure and analyze your video marketing efforts.
Wistia is known for creating one of the best SaaS video marketing content on the internet. They created this practical guide to help you elevate your video marketing efforts. It covers:
Building a video marketing strategy
Types of video marketing content
When & where to share your videos
Video marketing SEO
How to measure video marketing success
If you're looking to learn about video marketing, this is an excellent short course to skim through.
The world of AI copywriting is exploding. Writing copy using AI requires some technical training and understanding how GPT-3 models work.
Jasper's Bootcamp is a short and practical course that explains from the beginning how an AI copywriter works and how to generate great input commands to get great output from the copywriter.
While this course is meant as an onboarding guide to Jasper (an AI copywriting tool), it's useful for anyone who wants to learn to write copy using AI. The lessons shared in this course can be applied to write copy using any AI writing tool (including CopyAI – my favorite).
Who needs a SaaS marketing course?
Mostly, SaaS founders and SaaS marketers take these courses. But I've also seen people across the organisation (product managers, engineering leads, customer success leads, Head of Sales etc.) benefit from taking SaaS marketing courses.
It depends on several factors. What stage of the business are you in? What are your goals? What challenges are you facing?
For example:
An early stage SaaS company with founding doing all the marketing requires them to take a SaaS marketing fundamentals course like Reforge Growth Series.
A slightly more later stage SaaS company with 1 marketer needs to be trained on marketing leadership (if it's their first marketing leadership role).
An advanced stage SaaS company with a mature marketing team may have content marketer who wants to up-skill herself on SEO so she probably needs a SaaS SEO basics course like Clickminded SEO.
How does a SaaS marketing course help?
Most of the expert knowledge around SaaS marketing is locked in the heads of a few people in the world.
Those few experts have been able to use this knowledge to build successful businesses and they're happy to share their secrets with you, but only if you pay them thousands of $$$ for it.
THANKFULLY a lot of SaaS marketers have created these SaaS marketing courses which allows you to access this knowledge without necessarily needing to hire them.
And thanks to these courses, you don't need to waste months or years "figuring things out" yourself. Instead, you can save that time by taking a course and make progress faster than your competitors.
Most problems in SaaS are solved problems, you don't need to reinvent the wheel to solve these problems. Fortunately there are enough gurus out there who have worked on these types of projects over time (and even written about them) that we can learn from their experience! Just use their tried and tested playbook.
There are SaaS marketing courses today from market research to copywriting to lead generation to leadership that will teach everything about marketing your SaaS product and building a SaaS marketing team.
Why you should invest in a SaaS marketing course?
Here are four reasons why you should invest in a SaaS marketing course:
1. Develop a solid marketing foundation
If you're new to marketing, a marketing course can give you the foundation you need to get started. You'll learn about different marketing channels, how to develop successful SaaS marketing strategies, how to manage your marketing spend and how to track and measure your results.
2. Avoid common mistakes
There are a lot of common mistakes that new marketers make. Trying to figure out marketing on your own can be a time-consuming and expensive process. A marketing course can help you avoid the mistakes, save time and money by teaching you what you need to know to get started.
3. Learn from the best
A SaaS marketing course helps you learn 1:1 from the top 1% in the industry without having to hire them. The ROI is insane.
4. Stay up-to-date on the latest marketing trends.
Marketing is a complex and ever-changing field. To be successful, you need to continuously learn and keep up with the latest trends. A SaaS marketing course can help you stay up-to-date on the latest trends so that you can make the most of new marketing opportunities.
For example, what used to be the playbook to reach cold prospects 5 years back doesn't work today. It's been replaced with a new playbook as the industry evolved.
5. Find the best marketing resources.
There are a lot of marketing resources out there, but it can be tough to know which ones are the best for your business. A marketing course can help direct you to the best marketing resources so that you can get the most out of your marketing efforts.
For example, when I took Clickminded's SEO course, I was introduced the concept of content-keyword maps. That resource has become front and centre of my SaaS SEO strategy today.
Where to find the best SaaS marketing courses?
There are many places to find SaaS marketing courses. Start by looking online.
This blog post is a good starting point on where to find the best SaaS marketing courses.
Follow marketers you admire on LinkedIn (and ask them what courses they recommend).
Read blog posts & listen to podcasts (there are often SaaS marketing course recommendations there).
Join some good SaaS marketing communities on Facebook groups & Slack, where you can ask this question right away and get a lot of good answers
If you're serious about taking a SaaS marketing course, then you should definitely invest some time in finding the right one for you. There are many great courses out there, and the right one can make a big difference in your business.