Last updated on November 1, 2022
Surfer SEO is a powerful on-page SEO tool for producing and optimizing content to be more search engine-friendly. It comes with a ton of tools and features such as the keyword surfer, content planner, SEO audit content editor, etc. to ensure that you land a juicy spot on the SERPs. Not to mention that the integration with JasperAI is just the cherry on top!
However, some users feel that this rich feature set can be distracting, especially when they have a clearly defined goal in mind. Plus, Surfer SEO may feel a tad too heavy on the pocket for some, especially when they have highly specific requirements. Whether it is the disproportionate credit allocation or the monthly request limit – some users feel that they are dealing with the short end of the stick.
Plus, Surfer SEO is rather whimsical with its pricing. Their aggressive attempt at upselling their services brings about some inconsistencies in pricing, especially once you sign up.
So, if you are on the lookout for Surfer SEO alternatives, here are a few that I would recommend:
Clearscope is one of the pioneers in content optimization solutions. And so, it only makes sense to start this list of Surfer SEO competitors with Clearscope. It is primarily used for creating and optimizing long-form content, but you could use it for shorter content as well. Do note that it is far costlier than Surfer SEO, so if you have been looking for Surfer SEO alternatives due to budget constraints, then you might want to give this option a miss.
Top Features
Built-in writing assistant
Semantic grouping of keywords
Search intent discovery
Content grading with real-time suggestions
Google Docs and WordPress integrations
How Does it Fare Against Surfer SEO?
| | |
| --- | --- |
| Pros | Cons |
| Focuses on content optimization and readability | Costs $170 to $1200 per month, which is quite steep |
| Content grading feedback is more comprehensive | Lacks the depth for technical SEO |
| Is relatively easier to use than Surfer SEO and more intuitive | Competitor Maps only offer a high-level view of the competition |
MarketMuse is yet another AI-powered content planning, creation, and optimization software. Once again, I'd add a disclaimer to this recommendation for Surfer SEO alternative as this is an enterprise-grade platform that is pretty costly. However, it offers immense value for the price point as it can address a series of content-related considerations – from topic research to outlines to first drafts, and more.
Top Features
Content inventory and application
AI-generated content briefs
Patented topic modeling
Competition content analysis heatmaps
Real-time content score
How Does it Fare Against Surfer SEO?
| | |
| --- | --- |
| Pros | Cons |
| Offers a free plan that covers the basic requirements of research, optimization, competition research, etc. | Paid plans cost nearly 10x of that of Surfer SEO |
| Powerful content inventory to power content planning and strategy | Apart from being pricey, MarketMuse plans are pretty confusing with terms like "queries" and "credit" thrown around |
| Churns out more relevant keywords and content topics | The UI is pretty basic and rather unimpressive |
Frase is yet another popular Surfer SEO competitor that adds flow to your content development and optimization process. Much like the Surfer SEO alternatives so far, Frase can chip in on the end-to-end process from topic discovery to optimizing existing content. However, Frase takes pride in being an answer engine optimization platform – which is a more nuanced form of viewing search engines. While it may seem like a marketing gimmick, it will gain greater relevance in the future as search engines become more user-centric.
Top Features
AI-powered content writer
Content and Topic Score
Supports collaborative working with easy document share, team project folders, project status, etc.
How Does it Fare Against Surfer SEO?
| | |
| --- | --- |
| Pros | Cons |
| Writing and optimizing content is more pocket-friendly as plans start at $44.99 per month | Advanced SEO services are not baked into the tool and you will have to purchase it as an add-on service |
| Q&A topic research allows you to consider intent-based searches | Lacks a built-in keyword research tool |
| Allows users to dabble around with Frase Answers – a chatbot assistant to handle FAQs | You will have to put in some time to curate a list of subtopics |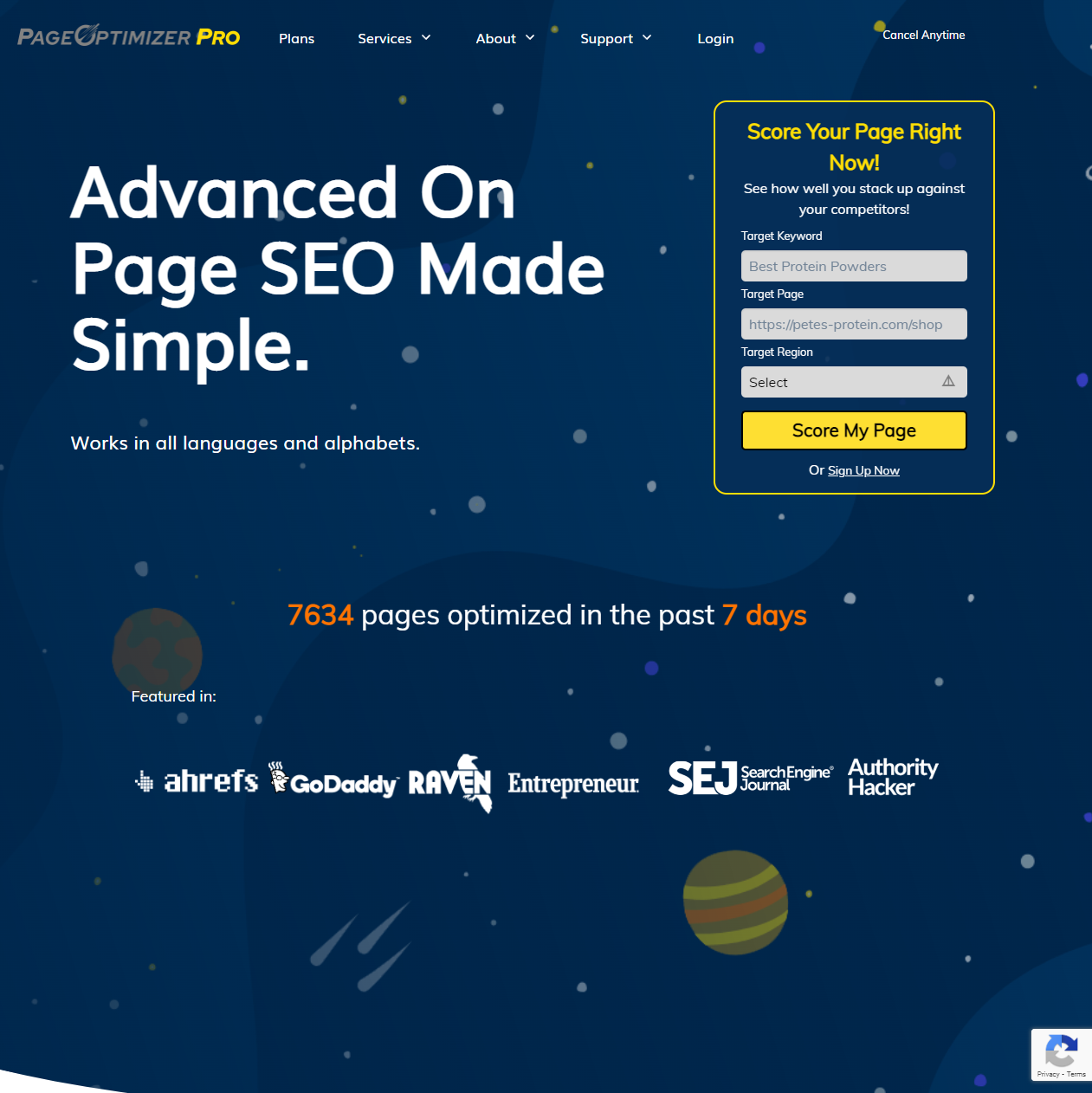 PageOptimizer Pro is an on-page SEO tool that helps businesses keep up with Google's changing algorithms. Such a feat is possible as it is built on a patented ranking factor scoring system called Kyle Roof's Scientific On-Page SEO Method, which is backed by more than 400 tests. In simple words, this Surfer SEO alternative promises reliability. However, do note that it is only a content optimization tool.
Top Features
White Label Report for competitor analysis
EAT (Expertise, Authority, and Trust) analysis
Exact keyword recommendations
Website schema optimizer
Page structure suggestions
How Does it Fare Against Surfer SEO?
| | |
| --- | --- |
| Pros | Cons |
| Single-user plans start at $22 per month with additional report generation capabilities without upgrade | Can only optimize existing content and cannot create fresh content |
| Allows effortless campaign management with a focus on EAT to improve rankings | Analyzes a maximum of 10 URLs, which need to be entered manually, during SERP analysis |
| It helps with exact keyword placement and also recommends variations | Needs some amount of experience or knowledge in SEO |
As a conclusion to this list of Surfer SEO alternatives, we have Topic. Like the majority of Surfer SEO alternatives discussed so far, Topic focuses on creating and optimizing content. It churns out a list of keywords, questions, and headings based on your focus keyword, builds a detailed outline, and even assists in writing the content – all in one flow.
Top Features
Informative Content Grader
AI-driven writer assist – Topic Copilot (available as an add-on)
Research assistant and outline builder
Effortless sharing and collaboration
In-house keyword research tool
How Does it Fare Against Surfer SEO?
| | |
| --- | --- |
| Pros | Cons |
| Perhaps one of the first content optimization tools that offer geo-targeting of content | Does not come with technical SEO features |
| Allows credits to roll over into the next month (unlike Surfer SEO where credits expire) | While the credit rollover feature is much appreciated, it is applicable only for one month |
| Modern and intuitive UI, which reduces the learning curve | Is more expensive than Surfer SEO and still a work in progress |