Last updated on November 22, 2022
Writesonic is an AI-powered writing platform that blends cutting-edge technology with creativity to elevate your writing style. It leverages Article Writer 3.0 to populate content topics, outlines, and full-fledged articles with a keen eye for search engine optimization.
However, Writesonic segregates its plan as Economy, Average, Good, and Premium based on the output content quality, which can appear rather dodgy. After all, you know that not choosing Premium at all times means that you are compromising on the quality.
At the same time, getting accustomed to the platform takes some time due to the steep learning curve, and you will end up using an inordinate amount of credits during this learning stage. As a result, you will find dissatisfied users who consider Writesonic to be quite expensive – either due to the actual cost incurred or the value lost in the trade-off.
So, if you're looking for the best Writesonic alternatives, then read further. Here are a few notable Writesonic competitors worth checking out.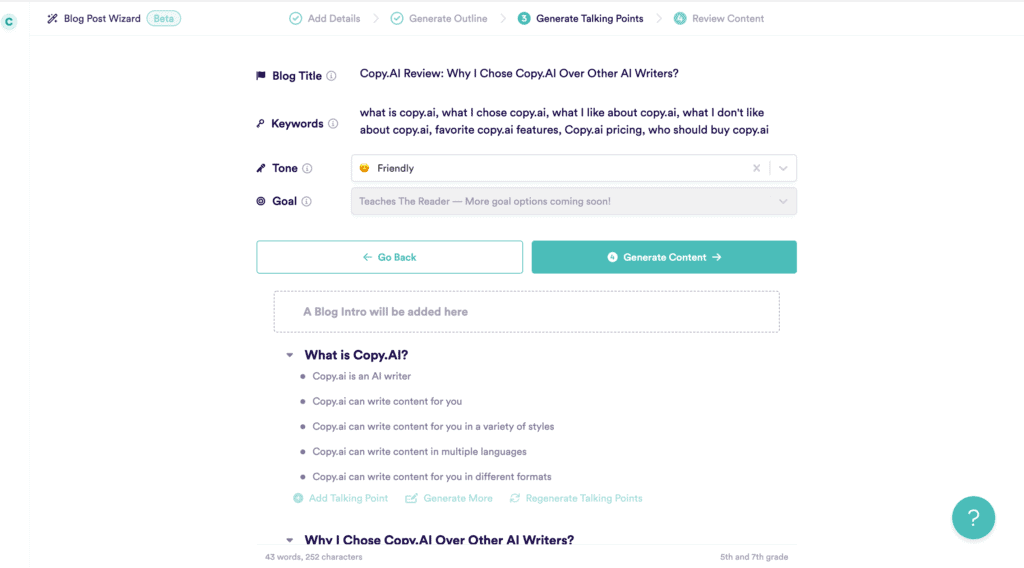 Without a doubt, the best Writesonic alternative on our list is CopyAI. I can't recommend it enough!
It's an AI-powered copywriter that generates high-quality copy for your business. When I say high-quality, I mean it. You won't find grammatical mistakes or irrelevant copy unlike majority of the AI copywriters in the market (including Writesonic!).
Top Features
Really great content output quality
Blog post wizard to seamlessly create blog post drafts in seconds.
Freestyle tool to instruct the AI writer to write ANY copy you want
Templates tool to help you create detailed instructions for the AI copywriter (no other AI writer in the world has this!)
Easy to understand user interface
100+ templates to choose from
Pricing
Free upto 2000 words/month. Paid plans start from $49 for upto 40,000 words. All plans get all the features and premium content quality.
*LIMITED TIME DEAL: Upgrade to a paid plan within the first 4 days of signing up using above link and get instant 40% off.
How Does it Fare Against Writesonic?
| | |
| --- | --- |
| Pros | Cons |
| GREAT output quality without any grammatical errors | Slightly more expensive vs Writesonic |
| Templates tool to help you create detailed instructions for the AI copywriter | No one-click WordPress export |
| Freestyle tool to instruct the AI writer to write ANY copy you want | No automatic blog image generation |
Frase is an AI content platform that helps you write 8x faster. Frase started out as a content optimization tool (which it still is) and then add AI writing capabilities to it.
What I find interesting about Frase is that it allows users to analyze the competition to form outlines, headings, and questions to enhance product quality. As a result, it manages to understand intent rather than focusing on keywords. As such, one can think of this alternative to Writesonic as an upgrade – after all, isn't that what all search engines want? To comprehend user intent and push content accordingly?
Top Features
Detailed and optimized content briefs created automatically in a click
Intuitive content editor to refine the content quality
Shareable links to include external writers
Real-time project status updates
Content scoring to evaluate content performance
Pricing
Their basic plan with AI writing feature costs $45 per month (with monthly 10,000 characters limit). If you want unlimited characters, the total will cost you $80 per month.
How Does it Fare Against Writesonic?
| | |
| --- | --- |
| Pros | Cons |
| The Concept Map offers a visual tour of keywords and questions relevant to your topic of consideration | Lacks a plagiarism checker, which is typically available at the price quoted by Frase |
| Integrates with the Google Search Console for site-wide content analysis | Works out to be costlier than Writesonic |
| Frase Knowledge Graph crawls your competition and finds ways to outrank them | SEO features are available as an add-on service at $35/month |
If you are looking for Writesonic competitors acing long-form content, then Longshot AI is your best shot. You can use this all-in-one AI tool for end-to-end content creation – from ideation to optimization. It specializes in long-form content to the extent of 1000 words and claims to save 2-4 hours of your time. However, it can also work with short-form content requirements that may be in the form of FAQs, meta descriptions, product descriptions, video descriptions, summaries, etc.
Top Features
Possesses mastery in 15 niches, such as travel, lifestyle, gaming, fashion, etc.
Real-time collaboration in the Team Mode
Built-in fact checker and claim detector to improve content accuracy
Plagiarism detector to ensure content originality
Explain Like I'm 5 feature to improve content readability
Source
How Does it Fare Against Writesonic?
| | |
| --- | --- |
| Pros | Cons |
| Generates content score based on semantic SEO to improve rankings by 10 times | The UI/UX of the platform needs some amount of work |
| Personalizes content generation by accepting inputs related to the content type, niche, tone, etc. | The tool is still in its nascent stages, which affects the reliability of the content produced |
| Tools like fact checker, claim detector, and plagiarism detector maintains content quality and accuracy | Customer training and onboarding take a hit as there are no official video tutorials for its usage |
Rytr is a comparable Writesonic alternative out of its sheer diversity. It enables users to generate high-quality content for over 30 use cases like business idea pitches, blogs, emails, social media ads, landing page copies, web content, SEO meta title, and more! While some of its feature sets would be less comprehensive than Writesonic, it comes at a marginally lower pricepoint without the content quality confusion.
Top Features
SEO analyzer to identify keywords and perform optimization
Mobile-friendly platform to allow content creation on the go
Seamless writing workflow management
Built-in plagiarism checker
Modifiable creativity levels
How Does it Fare Against Writesonic?
| | |
| --- | --- |
| Pros | Cons |
| Grants access to a thriving community of writers, marketers, etc. | Does not offer predictive scoring like Writesonic or its alternatives |
| Workflow management enables effortless document management, be it storing, editing, or sharing | Produces 1000-word content while Writesonic churns out 1500 words in one go |
| Plugins and API access are available to integrate Rytr on various apps and websites or custom business platforms | You might notice inconsistencies and inaccuracies in the output |
Developed by an up-and-coming startup based out of Berlin, TextCortex is possibly one of the newest entrants to the list of Writesonic alternatives. It can create blog articles, product descriptions, emails, ads, social media posts, and more.
By taking on such tasks, TextCortext claims to reduce your content creation workload by an impressive 70%. What I find impressive about this budding AI assistant is that it allows its users to control the level of creativity at a granular level, so you are in charge of how you sound – whether you write a story or a business pitch.
Top Features
Accessible through 20+ platforms like Shopify, Instagram, YouTube, etc.
Supports bulk content creation and export
Allows unlimited creations on all paid plans
Claims to produce content in 0.5 seconds
Google Chrome extension available
Source
How Does it Fare Against Writesonic?
| | |
| --- | --- |
| Pros | Cons |
| Very generous with content creation – even for the free plan (15 creations per day), which makes it more value for money | Doesn't support real-time editing due to which the content needs to be copy-pasted in the editor for evaluation |
| Comes with a rich suite of integrations with the likes of Shopify, HubSpot CRM, GitHub and offers enterprise API for integration with any website | It is still a work in progress, which means that the UI needs some improvement |
| Constantly evolving with a bunch of features such as Summarizer and Tone Changer in the pipeline | May generate dud content every once in a while, which is a waste of credits in the basic plan |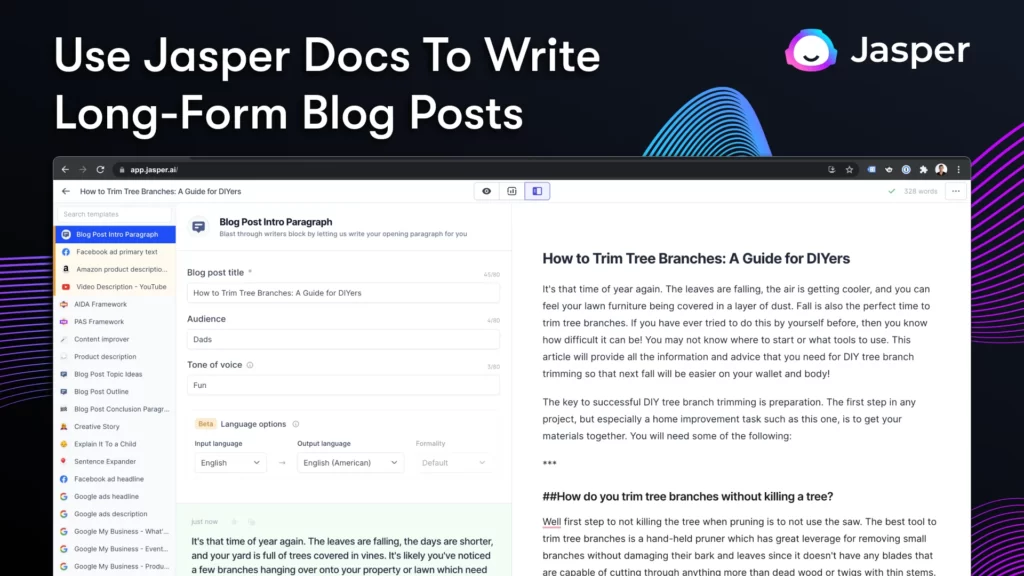 Jasper is another great Writesonic alternative and one of the most popular AI copywriting tools in the market right now.
Top Features
Boss mode
Great knowledge base + support
Integrations with Surfer SEO & SEMrush
In-built Grammarly plagiarism checker
Jasper Art allows you to create any imagine you can imagine!
How Does it Fare Against Writesonic?
| | |
| --- | --- |
| Pros | Cons |
| Much better output quality vs Writesonic. | More expensive than Writesonic, but you get what you pay for. |
| Comes with a built-in plagiarism checker. | No 100% free plan, only a free trial. |
| Very good onboarding documentation on how to get the best out of Jasper. | No one-click export to WordPress. |
There are plenty of Writesonic alternatives out there
If you're looking to switch from Writesonic, there are plenty of Writesonic alternatives out there that have better quality output, more affordable pricing and many additional features. Copy.ai is our top Writesonic alternative from the list, but ultimately the choice lies on you.