Last updated on November 29, 2022
Peppertype is another virtual AI content assistant built on GPT-3 that helps you generate quality content within seconds. You can choose from a library of different writing styles. It was built by a content marketplace called Pepper Content.
But honestly, when I tried Peppertype, it sucked. It doesn't seem like a mature AI writing tool. Here are some of my biggest issues with it:
It doesn't seem like a mature product. Unnecessarily lengthy workflows to generate copy, messy document management, hard to reach their support team etc.
It lacks necessary features for an AI copywriting tool. No support for long form content creation, no free form text editor.
Expensive pricing. It's pricing for teams becomes more expensive as you scale. For 5 people, you'll end up paying $2400/year vs $420/year for the individual plan which offers 50,000 words.
Low quality output. When I compare the output quality of other AI copywriting tools (like CopyAI) with Peppertype, Peppertype needs to catch up.
Knowing that there are so many better AI copywriting tools out there, I decided to make the switch. If you're looking for Peppertype alternatives, look no further. I've rounded up the best Peppertype.ai alternatives, so you can switch easily.
Top Choice
Best quality content output
GDocs-style free form editor with advanced editing tools
Easy user interface
Blog post wizard to get your draft in <5 minutes
150+ ready to use templates
Auto-write instructions for your AI writer
Buy a paid plan using above activation link in the next 4 days to avail the offer.
CopyAI (I chose this one)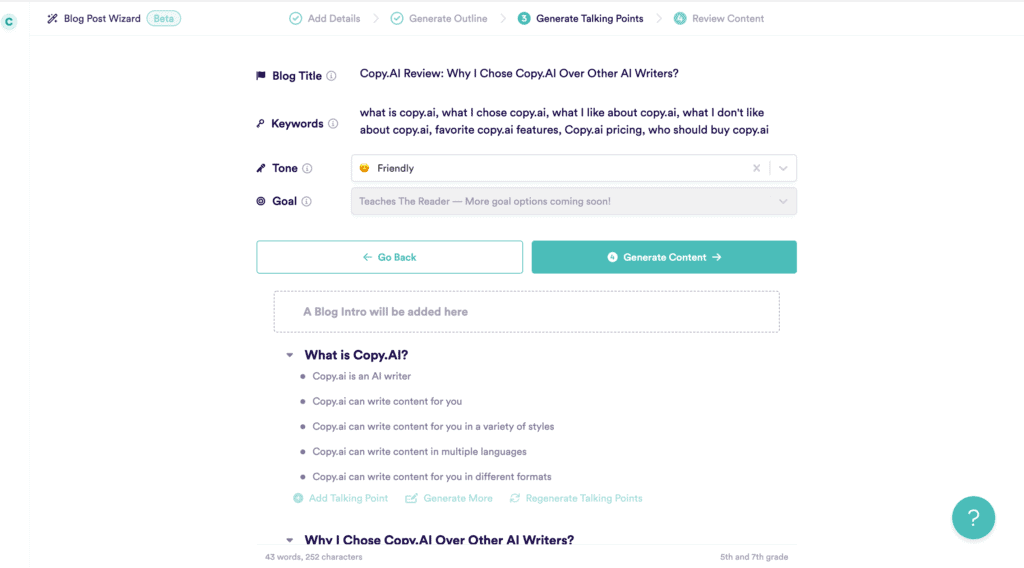 With 3 million+ users, $10 million+ annual revenue and $14 million funding, CopyAI is THE best Peppertype alternative from this list.
Copy.ai is an AI copywriting tool that produces great content for your business. There is no irrelevant output or embarrassing grammatical errors—a far cry from what you'd get with other AI copywriters like Peppertype! It just produces pure high-quality content and I can personally vouch for it.
In general, 9/10 times the output quality is very relevant and reads like a human writer wrote it for you. Very few AI writers have this good accuracy with their content quality.
Top Features
Really great content output quality
4-step blog post wizard
Advanced editing features including a freeform editor, write more and rewrite features
Auto-generate advanced instructions to the AI writer to produce any type of content
100+ templates
Pricing
Free upto 2000 words/month. Paid plans start from $49 for upto 40,000 words. All plans get all the features and premium content quality.
I also negotiated a sweet deal with CopyAI for you. Sign up using the below signup link and get flat 40% off your next 12 months if you subscribe to a paid plan in the next 4 days.
LIMITED TIME DEAL: Upgrade to a paid plan within the first 4 days of signing up using above link to get instant 40% off.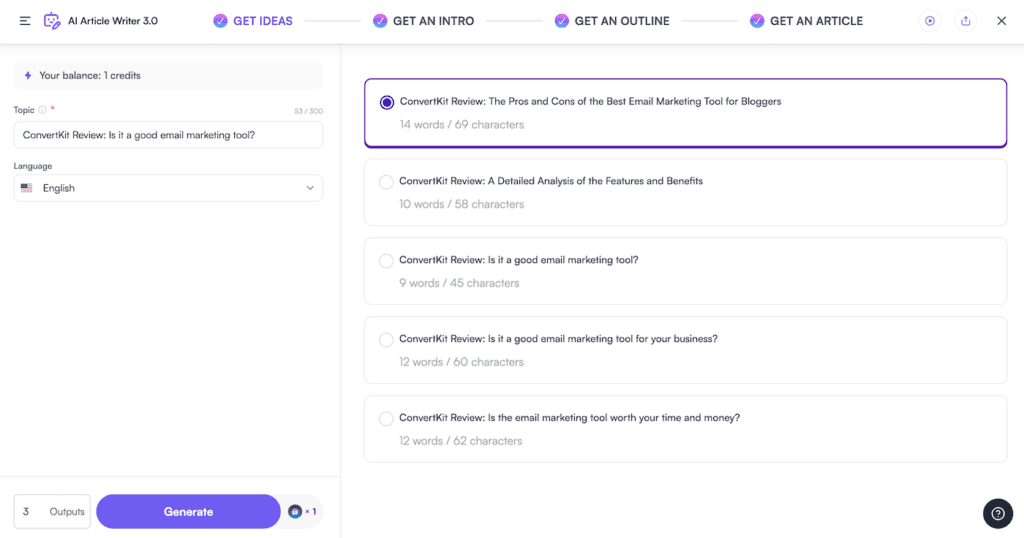 Writesonic is another great Peppertype.ai alternative that helps brands and teams take their content creation to the next level. It's a AI copywriting tool that helps you break through writer's block—so you can create great content for your audience.
It's trusted by 300,000+ writers, entrepreneurs, marketing teams and e-commerce teams to write great quality content quickly.
Top Features
Built-in plagiarism checker
Automatic blog post image generation
AI Article Writer to generate an full article in seconds
Sonic editor which gives a Google Docs-type editor
1-Click WordPress Export
Pricing
Writesonic's full featured plans starts from just $19/month for 19,000 words. The pricing scales based on the usage, but it's definitely cheaper than Peppertype's pricing and packs in a LOT more features.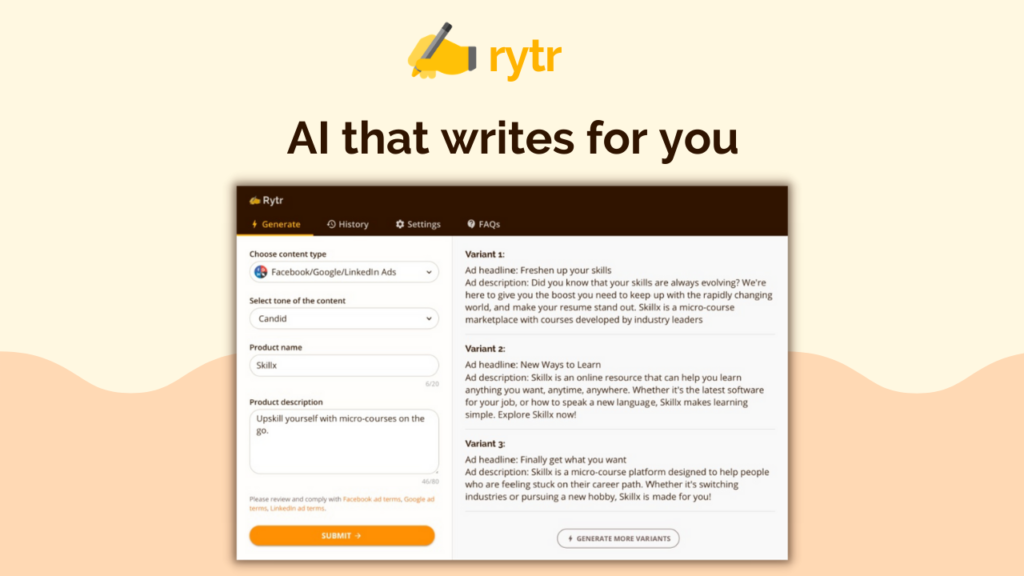 Rytr is a beginner friendly AI writing assistant that you can use to create content like website copy, blog posts, articles and more in seconds — and at a fraction of the cost! This Peppertype competitor's main selling point is that it is one of the most affordable AI copywriters in the market and much cheaper than Peppertype (with more features).
Top Features
Built in plagiarism checker
Built-in SERP analysis
6 types of advanced text editing options (append, improve, rephrase, write a paragraph, expand, shorten)
Beginner friendly user interface
SEMrush integration
Pricing
Paid plans start at $9/month but I'd suggest getting their top tier plan which costs $27/month and gives you unlimited copy generation!
Choosing the best Peppertype alternative
These are some good Peppertype alternatives to consider if you're looking to switch. To simplify your decision, we purposefully only shared three of the best Peppertype alternatives.
The best approach to finalise the best Peppertype alternative is to look at your requirements (use case, budget, quality, features etc.) and bucket them under – absolutely necessary, nice-to-have and not important. Then look at the Peppertype competitors from this list that match your requirements.
In fact, that's the approach I take before deciding any tool to purchase. I use a template like this.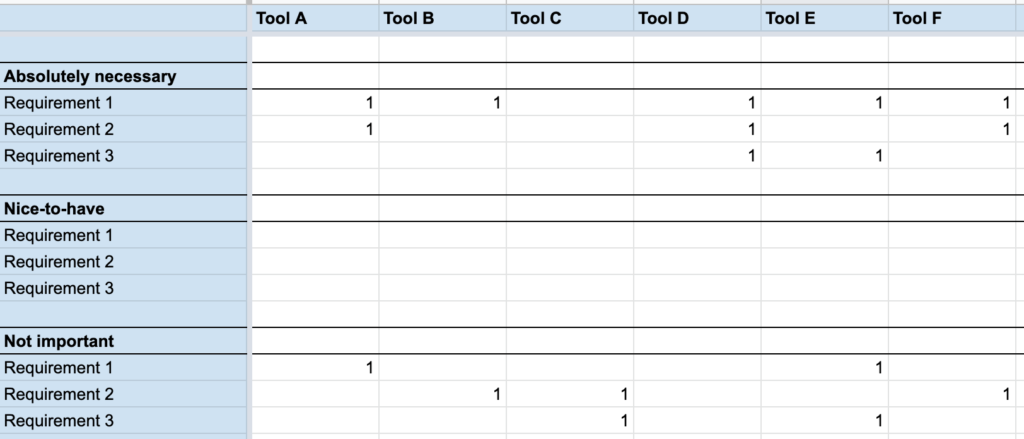 My opinion
If you need the best AI writing assistant that is a mature product with lots of features, generates high quality content and offers value for money pricing, then Copy.ai is the best Peppertype alternative to switch to.