Last updated on November 23, 2023
Concentration music apps have had a huge impact on my ability to stay focused at work.
Especially when:
I'm in a noisy environment (co-working space or working from home with a baby in the house) and I just can't focus!
My mind feels sluggish, and I'm having a hard time getting into the flow.
My mind is preoccupied with something else going on in my life.
I'm feeling overwhelmed by my to-do list, and I just can't get myself to focus on the task at hand.
You're probably nodding your head right now, because all of those things happen to you too. That's why you need concentration music in your life too. And so today, I want to share some of my favorite concentration music apps for Android, iOS, and PC.
---
If you're short of time, here's a quick summary. In my experience, BrainFM is the best focus music app out there because it's effective, easy on the wallet, works on all devices, and is packed with awesome features!
---
Curious how we got to this conclusion? Read further to find out!
Why you can trust ESM's guides: We're not your average publication. We prioritize honesty over software affiliations. We're on a mission to guide software buyers to their ideal tools, delivering unbiased, detailed and transparent information for software buyers. Zero BS, zero fluff— just pure, honest insights.
What Is Concentration Music?
Concentration music is a type of background music that helps you focus and get into the flow. It's not just any type of music: it has specific characteristics that make it ideal for improving your focus, productivity, and creativity. It can also help you stay on task when there are distractions around.
Concentration music works differently than white noise, instrumental music, ambient sounds music (cafe, nature, rain, fire etc.), lofi music or even original movie soundtracks. Focus music tracks are backed by science and aim to get you focused within 10 minutes.
Our Top Choice – BrainFM
Available on iOS, Android & Web

Science-backed music (patented technology)

Huge library of focus, relax & sleep tracks

Offline access

Built-in pomodoro timer

5/5 reviews across the internet
Best Focus Music Apps
Here are 6 best concentration music apps that have helped me achieve my goals:
Best Focus Music App For Immediate Productivity Gains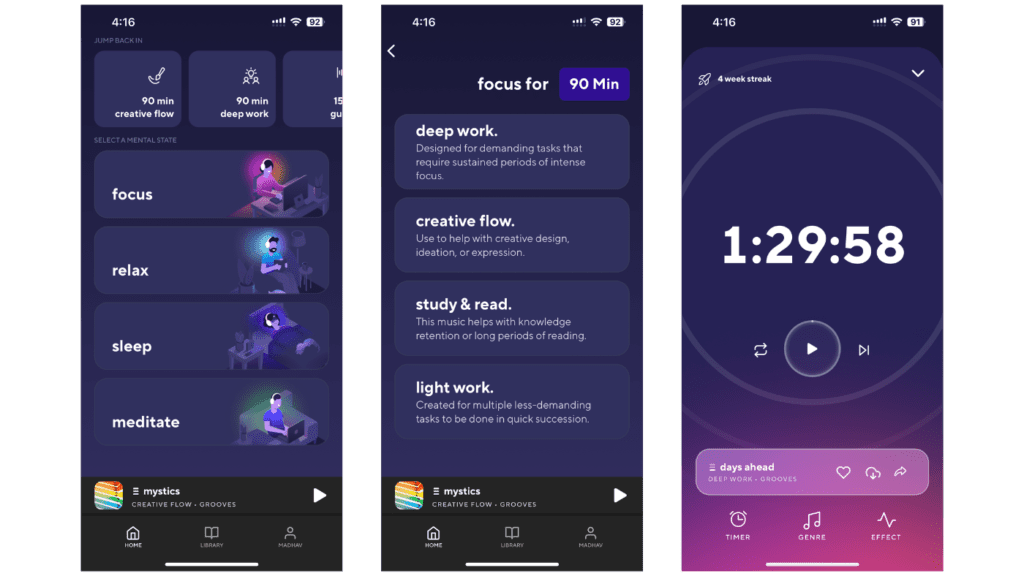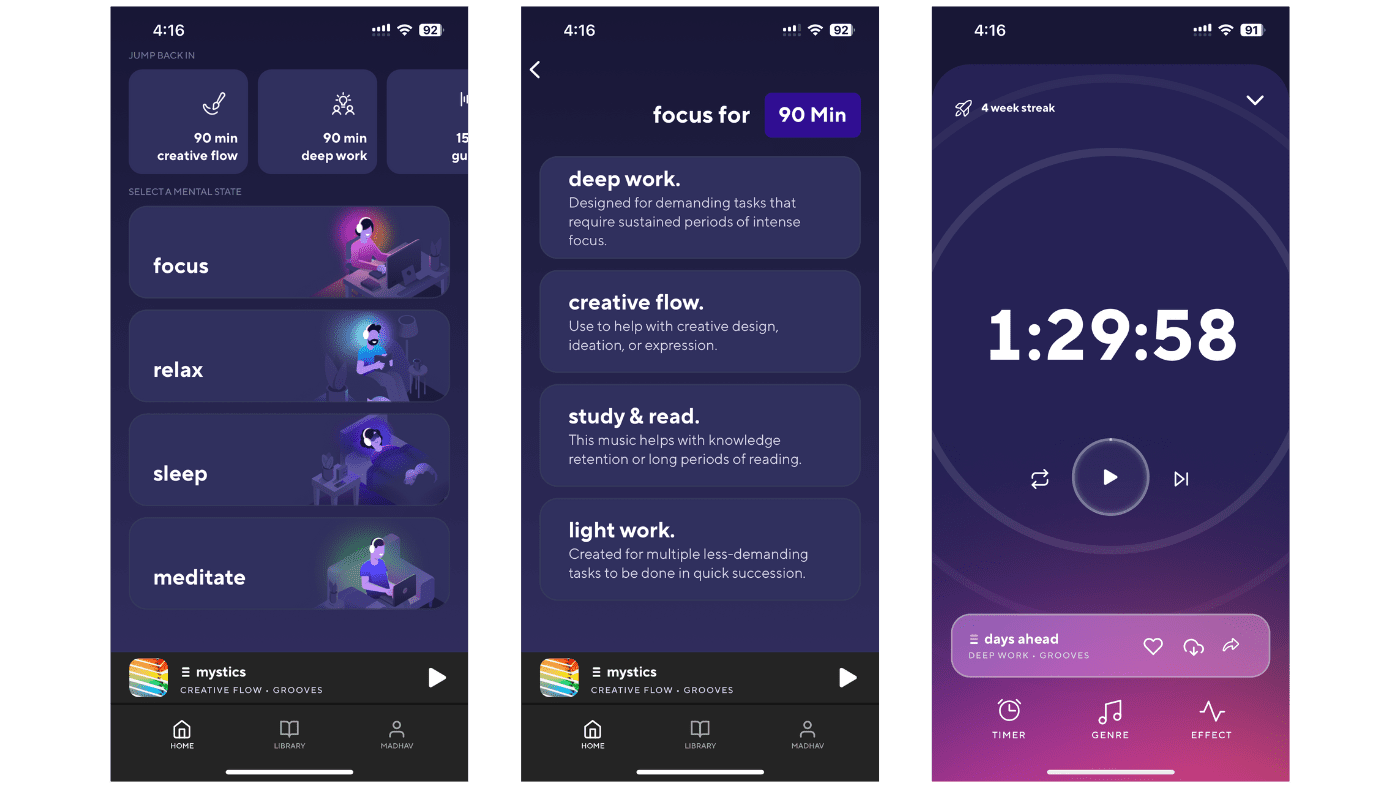 BrainFM is one of the most popular concentration music apps on the market, and with good reason: it's very, very effective in helping you achieve a state of flow. BrainFM uses patented AI technology to generate personalised concentration music to help you focus.
You can choose from a variety of genres, including classical, electronica, lo fi, groove, post-rock and nature sounds (listen for free).
There's science behind BrainFM's concentration music. The app uses rhythmic audio to guide brain activity through a process called entrainment. Brain activity can be shifted via entrainment to help you focus, relax or sleep better.
For the past 5 years, I've relied on BrainFM to help me concentrate better. It works like magic (read my full review of BrainFM).
My favorite features of BrainFM are:
Customize concentration music to your liking
Built-in pomodoro timer
Download your favorite tracks for offline access
Pricing
Brain.fm app has a monthly ($9.99/month) and yearly subscription ($69.99/year). With the yearly plan, you get a sweet 40% off.

Use code ESM to get additional 20% off your BrainFM subscription.
Supported Devices
Android, iOS & PC
LIMITED TIME DEAL: Get 20% off on BrainFM. Sign up for 7 day free trial using above activation link.
Best Focus Music App For Meditation + Concentration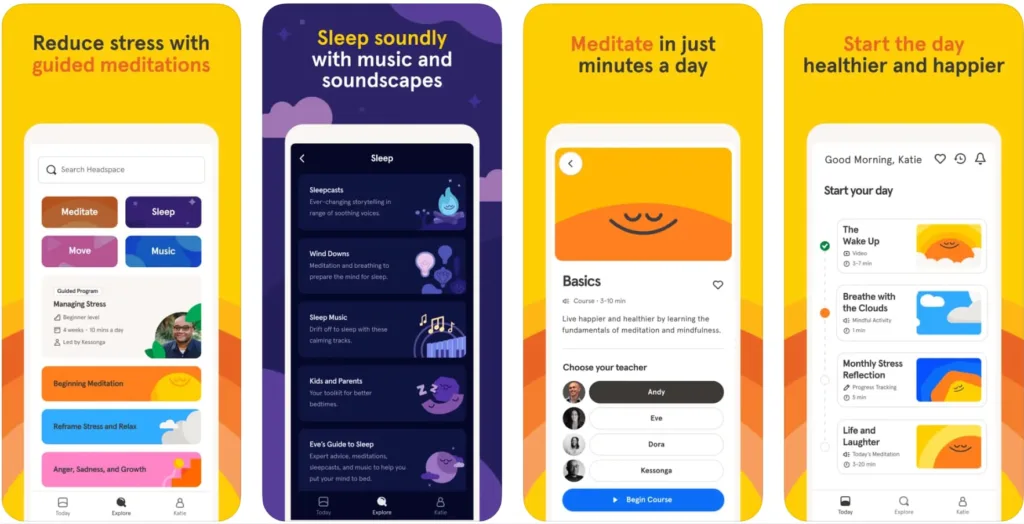 Headspace is another popular concentration music app that creates some of the best music for concentration and focus.
I'm not kidding when I say this! The team over there has curated focusing music from artists like John Legend, Hans Zimmer and Arcade Fire—music designed specifically for this purpose (and it's pretty great).
Their app experience is fantastic. I love the bright colors and positive vibes. What makes Headspace stand apart from others in this list is that they also have meditation music for focus and productivity. So they tackle focus music in a more holistic way – through focus music as well as meditation music for improving focus.
Pricing
Starts at $13/month or $70/year. In my opinion, it makes sense to get an annual subscription as you get 58% discount!
Supported Devices
Android, iOS & PC
Best Focus Music App For Apple Users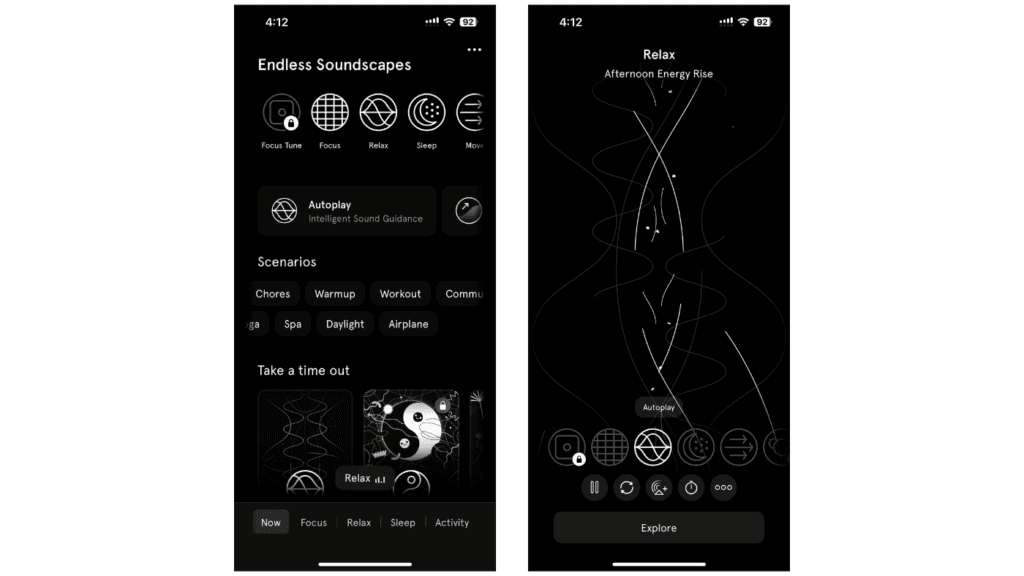 Endel is a concentration music app that helps you focus and stay productive. It creates personalized, algorithm-generated background sounds to help you focus and stay on task without getting distracted by listening to music or podcasts.
The app adapts the soundscape to the time of day and temperature to help you stay productive even in noisy environments like coffee shops, bars or other places where it's hard to concentrate.
Endel is another good concentration music app that helps you focus and stay productive. It doesn't simply play music; instead, get this – it cooks up personalized background sounds, all thanks to some fancy algorithm. It's like an invisibility cloak for all that distracting noise when you're trying to focus with earphones on.
But brace yourself for the real kicker – this app adjusts the sounds it belts out according to the time of day and even the temperature! So, whether you're trying to get some traction at a buzzing coffee shop, a noisy bar or any other place where concentration is a rare commodity, Endel's got your back.
HOWEVER, I do have some thoughts and experiences on why I didn't choose Endel as my go-to focus music app.
Pricing
$15 per month.
Supported Devices
Android, iOS, PC, Alexa
Best Focus Music App For EDM Lovers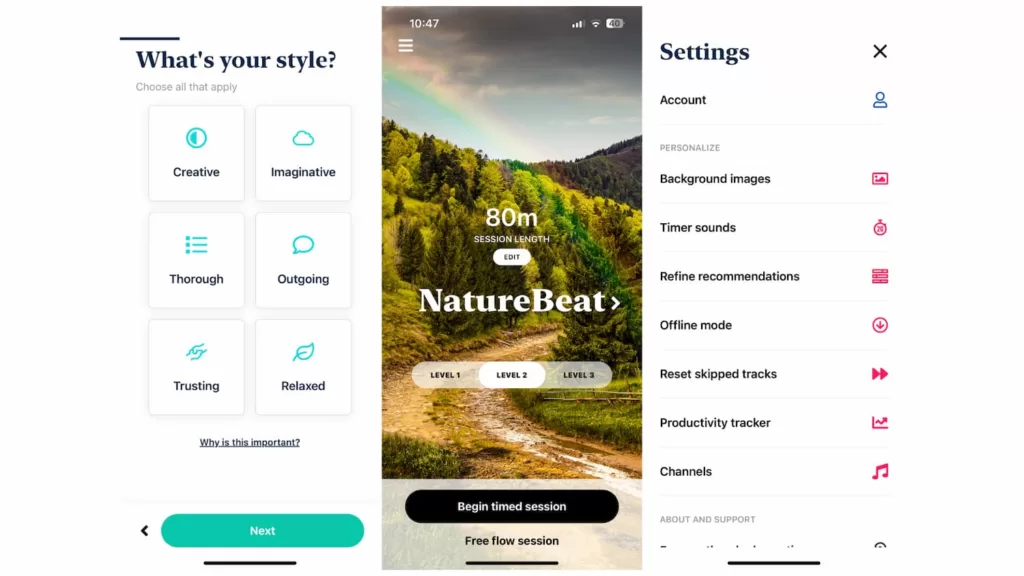 Focus@Will is a concentration music app that offers background music to help focus. It designed to keep you focused for up to 100 minutes and created by a world class team of scientists, musicologists and producers.
It has more than 50 noise options, including white noise and pink noise (which are similar to sounds found in nature).
Pricing
$10 per month
Supported Devices
Android, iOS, PC
Related Reading: Focus@Will vs BrainFM: Which App Wins?
Best Focus Music App For Ambient Sounds
Noisli is a great working music app that lets you mix different sounds to create your own personal sound environment to concentrate. The idea behind Noisli is simple: it helps you concentrate by masking annoying noises.
There are many sounds available, including rain, fire and wind, but the best part about Noisli is that you can mix and match the sounds in order to find the concentration music that works for you.
Pricing
$12 per month
Supported Devices
Android, iOS, PC
Related Reading: Best Noisli Alternatives
Best Focus Music App For Cafe Sounds
Coffitivity is a free focus music app that makes it easy to boost your creativity and productivity. It recreates the ambient sounds of a cafe—the clinking of cups, the background chatter from other patrons and waiters, even the sound of someone brewing coffee in the distance.
According to Coffitivity's creators, these sounds are proven to improve focus, reduce distractions and increase work speed. And because it's so simple (just tap play), you can use this app as quickly as you'd order a cup o' joe at any café—or even better: get started right away without needing to download anything first!
Pricing
$9 per year
Supported Devices
Web only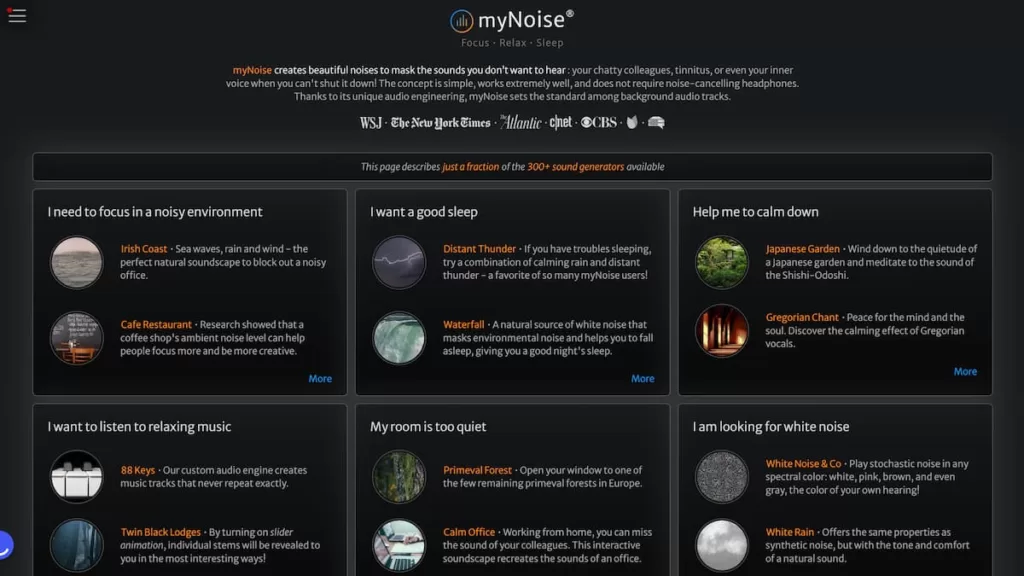 myNoise is a free focus music app that offers a variety of ambient sounds and music designed to enhance concentration. With soundscapes like the rhythm of the Irish Coast or a bustling Cafe Restaurant, I've noticed that my productivity improves by minimizing distractions.
What I love about this concentration music app is how it caters to a range of needs beyond productivity. It offers solutions for students with ADHD like me, as well as people managing stress and anxiety or creative individuals seeking non-distracting backdrops.
In my experience, myNoise is versatile, with applications for different work environments. But the UI is quite outdated and you can only use it on the web.
Pricing
FREE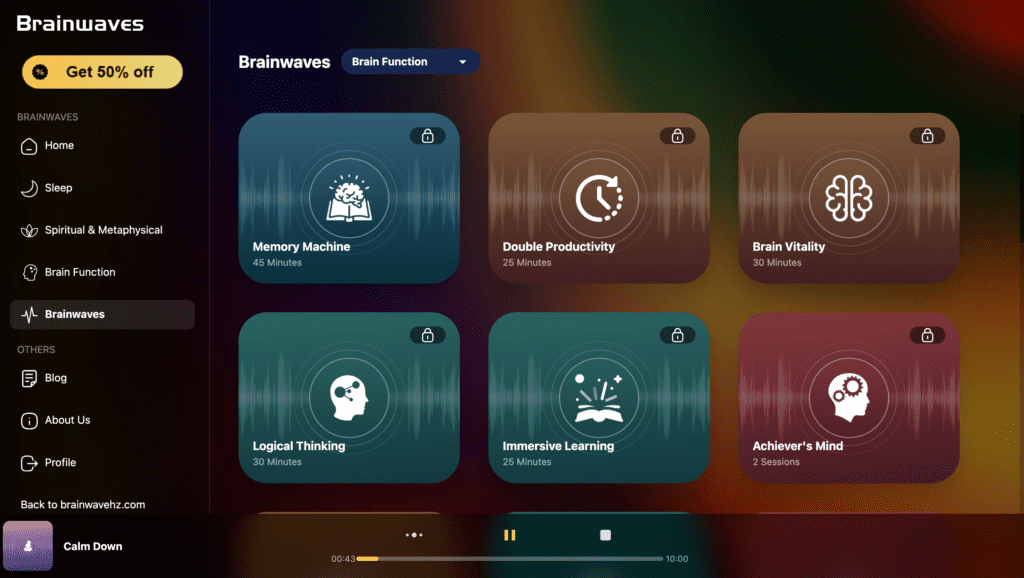 Brainwave is another focus music app that offers more than just ambient music. It's also a binaural beats and isochronic tones app, specifically designed to enhance your concentration in about 15 minutes. With over 600+ programs, it caters to various needs such as sleep, focus, and healing frequencies, making it a versatile tool for your brain.
What sets Brainwave apart is its personalization features. You can create customized playlists suited for your mood or needs, allowing you to mix and match different soundscapes. This focus music will be unique to you, granting you complete creative control.
Pricing
$70/year
Supported Devices
iOS, Android & Desktop
Which Is The Best Concentration Music App?
It depends on your individual choice and preferences. In my opinion, BrainFM is the best concentration music app on the market right now. It works better than all the other focus music apps, it's available across multiple devices, it's affordable—but most importantly, BrainFM gets me into focus mode in less than 10 minutes.
Headspace takes a close second position due to its exceptional focus music tracks curated by renowned musicians like Hans Zimmer and John Legend, an excellent app experience and a more holistic take to improving productivity at work (including meditation).
Out of the two, I'd still choose BrainFM over Headspace because BrainFM shows results much more quickly than Headspace or the other apps out there.
Everyone's focus varies, so test different apps until you find the perfect fit. But I'd highly recommend starting with BrainFM, as it's likely to be your top choice.
Our Top Choice – BrainFM