Last updated on September 5, 2023
Noisli is a popular productivity app that provides background sounds (like rain or ocean waves) to mask annoying noises so you can improve your focus and boost productivity.
However, there are some cons to using it.
It's expensive at $12/month. Noisli has a great idea to help you relax and focus, but it's the price that is hard to swallow. The app costs $12 per month, which may seem reasonable at first glance but when you consider that there are other apps out there that offer more features for less money, it makes Noisli seem quite expensive. Also, a lot of the sounds that Noisli offers can be found for free online.
It has a very small library of sounds (26 sounds). The number of sounds available in Noisli is limited to 26, so if you're looking for something more varied or dynamic, this isn't the focus music app for you. On top of this limitation, many users have complained that these sounds get boring after a while and noted that they stop being effective boosting productivity.
It's not as effective as other science backed productivity music. Noisli offers a variety of sounds, but the problem is that the sounds are too subtle and don't have enough variation to help you achieve a deep state of concentration. It's not quite as effective as other science-backed productivity music apps like Brain.fm.
Mobile app is faulty that often shuts down unexpectedly. The Noisli mobile app has been known to shut down unexpectedly, which can be frustrating when you're on a deadline and need your productivity music to do its job.
Fortunately, there are some great Noisli competitors in the market that are more effective at helping you focus and offer better value for money.
Our Top Choice – BrainFM
Available on iOS, Android & Web

Science-backed music (patented technology)

Huge library of focus, relax & sleep tracks

Offline access

Built-in pomodoro timer

5/5 reviews across the internet
Here are some of the best Noisli alternatives to help you stay productive.
Brain.fm is the best Noisli competitor that uses AI-generated music to give you an on-demand focus boost. They use a patented brain music technology to generate music that is specifically designed to help you achieve your desired state – whether that is focus, relaxation or sleep.
The problem with Noisli's sound library is that it sometimes works to get into a state of focus. But most times, it doesn't. But BrainFM's brain music gets me focused 10/10 times (in <10 mins).
Here's a sample BrainFM focus track. If you're struggling to focus, try it out and see the magic unfold.
BrainFM offers a wide library of soundtracks and music including classical, jazz, electronica, lo fi, groove, post-rock and nature sounds.
After trying Noisli and plenty of other Noisli alternatives, I settled on BrainFM. I've been using it for 5+ years and it works really, really well.
Pricing
$4/month with annual plan. $7/month with monthly plan.
LIMITED TIME DEAL: I negotiated a 20% off deal with their founders. Use code ESM and choose annual plan to get BrainFM for just $3/month.
Coffitivity is a free Noisli alternative that recreates the ambient sounds of a café to boost your creativity and help you focus. It's great for those looking for more of a "coffee shop" sound.
Coffivity's real-world cafe noises are, in fact, proven to boost productivity.
Pricing
FREE
Isn't the sound of rain wonderful?
RainyMood is a great Noisli competitor that uses the calming sounds of rain to reduce stress and improve focus. It offers a variety of rain and thunderstorm soundtracks to help sleep, focus, and relax.
Their extensive collection of rain sounds includes 400+ unique thunderclaps and many individual rain impact sounds like rain on grass, dirt, wood, tin roof, ocean, leaves and rock.
Pricing
Free to use on web. Mobile app costs $3.
A Soft Murmur is a Noisli alternative that plays custom ambient sounds (which blends into your environment) to help you ignore bothersome noise in the background.
For example, if you're trying to study in the library and someone won't stop talking nearby, try listening to the Coffee Shop sounds and it transforms that single voice into a pleasant background murmur. Or if music coming through the wall is keeping you up, try playing both a Singing Bowl and some Waves or Wind Chimes to help you ignore it.
Pricing
Mobile app costs $3.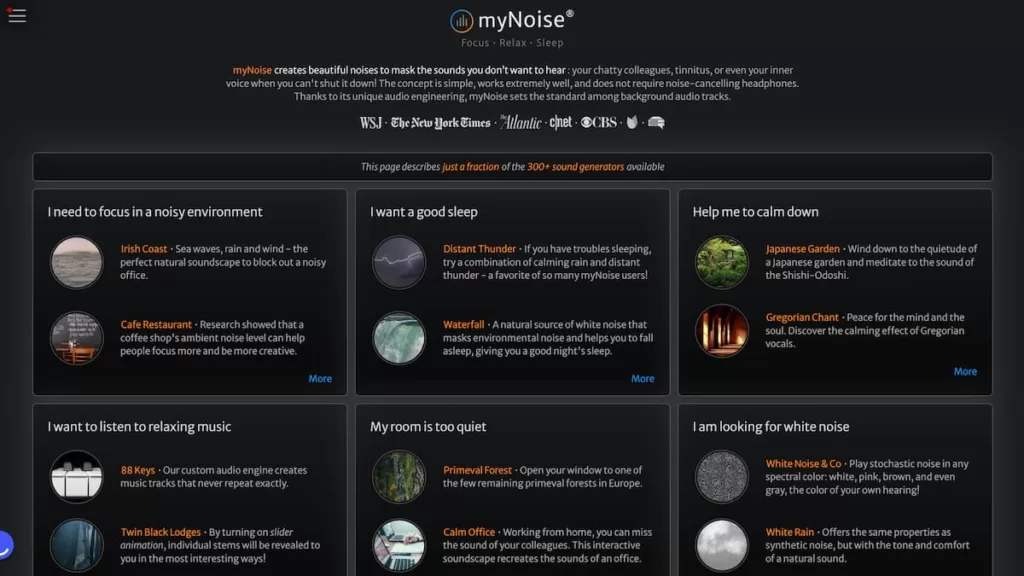 myNoise is another free Noisli competitor that creates beautiful ambient sounds to mask the noise you don't want, like chatty colleagues or a ringing in your ears.
What makes myNoise unique is that apart from offering a large library of ambient sounds like cafe, office chatter and thunder, it also offers more science-backed sounds like binaural beats, isochronic beats and white noise.
Pricing
$1 per sound.
Endel is another alternative to Noisli that creates soundscapes that adapt to inputs like time of day, weather, heart rate, and location. Based on those factors, it uses AI to generate personalized, algorithm-generated background sounds to help you focus, relax, or sleep.
They claim that they collaborated with leading sleep scientists to create soundscapes that help people fall asleep and stay asleep using their Sleep and AI Lullaby soundscapes.
Pricing
It costs $6/month.
Related Reading: Best Endel Alternatives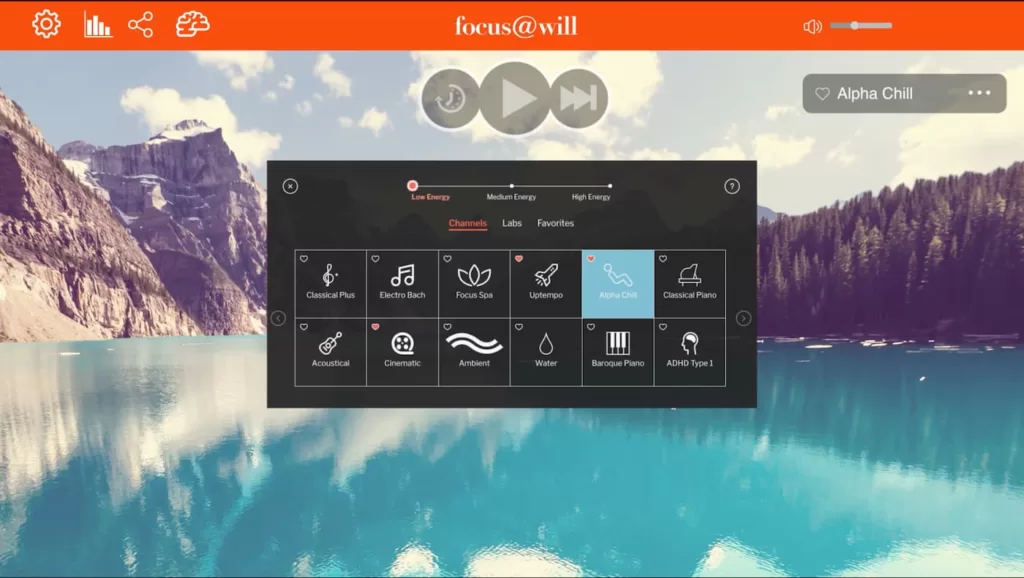 Focus@Will is a Noisli alternative that combines neuroscience and music to boost productivity and tune out distractions! It offers 50+ noise options, including white noise, pink noise, and ambient nature sounds.
Their team also claims their research-backed music has been created by platinum selling music producers.
Pricing
$10 per month.
Related Reading: Best Focus@Will Alternatives
Best Noisli Alternative
If you're looking for a Noisli alternative to help you stay productive, relax or sleep better, the 8 options mentioned above are all great choices. However, Brain.fm is easily our top pick as the best Noisli alternative.
Our Top Choice – BrainFM
Available on iOS, Android & Web

Science-backed music (patented technology)

Huge library of focus, relax & sleep tracks

Offline access

Built-in pomodoro timer

5/5 reviews across the internet
It works very well, it's affordably priced, it's available cross platforms and offers a ton of cool features like built-in pomodoro timer and offline access of tracks (useful in an airplane). Read my review of BrainFM after using for 5 years to know more.