Last updated on June 6, 2023
Focus@Will is a productivity music app that uses instrumental music with varying phases of intensity to help you concentrate more effectively. The app has a selection of tracks spanning many genres, including ambient, classical and rock music.
While it promises a lot, Focus@Will didn't meet my expectations. Here's why:
There's no sophisticated science behind their music. All they do is get an idea of your preferences using a short quiz before playing the music, map it tp a music station and keep playing it.
It's just instrumental music packaged into a fancy app. Their music sounds like regular instrumental music that can be found in any Spotify or Apple playlist. It gets boring and repetitive after a while, especially because majority library of their music are EDM tracks.
The mobile app sucks. The app is slow, unstable and asks for a ton of unnecessary permissions like tracking activity across other apps on my iPhone or connecting to devices closeby.
Best Focus Music App – BrainFM
Available on iOS, Android & Web

Science-backed music (patented technology)

Huge library of focus, relax & sleep tracks

Offline access

Built-in pomodoro timer

5/5 reviews across the internet
Luckily, this is not the only focus music app out there. Here are some of the best competitors and alternatives to Focus@Will.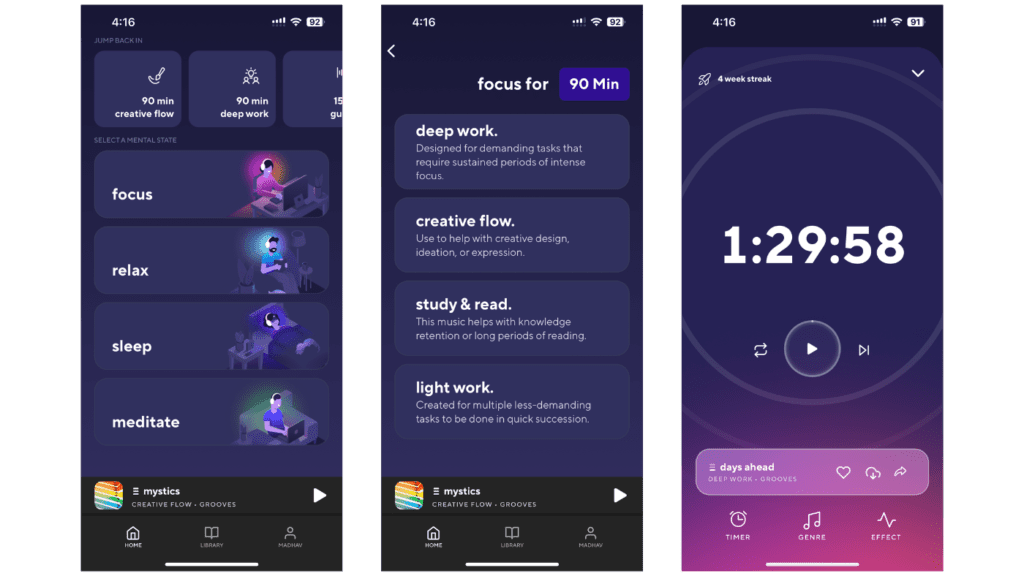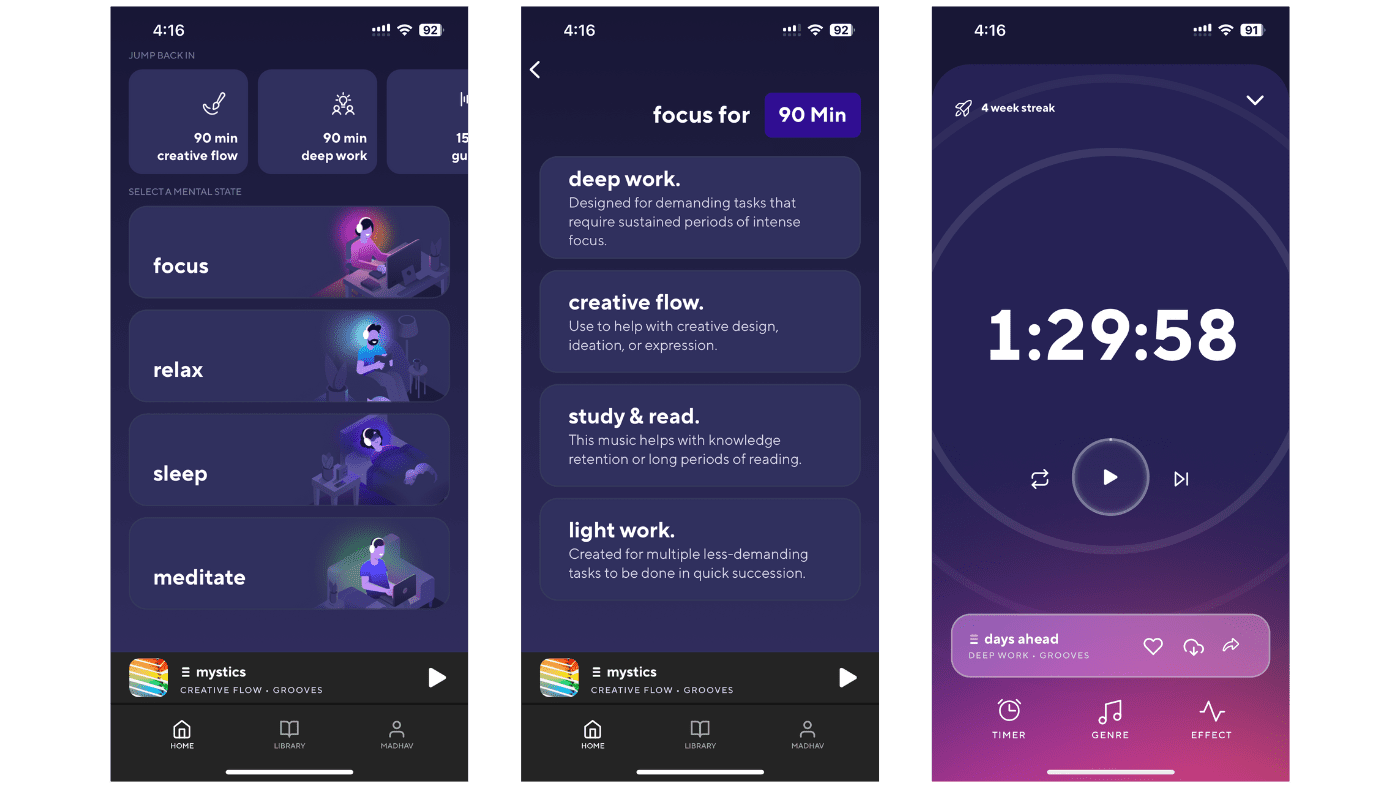 Without a doubt, BrainFM is the best Focus At Will alternative. It's a productivity music app with patented technology behind it that really works. Through a process called "brain entrainment", BrainFM's unique personalized music helps guide brain activity and shift it towards specific mental states such as focus, relaxation, meditation or sleep.
BrainFM's mobile app is easy to use, works without any glitches and doesn't ask for any unnecessary permissions while installing. Their music library is huge with a lot of customization options available to suit your tastes. For example, if you'd like to do some deep work, while listening to forest sounds, along with acoustic guitar music, BrainFM will create a unique sound for you using those inputs.
BrainFM's music never gets boring or repetitive. They have thousands of tracks in their library with endless number of customization options, so you're quite spoilt for choice. I've literally never heard the same track twice, unless it's in my list of favorite tracks.
I've been using BrainFM for 5+ years and I can vouch that it's astonishingly effective at helping me focus. Just try working on this 30 minute FREE BrainFM track to get an idea. I'll wait…
I also ran 4 tests to compare Focus@Will vs BrainFM and evaluated their strengths and weaknesses. BrainFM came out on top.
Pricing
BrainFM's monthly plan costs $7/month. If you opt for their annual plan ($50/month), you get a 40% discount. That essentially brings down to $4/month.
Use coupon code ESM to get BrainFM for $3/month (additional 20% off) or just sign up using the link below (coupon code pre-added).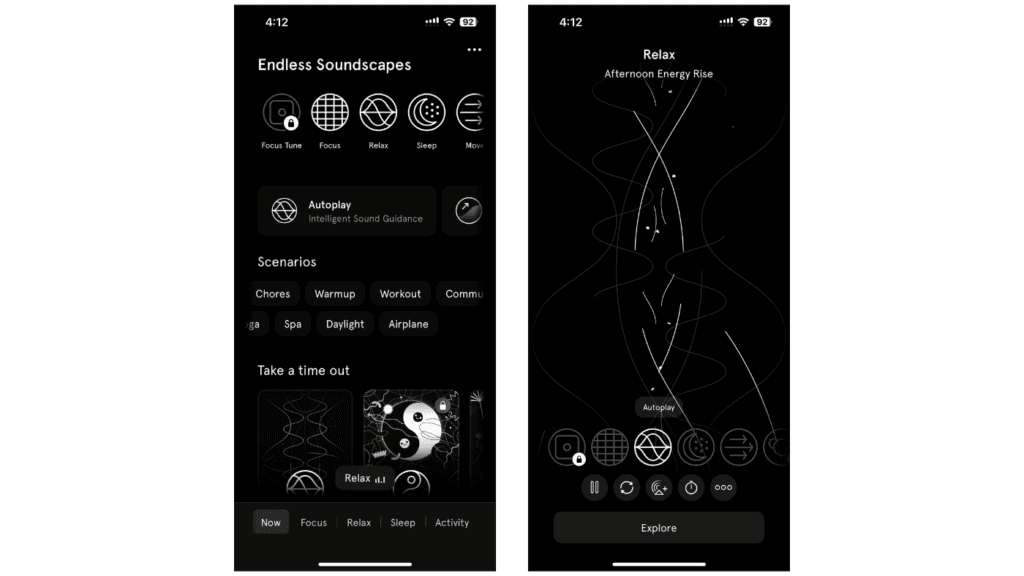 Endel is another popular alternative to Focus@Will. The app creates personalized soundscapes (by analyzing your surroundings) to help users focus, relax and sleep better. Using their patented technology, the app looks for contextual signals like your location, weather, time of day, your body's internal clock, heart rate etc. to choose the best focus music to play for you.
You can play Endel's music for as long as you want (60 mins or 6 hours, whatever you like) and the music evolves through the day. You can listen to a 20 minute Endel track here. The music is nice, but it got boring and repetitive after a while.
While the app is quite stylish, I found Endel's app experience to be heavily favouring the Apple ecosystem. For example, it relies on your Apple Watch to get heart rate data so it can adapt it's music based on that. So if you're not an Apple Watch user, you lose out on that experience.
Pricing
Endel costs $50 per year.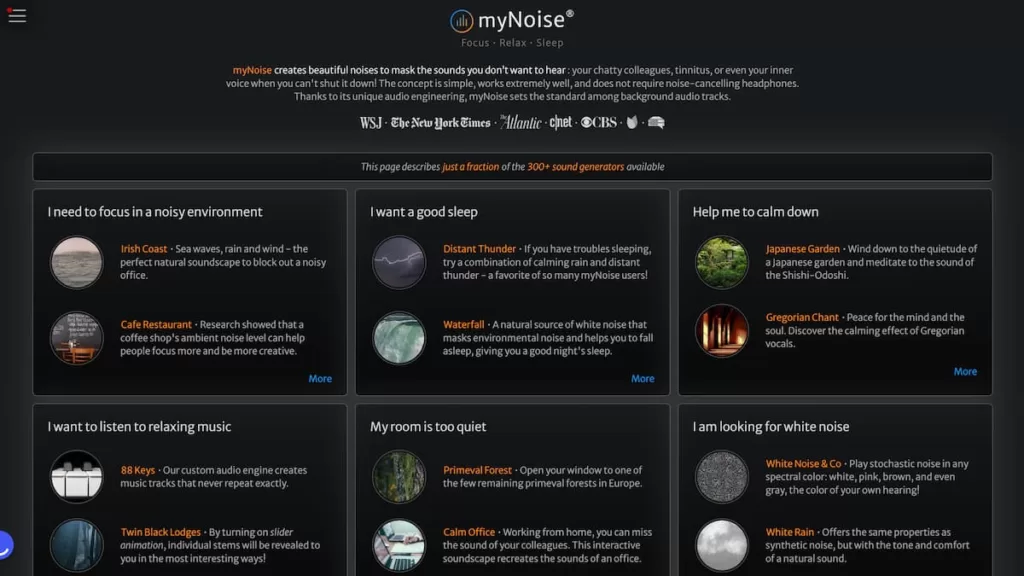 MyNoise is a free Focus@Will alternative that plays beautiful ambient sounds to mask background noise to help users focus, sleep or calm down. It offers lots of ambient sounds like that of a Japanese Garden or a Gregorian Chant or the simple sound of a waterfall.
For the productivity nerds, it also offers more scientific sounds like binaural beats, isochronic tones and white noise. The reason they call themselves an "interactive soundscape generator" is because they offer some customization which allow you to amplify a sound in the music playing. For example, you can increase the sound of a distant explosion or a low voice in a tone.
The library of music is small and you're limited to a specific set of tracks that you have to play again. It does get boring and repetitive after a while.
Pricing
FREE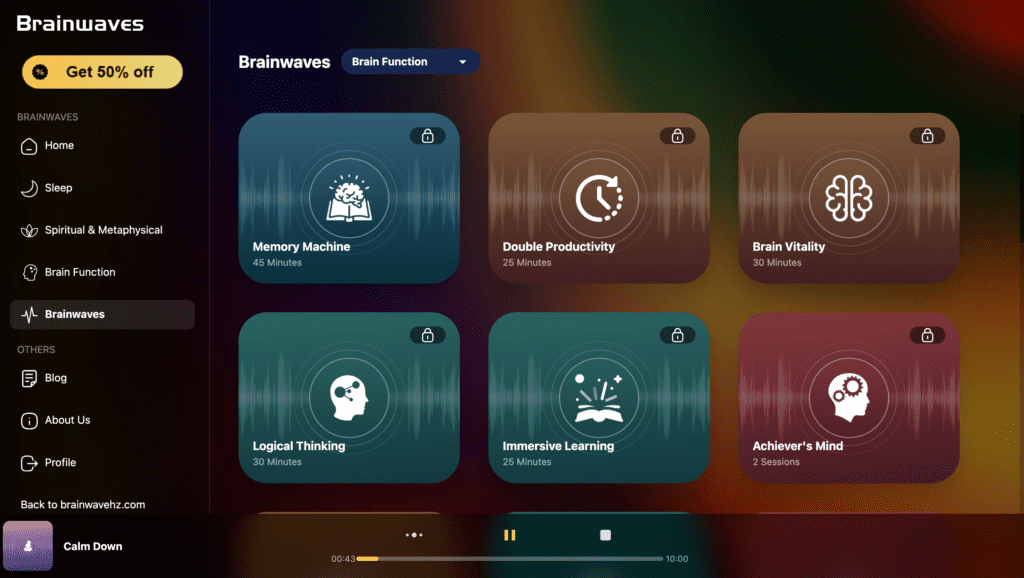 Brainwaves is another Focus@Will alternative that offers a combination of ambient music, binaural beats and isochronic tones that can help you concentrate in as little as 15 minutes. It offers 600+ programs for sleep, focus and healing frequencies.
Brainwaves is available for iOS, Android and desktop, and allows you to customize your experience to cater to your specific needs. You can create personalized playlists, mix and match different sounds, and choose from a variety of soundscapes.
Pricing
$70 per year
Noisli is an alternative to Focus At Will that provides a selection of ambient noise tracks that can help you stay focused and productive.
With over 25 different sounds, including rain, fire, thunder, and ocean waves, you can create your own custom soundscape that works best for you.
Pricing
Noisli has a generous free plan that allows you to listen to 1.5 hours/day. Paid plan costs $12 per month or $144 per year.
Related Reading: Best Noisli Alternatives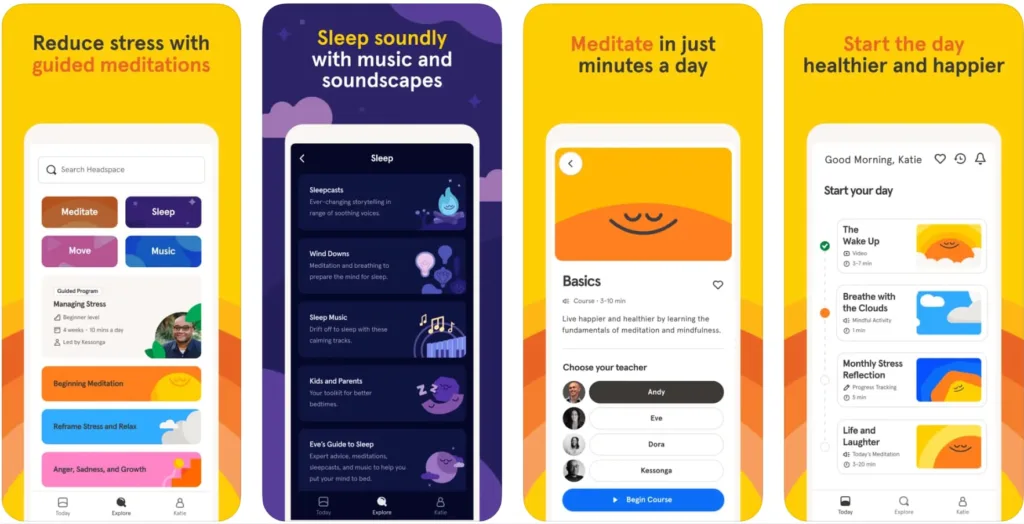 Headspace is another great alternative to Focus At Will, addressing its limitations. Unlike Focus At Will's basic quiz-based approach, Headspace collaborates with famous artists to create exclusive tracks for their Focus Mode, ensuring a higher quality and more engaging music experience.
With a wide range of music styles, including jazz, classical, cinematic, and electronic, Headspace caters to diverse preferences. The app also provides additional features like breathing exercises and meditations, enhancing focus and relaxation.
With a user-friendly design and compatibility across various devices, Headspace offers an enjoyable app experience.
Pricing
Headspace offers affordable pricing options including $12.99 monthly, $69.99 yearly for individuals, and a $129.99 yearly family plan (for up to 6 people) that brings the cost down to $22 per user annually.
Which Is The Best Focus At Will Alternative?
In conclusion, if you're looking for a Focus@Will alternative that actually works, BrainFM is your best bet. Their patented technology and huge library of personalized music helps guide your brain activity towards specific mental states like focus, relaxation, meditation or sleep.
Best Focus Music App – BrainFM
Available on iOS, Android & Web

Science-backed music (patented technology)

Huge library of focus, relax & sleep tracks

Offline access

Built-in pomodoro timer

5/5 reviews across the internet
Unlike Focus@Will, BrainFM's mobile app is user-friendly, stable and doesn't ask for unnecessary permissions. Their music library is extensive with a lot of customization options available to suit your taste. BrainFM's music never gets repetitive, so you're always spoilt for choice.
While Endel and myNoise are also good alternatives, BrainFM is the clear winner with its effectiveness, user-friendliness, and the value for money it offers.