Last updated on February 20, 2023
Endel is a focus music app that creates unique soundscapes to help users focus, relax, and sleep better. It's based on real-time data like weather, location, and activity level, to create personalized soundtracks. Sounds great, right?
Unfortunately, there are a few downsides to using Endel.
It's expensive. Although Endel offers a free trial, the full version of Endel costs $6/month which is a little steep IMHO.
It's unnecessarily complicated. The soundscapes are generated from a variety of sources and metrics, which makes the UI confusing and overwhelming for beginners. It takes some time to get used to the settings and customizations, so if you're somebody who doesn't want to waste a lot of time navigating and learning the app, I wouldn't recommend Endel.
Endel's features are more suited towards Apple users. Endel offers a lot of great features on both it's Android and iOS app, but if you don't have an Apple Watch, you won't be able to get the most out of their Apple Watch integration which automatically adapts the music based on your heart rate.
It has a relatively smaller library of music compared to its competitors like Brain.fm. If you're someone who gets bored easily with repetitive sounds and need a wide range of soundscapes, Endel might not meet your needs.
Luckily, there are some great Endel alternatives out there.
Our Top Choice – BrainFM
Available on iOS, Android & Web

Science-backed music (patented technology)

Huge library of focus, relax & sleep tracks

Offline access

Built-in pomodoro timer

5/5 reviews across the internet
Here are six of the best Endel alternatives and competitors out there.
BrainFM is the best Endel alternative out there that offers personalized music to help you focus, relax, or sleep. It uses its own patented technology to generate this music and it works very well!
I've been using BrainFM for 5+ years, and I highly recommend it. It's easy to use, has a wide variety of tracks (so you never get bored) and has equally good apps for both Android and iOS users.
(Listen to this free BrainFM focus track to get a feel of how effective BrainFM is.)
You can customize the music to suit your tastes. For example: if you want acoustic tracks with the sound of chimes and bowls, you can choose that. If you prefer grooves tracks with a touch of ocean waves and forest sounds—that's possible too!
Pricing
$4/month with annual plan. $7/month with annual plan.
LIMITED TIME DEAL: I negotiated a 20% off deal with their founders. Use code ESM and choose annual plan to get BrainFM for just $3/month.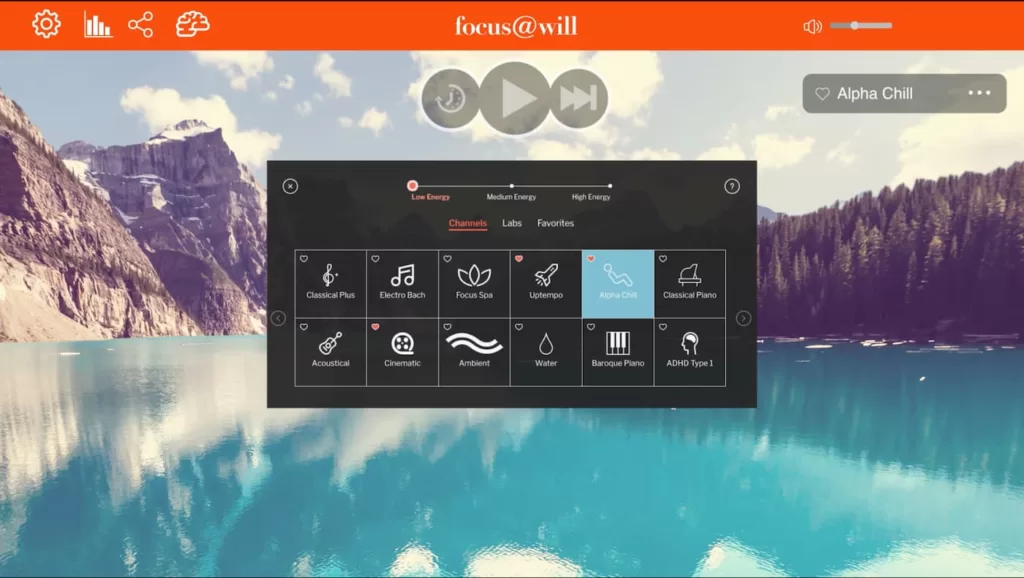 Focus@Will is another Endel alternative that combines neuroscience and music to boost productivity, offering 50+ noise options including white noise, pink noise, ambient nature sounds.
They claim that their music has been created by a team of scientists, musicologists and platinum-selling producers to keep listeners focused for up to 100 minutes.
Pricing
$10 per month.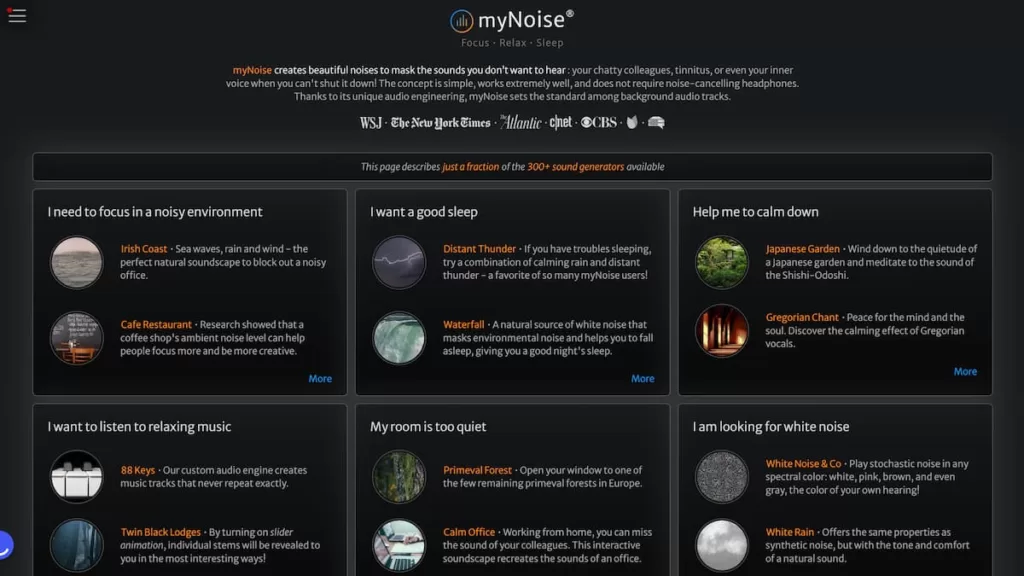 myNoise is a free Endel alternative that creates beautiful ambient sounds to mask the noise you don't want, like chatty colleagues or nearby construction sounds or just a ringing in your ears.
It offers a large library of ambient sounds like cafe, office chatter and thunder, and also features soundscapes that have been scientifically proven to enhance sleep, concentration and focus by using binaural beats and isochronic beats.
Pricing
FREE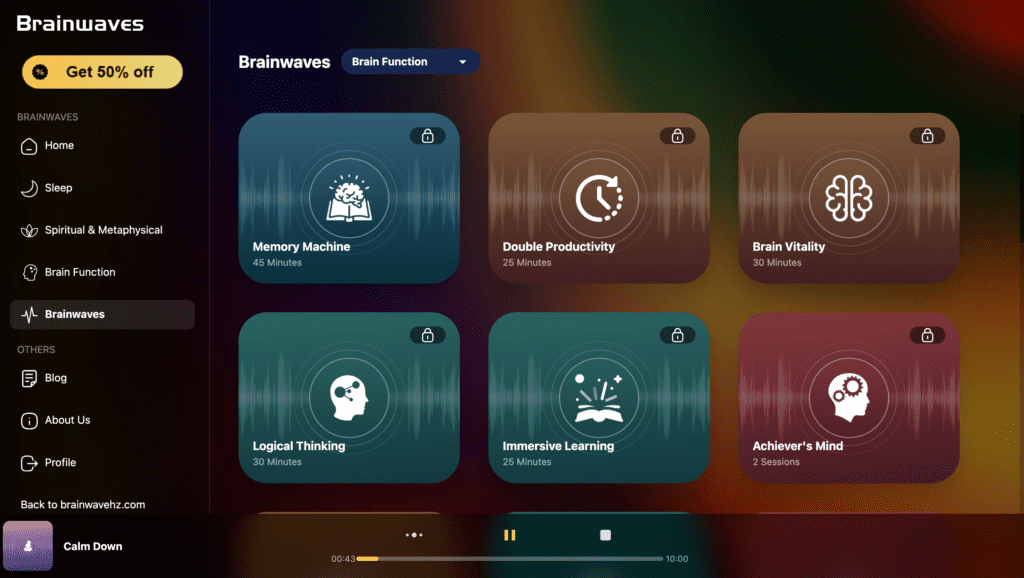 Brainwaves is an alternative to Endel that offers a combination of binaural beats, isochronic tones and ambient music designed to help you focus or relax in as little as 15 minutes.
It's available for iOS, Android and desktop.
Pricing
$70/year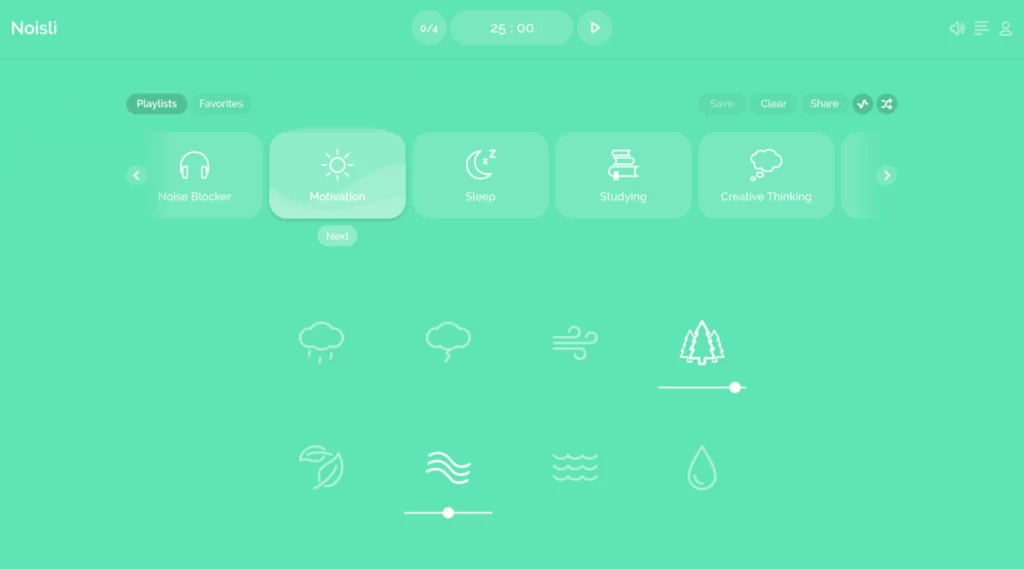 Noisli is another Endel alternative that helps you stay focused and productive by providing you with a selection of ambient noise tracks. It offers over 25 different sounds, including rain, fire, thunder, ocean waves, and more. You can combine these sounds to create your own custom soundscape, helping you to stay focused and productive.
Pricing
$12 per month
SimplyNoise is another Endel competitor that focuses on providing high-quality white noise and ambient sounds. You can mix and match sounds to create the perfect soundscape for your focus and productivity. It offers a paid version that provides additional sounds.
Pricing
$1 per sound pack.
Choosing the best Endel alternative
If you're a productivity enthusiast looking for an Endel alternative, BrainFM is the best option. Its affordability, wide variety of tracks and ease of use make it an excellent choice. With features like adaptive music, curated playlists and offline access, BrainFM is sure to help you increase your productivity and focus.
Our Top Choice – BrainFM
Available on iOS, Android & Web

Science-backed music (patented technology)

Huge library of focus, relax & sleep tracks

Offline access

Built-in pomodoro timer

5/5 reviews across the internet
However, if you're someone who doesn't want to spend much, myNoise is a great free alternative to Endel. But remember that you always get what you pay for. MyNoise doesn't come with any mobile apps, offline access or other premium features.